King of the Kings is undisputed King (of National College Gaming Challenge)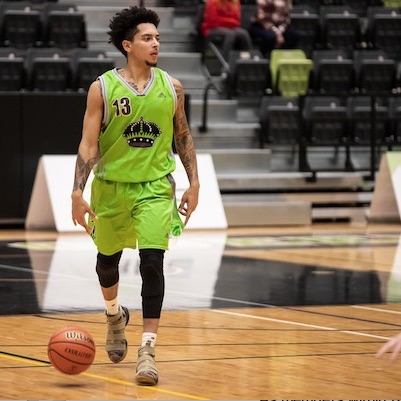 From RDC Communications
RDC student-athlete is king of CCAA Gaming Challenge
When it comes to basketball, Red Deer College Kings guard Tyronn King has demonstrated an impressive skillset beyond the court at the Gary W. Harris Canada Games Centre.
Over four weeks of online competition, King had a perfect 10-0 record in the NBA 2K Canadian Collegiate Athletic Association (CCAA) Gaming Challenge, using PlayStation 4. This unblemished performance earned him first place.
With the absence of Alberta Colleges Athletic Conference (ACAC) competition this year due to COVID-19, King embraced the opportunity to participate in this event created by the CCAA in coordination with Uniting Gamers.
"It was definitely a great experience – fun, and something competitive to do, especially right now with COVID-19 going on," said King, who rose to the top among 32 participants from CCAA member post- secondary institutions. "The people hosting it were great. They communicated well with the players and had everything set up nicely."
In order to continue advancing to the next round, King had to win the best of three games. It was randomly determined which player received first choice of current NBA teams. Participants could not select the same team and King had two squads that he relied on.
"I always picked either the Brooklyn Nets or the Milwaukee Bucks every game of the tournament," said King, who identified the Nets as his favourite team. "I didn't want to take a chance of losing one game of the tournament, so I made sure I always came out with fire power."
King faced Christopher Graham, a setter on The King's University Eagles Men's Volleyball team, in the quarter-final. The RDC Legal Assistant student from Toronto swept the series 2-0, with scores of 61-57 and 58-53 over Graham. In the semi-final, King persisted past Glynn Willis-Paris, a member of the St. Clair Saints Men's Basketball team, 48-44 and 50-47, to solidify a berth in the championship.
"In the two rounds prior to the final, I played a couple of guys who were really good and they put up a fight. In some of the games, I was down in the fourth quarter," said King, who helped guide his RDC Basketball team to the postseason in 2019/2020. "They gave me a run for my money, but when games are close and competitive, that's when they are the most fun."
King felt those hard-fought games adequately prepared him for the championship against Ryan Farrell of the University of New Brunswick Saint John Seawolves Men's Volleyball team.
"The two previous games were championship games to me. Once I got to the finals, I felt ready," explained King. "In the last two games, I was able to put my bench [players] in fairly early and won 57-43 and 54-42."
While balancing academics and training, King's hobby of playing basketball video games was a recipe for enjoyment and success in the CCAA Gaming Challenge.
"In my free-time, I play [NBA] 2K, so that was my preparation," said King. "It was pretty cool, knowing that I had a game each week, and being out of physical competition for so long, I looked forward to the days when I played."
The talented RDC student-athlete, who finished second in team scoring last year with 18.8 points per game, recommends this type of gaming challenge to others.
"Overall, it was fun and I would encourage anyone who plays 2K for fun or competitively to get involved in one of these tournaments," said King, who will enter his fifth year of eligibility when ACAC competition resumes. "It's definitely exciting and something to do during these COVID-19 times when there's not much competition going on."
For winning first place in the CCAA Gaming Challenge on March 18, King will receive a memorable gift.
"It is a customized ring from Jostens, so that's pretty cool," he said.
As members within RDC Athletics and the ACAC anxiously await the safe resumption of competition, King has been dedicated to his fitness and staying connected to his teammates and coaches.
"From a physical standpoint, I've been trying to stay in shape. When gyms weren't open, I trained at home and went for runs," said King, who is a 2019/2020 ACAC Men's Basketball South Second All- Conference team member. "As a team, we connect a lot via Zoom for weekly meetings that our coach organizes. Now, we are starting to get back in the gym, so it feels great."
In the absence of traditional sports this year, the CCAA Gaming Challenge was administered by the CCAA and Uniting Gamers in an effort to encourage connections among Canadian learners, in a fun and competitive virtual environment.
More information about the NBA 2K CCAA Gaming Challenge, including the results, is available online.
End of an era for Red Deer Minor baseball Braves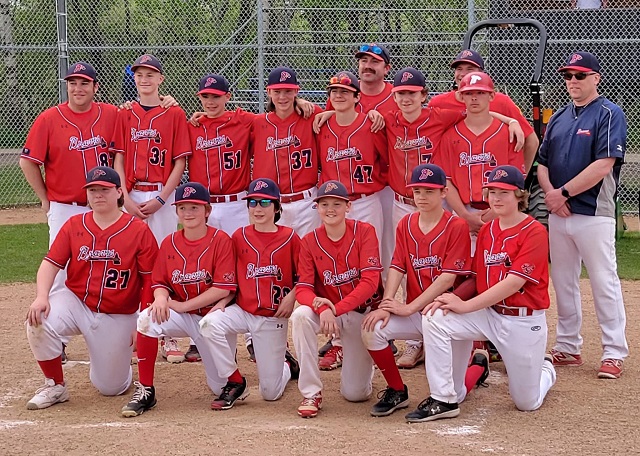 From Red Deer Minor Baseball Board of Directors
Following many discussions within the Red Deer community, the baseball community, our association members, as well as our board of directors we have made the decision to move forward with rebranding our teams, currently known as the Braves. For our association the Braves name symbolized warrior strength, bravery and resilience, all qualities we were proud to align with; and although the initial moniker of our teams was never intended to carry a derogatory or disrespectful connotation, for some, it has. The topic of our rebrand has been polarizing and arguments both for and against have been passionately presented. We have made the decision to move forward in the direction we feel is best for our association.
In alignment with the membership majority vote, the Red Deer Minor Baseball Board of Directors is excited to announce that we will now be known as the Red Deer Rangers.
The Red Deer Rangers will retain our current navy and crimson colors and will not adopt the colors or logo of the MLB, NHL, or any other Rangers franchise. We are looking forward to forging our own identity and embracing our own look.
As you can appreciate this is a complex initiative that will take time. We will remain the Braves for the 2024 season and aim to have our rebrand complete for the 2025 season.
All participants that submitted the Rangers name during our rebranding poll, will be entered into a draw to receive the first Red Deer Rangers jersey.
We hope you will join us in celebrating this positive endeavor as we create a new inclusive legacy for our association that all can be proud of.
RDMBA Board of Directors
Red Deer Minor Hockey is proud to announce our new General Manager Lane Moore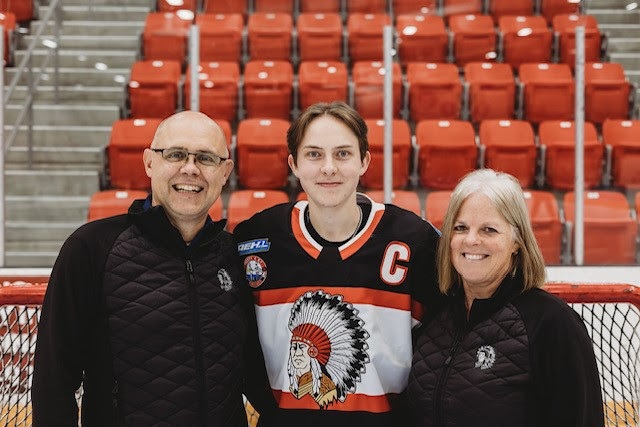 From Red Deer Minor Hockey
The Red Deer Minor Hockey Board of Directors is pleased & honored to announce, after an extensive search, that Lane Moore has accepted the position of General Manager of Red Deer Minor Hockey. Lane will start his new role early in the new year & is very excited about leading our organization into the future as we aim to provide a positive learning and maturing experience for all of our young athletes & coaches in a minor hockey setting.
Lane comes into the role of General Manager with an extensive resume, in both hockey and administration. Lane has led the Bentley school as principal for the last 17 years & was an educator prior to that. On the hockey side, Lane's passion for coaching & engaging with young athletes, dates back to 2002. His most recent involvement as a coach with Red Deer Minor Hockey saw Lane lead the U17AAA North Star Chiefs for 2 seasons (21-22, 22-23). Prior to his work with Red Deer Minor Hockey Lane served as President of Rimbey Minor Hockey for several seasons.
One of Lane's biggest strengths is his ability to create highly effective teams by building a common mission & vision & then executing on those through visionary leadership. These attributes shone through during this General Manager search and we are thrilled for Lane to lead this organization now & into the future as we aim to be one of the premier Minor Hockey Associations in the province.
Lane, his wife Kathleen & their three children Easton, Cooper & Lexi call Red Deer home. His son Cooper is the captain of Red Deer U18AAA Optimist Chiefs & his older son Easton is pursuing his hockey career and post-secondary studies in Massachusetts. Please join us in congratulating Lane Moore as the new General Manager of the Red Deer Minor Hockey Commission, welcome Lane!