RCMP hope to find witnesses to pedestrian fatality in downtown Red Deer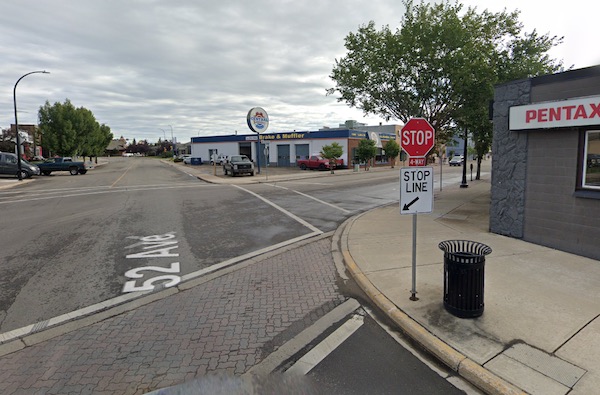 News Release from Red Deer RCMP
Red Deer RCMP seek witnesses to fatal motor vehicle collision
On Sept. 14, 2021, at 12 p.m., Red Deer RCMP responded to a motor vehicle collision involving a pedestrian located at 48 St. and 52 Ave. Upon arrival of police, Red Deer Emergency Services were on scene providing medical assistance to the pedestrian.
Preliminary investigation revealed that a truck was heading southbound on 52 street. As the truck turned eastbound onto 48 St, a pedestrian was struck in the crosswalk. Medical treatment was provided to the pedestrian; however a 68-year-old woman of Red Deer was declared deceased at the scene. The identity of the deceased will not be released.
Red Deer RCMP arrested the 83-year old male driver of the truck for failing to provide a breath sample and he is currently in custody. The road was closed for approximately two hours while police conducted their investigation.
Red Deer RCMP continue to investigate and are seeking additional witnesses to this incident. If you have video or dash cam footage of the area of 48 St. and 52 Ave. between 11:50 a.m. and 12:00 p.m. on Sept. 14, 2021, or have additional information about this incident, please contact the Red Deer RCMP at 403-343-5575.
An update will be provided when further information is available.
Blackhawks GM Bowman resigns after sexual assault probe
Chicago Blackhawks general manager and president of Hockey Operations Stan Bowman resigned Tuesday after an investigation commissioned by the team found he was among a group of leaders who failed to respond promptly to allegations that an assistant coach sexually assaulted a player in 2010.
The results of the independent review by Jenner & Block were handed over to the Blackhawks on Monday, and team CEO Danny Wirtz said the report "is both disturbing and difficult to read."
Former federal prosecutor Reid Schar, who ran the investigation, said Tuesday that Bowman, former team president John McDonough, hockey operations executive Al MacIsaac, former executive vice president Jay Blunk and then-assistant general manager Kevin Cheveldayoff met with then-coach Joel Quenneville and mental skills coach Jim Gary to discuss allegations that then assistant coach Brad Aldrich had assaulted a player.
Schar said accounts of the meeting "vary significantly."
"What is clear is that after being informed of Aldrich's alleged sexual harassment and misconduct with a player no action was taken for three weeks," Schar said.
The investigation was commissioned by the team after two lawsuits were filed against the Blackhawks: one alleging sexual assault by assistant coach Aldrich during the team's Stanley Cup run and another filed by a former student whom Aldrich was convicted of assaulting in Michigan. Aldrich left the Blackhawks after the 2009-10 season.
A former player said Aldrich assaulted him, and that the team did nothing after he informed an employee. The lawsuit, filed May 7 in Cook County Circuit Court, alleges Aldrich also assaulted another unidentified Blackhawks player. The former player who sued and is seeking more than $150,000 in damages is referred in the document as "John Doe."
The eight-page lawsuit says Aldrich, then a video coach for the Blackhawks, "turned on porn and began to masturbate in front of" the player without his consent. It says Aldrich also threatened to "physically, financially and emotionally" hurt the player if he "did not engage in sexual activity" with him.
___
More AP sports: https://apnews.com/hub/apf-sports and https://twitter.com/AP_Sports
Jay Cohen And Stephen Whyno, The Associated Press
Albertans vote in favour of removing equalization from Constitution
EDMONTON — The final results from Alberta's equalization referendum show almost 62 per cent of those who voted want to see the principle of equalization removed from the Constitution.
A second referendum question to keep daylight time year-round failed by a whisker: 50.1 per cent to 49.9 per cent.
The votes were held on Oct. 18 in conjunction with municipal and school board elections across the province.
All but a small fraction of districts voted to remove equalization.
Calgary voted 58 per cent in favour of removing it, but Edmonton voted 52 per cent in favour of leaving equalization alone.
Premier Jason Kenney was scheduled to address the results later Tuesday.
The path forward on equalization is not clear.
Kenney has said while the vote was about removing equalization, he actually wants to use it as leverage to address all federal transfers that he feels are unfair to Alberta.
Prime Minister Justin Trudeau said last week that Kenney knows the federal government can't unilaterally change the Constitution.
Trudeau said it can only be done with "significant consensus" involving Ottawa working with seven provinces or territories representing more than 50 per cent of the population.
He also questioned why Kenney was campaigning against an equalization program that was last tweaked by a federal Conservative cabinet that included Kenney.
Equalization sees some tax money collected by the federal government redistributed from wealthier provinces to lower-income ones to ensure a basic level of service for all.
Kenney has said Alberta has concerns over billions of dollars its residents pay, while provinces such as British Columbia and Quebec obstruct oil and pipeline projects that underpin that wealth.
Alberta estimates it pays in $20 billion a year to the equalization program. It has rarely been a net beneficiary of equalization since the program was created in 1957.
This report by The Canadian Press was first published Oct. 26, 2021.
Dean Bennett, The Canadian Press