Primary Care Network offers all kinds of services for bolstering health and wellness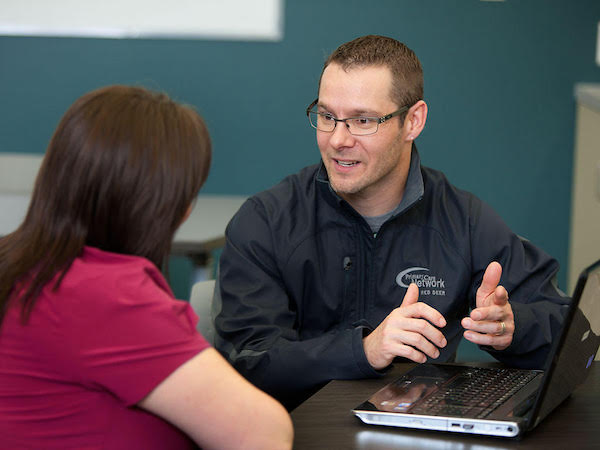 The Primary Care Network offers a tremendous range of programming all geared to helping folks live their healthiest lives.
Staff at the local office, located at 5120 47 St., are excited about launching into 2022 with a spectrum of workshops from Anxiety to Calm, Happiness Basics and Moving on With Persistent Pain to Relationships in Motion, Sleep and Journey Through Grief.
Others include My Way to Health (formerly Health Basics), Strong and Steady (which focuses on bolstering one's strength and flexibility), and H.E.A.R.T.S which has been carefully designed to help families through the loss of a child during pregnancy or shortly after birth.
Of course, due to the pandemic, programming has been virtually all online. But there has been a silver lining with that approach, explained Lorna Milkovich, executive director.
"With our group workshops, we discovered that with going online, we were able to reach some people that we may not have reached otherwise. For some, being able to attend via Zoom offered new flexibility. Others were more comfortable with that format over in-person meetings." Moving forward, group workshops will certainly continue to be offered in-person, but the PCN will also continue with online versions as well. "That's exciting, because it opens the door to reaching a wider demographic.
"Through the online versions, we continued to evaluate things and receive feedback, and we continue to see really amazing results. For Anxiety to Calm for example, it consistently shows that people reduce their anxiety, on average, by 50 per cent," she explained. "It's amazing." As for the programs, Milkovich noted that the popular workshop Health Basics has been re-launched as My Way to Health. "It's a very core workshop that we would encourage most people to take," she said, adding the sessions focus on healthy living habits including weight loss, bolstering activity and assisting with chronic pain and maintaining a healthy brain through the ageing process. Essentially, participants will learn a host of practical skills they can put into action, said Milkovich.
"It's super important that people can make changes that are meaningful to them, and that work with their lifestyles."
There is always an emphasis on designing the workshops to be primarily skills-based, interactive and experiential. "It's really about, how do you incorporate these skills into your life?
"With each one of our workshops, you will learn new skills that you are going to practice that week to see how they work for you. By the end, you will have four or five new skills and you'll find those that really resonate with you; ones that work for you," she said. "That's what we find that really works for people."
In a move to make the workshops even more accessible, Milkovich said many are available in both four and eight- week sessions.
"We are also starting up the workshops every month," she said. This way, there are no lengthy waiting periods should someone miss out on signing up during a given week.
Another exciting new tool this year is the introduction of a downloadable publication called My Self-Care Journey.
"It's a journal that is available on our web site. It was designed by several health care professionals as well as patients and other members of the community. The journal is about choosing healthy habits each day, and it helps you intentionally tune into your lifestyle choices – it provides a guide for making positive changes," she said, adding that there are sections on mindfulness and gratitude as well. Ultimately, solid lifestyle changes typically come from making smaller, more manageable goals, said Milkovich.
"it's more about those tiny little building blocks in your lifestyle that can make a difference. It's also about people being kinder and gentler with themselves while building healthier lifestyles."
"My Self-Care Journey is available to anyone – they can go online and print it off. For those who would prefer a hard copy, they can ask at their doctor's office, or they can swing by the Primary Care Network. There is no charge."
Looking ahead, the next Health Café is slated for March 14 and is entitled 'Gout – Disease of the Kings'. Presented by PCN staff, folks are invited to learn more about this condition and ways to help manage it. Tune in live on the Red Deer Public Library Facebook page at 5:15 p.m. Milkovich said staff are always open to preparing Health Cafes on topics of interest to the public at large. "They can let us know – we'd be happy to hear from them," she said. Several individual programs are available as well via the PCN, from help with diabetes, blood pressure and cholesterol to pharmacy queries to assistance with everything from quitting smoking to learning more about housing or financing. Milkovich also highlighted a relatively new program called the MINT Memory Clinic which is available with a referral from a family doctor. Folks are taken through a full assessment and provided with recommendations for ongoing care and connection with specialists.
As Milkovich pointed out, the PCN is also a hub for those seeking information about health and wellness resources in the community. Besides the workshops, health cafes and personal appointments, they can help point folks in the right direction for the best kind of assistance they may need.
"We want to help empower people to live the healthiest lives that they can," she said, adding that it's always so amazing to see people make terrific changes in their daily lives.
"We do get stories from people, and it is so inspiring to see the differences that have been made in their lives."
For more about the PCN, check out reddeerpcn.com or find them on Facebook for all the latest news as well. You can also call the office at 403-343-9100.
Click here to read other stories from the Red Deer Primary Care Network.
New app uses AI to help Calgary medical students practise interacting with patients
A Calgary medical student has developed a new app that allows future doctors to work on their diagnostic and communication skills before they set up their practices. Eddie Guo, seen in an undated handout photo, is a second-year student at the University of Calgary's Cumming School of Medicine. He says that one of the challenges in medical school is becoming better at interacting with patients. THE CANADIAN PRESS/HO-University of Calgary
By Bill Graveland in Calgary
A Calgary medical student has developed an app that allows future doctors to work on their diagnostic and communication skills before they set up their practices.
Eddie Guo, a second-year student at the University of Calgary's Cumming School of Medicine, said one of the challenges beyond the book learning in medical school is becoming better at interacting with patients.
As a result, he's turned to the rapidly growing area of artificial intelligence to create a number of virtual patients, with a variety of health conditions, that a student can talk to.
"It's good to get more than just two or four hours of the practice we get in medical school to really be able understand what it's like to communicate in a real-life scenario," said Guo.
"We think it's a good idea to have more than a few hours of practice before actually going out into the wild and seeing patients for the first time."
Guo created a program, called OSCE-GPT, where the computer is the patient. Users choose the patient's gender and can select a scenario or let the computer decide on one for them.
"I'm Ben Johnson and I've been having some really bad abdominal pains over the past two days. It's in the right upper quadrant and it spreads to my back," said the robotic male voice in the program.
"I've also been feeling nauseous and vomiting. I'm here in the emergency department because of the pain."
The AI patient can answer questions about its condition and, after the conversation, provides feedback to the student along with a list of other questions that could have been asked.
Guo said until he is finally allowed on the medical wards, the only other interactions he gets are with standardized patients, professional actors who present with various conditions.
"As you can imagine, they're really quite good at their job, but they're also very expensive," Guo said.
"We don't get that much opportunity really to practise speaking with a patient, and so what this app was born out of was a lack of possibility to practise."
Guo collaborated with medical resident Dr. Mehul Gupta. He said this kind of additional help will make for better doctors.
"One of the things we learn again and again in medical school, and that's reinforced again in residency, is that the history you take from a patient is almost 99 per cent of the diagnosis that you make and the impression you make on a patient the first time you speak with them is long-lasting," Gupta said.
"If you have the opportunity to practise to tailor your questions to see how you could have done better, you really do become a better doctor overall."
Guo said the app is still being upgraded and at this point there is no image of a patient that shows up on the screen. He said he is hoping that things like a chest X-ray, a CT scan or a picture of someone's skin could be incorporated into the program.
Within the first month of the app's launch, more than 550 health-care trainees from Canada and across the world including Europe, India, Saudi Arabia and the United States signed on.
This report by The Canadian Press was first published Sept. 22, 2023.
Encouraging news: Update on E. coli outbreak in Calgary
The Emergency Department at Calgary's Peter Lougheed Hospital at the height of the E. coli outbreak, Sept 7, 2023
As hospital admissions and daily numbers of new E. coli cases continue to decline, health officials are seeing signs that the initial outbreak that affected several Calgary daycares has peaked.
The number of secondary transmissions connected to this outbreak remains low, indicating there is limited transmission of the E. coli bacteria beyond the initial outbreak.
The kitchen connected with the original outbreak remains closed indefinitely. In addition, precautionary measures at specific daycare facilities remain in place. Parents and operators have been made aware of these measures directly and through communication with Alberta Health Services.
"I am relieved every time I hear of a child who is well enough to leave hospital. My heart goes out to each family member who has been impacted, and I want them to know that we will get to the bottom of this. Thank you as well to our front-line staff for supporting these children and their families on the road to recovery."
"Families have had their lives turned upside down by this outbreak. I'm relieved many of them are seeing their children recover and start to get back to their normal routines. I want to reassure parents they can place their trust in our high-quality child-care system and that they are not alone. We are here to support them in any way we can."
"We are cautiously optimistic that the outbreak has peaked and that we will continue to see case numbers drop. That said, this does not diminish the fact that we still have some children who remain very ill, and my heart goes out to them, their parents and their loved ones."
Hospitalizations and cases
As of Sept.19, there were a total of 348 lab-confirmed cases connected to this outbreak, no increase from Sept. 18. Between Sept. 9 and Sept. 14, there was an average increase of 33 new cases a day. Since then, the average case numbers decreased to fewer than four a day to no increase on Sept. 19.
There have been a total of 27 lab-confirmed secondary cases, with no additional secondary cases confirmed, since Sept. 16. Some cases of secondary transmission are common and expected in significant outbreaks such as this.
Currently eight patients are receiving care in hospital, down one from Sept. 18. All these patients have been confirmed as having hemolytic uremic syndrome (HUS), including two on dialysis (a decrease of one since Sept. 18). All patients are in stable condition and responding to treatment. Front-line health care teams continue to provide the best care and support possible.
A total of 707 children connected to the outbreak have been cleared to return to a daycare facility.
Daycares
As of Sept. 19, six daycare facilities are under closure or partial closure orders:
Active Start Country Hills – Dolphin and Starfish preschool classes
CanCare Childcare – Scenic Acres location­ – Busy Bees, Bumble Bees and Butterflies classrooms
CEFA Early Learning Calgary South ­– JK 3-1 classroom
Renert Junior Kindergarten – all four Junior K classrooms
1st Class Childcare Shawnessy ­– "Main daycare" area is being closed
Calgary JCC Child Care ­– a closure order was issued for infant and toddler rooms on Sept. 15
Closure orders were rescinded for Classrooms 3 and 4 at Vik Academy on the afternoon of Sept. 18 following negative test results for E. coli.
Additionally, while MTC Daycare site is not being closed, affected children and staff in Prominade and McKenzie classrooms are being notified that they are excluded from attending all child-care facilities until they test negative for E. coli and remain symptom-free.
All closure orders are posted on the Calgary Zone Alberta Health Services website.
Initial results suggest these cases affecting additional daycare facilities are predominantly cases of secondary transmission. Either these new cases were in contact with children from the original daycare or children from the original daycares were in contact with the facility.
Parents and staff from all the daycare facilities involved are being provided with information about what to do if they experience symptoms, test positive or have concerns about the health and safety of their child.
Investigations
The public health investigation into this outbreak continues, and work continues to identify the source of the outbreak. Additionally, the ministries of Health and Children and Family Services are conducting a review of all shared kitchens serving child-care facilities across Alberta.
The food histories of more than 1,150 children and 250 daycare staff are being reviewed by public health officials. This includes those who became ill and those who did not, all of whom were at the 11 affected daycares between Aug. 15 and Aug. 31.
Guidance to parents
If children develop symptoms, including bloody diarrhea, families are encouraged to visit an emergency department. If a child is not symptomatic, do not take them to hospital. Families with concerns or questions can call Health Link at 8-1-1 or contact their family physician for advice and support.
In addition, Alberta's government is providing families with a one-time payment of $2,000 per child enrolled in the original facilities that were closed due to the outbreak.
Alberta's government is committed to working with parents and operators through this challenging time and encourage them to reach out to Child Care Connect at 1-844-644-5165 with questions or concerns.
Related links
Update on E. coli outbreak in Calgary (Sept. 12, 2023)