Police seize loaded shotgun, drugs and cash in Vanier Woods home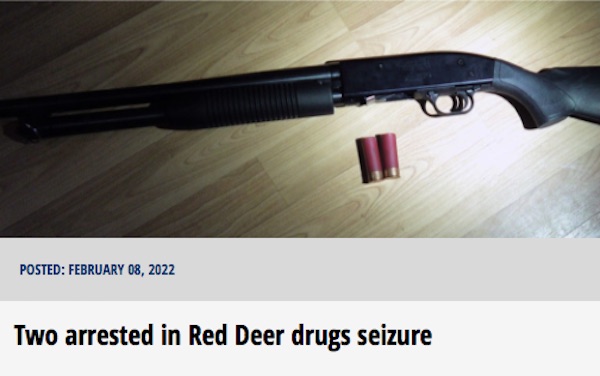 News Release from ALERT (Alberta Law Enforcement Response Team)
Two arrested in Red Deer drugs seizure
Two people were arrested after an ALERT investigation in Red Deer turned up a variety of drugs and a loaded shotgun.
On January 26, 2022 a home in the Red Deer neighbourhood of Vanier Woods was searched. The search warrant execution capped of a three-month investigation by ALERT, with the assistance of Red Deer RCMP.
"This was a quick-hit investigation with an immediate, positive community impact for Red Deer. ALERT will continue to work alongside its partner agencies in getting harmful drugs off the street," said Staff Sgt. Shawn Wallace, ALERT Calgary.
As result of the search, ALERT had seized:
Loaded shotgun;
414 grams of methamphetamine;
174 suspected fentanyl pills;
28 grams of cocaine;
$4,450 cash.
The drugs seized have an estimated street value of $25,000. The pills are being submitted for further analysis.
Randi St. German, 41, of Red Deer was charged with possession of drugs for the purpose of trafficking, possession of proceeds of crime, breach of a firearms prohibition order, unauthorized possession of a firearm, and possession of a loaded firearm.
Erick Becker, 33, of Red Deer was charged with drug trafficking, possession of proceeds of crime, and breach of a release order.
Becker was charged for similar offences in relation to an ALERT investigation from February 2021.
Members of the public who suspect drug or gang activity in their community can call local police, or contact Crime Stoppers at 1-800-222-TIPS (8477). Crime Stoppers is always anonymous.
ALERT was established and is funded by the Alberta Government and is a compilation of the province's most sophisticated law enforcement resources committed to tackling serious and organized crime.
Ex-Twitter execs face GOP questioning on Hunter Biden story
By Farnoush Amiri in Washington
WASHINGTON (AP) — House Republicans questioned former Twitter executives Wednesday about the platform's handling of reporting on Hunter Biden, the president's son, fulfilling a party promise to investigate what they have long asserted is anti-conservative bias at social media companies.
Three former executives appeared before the House Oversight and Accountability Committee to testify for the first time about the company's decision in the weeks before the 2020 election to initially block from Twitter a New York Post article about the contents of a laptop belonging to Hunter Biden.
"Today's hearing is the House Oversight and Accountability Committee's first step in examining the coordination between the federal government and Big Tech to restrict protected speech and interfere in the democratic process," Rep. James Comer, the chairman, said in his opening statement.
The witnesses Republicans subpoenaed to testify are Vijaya Gadde, Twitter's former chief legal officer; James Baker, the company's former deputy general counsel; and Yoel Roth, former head of safety and integrity.
Democrats have a witness of their own, Anika Collier Navaroli, a former employee with Twitter's content moderation team. She testified last year to the House committee that investigated the Capitol riot about Twitter's preferential treatment of Donald Trump until the then-president was banned from Twitter two years ago.
The hearing is the GOP's opening act into what lawmakers promise will be a widespread investigation into President Joe Biden and his family, with the tech companies another prominent target of their oversight efforts.
The White House criticized congressional Republicans for staging "a bizarre political stunt," hours after Biden's State of the Union address where he detailed the bipartisan progress made in his first two years in office.
"This appears to be the latest effort by the House Republican majority's most extreme MAGA members to question and relitigate the outcome of the 2020 election," White House spokesperson Ian Sams said in a statement Wednesday. "This is not what the American people want their leaders to work on."
The New York Post first reported in October 2020, weeks before the presidential election, that it had received from Trump's personal lawyer, Rudy Giuliani, a copy of a hard drive from a laptop that Hunter Biden had dropped off 18 months earlier at a Delaware computer repair shop and never retrieved. Twitter blocked people from sharing links to the story for several days.
Months later, Twitter's then-CEO, Jack Dorsey, called the company's communications around the Post article "not great."He added that blocking the article's URL with "zero context" around why it was blocked was "unacceptable."
The newspaper story was greeted at the time with skepticism due to questions about the laptop's origins, including Giuliani's involvement, and because top officials in the Trump administration had already warned that Russia was working to denigrate Joe Biden before the White House election.
The Kremlin had interfered in the 2016 race by hacking Democratic emails that were subsequently leaked, and fears that Russia would meddle again in the 2020 race were widespread across Washington.
Just last week, lawyers for the younger Biden asked the Justice Department to investigate people who say they accessed his personal data. But they did not acknowledge that that data came from a laptop that Hunter Biden is purported to have dropped off at a computer repair shop.
The issue was also reignited recently after Elon Musk took over Twitter as CEO and began to release a slew of company information to independent journalists, what he has called the "Twitter Files."
The documents and data largely show internal debates among employees over the decision to temporarily censor the story about Hunter Biden. The tweet threads lacked substantial evidence of a targeted influence campaign from Democrats or the FBI, which has denied any involvement in Twitter's decision-making.
Nonetheless, Comer and other Republicans have used the Post story, which has not been independently verified by The Associated Press, as the basis for what they say is another example of the Biden family's "influence peddling."
One of the witnesses on Wednesday, Baker, is expected to be the target of even more Republican scrutiny.
Baker was the FBI's general counsel during the opening of two of the bureau's most consequential investigations in history: the Hillary Clinton investigation and a separate inquiry into potential coordination between Russia and Trump's 2016 presidential campaign. Republicans have long criticized the FBI's handling of both investigations.
For Democrats, Navaroli is expected to counter the GOP argument by testifying about how Twitter allowed Trump's tweets despite the misinformation they sometimes contained.
Navaroli testified to the Jan. 6 committee last year that Twitter executives often tolerated Trump's posts despite them including false statements and violations of the company's own rules because executives knew the platform was his "favorite and most-used … and enjoyed having that sort of power."
The Jan. 6 committee used Navaroli's testimony in one of its public hearings last summer but did not identify her by name.
___
Associated Press writer Eric Tucker contributed to this report.
New Zealand police find 3.5 tons of cocaine in Pacific Ocean
By Nick Perry in Wellington
WELLINGTON, New Zealand (AP) — New Zealand police said Wednesday they found more than 3 tons of cocaine floating in a remote part of the Pacific Ocean after it was dropped there by an international drug-smuggling syndicate.
While they had yet to make any arrests, police said they had dealt a financial blow to everyone from the South American producers of the drugs through to the distributors in what was the nation's largest-ever drug seizure.
New Zealand Police Commissioner Andrew Coster said the cocaine had been dropped at a floating transit point in 81 bales before it was intercepted by a navy ship, which was deployed to the area last week. The ship then made the six-day trip back to New Zealand, where the drugs were being documented and destroyed.
Coster said the wholesale value of the 3.2 tonnes (3.5 tons) of cocaine was worth about 500 million New Zealand dollars ($316 million) and it was likely destined for Australia.
"We believe there was enough cocaine to service the Australian market for about one year, and this would be more than New Zealand would use in 30 years," Coster said.
He said police, customs and the military found the drugs after launching Operation Hydros in December in collaboration with international partner agencies to identify and monitor the movements of suspicious vessels.
Coster said they were continuing to investigate the case with other international agencies.
Bill Perry, the acting comptroller of the New Zealand Customs Service, said the haul illustrated the lengths that organized syndicates were going to in order to smuggle drugs in the South Pacific.
"We see perhaps this is just an indication that the transnational organized crime groups are testing the market in different ways, so as agencies, we need to collaborate," Perry said.