Anxiety? Pain? Sleep Issues? Red Deer Primary Care Network has a program to help you live your best life!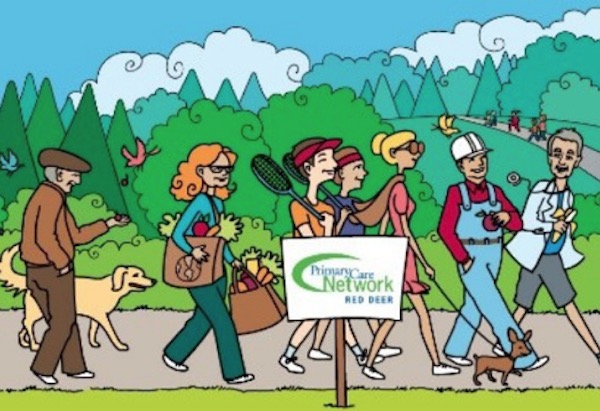 By Mark Weber
With the onset of the busy fall season comes the launch of Red Deer Primary Care Network's extensive programming. Along with the regular workshops and programs, staff are excited to introduce new educational opportunities including 'Menopause and Women's Health'.
"Menopause and Women's Health is for women who are 'pre, during and post' menopause, who are looking for information about what to expect and what
potential treatment options may benefit them," said Julia Vallance, the PCN's program manager.
"We are going to be running this via Zoom, and it will be on Wednesdays – our first session will be on Oct. 26 and it will run until Nov. 23."
Those who would like to register can call the main PCN off ice at 403-343-9100. Dr. Esnielle Brooks will be leading the series.
"We will also have our pharmacist on staff, another nurse and one of our counsellors will also be offering information during those series of classes," said Vallance. "There hasn't been a lot of information out there about m enopause. Dr. Brooks has done a lot of extra education to become comfortable and competent with this topic. "She's really happy to share her knowledge and to give women the opportunity to learn more about their bodies, and what is going to happen over time."
The series will be offered throughout the upcoming year as well.
In the meantime, the PCN's popular workshops are up and running as well. "These include Anxiety to Calm, Happiness Basics, Moving on With Persistent Pain, Relationships in Motion, Journey Through Grief and My Way to Health, to the Sleep Program and Strong and Steady. A lot of our workshops are now being offered in-person and not just over Zoom anymore."
Although, as she pointed out, virtual participation is still an option which has broadened the reach of so many PCN programs.
"There are also opportunities where you can attend the first class in person, and then afterwards if something comes up – you are ill or away travelling or there is a reason you can't attend – you can still take part via Zoom. We are calling it a hybrid model."
Alongside the workshops are several helpful individual programs as well from Connecting to Community Resources, Diabetes, High Blood Pressure, Cholesterol, and Insulin Management to Memory Testing, the MINT Memory Clinic, Pregnancy and Babies, Tobacco Reduction, Recreation Therapy, and Talk to a Counsellor among others.
For the latest PCN news, check out www.reddeerpcn.com or follow them on Facebook to stay up to date as well.
THE JACKPOT IS OVER $14000 AND THE WINNER WILL TAKE HALF!!!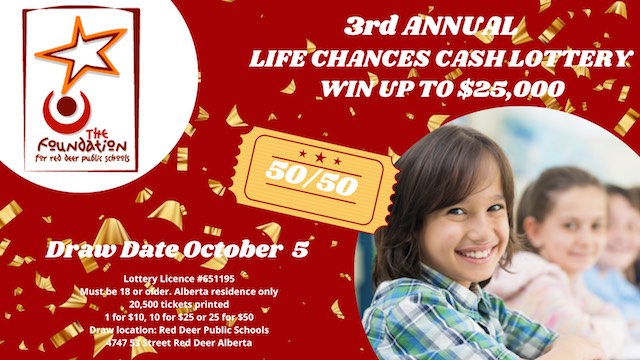 GET YOUR 50/50 TICKETSTODAY!!!! Winner could take home up to $25,000!!!
The Foundation for Red Deer Public Schools supports programs that have a significant impact on the LIFE CHANCES of students across the Division. By purchasing a ticket to support our 50/50 cash lottery you are giving students opportunities to have better life chances.
From giving kids a Bright Start to school to reconnecting with students so they graduate and cross the Finish Line, the Foundation helps students who face challenges in school and makes things better. We motivate struggling students and inspire them to read and write through Reading College. For students who come to school without basic needs, we give them that needed Step Up.
With the support from the Foundations 50/50 Life Chances Raffle, you are providing a student with opportunities that will improve their life. They can't always control the situations they're in but with your help students will continue to have these chances.
Don't miss your chance, CLICK HERE to buy your tickets today – Draw will be held on October 5! Good luck!
NOTE: This raffle is open to all community members in Alberta and over the age of 18.
Shelly Flint Appointed as New CEO of Westerner Park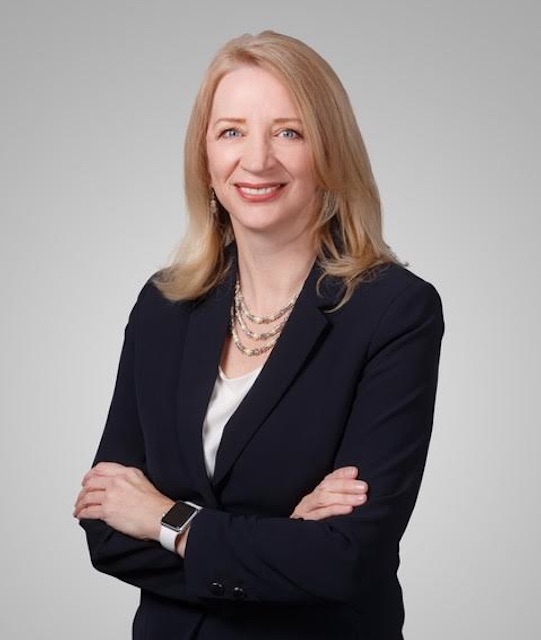 Westerner Park, a distinguished agricultural society and premier exhibition venue in the heart of Central Alberta, is pleased to announce Shelly Flint as its new Chief Executive Officer (CEO). This decision culminates a thorough and extensive search process, with the Board of Directors expressing their enthusiasm for the promising journey ahead under Shelly's leadership.
Tyler Nightingale, President of the Board of Directors, shared his excitement about the appointment, stating, "After a comprehensive search, we are thrilled to welcome Shelly. Her extensive experience, skill set, and knowledge align seamlessly with the strategic direction of Westerner Park, ensuring a positive and enduring impact on both the organization and the community at large."
Tara Lodewyk, Red Deer City Manager, added, "Shelly immediately connected with the mission of Westerner Park and the value it brings to the culture of our city and region. We are looking forward to working together and are confident in her leadership of Westerner Park."
For the past two decades, Shelly has served as a senior executive, spearheading diverse teams within Alberta's dynamic entertainment and finance sectors. Her tenure as the former CFO at the Calgary Stampede equips her with a distinctive insight into the intricacies of Westerner Park, enabling her to adeptly navigate its challenges and leverage its opportunities. Coupled with her roots in Central Alberta, Shelly is poised to steer the Park towards growth and long-term sustainability.
Shelly expressed her eagerness to join Westerner Park, saying, "I was thrilled at the opportunity to return to Central Alberta, where I grew up! Leading this purpose-driven organization will allow me to contribute to my community and affect meaningful change."
Shelly Flint's robust leadership, commitment to community, and extensive experience makes her an exceptional choice to lead Westerner Park into the future. The entire Westerner Park team eagerly anticipates the positive impact she will bring to this renowned institution.
About Westerner Park
Westerner Park is Central Alberta's largest tradeshow, agricultural, sports, entertainment, and convention facility. A not-for-profit organization and agricultural society, Westerner Park typically generates $150 million annually in economic activity, hosting over 1,500 events and 1.5 million visitors each year.