Pink Press Co. – Young Entrepreneur turns Lockdown Hobby into Successful Small Business
After a long year of uncertainty, business closures and public lockdowns, few people have arrived at the end of 2020 with the same outlook they began the year with. 
While the lockdowns and layoffs have been unquestionably difficult for individuals of all ages, from all walks of life, the pandemic measures have cast a light on a certain level of adaptability and creativity for many. From launching online shops, providing contactless deliveries and offering online concerts and shows, individuals from all industries have found a way to remain connected during these socially distant times. Furthermore, using social platforms to connect with their community, countless people have used their time at home to pursue a side hustle or launch their own small business. Among the resounding calls to support local during these tough times, many of these endeavors have been met with extensive support from the community and beyond.
Hannah Olson is a 23-year old Licensed Practical Nurse from Strathmore, Alberta, who has spent the last 7 months alternating between working shifts at 3 different hospitals while launching Pink Press Co., her own modern handcrafted clay earring business.
Hannah became a certified LPN after completing the Licensed Practical Nursing Program at Bow Valley College in 2017, and has been rotating among the Alberta Children's Hospital, Foothills Medical Centre, and Strathmore Hospital for the last 3 years. When the lockdown measures took effect earlier this year, she began using the downtime to pursue her passion for crafting, and discovered she had a knack for clay earrings.
"Initially it was just crafting for pure enjoyment, especially during the lockdown as there was not much else to do anyways," she says. "When I came across my first pair of clay earrings on Instagram, my mom said to me "You could probably make those.""
Pink Press Co. then began in June as an Instagram business page, initially gathering a small community following. Describing her work as a reflection of her personal style, Hannah uses polymer clay and hypoallergenic earring pieces to handcraft unique, custom studs, pendants, dangle and tassel earrings for formal and casual wear. Products range between $12 and $26, plus shipping.

After receiving an extremely positive response and multiple expressions of interest, Hannah expanded her small business further by launching her own Etsy shop in October. According to Hannah, initial orders came from the surrounding community of Strathmore, eventually reaching Calgary and Airdrie as well. However, shortly after opening her Etsy shop, things really took off. 
"I've lost track," she says, "There have been nearly 300 orders on Etsy alone, in addition to custom orders on Instagram and physical shop sales." She has now successfully shipped handcrafted earrings all across Alberta, as well as to BC, Saskatchewan, Manitoba and Ontario. 
Hannah was scheduled to take part in a number of fall and winter markets this holiday season, which were ultimately cancelled as a result of the ongoing COVID-19 pandemic preventative measures. However, she has remained busy filling and shipping custom orders across Canada, and is looking forward to the opportunity to set up at future markets in the New Year.
To view Pink Press Co.'s collection of handcrafted, hypoallergenic clay earrings online, visit https://www.instagram.com/pink.press.co/or https://www.etsy.com/ca/shop/PinkPressCoByHannah, or take a look at Prairie Grounds Coffee House in Langdon, or Sole Discretion Boutique and Back to Good Market & Deli in Strathmore.  
For more stories, visit Todayville Calgary.
Husband and wife charged in multi-million dollar Ponzi scheme
March 23, 2021
Alberta RCMP Federal Policing charge husband and wife in multi-million dollar Ponzi scheme
Calgary – Following a referral from the Alberta Securities Commission (ASC), the Alberta RCMP Integrated Market Enforcement Team (IMET) investigated fraud allegations against a husband and wife operating several companies identified as Vesta Capcorp Inc. and Vesta Equity Partners in Calgary. What was discovered to be a Ponzi scheme resulted in the loss of millions of dollars for various investors between Feb. 2014 and Sept. 2016.
Following an extensive investigation, Brian Kitts, 65, and Shannon Kitts, 55, of Summerland, British Columbia have each been charged with the following:
Fraud over $5,000 contrary to Section 380(1)(a) of the Criminal Code;
Theft over $5,000 contrary to Section 334 of the Criminal Code; and
Laundering the Proceeds of Crime contrary to Section 462.31 of the Criminal Code.
Brian and Shannon Kitts are scheduled to appear in Calgary Provincial Court on Apr. 12, 2021.
The Alberta RCMP was able to successfully carry out this investigation in collaboration with the Forensic Accounting Management Group, Financial Transactions and Reports Analysis Center of Canada, Public Prosecution Service of Canada and Specialized Prosecutions of the Province of Alberta, the ASC, and the Federal Bureau of Investigation.
"Unfortunately, the victims sustained substantial losses as a result of their investment within the Ponzi scheme they believed to be legitimate. The RCMP IMET urges investors to remain vigilant with their investment by performing due diligence."
– Inspector Charlene O'Neill, Officer in Charge of the Alberta RCMP Integrated Market Enforcement Team.
The IMET is a specialized unit under the RCMP Federal Policing program that detects, investigates, and deters market fraud. The IMET unit works closely with the ASC to protect investors and further enhance confidence in the Canada's capital markets.
With March being Fraud Prevention Month, Albertans are reminded to remain aware of potential scams, conduct their due diligence with investments, and report suspected criminal acts to law enforcement. If you have information with respects to a market-related fraud, you are asked to contact IMET at [email protected].
Community & Sustainability with Alberta Original Alley Kat Brewing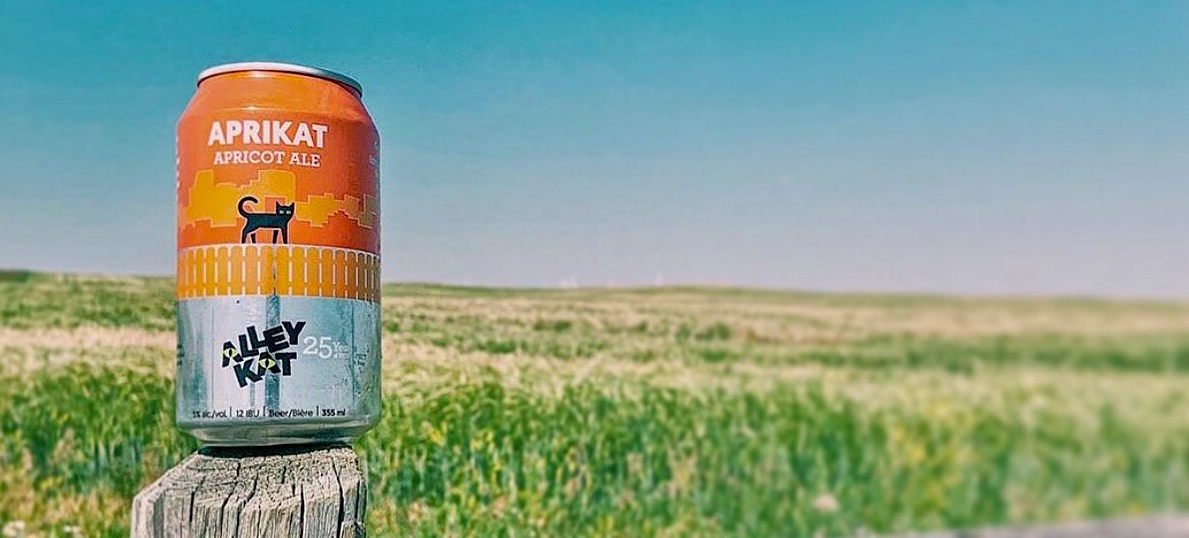 Alberta is home to more than 100 unique craft breweries, the majority of which are located in the city of Calgary and the provincial capital, Edmonton. The number of breweries has grown exponentially since 2013, when Alberta experienced a craft beer boom following legislative changes by Alberta Gaming, Liquor and Cannabis (AGLC) that made owning and operating a microbrewery far more accessible. 
Founded in 1995, well before the boom, Alley Kat Brewing is an Alberta original. Having celebrated its 25th birthday in 2020, Alley Kat is the oldest microbrewery in Edmonton and the 4th oldest in all of Alberta.
Located on 60th Ave in NW Edmonton, this brewery was originally launched by local Edmontonians Neil and Lavonne Herbst. In February 2020 the brewery was purchased by Cam French and Zane Christensen, two childhood friends from St. Albert, Alberta. 
Accountants by trade, Cam and Zane had been looking for opportunities to transition into the craft brew industry, and found Alley Kat to be a good fit. According to original founder Neil Herbst, who has remained involved with the day-to-day at Alley Kat, keeping the brewery local
was a key part of the decision. "At a time when we are seeing some craft breweries being absorbed by large multinationals, keeping Alley Kat in independent hands was extremely important to us," said Neil in 2020. "This sale ensures Alley Kay continues to remain locally owned and operated" (Alley Kat Blog, February 2020). 
Since taking over the brewery, Cam and Zane have continued to focus on the foundations laid by the Herbst's, including furthering sustainable, environmentally friendly practices wherever possible and keeping close ties with the community. In an effort to minimize their footprint as much as possible, Alley Kat looks for ways to recycle, repurpose and reduce waste throughout all stages of brewing and distribution. "From a social consciousness perspective, we know how important it is to do our part," says Cam, "Alley Kat will always look out for the good of our customers and our environment."
Alley Kat's environmental practices include repurposing their spent grain, the product leftover once flavor and sugar has been extracted from their mash, by donating it to Edmonton's Four Whistle Farm to be used as livestock feed. The brewery is also powered by Bullfrog Energy, which allows them to offset their electricity use with green energy, reducing their overall carbon footprint. Furthermore, everything that can be recycled is recycled throughout the process, and the owners continue to stress the importance of recycling the iconic Alley Kat can once it is empty. 
Alley Kat Brewery has and continues to be a dedicated member of the community in Edmonton and across Alberta. Most recently, the brewery announced a partnership with the Alberta Junior Hockey League (AJHL) in support of local teams, including the Sherwood Park Crusaders, Olds Grizzlys, Whitecourt Wolverines, Drayton Valley Thunder and the Bonnyville Pontiacs. $1 from each 6-pack of Alley Kat Blonde Ale will go towards helping cover travel, meal and equipment expenses for the young athletes.
"I played hockey for Drayton Valley growing up," says Cam, "so this is a great way to give back and help these players have the same experiences I did." 
After an exciting – if not somewhat trying – first year at Alley Kat Brewing, Cam and Zane are excited for the remainder of 2021. Fans of Alley Kat and Canmore's Grizzly Paw Brewing can look forward to a collaboration beer, coming soon in honor of 25 years for both breweries.
A new Alley Kat "Summer Fling" mixed pack, featuring 3 new beers will be coming out soon as well, just in time for patio season, and their annual summer seasonal beer will be released on April 1st!

For more information on Alley Kat Brewing, visit https://www.alleykatbeer.com
For more stories, visit Todayville Calgary.