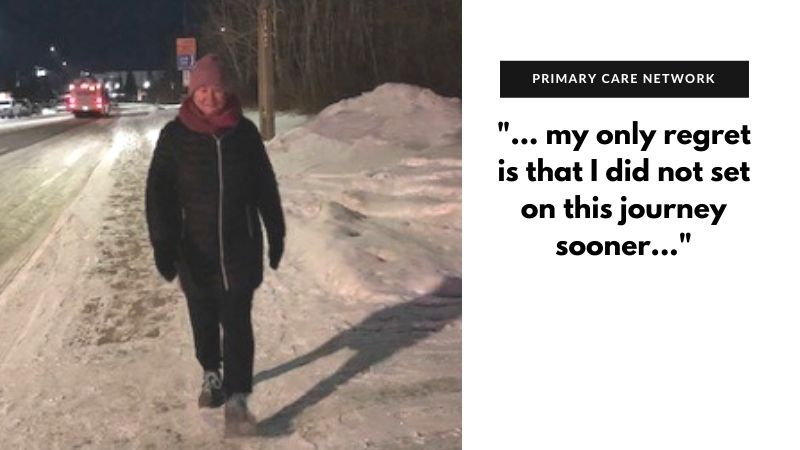 I was diagnosed with Type 2 Diabetes in October 2020. I worked with the RDPCN family nurse to adopted a completely new lifestyle. I decreased my caloric intake, started carb counting, and started walking daily. At first I would walk for 30 minutes a day and now I am up to one hour per day. At times the winter weather has challenged me but I have persevered. Evenings were always family time but I steal an hour for my walking. Fortunately, my family is supportive and at times my daughter or a friend join me and give me motivation.
I have begun to feel lighter and in better shape. I have lost 30 pounds and I have normal blood glucose and blood pressure now. I am still awaiting results of a liver fibroscan. It has taken me a lot of work and willpower to stay the course and I am not done yet. I really feel that I have dodged the bullet. For me a prospect of serious illness, heart attack, liver failure, losing a limb or my family losing me… was petrifying.
So if I were to give advice to anyone who recently got diagnosed with Type 2 diabetes, it would be this: first, make sure you understand what is going to happen if you don't do anything and then think about the consequences it will have on you and your family, those you love the most. For me that was the biggest motivation. And second advice, find your support system:  family, friends, medical professionals… anyone that will be able to be there for you, give you advice, challenge you and prop you and push you when needed.
I hope someone finds my story inspiring. After all, for years I had used every excuse in the book, not enough time, I cannot give up this or that… until the prospect of getting seriously ill became all too realistic. It is not easy to change one's ways, but it is more difficult to live with the consequences of the untreated diabetes, or even worse – to not live at all. My only regret is that I did not set on this journey sooner, before any damage was done.
To learn more about the RDPCN programs, visit www.reddeerpcn.com
Getting My Blood Glucose Back in the Normal Range Gave Me Tears of Joy
Trevor's Story: I Have Anxiety and Depression. Where Can I Get Help?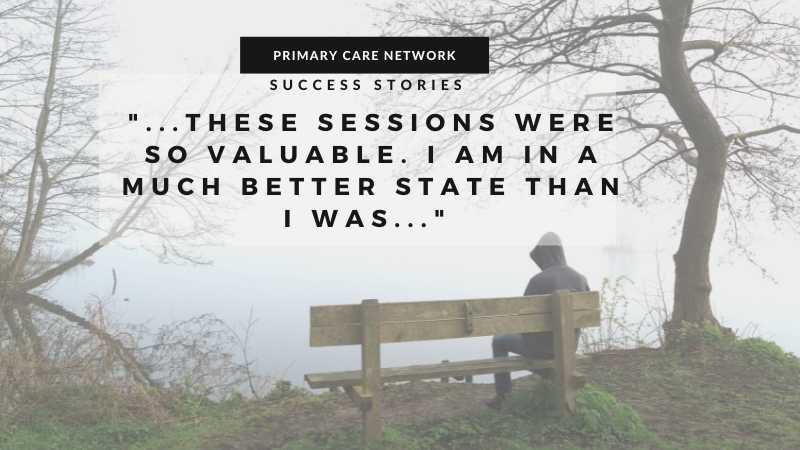 Trevor has suffered from anxiety and depression for a while. He had no idea where or how to get help with this. In discussing this with his doctor, he was referred to a Mental Health Counselor at Red Deer Primary Care Network.
Trevor says, "I, the skeptic, didn't expect that I would get much help but did decide to work with the counselor. I needed to do something. We had 6 sessions together. The counselor provided me with insight on things that should have been so obvious to me but they weren't. You don't know what you don't know. The counselor provided me with very practical and valuable tools. I came away with a different, more positive way to think about things. And it was just great to have a non-judgmental person to listen to me. It is a relief to just be able to tell someone who was really listening about my struggles.
These sessions were so valuable. I am in a much better state than I was. My struggles are not over but I manage to get through each day using the tools and improved mindset that I learned.
If anyone else is struggling like me I recommend no matter if they think it won't help  just go, go in with an open mind. Even if you just feel you need someone to talk to you will get valuable tools to help manage your situation."
To learn more about the RDPCN programs, visit www.reddeerpcn.com
Read more Success Stories from the Red Deer Primary Care Network.
Kinsmen Dream Home Lottery Tickets Now Available – Click Here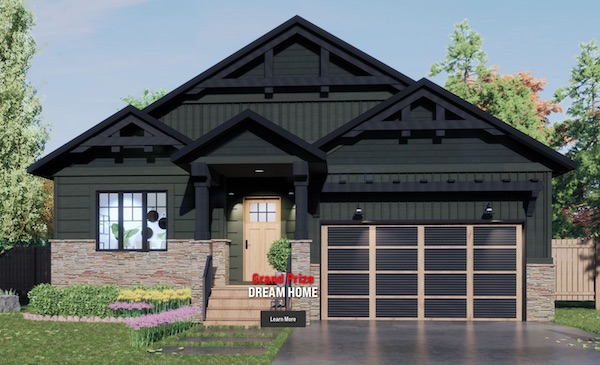 The Red Deer Kinsmen Dream Home Lottery is back for 2021
For the past 40 years, the Dream Home Lottery has been the cornerstone of the Red Deer Kinsmen's contribution to the community's greatest needs. Many of
the new playgrounds and sporting facilities you see are funded completely or partially with funds raised by the Red Deer Kinsmen. This year, you can once again help the Red Deer Kinsmen make a local impact in your community by supporting the Dream Home Lottery.
The 2021 Lottery is a little different from previous years with more prizes and chances to win. This year's lottery offers 104 prizes valued at over $864,700;
including the Grand Prize, fully landscaped show home in the new community of Timberlands. The $744,000, 2,368 sq. ft. dream home, built by True-Line
Homes features 3 bedrooms, 3 bathrooms plus den, a fully upgraded kitchen with premium appliances, Quartz Island, and walk-in pantry.
For supporters who buy their tickets early, there are TWO Early Bird cash prizes. Deadline for Early Bird #1 – $10,000 cash is 11:59pm November 11th. Deadline for Early Bird #2 – $25,000 cash is 11:59pm December 2nd.
Other prizes include vacations, home renovation packages, exercise equipment, tech, electronics, cash and much more. Tickets are $100 each, 5 for $150, 15
for $250 or our best package 50 for $350. They can be purchased online at reddeerkinsmenlottery.com or by calling 1.833.511.3863 and leaving a message. The lottery is presented by Kinsmen Club of Red Deer.
Back again is the 50/50 Cash Raffle where one lucky ticket holder will take home half of the total ticket sales. Tickets are $10 each, 10 for $25, 25 for $50
or 50 for $75.
Red Deer Kinsmen Dream Home Lottery License #575571 / 50/50 Cash Raffle License #575572
The final ticket deadline is 11:59 pm December 23, 2021. The final draws will be held January 5, 2022.
2021 Dream Home
Since 1981 the Kinsmen Club of Red Deer has run their annual Dream Home Lottery from October to December.  Using local home builders and trades, this project is the club's largest fundraiser.  Lives continue to change as we make that magical phone call letting the winner know they have just won a new home while the funds raised continue to support our local initiatives.  In 2020, the club had to make the difficult decision to forgo the dream home portion of its lottery due to the unknown brought on by COVID, however, in 2021 we are coming back with an even bigger and better lotto!
With the ongoing support of heroes like you, we are able to support some incredible agencies that truly make our community better.
The money raised from the lottery stays within our community. Whether it's one of the many playgrounds, arenas, Discovery Canyon, Library Link or the new Family Link Centre in Parkland Mall, the Kinsmen have been able to construct numerous community structures from our fundraising efforts. However, those are only a very small part of what we are able to do.
These charities are an important part of the City of Red Deer, and it is crucial that we as a community always do what we can to support them. By being able to help provide funding for these and other groups help them make incredible changes in people's lives that would otherwise be impossible. We are so fortunate to live in a community of such caring, giving people. It is because of you that we are able to do what we do.
Prizes
EARLY BIRD PRIZES
2 Early Bird Cash prizes
• #1 – $10,000 CASH – Deadline: November 11, 2021
Draw will take place on November 23, 2021, at Stride Management Corp. (12:00 pm)
**Only tickets purchased before 11:59 pm on Nov 11, 2021, will be eligible for the Early Bird#1
• #2 – $25,000 CASH – Deadline December 2, 2021
Draw will take place on December 14, 2021, at Stride Management Corp. (12:00 pm)
**Only tickets purchased before 11:59 pm on Dec 2, 2021, will be eligible for the Early Bird#2
GRAND PRIZE DREAM HOME
The Forest by True-Line – 26 Tillier Street, community of Timberlands Red Deer, AB T4N 5E7
• Valued at $744,000!
• 2,368 sq. Ft. of developed living space, 3 Bedrooms, 3 Bathrooms plus Den, Finished basement & Landscaping
ADDITIONAL PRIZES
• 104 prizes worth over $864,700 to be won!
• Prizes include vacations, home renovations, epic experiences, exercise equipment, tech, cash,
and so much more!
THE 50/50 CASH RAFFLE
• Win half of an ever-increasing jackpot!
• Tickets are easy to buy – 1 for $10, 10 for $25, 25 for $50 or 50 for $75. Purchasers are not
required to purchase a ticket in the Red Deer Kinsmen Dream Home Lottery to purchase
tickets in the 50/50 Cash Raffle lottery.
• For a list of charities that benefit from the 50/50 Cash Raffle, please visit reddeerkinsmen.com
Red Deer Kinsmen Dream Home Lottery Licence #575571 / 50/50 Cash Lottery Licence #575572
Final Draw
• Ticket Cut-off is December 23, 2021 (11:59 pm)
• Final Draws will take place January 5, 2022 at Stride Management Corp. (11:00 am)
TICKET PRICES
1 for $100 • 5 for $150 • 15 for $250 and our best value 50 for $350
**Minimum prize value is $100**
Cause
The Red Deer Kinsmen have served the City of Red Deer since 1937 through fundraising and support of its many groups, community projects, and the people who make it an amazing place to live. This year is even more important as we were unable to run the Dream Home Lottery in 2020 due to the Covid pandemic.
Please go https://reddeerkinsmenlottery.com/cause/ for a full list of organizations the Red Deer Kinsmen have supported in the past.
Call Toll Free 1-833-511-3863
Order Online: reddeerkinsmenlottery.com

We are proud to have been associated with some truly outstanding organizations, including the:
Red Deer Food Bank
Cystic Fibrosis
Red Cross
Youth and Volunteer Centre
Central Alberta Women's Emergency Shelter
Red Deer Pond Hockey
Minor Hockey
Red Deer Public School Board Foundation – Bright Start Program
Hospice Society
Red Deer Royals
Red Deer College
Paediatric Ward
Blackfalds Field House
Penhold Multi Plex
and many more!