Oh Susanna and Ryan Langlois Oct 18th at International Beer Haus
Excellent show coming up on Wednesday, Oct. 18th at the International Beer Haus. Folk roots singer and songwriter Oh Susanna along with Ryan Langlois. Here is some background on Oh Susanna from her website:
This Canadian songstress has a voice that can pierce a heart of stone. Her superbly crafted songs often tell stories of troubled souls who rebel against their circumstances to attain a quiet dignity. These are tales of longing and love, of small town joys and pains, of our simple feelings and strong passions. These are tales that look into our beautifully flawed human hearts.
Performing since 1996, Oh Susanna has released eight critically acclaimed albums. She is the recipient of a Genie Award for Best Original Song and a Canadian Folk Music Award for English Songwriter of the Year. She has also been nominated for two Juno Awards each for Best Roots and Traditional Album of the Year, as well as two Canadian Folk Music Awards for Best Solo Performer and for Best Contemporary Singer of the Year. This year she released A Girl in Teen City, an album of songs set in 1980s Vancouver starring a teenage punk girl named Suzie. The album has been met with high critical acclaim and has earned three Canadian Folk Music Award nominations: English Songwriter of the Year, Contemporary Singer of the Year, and Producer of the Year. Oh Susanna lives in Toronto with her husband and son.
As mentioned, also taking the stage Oct. 18th is Ryan Langlois. We talked to Ryan earlier this summer and shot an interview with him as he sang the title track from his new album.
"…Light and Dark is the title track of his new EP and it fits like a beautiful harmony. To those who appreciate music and musicians, an artist like Red Deer's Ryan Langlois is truly intriguing. He's tasted the sweetness of success with a fabulous band called the Boom Chucka Boys. But that didn't last because Langlois was heading in a different direction. Instead he took a road that lead him home to his family in Red Deer and a musical rediscovery.
Ryan's about to reveal his new direction to his fans. And in all likelihood he's about to create a lot of new fans with "Light and Dark". The EP will be released Thursday June 22 on iTunes and if you give it a listen there's a good chance you're going to be singing that line "Light and dark. Ain't that far apart…" and you might start wondering just how far apart Ryan Langlois is from a massive breakthrough.
Check out the song and the story behind it right here and enjoy Ryan Langlois while he's still one of us.. 'cause he's "not far apart" from lighting it up…"
Should be a great night.
Bull Skit, Red Deer's beloved improv group is back for season 15!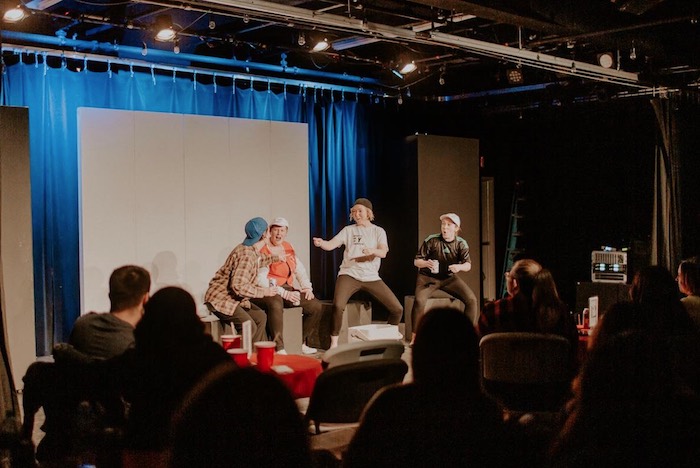 From Bull Skit Comedy
Bull Skit Comedy – Celebrating Season Fifteen!

"We're as surprised as you we've survived this long!"-Anonymous Cast Member
Bull Skit Comedy is proud to announce our fifteenth anniversary! Join us as we kick off Season 15 with the Lab: Featuring Lindsay Thurber, and Hunting Hills Improv teams January 20th at 8 PM. As we move into 15th we are here to celebrate community, and create a community at PLAY! Proceeds from the Lab will go directly to these High School teams to support them going to the Canadian Improv Games, and Wildfire in Edmonton. It's important to us to support initiatives close to us, give back to this art form, and support individuals wishing to develop themselves through play.
2023 has a full slate of shows, January features The Lab, and Maestro. February the month of Love will have An Improvised Love Actually, Gays of our Lives (Show featuring only LGBTQ2+ Performers), and Maestro. March we are back with Sketch & Music with Big Lip Energy, and Maestro. April we welcome spring with an Improvised Musical, Gays of our Lives, and Maestro. Then May we are back again with the OG Sketch Show that started it all, and Maestro. June is
for the families with Improvised Fairy Tales in the park with Calf Skit, and wrapping up our season 15 will be our Dark Carnival in July at Bo's Bar and Stage.
Each month you will see the show Maestro, this show is a way to open our stage up to improvisers across Central Alberta, and bring us all together. We will have anywhere from 8-13 performers hitting the stage to battle for the coveted $5 bill, the audience votes on their favourite scenes and performers throughout the evening. This show has been performed in more than 20 countries, and was created by Keith Johnstone (Loose Moose, Godfather of Improv.)
We can't wait to see people back at our shows. The Season will also offer workshops that will get you PLAYING, connecting, and learning something new about yourself. All information, to purchase tickets, or to read up about our awesome-ness please visit www.bullskitcomedy.com.
Top 5 reasons to celebrate the New Year together at the Alberta Sports Hall of Fame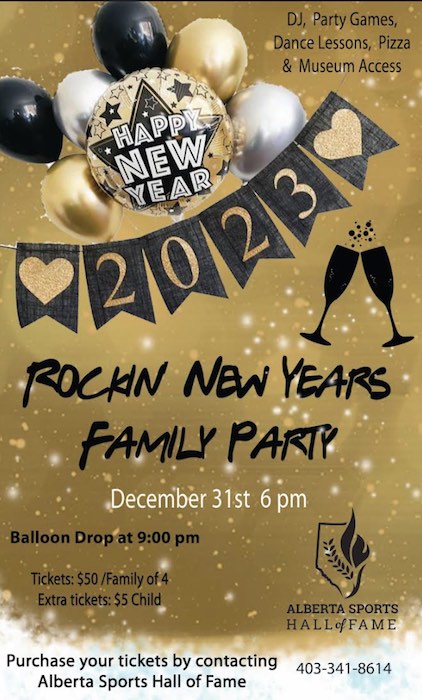 The Rockin' New Year's Family Party is on once again at the Alberta Sports Hall of Fame and Museum.
If you've been to the Hall of Fame you'll know why this is such a great idea for some beautiful quality family time. If you've never been, don't miss this chance to show a really great time to your children while you enjoy yourself thoroughly as well. You'll be floored by all the activities for the kids. In fact, we can guarantee you're going to be joining them on the downhill ski game, throwing hoops, shooting pucks and throwing balls.. because it's too much fun to resist!
You will want to step away for a few minutes of quiet though, while you enjoy the Hall of Fame Gallery. It's a treat to discover and rediscover the best athletes in the history of this sports crazy province!
OK. Here are the top 5 reasons to bring your family to the Alberta Sports Hall of Fame and Museum on New Year's Eve!
1) We're bringing in loads of pizza!
2) We've got organized party games to keep the kids busy!
3) We've got a DJ! That's right. This is a real party with dancing and everything.. The kids are going to love groovin' to Rock and Roll with you!
4) There's unlimited access to all the interactive games and exhibits in the Alberta Sports Hall of Fame.
5) We're dropping the balloons at 9 PM! That means there's time to get the young ones home and safe in bed while mom and dad bring in 2023 with the adults.
and a bonus!!!
6) Did we mention the cost? It's just $50 per family of four, plus $5 for each additional child.
Don't miss this chance to experience the Alberta Sports Hall of Fame and Museum. Make a ton of fantastic, fun, affordable family memories!
Join us at the Hall from 6 pm – 10 pm on December 31st.
$50/family (up to 2 adults & 2 kids. $5 per additional child).
Please call us at 403-341-8614 to book your spot before it's too late.