Local School Choir joins Foreigner to rock the Centrium
Four decades success in the music industry is an unbelievable achievement for a band. Few can survive, let alone thrive. Click the video link to listen to frontman Kelly Hansen's insight into Foreigner's legendary success, the band's 40th Anniversary tour and their new Rhino release. Great insights into the music and their landmark tour with Rock'n Roll Hall of Famers' Cheap Trick and Jason Bonham, son of legendary Led Zeppelin drummer John Bonham.
Music fans will appreciate the passion Foreigner has for supporting young musicians though school music programs. Foreigner has a long-standing partnership with the GRAMMY Museum, by which local school choirs are invited to join the band on stage in almost every market they play. Through this program over the past several years, the band has raised well into the six figures for music in school programs, and given thousands of students the once-in-a-lifetime experience to rock on stage with one of the most well known bands of all time. After winning a contest hosted by Z98.9, Sylvan Lake's HJ Cody High School Choir will be joining Foreigner on stage Friday night! Here's the successful audition…
Many of these children never even been to a concert, let alone performed with a band of this magnitude. With music programs being cut across the country, some groups even self fund their rehearsals and classes. Thousands of students have had the opportunity to perform with Foreigner over the years, and many site this as pivotal in their music education. Several band members also credit high school music as paramount in their career, from founding member Mick Jones to bass player Jeff Pilson.
Kelly Hansen has been instrumental in the band's evolution since 2002. One of rock's greatest showmen, Hansen is known for his innate ability to connect with the crowds. As a front man and lead vocalist, Hansen is among the most respected, consummate professionals in rock and roll. Kelly has a 35-year career that spans almost every area of music, from the role of lead vocalist to producing and engineering.
Since the 1977 release of their first hit "Feels Like The First Time" and their self-titled debut album on Atlantic Records, FOREIGNER has been universally hailed as one of the world's most popular rock acts with 10 multi-platinum albums, 16 Top 30 hits, and worldwide album sales exceeding 75 million. Responsible for some of rock and roll's most enduring anthems including "Juke Box Hero," "Cold as Ice," "Feels Like The First Time," "Urgent," "Head Games," "Say You Will," "Dirty White Boy," "Long, Long Way From Home," and the worldwide #1 hit, "I Want To Know What Love Is," FOREIGNER continues to rock the charts more than forty years into the game.
At Foreigner's core is founder and lead guitarist Mick Jones, a visionary maestro whose stylistic songwriting, indelible guitar hooks, and multi-layered production talents are responsible for some of the greatest rock anthems ever written. Jones began his songwriting career in France in the 1960s, writing three No. 1 singles for French pop star Johnny Hallyday. After moving to the U.S. in the 1970s, Jones wrote "Feels Like The First Time," which reached No. 4 on the charts, serving as the first of a long list of hits that helped build Foreigner's multi- platinum career over decades to come.
His 1984 track, "I Want To Know What Love Is" quickly became a No. 1 single in both the U.S. and the UK, and to this day remains one of the 25 most-performed songs in ASCAP's Catalog. It has been recorded by a diverse group of popular artists, including Julio Iglesias, Shirley Bassey, Clay Aiken, and Mariah Carey. With a message that resonates worldwide, the song has been translated into 14 languages and reinterpreted into many diverse genres.
In 2013 Jones was inducted into The Songwriters Hall of Fame. A multi- talented and multi-dimensional "musician's musician," he has also written songs such as "Bad Love" with Eric Clapton and "Dreamer" with Ozzy Osbourne, and produced records for others including Billy Joel's Stormfront and Van Halen's 5150. A Grammy and Golden Globe–nominated songwriter, Jones is the winner of the prestigious British Ivor Novello Songwriter award for "The Flame Still Burns," the soundtrack music for the film Still Crazy.
"I never could have imagined when I set out to create Foreigner forty years ago, that we'd still be touring around the world and performing the music we love all these years later," says Mick. "I am so proud that these songs will now be reinterpreted for stage, and am honoured by the team that is helping bring this music to life. I can't express the gratitude I feel when fans share stories of how our songs have been woven into their milestones and memories over the years. I had so many great times with Foreigner in Canada and I look forward to bringing the band back here for our 40th anniversary tour. I'm thrilled that Canada will see the premiere of our brand new musical, Juke Box Hero, in 2018."
FOREIGNER performs at the Enmax Centrium Friday night (Oct 13) with Canadian rocker icons Honeymoon Suite. Some tickets still available – PURCHASE NOW.
(with files from Mark Collings)
CFR Rodeo, live music, street dancing, art, theatre and more downtown celebrations..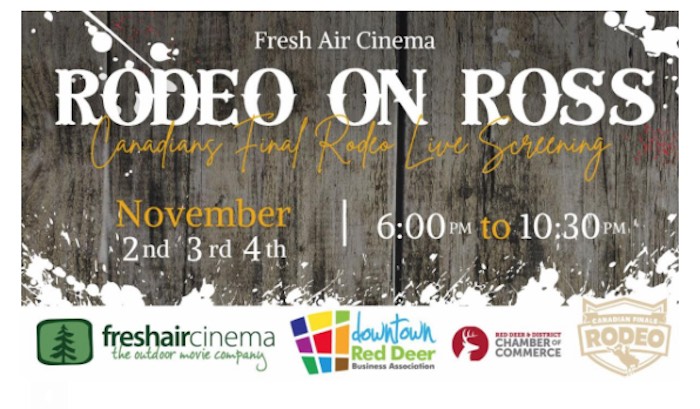 Live Music at The Velvet Olive
Mike Szabo at The Velvet Olive

October 26th @7:30

Join Mike Szabo on a journey of stories and songs he wrote and the covers that inspired him. Mike is promoting the release of his debut vinyl LP, Take My Heart 2020. Cover for the show is by donation and guests will be seated first come, first served.

Fish in a Birdcage at The Velvet Olive

October 28th @8:30

Dustan Townsend AKA "Fish in a Birdcage" is a young and passionate musical virtuoso. Townsend is originally from Red Deer, Alberta and is now on a two year long busking/street performing adventure around Europe with Spain being his next destination.
Family Street Dance October 29th
Grand Opening Celebration
October 29th
Yep, you heard that right! We're hosting a Grand Opening celebration for Red Deer's largest music store! When Long and McQuade bought the business in February of 2020, plans to renovate the store were made but had to be postponed. Fast forward to 2022, renovations are now finished and we would like to take this opportunity to celebrate the occasion with YOU, our amazing customers!
Come to the store on Oct. 29 for some awesome giveaway prizes, live music, and free food. Our BBQ will be fired up from 12 to 2 and we have live music scheduled from some excellent local musicians!
Trick or Treat Downtown Red Deer
October 31st
Trick or Treat October 31st-
12-4 pm
Trick or Treat with your little one at your favorite businesses and stop by the Ross Street Pation for a photobooth!
Contact Carbon + Oak for location information.
Rodeo on Ross
November 2nd, 3rd ,4th
Celebration 6 Years Arts & Culture
November 4th
A + Art Gallery & unique collections

Celebration 6 Years Exhibition

Details:

Opening Reception

Date: Friday, November 4th

Time: Noon to 4 pm

FREE Event
The Games of Love and Chance
November 10th to 27th
Prime stock Theater
@ Scott block theatre
November 10th to 27th.
Thursdays – Sundays 7 pm
PLUS 2 pm Matinees on Saturdays
Love must conquer clever disguises in this delightful comic masterpiece.

The Games of Love and Chance was originally written by Pierre de Marivaux at the height of opulence and extravagance during the reign of Louis XV in France. This playful and witty comedy has been newly translated and adapted by Artistic Director, Richard Beaune and this is it's world premiere! Indulge in an evening (or afternoon) of love, laughter and decadent silliness as Red Deer's only professional theatre company brings this sumptuous story of love and deception to life on stage.
Starpainter w/ Curtis Phagoo at The Velvet Olive
The Velvet olive

Starpainter is a folk rock band from Lethbridge, Alberta. They wear their influences on their sleeves, showcasing strong songwriting and an affinity for gently psychedelic alt-country tones. The band has been growing a following on the strength of their debut full-length titled Bury Me By My Family (2020). Their imaginative, guitar-heavy live show is built on a foundation of prairie-born craftsmanship with a pop sensibility that defies their youth.
Follow along with our NEW mural map, to enjoy the amazing murals that Downtown Red Deer has to offer!
Looking for a paper copy? Head to the Downtown Business Association office.
120, 5009 50 Ave.
Lindsay Thurber Comprehensive High School presents Legally Blonde The Musical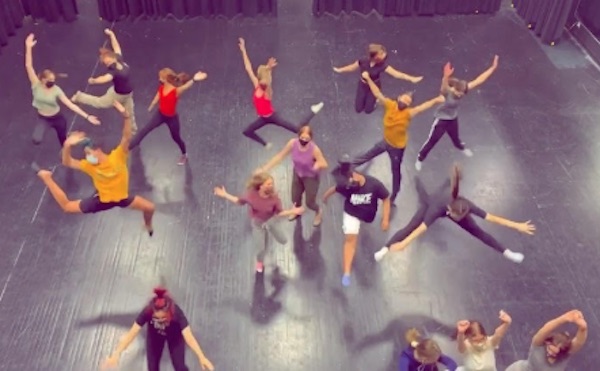 Elle Woods is making her debut in Red Deer as Lindsay Thurber Comprehensive High School presents Legally Blonde The Musical.
Shows run March 12-13 and March 16-17 at Red Deer Polytechnic.
"The aim is to offer students a new style, genre or era of musical theatre each year, so that by the time they graduate they have experienced a variety of styles. Last year, we worked on Annie, so this year, Legally Blonde came from wanting to do something a little more contemporary. It's got a pop-rock score and some more challenging content, which the high school students were excited for," said Tara Koett, Teacher at Lindsay Thurber Comprehensive High School. "The show is based on the film, which is based on a book."
According to Lindsay Thurber's website Legally Blonde The Musical is, "A fabulously fun award-winning musical based on the adored movie, Legally Blonde The Musical, follows the transformation of Elle Woods as she tackles stereotypes and scandal in pursuit of her dreams. Action-packed and exploding with memorable songs and dynamic dances – this musical is so much fun, it should be illegal!"
"It's really campy and self aware, ridiculous and clever. For those familiar with the movie, it's quite similar and maybe a little cheekier," said Koett. "It's been a lot of fun, it's very high energy, and it has a really beautiful and empowering message."
About 70 students (and two canine actors) are involved in the production, which includes the cast, pit band, and technical theatre students. Koett added the students are giving their all.
"It's been a really steep learning curve given the fact that in the past two years, their learning has been interrupted because of the pandemic," she said. "It's daunting and so exciting to see them start to revisit the skills they haven't had the chance to use. It's also the first time in two years that we've been able to have our cast and the pit band performing together. It's really exciting and the energy is palpable."
Koett said she encourages people to purchase tickets, even if they don't have a connection to the school community.
"If you love live theatre and you love to laugh – the breadth and depth of work that these students have accomplished is incredible," she said. "Our pit band is playing the same score that a Broadway Pit Orchestra would play; they are working so hard. The cast and technicians are also working so hard – I am amazed every day. The quality of their work is exceptional."
Tickets are on sale now. To purchase tickets, visit the Red Deer Polytechnic ticket website, or https://www.rdpsd.ab.ca/lindsaythurber/_ci/p/82938. For a sneak preview of the process, follow @thurbertheatre on Instagram or Facebook.