NOVA Chemicals Steps Up Support for Charitable Sector During Pandemic Crisis
(Contributed by Volunteer Central volunteer, staff, and NOVA Chemicals staff)
Difficulty can breed opportunity. Although we are currently going through terrible difficulties due to the coronavirus pandemic, it gives each of us a chance to show our compassion. No-one would ever wish to put ourselves in the situation we find ourselves in, but everyone can help. We need to conquer this together.
NOVA Chemicals is doing their part. In fact, they have been doing their part long before the COVID-19 crisis.
In 2019, NOVA Chemicals celebrated 40 successful years in central Alberta. The company gives where it lives. NOVA Chemicals and its Joffre Site employees have long demonstrated a phenomenal sense of community and they have made a difference over the years working together with dedicated people from every corner of our central Alberta community. And, NOVA Chemicals has stepped up its charitable work and safety measure amid the pandemic.
They have made their Joffre plant workers' safety a priority. As Mark Hodson, NOVA Chemicals Joffre Site Leader explains, "We minimized our headcount to site-critical personnel only, and enhanced protocols to keep them safe while they focus on ensuring the safe and reliable operations of the Joffre facility. A few of those measures are social distancing, increased workspace cleaning and sanitization, and point-of-entry- temperature screening. Our non-critical personnel have been set up to work from home."
Since the onset of the crisis, the company was the first to contact the United Way Central Alberta to help with their Community Response Fund and has contributed over $50K to the cause so far. This total is comprised of NOVA Chemical's initial contribution, employee donations, and the company's match of employee donations. This generosity does not include the money being match by the Government of Alberta until May 31.
They're also doing the little things that matter so much. For instance, the company initiated a cupcake delivery program for front-line workers at selected not-for-profit agencies.
But NOVA Chemicals is no stranger to charity. They have been working with the United Way of Central Alberta – their charity of choice – for decades. The company has been enormously generous in working with them.
The charity, as Brett Speight, Chief Executive Officer, United Way Central Alberta explains, "are leaders and partners in championing community solutions by creating opportunities, leveraging and investing resources, and collaborating with others. We work to improve lives and build community through engagement and mobilizing collective action."
NOVA Chemical's Joffre site has contributed over $9.5 million to the United Way Central Alberta since they formed a partnership in the early '90s, a number predicted to rise to over $10million through their annual United Way campaign this year. The numbers speak for themselves.
As impressive as these monetary contributions are (which is to say, very much so), in addition to the monetary support through employee pledging and company matching, NOVA Chemical encourages and participates in a good deal of volunteer work through the United Way Day of Caring™ program. Last year alone, more than 130 employees participated in the volunteer program, lending their services and expertise to local not-for-profit organizations.
Hodson summed up the company's charitable philosophy with this: "Keeping our commitment to being a 'responsible neighbour' remains a priority for us. During a crisis, I believe it's even more important to show you care and continuously look for ways to lend a hand up."
Crisis or not, NOVA Chemicals has proven they will continue to serve the community of central Alberta through thick and thin. They do not need a massive problem to cause them to help, but when there is one, they step up their efforts accordingly. This has earned them the Good Business of the Month from Volunteer Central. Well done!
Southside Dodge donates new van to Ronald McDonald House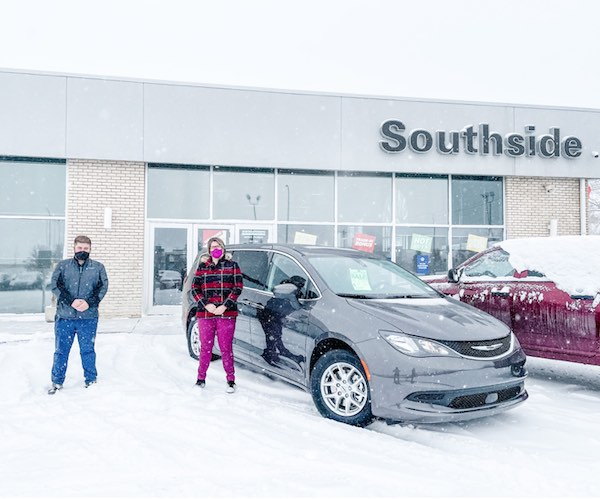 Matt Swainson (Vice President & General Manager, Southside Dodge Chrysler Jeep Ram) -left , Lori Rechlo (General Manager, Ronald McDonald House Charities Alberta – Red Deer House) – right
Submitted by

Sarah Heibein, 

Stakeholder Relations Manager, Central Alberta Ronald McDonald House

We've received a donation of use of a Dodge Caravan from Southside Dodge- they've been an incredible support of us over the years.  Attached is the photo we took at the dealership when we picked up the keys on Friday.
Ronald McDonald House Charities Alberta, Red Deer House is truly grateful to Matt Swainson and his entire team at Southside Dodge for their steadfast support of our work to keep families together during the unimaginable hardship of the need to travel for medical treatment for their sick or injured child. Our House is not a nice to have, but a need to have, and we are honoured to work with such an amazing community partner in Southside. The use of the 2021 Dodge Caravan will help us to keep our operating costs down so that we can focus on our work to keep families close.
We have operated in the city for over 8 years, ensuring there is a safe and comfortable place for families to rest while they focus on the recovery of their child(ren).
We are grateful to everyone in Red Deer who supports us!  😊
Smiles Thru Lindsey reaching out with a new video message and urging Albertans to look out for each other at this challenging time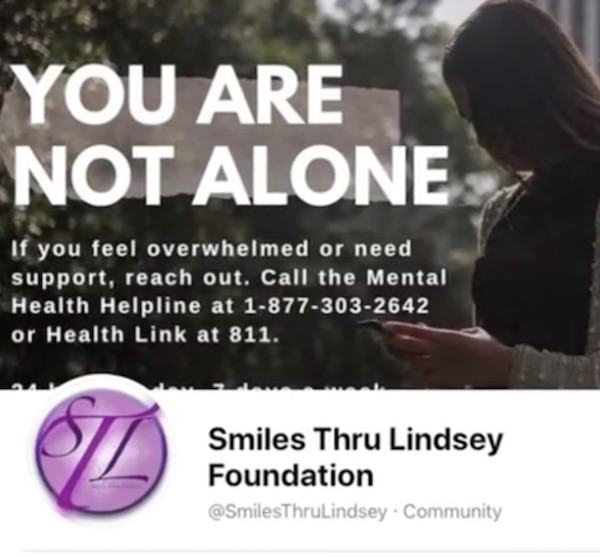 The holiday season is well behind us, we're heading into the coldest part of the winter, and although the days are starting to grow longer there's still a definite lack of daylight in our lives.  The winter blues are a real thing and this year we have COVID, a whole new serious problem to add to our mental health issues.
COVID is also the reason the Smiles Thru Lindsey team has not been able do public events for many months.  Unable to reach out physically through school visits and fund raisers, Smiles Thru Lindsey is reminding Central Albertans to check in on each other.  Also, please follow the Smiles Thru Lindsey Facebook page .  They'll lead you to the resources you or your loved ones need right away.
Meet Lindsey and the Smiles Thru Lindsey team in this powerful video.  …And remember to check in on the people in your life.
If you'd like to help Smiles Thru Lindsey with a donation please click here.