12 Simple and Low-Cost Ways to Give Back (and Make a Big Impact) This Holiday
Organize a Food Drive
Enlist your neighbors in your effort to give back and offer to handle logistics. Pass out fliers with suggested donation items, your drop-off time and the organization where you will deliver the donations on your block's behalf. This can easily be done while practicing social distancing with staggered drop-off times, and simply setting up a table on your driveway where people can drop off their items while practicing social distancing.
Check in with an Old Friend
Take the time to reconnect with an old friend by writing a letter to someone you've lost touch with. You'll both feel good!
Think About the Animals!
Donate used blankets, towels food, litter, or toys to a local animal shelter.
Give Back to Our Planet
Challenge yourself to adopt an earth-friendly habit for a week, month or the entire holiday season. Using your own reusables, such as travel mugs and cloth shopping bags, can go a long way. Use newspaper to wrap presents and get creative with reducing your waste over the holiday!
Treat Local Firefighters and Front-Line Workers
Treat the hard-working individuals of our local fire stations or hospital with some unexpected treats to say thanks.
Feed Hunger
Make a brown bag meal or two for the homeless. Check with organizations for guidance on what their clients need most. Warm socks and travel-size toiletries such as toothpaste and hand soap are often greatly appreciated. A little goes a long way.
The Gift of Life
Donate blood!
Random Giveaways
Break $5, $10 or $20 into dollar bills and give them away throughout the day to those who could use a buck. Maybe it's just buying a coffee to the person behind you in line, or someone standing on the street. Perhaps even lend an ear and listen to their story. You just might change the course of someone's day with your generosity.
Pay it Forward with Bus Passes
Purchase bus transit passes that can be used any time, and head on down to the bus station and hand the passes out to individuals who could use a break.
Spread the Words
Donate your gently loved books to those in need of a good read, like nursing homes and shelters.
Give Your Undivided Attention
Unplug from technology for a couple hours per day and give full focus to your children, significant other, friends, pets and even yourself.
Throw Down a Charity Challenge
Share this post on social media along with ways you are giving back. Then challenge your friends and followers to do the same.
Laura's story: I Feel So Much Better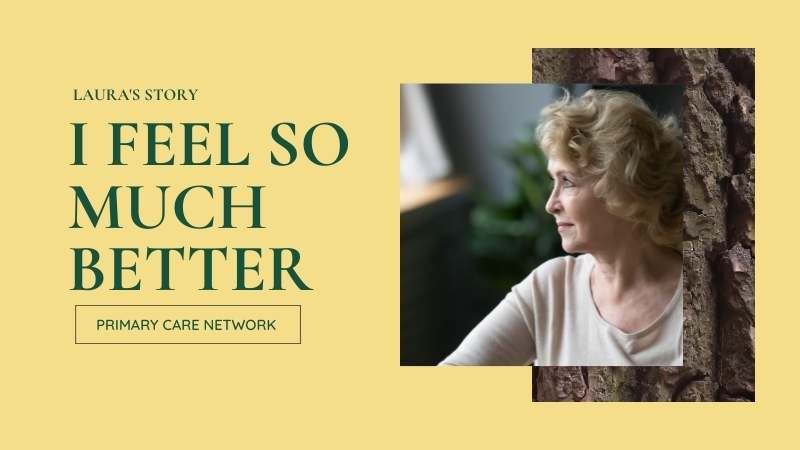 Health issues surfaced in the summer of 2020 for Laura. She had chest pain often and ended up in emergency a few times. She did have a small cardiac event in July. Her blood sugars were very high and all over the map during this time. Her blood pressure was also way too high.  She knew her weight was an issue to her health.  She had been diagnosed with Type 2 Diabetes a few years before this but had not tested her sugars for most of that time. All in all, this was a scary time for her.
Her doctor sent a referral to the Family Nurse in the clinic. He helped her to change her medication to less but more focused to her present condition. She found the nurse very positive, encouraging and available to meet her needs. Talking to the nurse regularly kept her accountable. She now enjoys smaller portions or healthier foods. Although it took some extra encouragement from the nurse, she now exercises on her treadmill regularly and is actually enjoying it. She no longer feels winded when she walks. She has lost 34 pounds; her blood pressure and blood sugars are both the normal range.  Laura says she used to feel like she could just drop but now actually feels energetic and less irritable. The other positive benefit of living healthier is that her self-esteem is way up! Laura still has weight to lose but feeling so much better is great motivation to continue this healthy journey.
To learn more about the RDPCN programs, visit www.reddeerpcn.com
Grant's story: Amazing Improvement with Hard Work & Support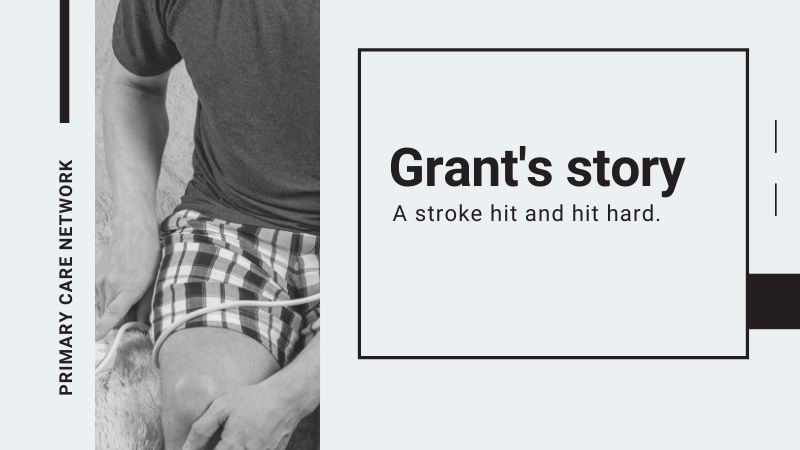 Grant was in his mid-fifties – maybe a bit overweight but with no other cardiovascular risk factors. However, a stroke hit and hit hard. His right side was very compromised, he had little use of his hands, he was unable to walk or lift his right arm. He was hospitalized in Red Deer for 4 months and then went to the Centennial Centre in Ponoka for rehab for 6 months. His doctor had told him that he would be bound to a wheelchair for the rest of his life and would never walk again or be able to recover from this stroke. This made Grant angry as he didn't want this prognosis.
Since that time, he has put a lot of work and effort into getting better. The physios and rehab team helped him make progress, but he kept asking them how he could get more training. They were able to refer him to Recreation Therapy at RDPCN. His therapist arranged to work with him at the Gary W Harris Canada Games Centre three times per week. He is doing a lot better now. He can walk with a cane and he can lift 30 pounds on the machines at the gym. He can now clap hands. He has gained strength and control, his gait has improved along with his endurance, and he has an increased range of motion and strength in his upper extremities. He can now do many more tasks of daily living such as carry groceries, cook and barbeque.
Grant states that his doctor can't believe his progress. Other people he knows have said very similar things. Working with the Rec Therapist has been very encouraging and supportive. The Rec Therapist has really helped me to stay motivated. Having a plan for myself also helps the attendants at the Gary Harris Centre to work with me to move forward. I have highly recommended this program to others I know who have had a stroke.
My work is not done but I am proud of the progress I have made and thankful for everything I can do for myself.
To learn more about the RDPCN programs, visit www.reddeerpcn.com