More than $4M in illegal drugs seized during EDGE investigation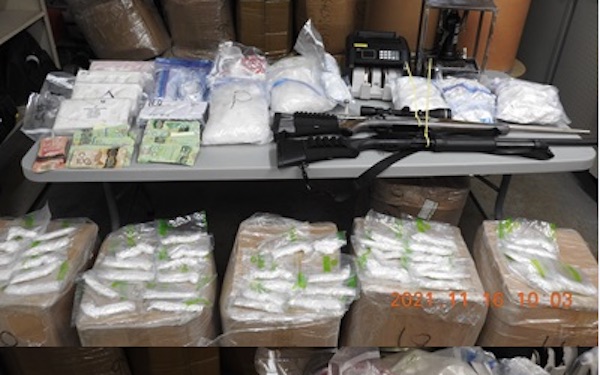 News release from Edmonton Police Service
A nine month EPS investigation has culminated with the arrest of four males and the seizure of an estimated $4.3M in drugs and buffing agents.
"This investigation and the corresponding results are the culmination of nine months of commitment by our members to keep a significant amount of illegal drugs off Edmonton streets," said Staff Sgt. David Paton, of the Edmonton Drug and Gang Enforcement Unit (EDGE). "The continued reduction of harm to our community is our number-one objective."
Responding to intelligence received in the spring of 2021, the EPS Edmonton Drug and Gang Enforcement Unit (EDGE) began investigating several individuals allegedly involved in the illegal drug trade throughout the city.
Working in conjunction with the Alberta Law Enforcement Response Team (ALERT), EDGE members successfully arranged several undercover drug buys with four suspects over the last six months.
In October, investigators identified two addresses of interest; the first being the residence of the primary suspect, David Vidal, 31, near 208 Street and 61 Avenue with the second being an alleged drug stash pad on Secord Boulevard.
Police seized significant amounts of drugs and weapons at the culmination of this investigation including:
Methamphetamine – 5,784.5 g (est. street value of more than $206,000)
Cocaine – 11,374 g(est. street value of more than $607,000)
Other drugs – 4,591 tablets (cocaine or Fentanyl-based); 25.7 g Ketamine (est. street value $1,028)
Buffering agent – 897.85 kg (est. street value $3,500,000.00)
Firearms & ammunition – 12 gauge shotgun, .300 win mag rifle, 800 rounds of ammo
Other weapons: 2 tasers, brass knuckles, 2 butterfly knives, 2 sets of brass knuckles
Cash: Approximately $21,000
Vehicle: 2018 Kia Sorrento
Investigators have since arrested and charged:
David Vidal, 31, of Edmonton: 19 offences including drug trafficking and possession, firearms and weapon-related offences, child endangerment, proceeds of crime and resisting arrest.
Nathaniel Cloney, 39, of Edmonton: 6 offences including drug trafficking and possession and proceeds of crime.
Matthew Lunty, 33, of Edmonton: 6 offences including drug trafficking and possession and proceeds of crime.
Abraham Chavez, 37, of El Salvador: 4 offences including drug trafficking and possession and proceeds of crime; a warrant for his arrest has also been issued.
Anyone with any information about this or any other crime is asked to contact the EPS at 780-423-4567 or #377 from a mobile phone. Anonymous information can also be submitted to Crime Stoppers at 1-800-222-8477 or online at www.p3tips.com/250.
Despite ample school security plan, Texas shooter found gaps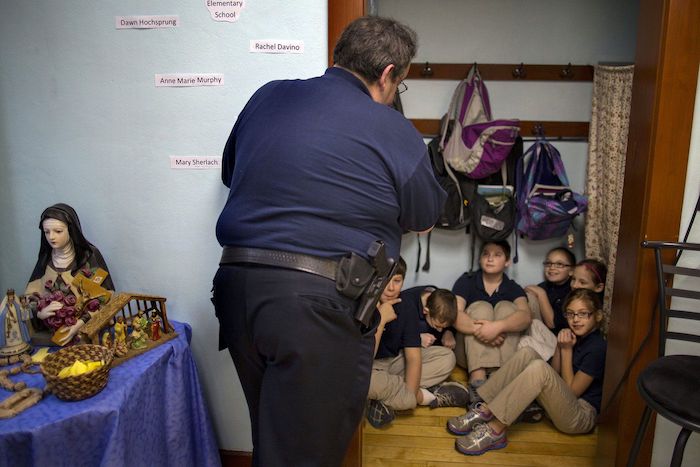 By Collin Binkley And Kantele Franko
Robb Elementary School had measures in place to prevent this kind of violence. A fence lined the school property. Teachers were ordered to keep classroom doors closed and locked. Students faced regular lockdown and evacuation drills.
But when an 18-year-old man arrived Tuesday at the school in Uvalde, Texas, intent on killing children, none of it stopped him.
Security failures allowed the shooter to massacre 19 students and two teachers, school safety experts say. The shooting already has led to calls to fortify schools further, on top of millions spent on equipment and other measures following earlier shootings. But more security offers drawbacks, with no guarantee of an end to mass violence. In the worst case, as in Uvalde, it could backfire.
"You can do the best job you can to prevent a school crisis, but we cannot read the minds of all the criminals who are out there," said Ronald Stephens, executive director of the National School Safety Center, a nonprofit that works with schools across the country. "We cannot prevent all crime."
According to a district safety plan, Uvalde schools had a wide range of measures in place to prevent violence. The district had four police officers and four support counselors, according to the plan, which appears to be dated from the 2019-20 school year. The district had software to monitor social media for threats and software to screen school visitors.
Yet when the gunman arrived at the school, he hopped its fence and easily entered through a back door that had been propped open, officials said. Behind the locked door of a fourth-grade classroom, he gunned down children and teachers.
Amid the attack, nearly 20 officers stood in a hallway because the on-site commander believed the gunman was barricaded in the classroom and children were not at risk, Texas Department of Public Safety Director Steven McCraw said at a Friday news conference, saying "it was the wrong decision."
The case underscores that even the strongest security plans can be undermined by a seemingly simple lapse, said Curtis Lavarello, executive director of the School Safety Advocacy Council, which provides training on school safety. The Texas school appeared to be doing many things right, he said, but none of that mattered once the gunman was able to walk unobstructed into the building and into a classroom.
"All those things on paper mean nothing if they're not followed in practice. And there seemed to be a number of gaps," he said.
In the aftermath of the shooting, some Republicans have been calling for further investments in school safety to prevent more attacks. Some have pushed for more armed police in schools, along with metal detectors and measures to make it harder to enter schools.
Among those promoting physical security measures is Sen. Ted Cruz, R-Texas. Appearing on Fox News on Wednesday, he brought up 2013 legislation that would have created grants to help schools install bulletproof doors and hire armed police officers among other measures.
If those grants had gone to Robb Elementary, Cruz said, "the armed police officers could have taken him out and we would have 19 children and two teachers still alive."
Security experts say the Uvalde case illustrates how fortifying schools can backfire. A lock on the classroom door — one of the most basic and widely recommended school safety measures — kept victims in and police out.
U.S. Border Patrol agents eventually used a master key to open the locked door of the classroom where they confronted and killed the gunman, McCraw said at the Friday news conference.
Some argue that investments in school security have come at the expense of student welfare. Lockdown drills that have become routine for a generation of American students have traumatized students and added to strains on mental health, educators say.
Schools need more counselors and psychologists to help troubled students, not stronger buildings, said Dewey Cornell, a psychologist and director of the Virginia Youth Violence Project at the University of Virginia.
"We have systemically reduced the number of support staff in our schools, and focused too much on installing metal detectors and surveillance cameras and electronic door locks, which are very short term and reactive and very expensive," he said.
In the wake of the 2012 massacre at Sandy Hook Elementary School in Newtown, Connecticut, schools across the country began spending huge sums of money on fortifications including bulletproof glass, metal detectors and armed security.
But such measures can create an atmosphere where students feel uncomfortable and less trusting, and it does not necessarily prevent attacks, said Matthew Mayer, a Rutgers associate professor who works on issues related to school violence.
"You'll go down these sort of endless rabbit holes of how much security is enough. And when it comes to someone who's coming in heavily armed, you're not going to stop them," Mayer said. "So the idea is you need to figure out why people do this in the first place and have ways — multi-level systems of prevention — to prevent it from happening."
He advocates for a multi-faceted prevention approach that also includes steps such as improving mental health services, assessing threats more effectively and building trust so students and families are not afraid to speak up if they're concerned someone has the means or intent to cause harm.
Still, schools can only do so much, he said, and he isn't optimistic that public outrage over Uvalde will lead to significant change.
"The problem is that a lot of this public reaction, you know, sort of rises like a wave and then recedes over time, and the politicians have been accustomed to riding that out. You know, they make speeches and so forth, and sometimes there's a commission that gets appointed, and they issue reports," Mayer said. "But substantive change is lacking."
___
The Associated Press education team receives support from the Carnegie Corporation of New York. The AP is solely responsible for all content.
Police waited 48 minutes in school before pursuing shooter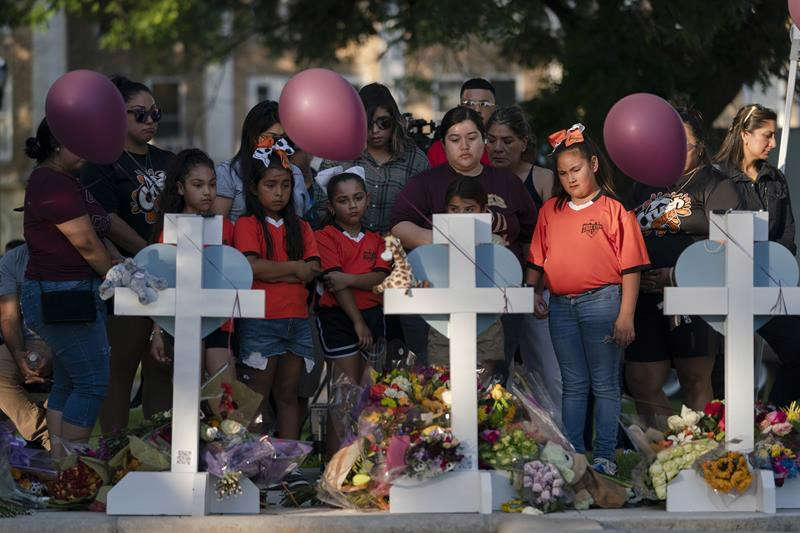 UVALDE, Texas (AP) — Students trapped inside a classroom with a gunman repeatedly called 911 during this week's attack on a Texas elementary school, including one who pleaded, "Please send the police now," as nearly 20 officers waited in the hallway for more than 45 minutes, authorities said Friday.
The commander at the scene in Uvalde — the school district's police chief — believed that 18-year-old gunman Salvador Ramos was barricaded inside adjoining classrooms at Robb Elementary School and that children were no longer at risk, Steven McCraw, the head of the Texas Department of Public Safety, said at a contentious news conference.
"It was the wrong decision," he said.
Friday's briefing came after authorities spent three days providing often conflicting and incomplete information about the 90 minutes that elapsed between the time Ramos entered the school and when U.S. Border Patrol agents unlocked the classroom door and killed him.
Ramos killed 19 children and two teachers, but his motive remains unclear, authorities said.
There was a barrage of gunfire shortly after Ramos entered the classroom where officers eventually killed him, but those shots were "sporadic" for much of the 48 minutes when officers waited in the hallway, McCraw said. He said investigators do not know if or how many children died during that time.
Throughout the attack, teachers and children repeatedly called 911 asking for help, including a girl who pleaded: "Please send the police now," McCraw said.
Questions have mounted over the amount of time it took officers to enter the school to confront the gunman.
It was 11:28 a.m. Tuesday when Ramos' Ford pickup slammed into a ditch behind the low-slung Texas school and the driver jumped out carrying an AR-15-style rifle.
Five minutes after that, authorities say, Ramos entered the school and found his way to the fourth-grade classroom where he killed the 21 victims.
But it wasn't until 12:58 p.m. that law enforcement radio chatter said Ramos had been killed and the siege was over.
What happened in those 90 minutes, in a working-class neighborhood near the edge of the town of Uvalde, has fueled mounting public anger and scrutiny over law enforcement's response to Tuesday's rampage.
"They say they rushed in," said Javier Cazares, whose fourth-grade daughter, Jacklyn Cazares, was killed in the attack, and who raced to the school as the massacre unfolded. "We didn't see that."
According to the new timeline provided by McCraw, After crashing his truck, Ramos fired on two people coming out of a nearby funeral home, officials said.
Contrary to earlier statements by officials, a school district police officer was not inside the school when Ramos arrived. When that officer did respond, he unknowingly drove past Ramos, who was crouched behind a car parked outside and firing at the building, McCraw said.
At 11:33 p.m., Ramos entered the school through a rear door that had been propped open and fired more than 100 rounds into a pair of classrooms, McCraw said.
DPS spokesman Travis Considine said investigators haven't determined why the door was propped open.
Two minutes later, three local police officers arrived and entered the building through the same door, followed soon after by four others, McCraw said. Within 15 minutes, as many as 19 officers from different agencies had assembled in the hallway, taking sporadic fire from Ramos, who was holed up in a classroom.
Ramos was still inside at 12:10 p.m. when the first U.S. Marshals Service deputies arrived. They had raced to the school from nearly 70 miles (113 kilometers) away in the border town of Del Rio, the agency said in a tweet Friday.
But the police commander inside the building decided the group should wait to confront the gunman, on the belief that the scene was no longer an active attack, McCraw said.
The crisis came to an end after a group of Border Patrol tactical officers entered the school at 12:45 p.m., said Texas Department of Public Safety spokesperson Travis Considine. They engaged in a shootout with the gunman, who was holed up in the fourth-grade classroom. Moments before 1 p.m., he was dead.
Ken Trump, president of the consulting firm National School Safety and Security Services, said the length of the timeline raised questions.
"Based on best practices, it's very difficult to understand why there were any types of delays, particularly when you get into reports of 40 minutes and up of going in to neutralize that shooter," he said.
The motive for the massacre — the nation's deadliest school shooting since Newtown, Connecticut, almost a decade ago — remained under investigation, with authorities saying Ramos had no known criminal or mental health history.
During the siege, frustrated onlookers urged police officers to charge into the school, according to witnesses.
"Go in there! Go in there!" women shouted at the officers soon after the attack began, said Juan Carranza, 24, who watched the scene from outside a house across the street.
Carranza said the officers should have entered the school sooner: "There were more of them. There was just one of him."
Cazares said that when he arrived, he saw two officers outside the school and about five others escorting students out of the building. But 15 or 20 minutes passed before the arrival of officers with shields, equipped to confront the gunman, he said.
As more parents flocked to the school, he and others pressed police to act, Cazares said. He heard about four gunshots before he and the others were ordered back to a parking lot.
"A lot of us were arguing with the police, 'You all need to go in there. You all need to do your jobs.' Their response was, 'We can't do our jobs because you guys are interfering,'" Cazares said.
Michael Dorn, executive director of Safe Havens International, which works to make schools safer, cautioned that it's hard to get a clear understanding of the facts soon after a shooting.
"The information we have a couple of weeks after an event is usually quite different than what we get in the first day or two. And even that is usually quite inaccurate," Dorn said. For catastrophic events, "you're usually eight to 12 months out before you really have a decent picture."
___
This story was corrected to reflect that authorities say five minutes, not 12, elapsed between when Ramos' truck crashed and when he entered the school.
___
Associated Press reporter Jake Bleiberg contributed from Dallas.
___
More on the school shooting in Uvalde, Texas: https://apnews.com/hub/school-shootings
Jim Vertuno And Elliot Spagat, The Associated Press