More than $4M in illegal drugs seized during EDGE investigation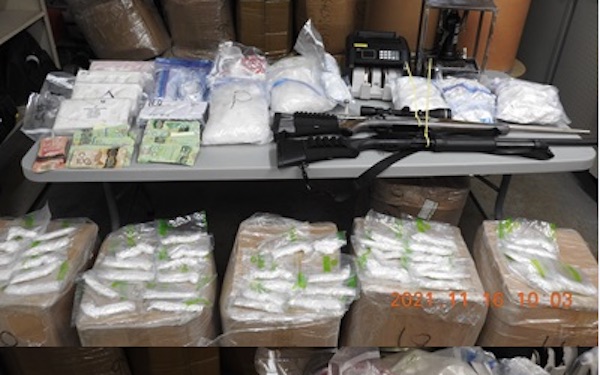 News release from Edmonton Police Service
A nine month EPS investigation has culminated with the arrest of four males and the seizure of an estimated $4.3M in drugs and buffing agents.
"This investigation and the corresponding results are the culmination of nine months of commitment by our members to keep a significant amount of illegal drugs off Edmonton streets," said Staff Sgt. David Paton, of the Edmonton Drug and Gang Enforcement Unit (EDGE). "The continued reduction of harm to our community is our number-one objective."
Responding to intelligence received in the spring of 2021, the EPS Edmonton Drug and Gang Enforcement Unit (EDGE) began investigating several individuals allegedly involved in the illegal drug trade throughout the city.
Working in conjunction with the Alberta Law Enforcement Response Team (ALERT), EDGE members successfully arranged several undercover drug buys with four suspects over the last six months.
In October, investigators identified two addresses of interest; the first being the residence of the primary suspect, David Vidal, 31, near 208 Street and 61 Avenue with the second being an alleged drug stash pad on Secord Boulevard.
Police seized significant amounts of drugs and weapons at the culmination of this investigation including:
Methamphetamine – 5,784.5 g (est. street value of more than $206,000)
Cocaine – 11,374 g(est. street value of more than $607,000)
Other drugs – 4,591 tablets (cocaine or Fentanyl-based); 25.7 g Ketamine (est. street value $1,028)
Buffering agent – 897.85 kg (est. street value $3,500,000.00)
Firearms & ammunition – 12 gauge shotgun, .300 win mag rifle, 800 rounds of ammo
Other weapons: 2 tasers, brass knuckles, 2 butterfly knives, 2 sets of brass knuckles
Cash: Approximately $21,000
Vehicle: 2018 Kia Sorrento
Investigators have since arrested and charged:
David Vidal, 31, of Edmonton: 19 offences including drug trafficking and possession, firearms and weapon-related offences, child endangerment, proceeds of crime and resisting arrest.
Nathaniel Cloney, 39, of Edmonton: 6 offences including drug trafficking and possession and proceeds of crime.
Matthew Lunty, 33, of Edmonton: 6 offences including drug trafficking and possession and proceeds of crime.
Abraham Chavez, 37, of El Salvador: 4 offences including drug trafficking and possession and proceeds of crime; a warrant for his arrest has also been issued.
Anyone with any information about this or any other crime is asked to contact the EPS at 780-423-4567 or #377 from a mobile phone. Anonymous information can also be submitted to Crime Stoppers at 1-800-222-8477 or online at www.p3tips.com/250.
Over 100 stolen vehicles, plus trailers, farm equipment and machinery seized by police in East Central Alberta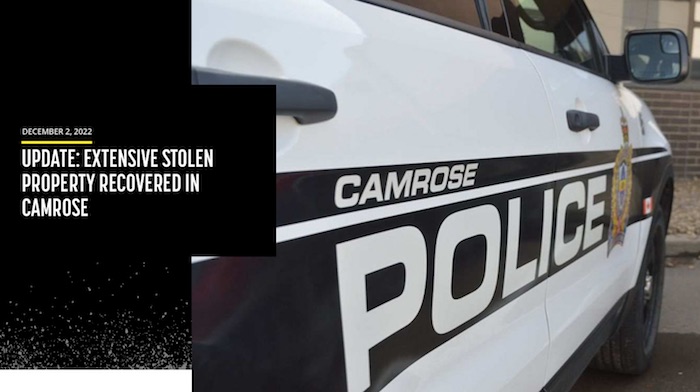 From ALERT (Alberta Law Enforcement Response Team)
Extensive stolen property recovered in Camrose
More than 100 stolen vehicles, trailers, farming equipment, and other machinery, has been seized following an extensive ALERT investigation in Camrose.
On Monday, November 21, 2022, ALERT's Auto Crimes unit conducted search warrants at 17 locations, predominantly in Camrose, but also in Camrose County, Ponoka County, and the Rural Municipality of Hillsdale, Sask. The search warrants were part of a lengthy investigation into organized crime.
Due to the volume of items recovered, ALERT is still in the process of cataloguing and processing seized evidence.
"ALERT appreciates the public interest and support of this investigation, but we ask for patience as the evidence is being processed. Once all the items are documented, investigators will work toward identifying and contacting the rightful owners," said Acting Staff Sergeant Michael Fehr, ALERT Edmonton.
An update will be provided once the evidence processing is completed.
Several suspects have been identified but no charges have yet been laid.
Upwards of 170 police officers were involved in the search warrant executions, including Camrose Police, Edmonton Police, Calgary Police, and RCMP detachments St. Paul, Wetaskiwin, Ponoka, Rimbey, Strathcona County, St. Albert, Fort Saskatchewan, Killam, and several in F-Division.
Members of the public who suspect drug or gang activity in their community can call local police, or contact Crime Stoppers at 1-800-222-TIPS (8477). Crime Stoppers is always anonymous.
ALERT was established and is funded by the Alberta Government and is a compilation of the province's most sophisticated law enforcement resources committed to tackling serious and organized crime.
US Virgin Islands reach $105M settlement with Epstein estate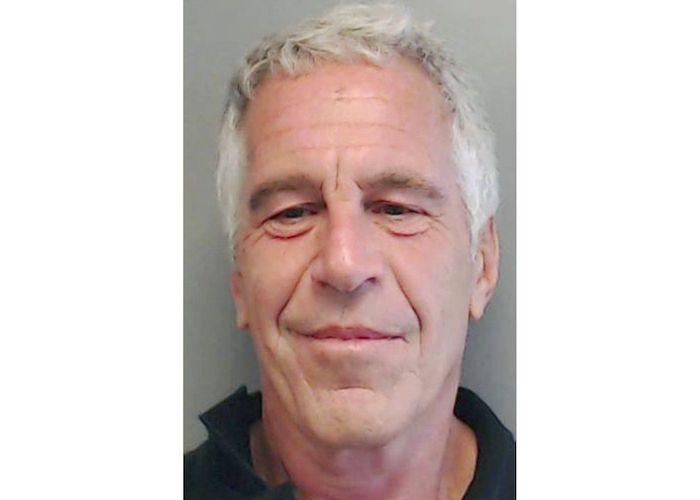 By Dánica Coto in San Juan
SAN JUAN, Puerto Rico (AP) — The U.S. Virgin Islands announced Wednesday that it reached a settlement of more than $105 million in a sex trafficking case against the estate of financier Jeffrey Epstein.
The settlement ends a nearly three-year legal saga for officials in the U.S. territory, which sought to hold Epstein accountable after he was accused of sexually abusing dozens of underage girls and of causing environmental damage on the two tiny islands he owned in the U.S. Virgin Islands. The islands will be sold as part of the agreement.
"This settlement restores the faith of the people of the Virgin Islands that its laws will be enforced, without fear or favor, against those who break them," Attorney General Denise George said.
Epstein's estate agreed to pay the territorial government $105 million in cash and half of the proceeds from the sale of Little St. James island where Epstein owned a home and authorities allege many of his crimes took place.
The estate also will pay $450,000 to repair environmental damage on Great St. James, another island Epstein owned where authorities say he removed the ruins of colonial-era historical structures of slaves.
The money from the sale of Little St. James island will be placed in a government trust to finance projects, organizations, counseling and other activities to help residents who have been sexually abused, officials said.
"We owe it to those who were so profoundly hurt to make changes that will help avoid the next set of victims," said George, who added that she met with three alleged victims who were trafficked and sexually exploited on Little St. James island.
A real estate company is listing the island for $55 million, noting that its features include three beaches, a helipad, a gas station and more than 70 acres (28 hectares) of land that offer "an array of subdivision possibilities" and "a comprehensive, discreetly located, infrastructure support system."
The company also is offering Great St. James for $55 million, an island of more than 160 acres (65 hectares) with three beaches.
In addition, the estate will return more than $80 million in economic tax benefits that U.S. Virgin Islands officials say Epstein and his co-defendants "fraudulently obtained to fuel his criminal enterprise."
The government previously accused an Epstein-owned business known as Southern Trust Co. of making fraudulent misrepresentations to qualify for the benefits.
Daniel Weiner, an Epstein estate attorney, sent a statement to The Associated Press saying that the settlement does not include any admission or concession of liability or fault by the estate or anyone else.
"The co-executors deny any allegations of wrongdoing on their part," he wrote. "The co-executors ultimately concluded that the settlement is in the best interest of the estate."
Weiner also noted that the estate has paid more than $121 million to 136 individuals via a victims' compensation fund.
Epstein killed himself at a federal jail in New York in August 2019 while awaiting trial. He had pleaded not guilty to charges of sexually abusing dozens of girls, some as young as 14 years old.
Several had sued Epstein and accused him and his longtime companion, Ghislaine Maxwell, of pressuring them into sexual trysts with powerful men.
Maxwell, who was convicted on sex trafficking and other charges, was sentenced to 20 years in prison in June.