Mission Update: A behind the scenes look at Alberta's Army Reservists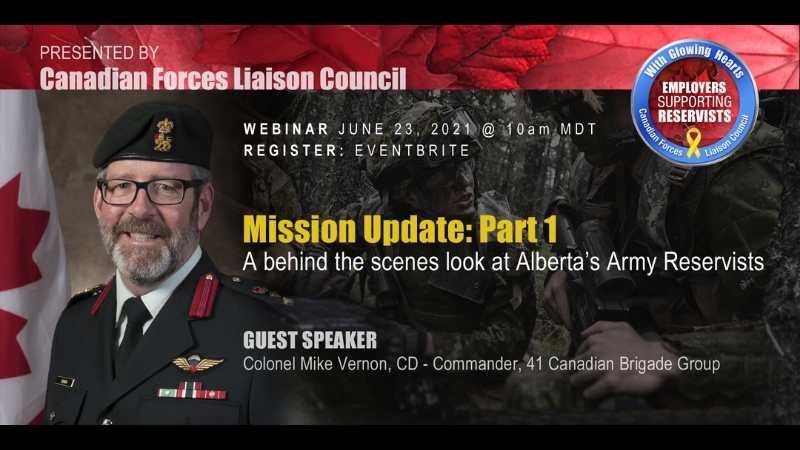 Submitted by: Canadian Forces Liaison Council
Join us for an informative webinar on June 23rd with guest speaker Colonel Mike Vernon, CD/Commander of 41 Canadian Brigade Group. 
Learn more and register for Mission Update Part 1: A behind the senes look at Alberta's Army Reservists:
A behind the scenes look at who reservists are, what they do, and how the Alberta Reserve is preparing and training to support our communities and country when we need them most. 
Numerous Alberta businesses employ individuals who are members of the Reserve Force. When Alberta faces a disaster – the Covid-19 Pandemic, fires, floods – reservists are asked to respond to the call and assist in the survival and support of our communities. Responding to these calls often pulls reservists away from their regular employment.
Reservists are skilled and talented people who are part-time "citizen soldiers", sailors and airmen/airwomen. In addition to their military responsibilities, they also work full time in the civilian workforce. They enhance corporate culture, small and large businesses, with the experience they have attained in the military. As a candidate for a position they have a well-earned skill set that goes above and beyond another candidate for the same role. If you already employ a Reservist, you know the benefits they bring to the workplace with both hard and soft skills.
The Canadian Armed Forces provide Reservists with world class training to develop key skills which form not only the foundations of an valuable Reservist but also a highly qualified employee. Employers benefit from their core skills and abilities such as leadership, teamwork, discipline, initiative, determination, problem solving, and the ability to work under pressure.
When you employ a Reservist, they bring their learnings from the military to your organization. In turn, they also contribute their workplace expertise when serving in the military. It's a win-win for both the organization and the Canadian Armed Forces. Reservists who serve help to provide a safe environment for businesses to thrive and is one of the very reasons many people are proud of our serving members.
The Basics
Reservists are members of the Canadian Armed Forces (CAF) who train and serve with the CAF on a part-time basis. They typically serve on weekday evenings and weekends. From time to time Reservists attend military courses and training that lasts one or two weeks and occasionally longer durations. Reservists have the opportunity to volunteer to serve on domestic and international operations on a full-time basis augmenting the regular component of the CAF. Through floods, fires or ice storms, Reservists are there to help and to keep communities and businesses operating. Their training provides both domestic response and international support – when you employ a Reservist, you in turn, are serving your country.
What is the With Glowing Hearts Initiative?
The With Glowing Hearts – Reservist Support Initiative is an HR program to attract and retain talented employees. The Canadian Armed Forces has trained over 25,000 Reservists who bring exceptional qualifications to an organization or business. Consider the Reserves as a talent pool to source potential employees to support company goals and initiatives. The initiative provides guidance and tools to support both Employers and Reservists and the good work they do together. Employing a Reservist is good for business and it makes your work, and workplace, better – With Glowing Hearts, we stand together supporting our community and country.
How does the program work?
It's simple – like any other HR initiative, the program becomes an offering to attract employees. For example, a company may already have a maternity leave policy in place, growth programs for leadership, or even policies for internships. The With Glowing Hearts – Reservist Support Initiative creates a "reserve-friendly" culture for an organization to attract, and keep, experienced and valued employees. The turnkey program assets can be used to create awareness through communication channels of choice.
What does the program include?
The program consists of the following elements:
Reservists 101: What Reservists offer Employers
"With Glowing Hearts" Reservist support customized certificate for Employers
"With Glowing Hearts" Employer/Reservist Recognition stickers
"With Glowing Hearts" Customized employer support icon (online use)
HR & FAQS: Q&A for employing Reservists
Military Leave Policy (MLP): Examples of MLP for small and large businesses
What's next?
How can I find out more information for my business?
Employers Supporting Reservists – Canadian Forces Liaison Council
Visit the website: https://www.canada.ca/en/department-national-defence/services/benefits-military/supporting-reservists-employers.html
Hockey player coming out as gay must lead to meaningful change in game: advocates
EDMONTON — Advocates say a young hockey player's decision to come out as gay this past week, just as he is on the cusp of a possible National Hockey League career, needs to be a catalyst for meaningful cultural change in the game beyond Pride nights and rainbow tape.
"It is a phenomenal thing, but it's not because the (hockey) culture made it safe," said Brock McGillis, a former goalie who played professionally in North America and Europe.
"For every Luke Prokop there are a thousand (LGBTQ) kids quitting hockey."
McGillis, who came out five years ago after his career ended, spoke extensively to Prokop before the 19-year-old made his announcement. Based in Toronto, McGillis has become a voice for LGBTQ issues in hockey with the aim of creating safe spaces in the insular world of dressing rooms and rinks.
He has worked on inclusion with individual teams at high levels, but said he has been stymied in bringing in leaguewide changes.
A patchwork approach won't work, he said.
"You can do all the PR stuff you want … but what are you doing to make that dressing room more of a safe space instead of a space that is filled with homophobic language and where people don't feel comfortable? How are you humanizing these issues and how are you shifting your culture?"
Prokop, from Edmonton, has been playing junior hockey for the Calgary Hitmen of the Western Hockey League. A defenceman, he was picked 73rd overall by the NHL's Nashville Predators last year, will go to camp this fall and could become the first openly gay player in the NHL. 
"We pledge to do everything possible to ensure that Luke's experience is a welcoming and affirmative one," NHL commissioner Gary Bettman said in a statement.
Las Vegas Raiders defensive lineman Carl Nassib came out last month as the first openly gay player in the National Football League.
Kristopher Wells, an advocate and researcher, says it's critical to have LGBTQ role models in sport.
"People listen to their heroes," said Wells, an associate professor and research chair for public understanding of sexual and gender minority youth at MacEwan University in Edmonton.
"When young people see their role models stand up, they want to emulate that behaviour and be a part of those new social norms that are forming."
Wells said true change starts with a supportive group in the locker room or a captain telling a teammate that homophobic slurs won't be tolerated.
That way, he said, those who decide to come out won't have to swap one set of anxieties for another.
"Why Luke's decision is seen as being so courageous is not just because he's the first, but (because) all LGBTQ people know the moment you become visible (when) you come out, you're more likely to be victimized. You become a target. And that's not easy to deal with."
Cheryl MacDonald is a sports sociologist who has researched and written extensively on homophobia in hockey. She said Prokop's high skill levels will serve to insulate him somewhat, but he'll still have to navigate the bias of some decision-makers who laud inclusivity in public, but act differently in private.
"Luke's story is evidence that it is becoming safer to be an openly gay man in men's competitive professional hockey, but since he's the only one right now, that shows we have work to do," said MacDonald with Saint Mary's University in Halifax.
"My research has shown that if you can perform on the ice, what you do in your spare time matters less. (But) at very top levels of the game, it is difficult to be different."
And that doesn't just apply to being gay, she added.
"If you are concussed or injured, if you are dealing with drug and alcohol addiction problems, if you have mental-health problems, if you don't fit in somehow, chances are there is someone that has your skill set and less perceived baggage that will take your job. It's easier just to stay quiet.
"Until we change this idea that you can't just be yourself and be taken where you're at, it's going to be practically impossible to be a gay man in this game."
McGillis said the potential is there.
"I think hockey people are really good people. I just don't think they realize there's a problem," he said.
"(They) will rally. We just need to show them this is something to rally around."
 This report by The Canadian Press was first published on June 25, 2021.
Dean Bennett, The Canadian Press
Hemp having a moment as farmers try to grow niche crop into $1-billion industry
CALGARY — Not that long ago, Rod Lanier could count on an annual spring visit from the police. 
The southern Alberta farmer has been growing hemp for 12 years, and in the early days, the distinctive odour that wafts from his fields when the crop is in flower would invariably catch the attention of area residents.
"For years each spring, the police would have to come out to ask, 'Mr. Lanier, is that hemp or is that marijuana?' " Lanier recalls. "And I would answer, 'if it was marijuana, would I grow a mile by a mile field of it, right beside the highway?" " 
Today, Lanier is far less likely to get a knock on his door just because the wind is blowing a certain way. Once considered a bit of an oddity, Lanier is now one of about a dozen farmers in the Lethbridge area growing industrial hemp — and the sight and smell of the distinctive, jagged-leafed plant are far less likely to attract unwelcome attention.
In fact, hemp, which is part of the cannabis family but contains no THC (the psychoactive ingredient in marijuana), is enjoying a bit of a moment. Across the Prairie provinces, new businesses are popping up to process and market different parts of the plant. 
Hemp farming is still a fledgling industry, but some proponents believe it has the potential to move from a niche crop to a staple of Canadian agriculture. 
"How do we turn hemp into the next canola? How do we turn hemp into a 500,000 acre crop in the next 10 years?" says Andrew Potter, chief executive and president of Blue Sky Hemp Ventures. 
"I believe it's very, very doable."
According to Health Canada, which licenses and regulates the industrial hemp industry in this country, there were about 22,000 hectares (50,000 acres) of hemp seeded in Canada in 2020, up from just 2,400 hectares (5,900 acres) in 1998. Alberta leads the way in hemp production, followed by Saskatchewan and Manitoba.
The growth in acreage is due to multiple factors, including growing interest in hemp seed as a nutritional "superfood" as well as the legalization of cannabis in 2018. That opened up a new source of revenue for farmers, as hemp growers can now harvest flowers for CBD, the non-intoxicating cannabinoid that was once illegal without a medical prescription.
Blue Sky, which was founded in 2017, believes the key to expanding the hemp industry is "whole plant utilization." The company already has a CBD extraction facility near Saskatoon and another facility in central Saskatchewan is capable of processing 5,500 tonnes of hemp seed annually into food products like protein powder and hemp seed oil.
Blue Sky is also on the verge of announcing its plans for a large-scale "decortication" facility, which Potter says will process the hemp plant's tough stems and stalks into fibre products. Hemp fibre can be used to make everything from building products and insulation to textiles.
Dan Madlung, president and chief executive of BioComposites Group, which runs a hemp fibre processing plant near Drayton Valley in central Alberta, says developing this third plank of the hemp industry is crucial. In the past, most Canadian farmers growing hemp for seed have had no buyer for the stems and stalks, and have had to let that part of the plant go to waste.
Building out decortication capacity across the Prairies would give farmers a third revenue stream and a much greater incentive to grow hemp, Madlung says. He adds BioComposites Group already has plans for a new, larger second facility to be built in a yet-to-be-announced Alberta location.
"We have what it takes right now to develop a new industry," Madlung said. "But there's tons of interest across North America . . . others may beat us to the punch."
There are still many challenges that must be overcome before hemp farming becomes truly mainstream. While farmers no longer have to undergo a criminal records check to grow industrial hemp (it was required before cannabis was legalized), they still face other regulatory requirements such as Health Canada licensing. 
The industry also needs to invest in market development and commercialization, says Manny Deol, executive director of the non-profit Alberta Hemp Alliance. Many consumers don't know quite what to do with hemp hearts or hempseed oil, so there's room for the development of more customer-friendly products.
Farmers also need to be encouraged to grow a crop that may be brand-new to them, Deol says. Because the hemp plant is also good at sequestering carbon dioxide in the soil — better than many other crops — the industry is lobbying for the creation of a carbon credit for farmers who grow it. That would provide additional incentive for producers looking to branch out.
Canadian hemp exports exceeded $110-million in 2019, and Deol says he believes this country could have a $1-billion industry by 2030, if it does everything right. He says investors appear to think so too, given the number of new processing facilities recently constructed or proposed.
"There is a buzz about hemp right now," Deol says. "I think farmers and other business people are looking for any diversification opportunities, so they're watching this crop."
This report by The Canadian Press was first published July 25, 2021.
Amanda Stephenson, The Canadian Press