Mission Update: A behind the scenes look at Alberta's Army Reservists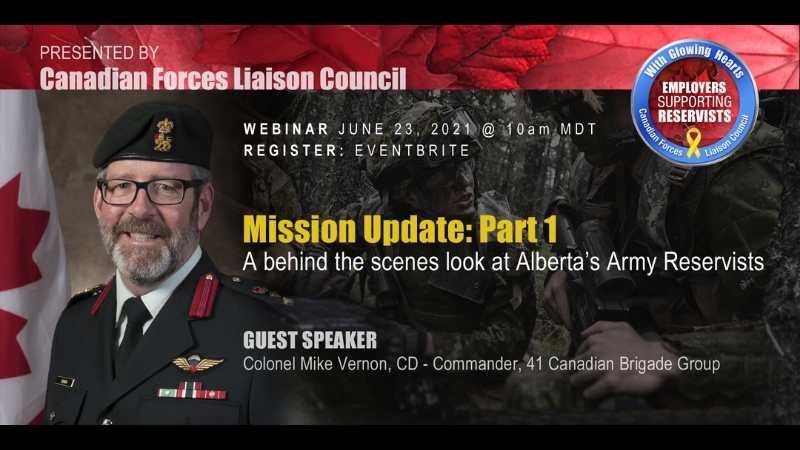 Submitted by: Canadian Forces Liaison Council
Join us for an informative webinar on June 23rd with guest speaker Colonel Mike Vernon, CD/Commander of 41 Canadian Brigade Group. 
Learn more and register for Mission Update Part 1: A behind the senes look at Alberta's Army Reservists:
Join us for an informative webinar on June 23rd with guest speaker Colonel Mike Vernon, CD/Commander of 41 Canadian Brigade Group. 
A behind the scenes look at who reservists are, what they do, and how the Alberta Reserve is preparing and training to support our communities and country when we need them most. 
Numerous Alberta businesses employ individuals who are members of the Reserve Force. When Alberta faces a disaster – the Covid-19 Pandemic, fires, floods – reservists are asked to respond to the call and assist in the survival and support of our communities. Responding to these calls often pulls reservists away from their regular employment.
Reservists are skilled and talented people who are part-time "citizen soldiers", sailors and airmen/airwomen. In addition to their military responsibilities, they also work full time in the civilian workforce. They enhance corporate culture, small and large businesses, with the experience they have attained in the military. As a candidate for a position they have a well-earned skill set that goes above and beyond another candidate for the same role. If you already employ a Reservist, you know the benefits they bring to the workplace with both hard and soft skills.
The Canadian Armed Forces provide Reservists with world class training to develop key skills which form not only the foundations of an valuable Reservist but also a highly qualified employee. Employers benefit from their core skills and abilities such as leadership, teamwork, discipline, initiative, determination, problem solving, and the ability to work under pressure.
When you employ a Reservist, they bring their learnings from the military to your organization. In turn, they also contribute their workplace expertise when serving in the military. It's a win-win for both the organization and the Canadian Armed Forces. Reservists who serve help to provide a safe environment for businesses to thrive and is one of the very reasons many people are proud of our serving members.
The Basics
Reservists are members of the Canadian Armed Forces (CAF) who train and serve with the CAF on a part-time basis. They typically serve on weekday evenings and weekends. From time to time Reservists attend military courses and training that lasts one or two weeks and occasionally longer durations. Reservists have the opportunity to volunteer to serve on domestic and international operations on a full-time basis augmenting the regular component of the CAF. Through floods, fires or ice storms, Reservists are there to help and to keep communities and businesses operating. Their training provides both domestic response and international support – when you employ a Reservist, you in turn, are serving your country.
What is the With Glowing Hearts Initiative?
The With Glowing Hearts – Reservist Support Initiative is an HR program to attract and retain talented employees. The Canadian Armed Forces has trained over 25,000 Reservists who bring exceptional qualifications to an organization or business. Consider the Reserves as a talent pool to source potential employees to support company goals and initiatives. The initiative provides guidance and tools to support both Employers and Reservists and the good work they do together. Employing a Reservist is good for business and it makes your work, and workplace, better – With Glowing Hearts, we stand together supporting our community and country.
How does the program work?
It's simple – like any other HR initiative, the program becomes an offering to attract employees. For example, a company may already have a maternity leave policy in place, growth programs for leadership, or even policies for internships. The With Glowing Hearts – Reservist Support Initiative creates a "reserve-friendly" culture for an organization to attract, and keep, experienced and valued employees. The turnkey program assets can be used to create awareness through communication channels of choice.
What does the program include?
The program consists of the following elements:
Reservists 101: What Reservists offer Employers
"With Glowing Hearts" Reservist support customized certificate for Employers
"With Glowing Hearts" Employer/Reservist Recognition stickers
"With Glowing Hearts" Customized employer support icon (online use)
HR & FAQS: Q&A for employing Reservists
Military Leave Policy (MLP): Examples of MLP for small and large businesses
What's next?
How can I find out more information for my business?
Employers Supporting Reservists – Canadian Forces Liaison Council
Visit the website: https://www.canada.ca/en/department-national-defence/services/benefits-military/supporting-reservists-employers.html
Study warns Alberta has failed to consider damage to foothills from coal mining
A lengthy new report commissioned by landowners near proposed Alberta coal mines concludes mines would create environmental liabilities that exceed their economic benefits.
Written by respected Alberta environmental consultants, the report says mines would pose a serious threat to both the quality and quantity of downstream water.
It says current methods to remove toxins such as selenium are unproven over long times and large areas.
The report suggests new mines would increase stress on water supplies, especially as southern Alberta grows and climate change alters rain and snow patterns. 
It estimates new mines will only be one-quarter reclaimed within 50 years — and those sites aren't likely to return to what they once were.
The report concludes the government has failed to consider the cascade of environmental effects that coal mining would create, especially in combination with forestry and energy development. 
The report, requested by the Livingstone Landowners Group, has been filed with the government's coal consultation committee.
This report by The Canadian Press was first published June 15, 2021. 
The Canadian Press
Get away from the city – Rock Lake Lodge seeks maintenance and caretaker
Wilderness Lodge Maintenance & Caretaker Needed
Click here to apply now.
Looking to get away from the city and experience the wilderness?
Rock Lake Lodge may have the perfect opportunity for you. WHO ARE WE? We are a lodge located in Rock Lake Provincial Park in Alberta, Canada.
Just a short distance away from a 90-foot deep lake with four species of fish, and the lodge is surrounded by wildlife and abounding nature.
Check out www.rocklakelodge.ca to have a look at the stunning surroundings, our lodge and cabins.
It's not all work and no play up at Rock Lake Lodge! Some of the activities provided on site will be hiking, fishing, canoeing. and wildlife watching. This is a seasonal live-in position from June 2021 -Sept 2021.
We are seeking someone with the following:
-general handyman experience (able to use basic tools and general maintenance of the lodge)
-generator experience
-plumbing & electrical (basic)
-construction experience
Above all, we want someone who loves fishing!
Do you have experience with diesel generators? Log buildings? Chainsaws or log splitters? Let us know in your application. Even if your job history doesn't reflect the above- your personal experiences may be exactly what we're looking for!
Wage to be negotiated. This is a fulltime-temporary contract position.
Experience:
maintenance: 1 year (preferred)
diesel generator: 1 year (preferred)
rural water systems: 1 year (preferred)
chainsaw: 1 year (preferred)
plumbing: 1 year (preferred)
electrical: 1 year (preferred)
Driver's License (MANDATORY)
Contract length: 3 months
Start date: Immediately
Click here to apply.