Mission Update: A behind the scenes look at Alberta's Army Reservists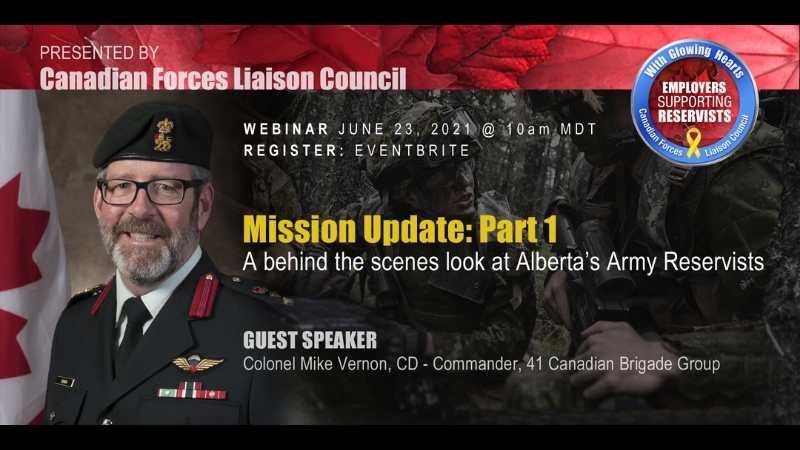 Submitted by: Canadian Forces Liaison Council
Join us for an informative webinar on June 23rd with guest speaker Colonel Mike Vernon, CD/Commander of 41 Canadian Brigade Group. 
Learn more and register for Mission Update Part 1: A behind the senes look at Alberta's Army Reservists:
A behind the scenes look at who reservists are, what they do, and how the Alberta Reserve is preparing and training to support our communities and country when we need them most. 
Numerous Alberta businesses employ individuals who are members of the Reserve Force. When Alberta faces a disaster – the Covid-19 Pandemic, fires, floods – reservists are asked to respond to the call and assist in the survival and support of our communities. Responding to these calls often pulls reservists away from their regular employment.
Reservists are skilled and talented people who are part-time "citizen soldiers", sailors and airmen/airwomen. In addition to their military responsibilities, they also work full time in the civilian workforce. They enhance corporate culture, small and large businesses, with the experience they have attained in the military. As a candidate for a position they have a well-earned skill set that goes above and beyond another candidate for the same role. If you already employ a Reservist, you know the benefits they bring to the workplace with both hard and soft skills.
The Canadian Armed Forces provide Reservists with world class training to develop key skills which form not only the foundations of an valuable Reservist but also a highly qualified employee. Employers benefit from their core skills and abilities such as leadership, teamwork, discipline, initiative, determination, problem solving, and the ability to work under pressure.
When you employ a Reservist, they bring their learnings from the military to your organization. In turn, they also contribute their workplace expertise when serving in the military. It's a win-win for both the organization and the Canadian Armed Forces. Reservists who serve help to provide a safe environment for businesses to thrive and is one of the very reasons many people are proud of our serving members.
The Basics
Reservists are members of the Canadian Armed Forces (CAF) who train and serve with the CAF on a part-time basis. They typically serve on weekday evenings and weekends. From time to time Reservists attend military courses and training that lasts one or two weeks and occasionally longer durations. Reservists have the opportunity to volunteer to serve on domestic and international operations on a full-time basis augmenting the regular component of the CAF. Through floods, fires or ice storms, Reservists are there to help and to keep communities and businesses operating. Their training provides both domestic response and international support – when you employ a Reservist, you in turn, are serving your country.
What is the With Glowing Hearts Initiative?
The With Glowing Hearts – Reservist Support Initiative is an HR program to attract and retain talented employees. The Canadian Armed Forces has trained over 25,000 Reservists who bring exceptional qualifications to an organization or business. Consider the Reserves as a talent pool to source potential employees to support company goals and initiatives. The initiative provides guidance and tools to support both Employers and Reservists and the good work they do together. Employing a Reservist is good for business and it makes your work, and workplace, better – With Glowing Hearts, we stand together supporting our community and country.
How does the program work?
It's simple – like any other HR initiative, the program becomes an offering to attract employees. For example, a company may already have a maternity leave policy in place, growth programs for leadership, or even policies for internships. The With Glowing Hearts – Reservist Support Initiative creates a "reserve-friendly" culture for an organization to attract, and keep, experienced and valued employees. The turnkey program assets can be used to create awareness through communication channels of choice.
What does the program include?
The program consists of the following elements:
Reservists 101: What Reservists offer Employers
"With Glowing Hearts" Reservist support customized certificate for Employers
"With Glowing Hearts" Employer/Reservist Recognition stickers
"With Glowing Hearts" Customized employer support icon (online use)
HR & FAQS: Q&A for employing Reservists
Military Leave Policy (MLP): Examples of MLP for small and large businesses
What's next?
How can I find out more information for my business?
Employers Supporting Reservists – Canadian Forces Liaison Council
Visit the website: https://www.canada.ca/en/department-national-defence/services/benefits-military/supporting-reservists-employers.html
Province loosens rules for participants and team volunteers in Rinks and Rec Centres
Further clarity for youth participants in the Provincial Restrictions Exemption Program
As of Monday, September 20, 2021, The City of Red Deer has adopted the Provincial Restrictions Exemption Program. The program applies at all City owned and operated recreation and culture facilities.As a part of the Restrictions Exemption Program, The City had previously announced that all vaccine-eligible visitors 12 years and older to City facilities would need to show proof of vaccination, a valid medical exemption, or a negative rapid COVID-19 test within 72 hours of entry. Over the weekend, the Government of Alberta released further details about the Restrictions Exemption Program which clarify the requirements for youth sport, fitness and performance activities.
As a result of continued consultation with provincial government representatives, the following updates have been applied for all City of Red Deer recreation and culture facilities, effective September 21, 2021:
Volunteers for organized sport groups can enter to perform their activity-related responsibilities without proof of vaccination, exemption, or negative COVID-19 test

Youth sport, fitness and performance participants can take part in their activities without proof of vaccination, exemption or negative COVID-19 test

Youth aged 12-17 must show proof of vaccination, medical exemption or a negative test result to enter any facility while not participating in activity. This includes spectators, or using the concourse and common areas.

Anyone ages 18 or older will be required to show proof of vaccination, medical exemption or a negative rapid test result within 72 hours of a visit to facilities.

From September 20 to October 25, proof of a single dose is considered acceptable as long as the dose was given more than two weeks before visiting a facility. After October 25, proof of double vaccination is required.
All other vaccine-eligible visitors will be required to follow the guidelines set out for the Provincial Restrictions Exemption Program which can be seen here: https://www.alberta.ca/covid-19-public-health-actions.aspx.
Effective September 20, anyone unable to wear a mask will be required to provide a medical exemption letter from an authorized health professional. More information about mask exemptions is available at alberta.ca/masks
Please visit www.reddeer.ca/RecUpdate for more information about the Restrictions Exemption Program at our facilities.
Canadian women's hockey team to play B.C. Junior A men as part of Olympic prep
CALGARY — Canada's women's hockey team will play a pair of games against male Junior A teams in B.C. next month.
The national women's team, currently centralized in Calgary to prepare for the 2022 Winter Olympics, will travel to face the Trail Smoke Eaters on Oct. 4 and the Cranbrook Bucks on Oct. 5.
Canada is coming off winning a women's world championship Aug. 31 in Calgary, where the host country edged the United States in overtime for gold.
Twenty-six skaters are trying out for 20 spots on the Olympic roster.
Three goaltenders have already been named to the Beijing-bound side: Ann-Renée Desbiens, Emerance Maschmeyer and Kristen Campbell.
The women are accustomed to a regular slate of games against male midget triple-A clubs as part of their Olympic prep, but games against Junior A teams are more rare.
Goaltender Shannon Szabados made 52 saves in Canada's 3-2 win over the AJHL's Calgary Canucks on Dec. 5, 2009.
Canada split a pair of Maritime Junior Hockey League games in September of 2019, when the women lost 4-2 to the Valley Wildcats and downed the Pictou County Crushers 4-1.
"We are grateful to both Trail and Cranbrook for their willingness to be part of our training as we start our season," said Gina Kingsbury, Hockey Canada director of operations for the national women's teams, in a statement Monday.
"The level of competition we expect to face is crucial in our journey and we look forward to showcasing our athletes to hockey fans in both communities."
Fans can buy tickets and attend both games subject to meeting B.C.'s COVID-19 requirements.
This report by The Canadian Press was first published Sept. 20, 2021.
The Canadian Press