Brittany Lausen receives RDC Foundation Outstanding Student Award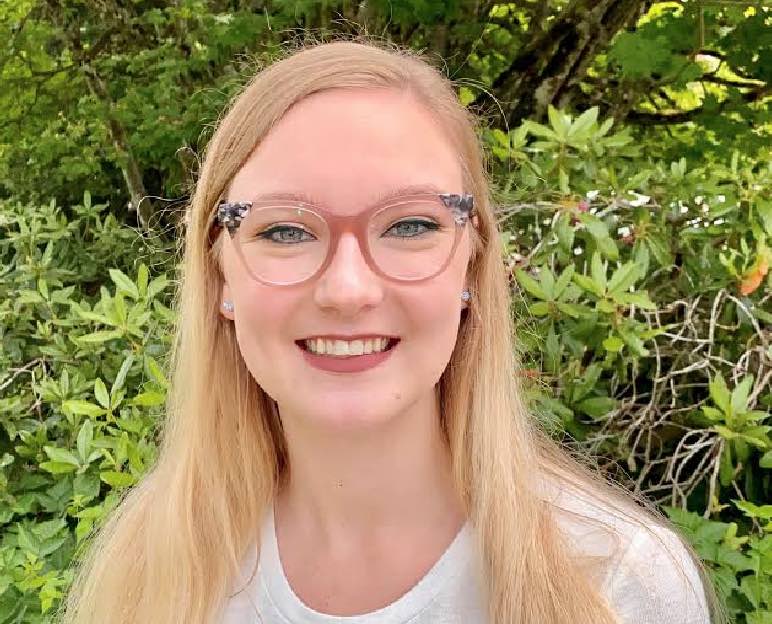 Providing advocacy and leadership for all students 
Student leadership and commitment are being celebrated at Red Deer  College, as Brittany Lausen is announced as the RDC Foundation Outstanding Student Award  recipient for 2021. 
The annual award recognizes a student whose actions have significantly enhanced RDC, whether  through governance, membership on committees or other meaningful contributions. Lausen was  nominated by her peers to receive the honour again this year due to her immense contributions to  student leadership at RDC and far beyond. 
"It's very humbling to receive this award, and I am truly grateful for all the opportunities that being a  part of the Students' Association and Red Deer College have provided, allowing me to be as involved  as I have been," Lausen says. "I'm also very grateful to the amazing student leaders who I have  gotten to work with over the past six years, since I first became involved with the Education  Undergrad Society." 
Lausen's leadership has evolved and grown during her time at RDC, as she has played a key role on  the Students' Association Executive Team, serving as the VP Community & Wellness in 2018/2019  and as President for the past two years. She has also been on RDC's Academic Council for three  years and has served as a student representative on RDC's Board of Governors since 2019, in  addition to myriad other volunteering, committees and initiatives at the College. 
"Red Deer College is fortunate to have Brittany as one of our students, and the RDC Foundation is  pleased to provide her with the outstanding student award for 2021," says Kevin Beattie, RDC  Foundation Board Chair. "Her continuing dedication and commitment to her fellow students and to the  College exemplifies why she is so deserving of the award. Brittany's selfless hard work in representing and advocating on behalf of her peers and also the College benefits the entire RDC  community. We can think of no better candidate to receive the RDC Foundation Outstanding Student  Award." 
In addition to Lausen's work and leadership at RDC, she has also dedicated time to representing  students across the province. Through her role with the Students' Association, she became part of  the Alberta Students' Executive Council (ASEC), where – as the longest serving student leader in the  province – she was unanimously elected to be Chair in June 2020.  
For Lausen, it is important to engage in governance at the provincial level to influence policies and  affect change for future students. "It's about what you, as a student leader, can do to make sure that  the students who come after you have the best time possible in post-secondary," she says. "To me, it  is so meaningful knowing that the advocacy you do today will potentially impact the lives of future  students for years to come." 
Through her province-wide perspective, Lausen also recognized a need for Western Canadian  students to be better represented at the federal level. As part of her work with ASEC, she was elected  to sit as one of the founding members of the Federal Student Advocacy Alliance. This Alliance, representing ASEC, BC Federation of Students and Sask Polytechnic Students' Association, allows  students from the three western provinces to have a greater voice in advocacy issues at the national  level.  
From national to local issues, Lausen has tirelessly worked to benefit the student experience. During  her most recent term as Students' Association President, she takes great pride in how the SA  Executive and Council advocated for degrees, ensuring that the students of RDC and the people of  central Alberta's voices were heard. Lausen, herself, also had the opportunity to be part of Alberta  2030, the post-secondary review led by the Government of Alberta. She represented students from  across Alberta and was able to bring the RDC students' perspective to the province's new post secondary strategic direction.  
"Brittany has continually demonstrated strong leadership in representing post-secondary students at  all levels," says Dr. Peter Nunoda, RDC President. "In her two years on RDC's Board of Governors  and through her work with the Students' Association, I have gained a great appreciation for her  collaborative approach and also her determination to do what is best for students at RDC and for  post-secondary students across the province. During her time at RDC, she gained a strong understanding of governance and student needs, and that has served RDC's students well for many  years."  
Now, as Lausen looks to the future, she is excited to graduate in April 2022 with her Bachelor of  Business Administration in General Management, with minors in Finance and Economics, from  RDC's collaborative degree with Mount Royal University. She is currently interning with Amazon and  hopes to accept a position with the company pending completion of her degree. She is also looking to  continue her educational journey by attaining a Master's degree, either in Public Policy or Public  Administration, which would build on her extensive experience in leadership and governance. 
When she reflects on her time at RDC, she is thankful for the privilege to serve students. "I am so  grateful to the students of Red Deer College for trusting me for the past three years to be one of their  elected representatives," she says. "It has truly made my time at post-secondary, and it is something I  will miss dearly."  
About the RDC Foundation Outstanding Student Award: This scholarship is given to a student  who has demonstrated outstanding leadership and commitment through participation in and  contribution to Red Deer College. The student may have participated in governance and/or College  committees, social or athletic activities while on campus. The scholarship is donated by the Red Deer  College Foundation.
Grant's story: Amazing Improvement with Hard Work & Support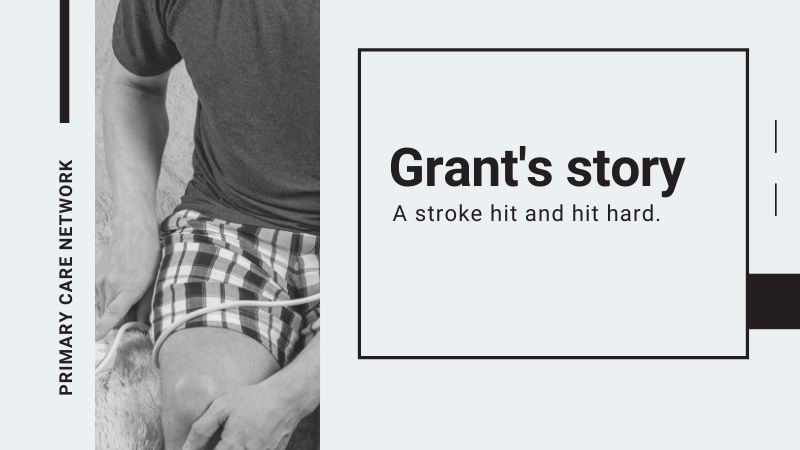 Grant was in his mid-fifties – maybe a bit overweight but with no other cardiovascular risk factors. However, a stroke hit and hit hard. His right side was very compromised, he had little use of his hands, he was unable to walk or lift his right arm. He was hospitalized in Red Deer for 4 months and then went to the Centennial Centre in Ponoka for rehab for 6 months. His doctor had told him that he would be bound to a wheelchair for the rest of his life and would never walk again or be able to recover from this stroke. This made Grant angry as he didn't want this prognosis.
Since that time, he has put a lot of work and effort into getting better. The physios and rehab team helped him make progress, but he kept asking them how he could get more training. They were able to refer him to Recreation Therapy at RDPCN. His therapist arranged to work with him at the Gary W Harris Canada Games Centre three times per week. He is doing a lot better now. He can walk with a cane and he can lift 30 pounds on the machines at the gym. He can now clap hands. He has gained strength and control, his gait has improved along with his endurance, and he has an increased range of motion and strength in his upper extremities. He can now do many more tasks of daily living such as carry groceries, cook and barbeque.
Grant states that his doctor can't believe his progress. Other people he knows have said very similar things. Working with the Rec Therapist has been very encouraging and supportive. The Rec Therapist has really helped me to stay motivated. Having a plan for myself also helps the attendants at the Gary Harris Centre to work with me to move forward. I have highly recommended this program to others I know who have had a stroke.
My work is not done but I am proud of the progress I have made and thankful for everything I can do for myself.
To learn more about the RDPCN programs, visit www.reddeerpcn.com
Keep cool with the firefighters this Thursday!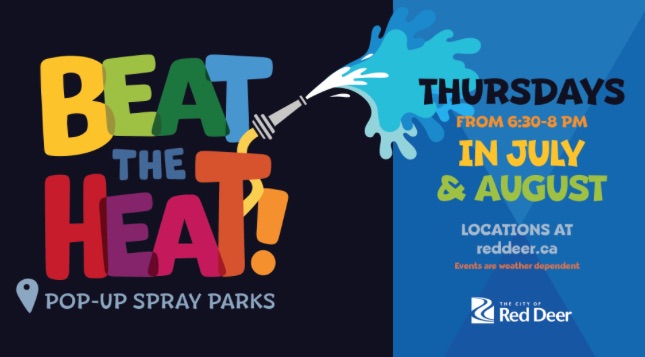 Pop-up Spray Parks
Members of Red Deer Emergency Services, RCMP and Municipal Enforcement blasted the hoses to keep you cool Thursdays in July and August.
Pop-up spray parks are popping up across Red Deer this summer. Beat the heat with Red Deer Emergency Services, Municipal Policing Services and RCMP in a neighbourhood near you.
Participants are reminded to not attend if they are feeling unwell or are currently required to quarantine.
Thursdays from 6:30 – 8 p.m.
| Date | Location | Address |
| --- | --- | --- |
| | | |
| July 22 | Highland Green Community Centre | 65 Halladay Avenue |
| July 29 | Deer Park Community Association | 181 Dowler Street |
| August 5 | To Be Confirmed | —– |
| August 12 | Riverside Meadows Community Centre | 6021 57 Avenue |
| August 19 | Joseph Welsh Elementary School | 4401 37 Avenue |
*Events are weather dependent.