#WithGlowingHearts thanks employers who support Reservists
#WithGlowingHearts thanks employers who support Reservists
As Canada works to overcome the pandemic challenges, #Reservists are being mobilized to assist. With many thanks to ‪#Employers who support them to do important work on behalf of us all. Employers also have access to tools for support such as "With Glowing Hearts" Reservist Support Program & CERP (Compensation for Employers of Reservist Program). When Employers support Reservists, they too serve our country. Thank you! @CFLCCA ‪#CAF.
Reservists play an integral role in the companies and organizations they work for outside of their military careers.  Here are three interviews that were conducted in Edmonton in 2019. They showcase the way employers and reservists support each other.  If you're an employer who is considering hiring a Reservist, these videos will provide some real world insights from both employers and reservists.
Here is an interview with Sean Pascek, Vice President with Prostar Energy/Well Service about the benefits his company has gained from employing reservist Master Corporal Wolfgang Brettner as their company's Safety Manager. Interview was conducted in summer of 2019
Meet Kevin MacLeod, interviewed here in his role as Managing Senior Principal of Stantec Geomatix and Captain Vikesh Malhi, a reservist and Project Manager with Stantec.  Interview was conducted in summer of 2019.
Cory Stockley, Dispatch Manager with Tag Logistics and Master Warrant Officer Andrew Gordey discuss their relationship and the mutual benefits of having a reservist on staff. 
About the Canadian Forces Liaison Council:  The Canadian Forces Liaison Council (CFLC) is a national organization comprised of over 200 senior executives and community leaders within the private and public sectors who volunteer their time to encourage employer/educator support for the Reserve Force.
We work in partnership with the Department of National Defence to engage employers, educational institutions and other organizations to emphasise how valuable reserve service is to Canadian communities and the defence of Canada. The CFLC's objective is to raise awareness among organizations and show how they can benefit by employing reservists and take advantage of the special leadership and skills training reservists receive.
We aim to educate employers of the special skills that reservists have to enable them to fulfill their military obligations and attend training courses. To do this, the Council has worked with the Defence Team to develop and deliver a wide range of effective employer support programs such as ExecuTreks. Connecting to the business community, these programs inform, engage, educate, recognize and support employers and their reservist employees.
CFLC also delivers provincial and national awards programs to recognize employers and educational institutions who demonstrate, above and beyond, support of Reservists and the Canadian Reserve Force. The Reserves form a critical component of Canada's Defence Strategy – Strong, Secure, Engaged – and are prepared to answer the demand as our military is increasingly called to action.
WATCH: 'ExecuTrek' takes business leaders on a tour of Canada's largest military training event
Walk To Breathe – Alberta man will walk from Lethbridge to Edmonton to raise $50,000.00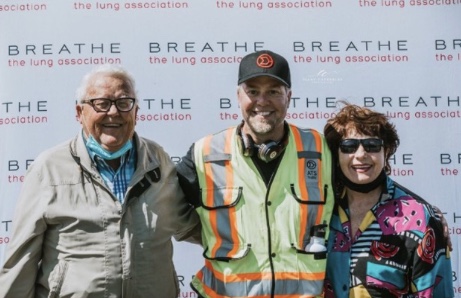 Article submitted by Chris Sadleir on behalf of The Lung Association, Alberta and NWT
July 7, Edmonton's Chris Sadleir will take the first step in a 500-kilometre, 50-thousand dollar journey, a walk from Lethbridge to Edmonton in support of people living with lung disease in Alberta and the Northwest Territories. Last year, Sadleir's inaugural walk took him from Calgary to Edmonton, and raised over 33-thousand dollars. At the time, it was meant to be a once-in-a-lifetime effort, one that turned out to raise even more awareness and engagement than Sadleir had dared to hope for, and ultimately, uniting Albertans from small towns, rural regions, and big cities in support of the cause.
Building on last year's success, Sadleir will not just take on the challenge again, he is extending his route, his reach, and his goal for results.
The journey will commence in Lethbridge on July 7th and finish in Edmonton July 23rd – five years to the day that Sadleir's father received his life-saving lung transplant. This year's walk is in celebration of that milestone, and in commemoration of a dear family member who lost his life to respiratory complications earlier this year.
PLEASE UNDERSTAND: Lung Disease does NOT target smokers and the elderly – it affects EVERYONE – babies, young children, young adults and otherwise healthy people.
From Chis Sadleir:
I HUMBLY ask for your support in my WALK TO BREATHE, and the fight against lung disease. Your kindness and consideration is a BREATH OF FRESH AIR, as we work together to make a difference across Alberta and NWT."
"In 2020, I walked from Calgary to Edmonton and raised over $33,000 to support lung disease patients and increase awareness about the far-reaching affects of lung disease.
This year, my Walk To Breathe will take me from Lethbridge to Edmonton – over 500 km, with a goal to raise $50,000 for the Lung Association of AB & NWT.  
Having experienced the devastating affects of lung disease within my own family, I am passionate about supporting all those who struggle to breathe.  My Father is a 5-year Double Lung Transplant survivor, and a very dear member of our family lost his life due to respiratory complications in early March – they are the inspiration behind my walk this year.
My Walk To Breathe 2021 will begin in Lethbridge on July 7th and finish in Edmonton on July 23rd – marking the 5-year anniversary of my father's transplant.
I HUMBLY ask for your support in my WALK TO BREATHE, and the fight against lung disease.
"The inspiration comes from my Father – my determination is for ALL Albertans"
Your kindness and consideration is a BREATH OF FRESH AIR, as we work together to make a difference across Alberta and NWT.
City of Edmonton launches emergency response to deal with extreme heat
News Release from The City of Edmonton
Extreme weather response activated
The City of Edmonton has activated its extreme weather response to keep vulnerable people safe during the hot weather expected in the coming days.
The extreme weather response will include the following measures:
Peace Officers will carry water bottles for distribution to vulnerable people that they meet.
Anyone needing a break from the heat may go to an open City facility. Provincial health regulations are still in place and access cannot be guaranteed due to capacity limits, but the following spaces have planned to offer access and bottled water:
Kinsmen Sports Centre
Commonwealth Community Recreation Centre
Clareview Community Recreation Centre
Terwillegar Community Recreation Centre
The Meadows Community Recreation Centre
The Orange Hub
Mill Woods Recreation Centre
Some facilities do not have enough indoor space to accommodate people inside, but have still planned to provide bottled water. These include:
Fred Broadstock pool
Queen Elizabeth outdoor pool
Oliver outdoor pool
Bonnie Doon Leisure Centre
Muttart Conservatory
Edmonton Valley Zoo
Jasper Place Leisure Centre (starting June 26)
Work is underway to create more free water options throughout the summer for vulnerable groups. Activation of River Valley park fountains has been started. In addition, this summer the City will be launching a pilot project to adapt five fire hydrants into water stations to provide access to free potable water. Locations are still being determined and the water stations are expected to be available in late July.
What You Can Do To Help
Extreme heat can be dangerous. Everyone should drink plenty of water even before feeling thirsty, and stay in a cool place. It is important to watch for symptoms of heat illness:
dizziness/fainting
nausea/vomiting
rapid breathing and heartbeat
extreme thirst
decreased urination with unusually dark urine
lack of sweat
confusion
fainting
unconsciousness
Check on older family, friends and neighbours. Never leave people or pets inside a parked vehicle. Outdoor workers should take regularly scheduled breaks in a cool place.
If you are concerned about someone outside in the extreme heat, you can help:
Call 211 and press 3 for the 24/7 Crisis Diversion team. They can assist with individuals who may be in distress and can provide transportation to social service agencies.
Call 911 in cases of emergency
Sector Emergency Response
The City activated its extreme weather response after consultation with partners in the Sector Emergency Response, a collaboration between the City, Homeward Trust and more than 25 other agencies working together to ensure Edmonton's most vulnerable people are safe during adverse weather conditions. Environment Canada's weather forecast was also taken into consideration.
The extreme weather response may remain in effect until after Canada Day.