Loaded gun, ammunition, knives, cross bow, and drugs worth almost $200,000 seized in Edmonton bust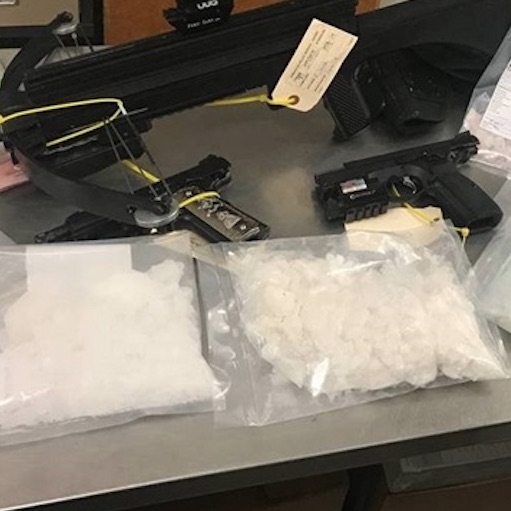 News Release from the Edmonton Police Service
Drug trafficking investigation leads to illegal drugs, weapons, stolen property
The Edmonton Police Service has seized illegal drugs worth more than $180,000 following a four-month long drug trafficking investigation.
In January 2021, EPS Disruption Team, with assistance from Alberta Law Enforcement Response Team (ALERT), entered into an investigation into the suspected drug trafficking activities of a 44-year-old male. On April 29, 2021, officers arrested Wade Rodger, 44, and Leah Sanche, 38. The two were travelling in a vehicle in which police located a loaded 9 mm handgun that was later found to be stolen, approximately 500g of Methamphetamine and $1,500.
Later that same day, police executed search warrants at a northeast Edmonton residence in the Abbotsfield area. David Berry, 39, was arrested at the residence, and a search of the property revealed:
One loaded 9mm handgun with the serial number filed off
Several hundred rounds of ammunition in various calibres
1.2 kg of methamphetamine
1.3 litres of GHB
A small quantity of cocaine, LSD, fentanyl, magic mushrooms, various steroids and pharmaceuticals
Restricted and prohibited weapons such as tasers, brass knuckles, throwing stars, throwing knives, a cross bow, and a suit of ballistic grade body armour
Several catalytic converters
Numerous documents containing multiple complainant's personal information, such as credit card information and government mail
Weapons, drugs seized
The total value of the drugs seized in the investigation is more than $180,000.
Rodger, Sanche and Berry are facing 24 criminal charges related to drug trafficking, weapons and possession of stolen property. More charges are pending.
RCMP looking for suspect in weapons investigation after disturbance at Sylvan Lake Beach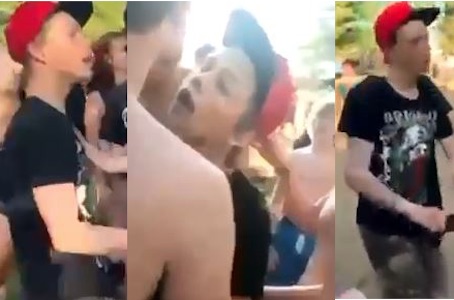 Sylvan Lake RCMP Investigate Weapons Offences
On June 2, 2021 at approximately 8 p.m., members of the Sylvan Lake RCMP detachment responded to numerous 911 calls regarding a large disturbance involving firearms and knives in the pier area of Sylvan Lake Beach
Approximately 200 people were in close proximity to the event, and the investigation has identified a smaller group and a person of interest.  Sylvan Lake RCMP are seeking the assistance of the public in identifying the subject of interest in the photographs.  The subject is described as follows:
Caucasian male
Slim build
Wearing red high top shoes with black laces,
Camouflage pants,
Red ball cap with flat brim
Black t-shirt with a masked skull logo.
Should you have any information regarding the subject of interest, please contact the Sylvan Lake RCMP Detachment directly at 403-858-7200 or via e-mail at [email protected] or CrimeStoppers at 1-800-222-TIPS (8477).
Major Crimes Unit investigating deaths of 1 year old boy and 4 year old girl in house fire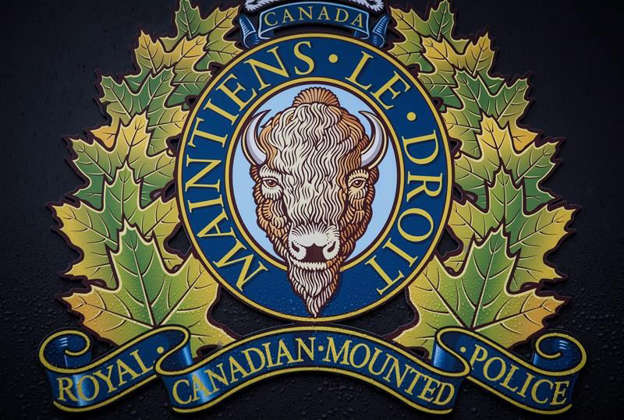 News release from Breton RCMP
Breton RCMP investigate fatal house fire
On June 2, 2021, at approximately 11 a.m., the RCMP Central Alberta District (CAD) Crime Reduction Unit (CRU) were conducting an unrelated investigation in the area of Buck Lake when the investigation led to a residence where there was a house fire in the area of Township 465 and Range Road 630.
RCMP officers notified Fire services and upon gaining entry to the yard and residence, were told that there were two children trapped inside. RCMP officers attempted to rescue the children; however, due to the extent of the fire re-entry to the residence was not possible.
Breton and Thorsby RCMP attended the scene along with multiple volunteer Fire Services who worked to extinguish the fire.
A search of the structure once the fire was extinguished resulted in locating the two missing children, a 1-year-old male and 4-year-old female—both from Drayton Valley, Alta.
Alberta RCMP Major Crimes Unit, Alberta RCMP General Investigation Section from Alberta RCMP Serious Crimes Branch, RCMP Forensic Identification Section, along with a Fire Investigator attended the scene to assist with this investigation.
The RCMP continue to wait for an official report from the fire investigator from the Alberta Office of the Fire Commission.
Breton RCMP's investigation into this fatal fire continues.
Further updates will be provided when more information is available.