Fentanyl, cocaine, guns, and cash seized during million dollar bust in Calgary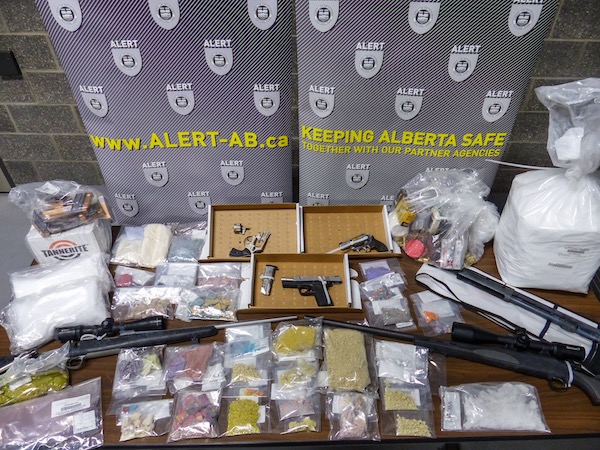 From Alberta Law Enforcement Response Team
Focus on fentanyl paying off with $1 million Calgary bust
Calgary… A recent drug bust in Calgary took upwards of 20,000 doses of fentanyl off the street, part of a series of recent investigations by ALERT that were aimed at disrupting the opioid market.
ALERT Calgary seized nearly $1 million worth of drugs and six firearms after two homes were searched on April 16, 2021. ALERT seized 4.5 kilograms of fentanyl, along with methamphetamine, cocaine, and buffing agents. Two people were arrested and 39 charges were laid.
"Fentanyl has been a scourge in our communities and organized crime is responsible. ALERT will remain ruthless in our pursuit of drug dealers, and investigations like these, demonstrate our success in getting harmful drugs off the street," said Supt. Dwayne Lakusta, ALERT CEO.
The million-dollar seizure is the highlight, to date, of a recent string of investigative successes by ALERT Calgary. The unit has worked in tandem with policing partners, such as Calgary Police Service and RCMP to specifically target street-level opioid and meth sales.
"Integration is the key element of ALERT's success. By working with our partners and sharing intelligence on emerging issues, ALERT's specialized units are able spring into action and deliver meaningful results," said Lakusta.
The following provides a brief synopsis and tally of recent investigative success, including ALERT's most recent bust. The investigations are not believed to be linked:
April 16, 2021 two people were arrested and two homes were searched in Calgary. Nicholas Rybenko, 39, and Wessen Vandenhoek, 35, face multiple drug and firearms charges after ALERT seized:
6 firearms;
4,505 grams of fentanyl;
353 grams of methamphetamine;
13 grams of cocaine;
17,146 grams of a suspected buffing agent;
$30,000 cash.
April 6, 2021 two homes in Calgary's Beltline were searched and a 24-year-old man was arrested. Ady Zhang Chang was charged with possession of drugs for the purpose of trafficking and possession of proceeds of crime, after ALERT seized:
134 grams of fentanyl;
181 grams of cocaine; and
$1,250 cash.
March 29, 2021 a traffic stop was initiated on a suspect believed to be involved in street-level drug sales. ALERT located drugs inside the vehicle and its occupants were arrested. Amrudin Karimyar, 23, and Mohit Sandhu, 19, were charged, and ALERT seized:
43 grams of fentanyl;
9 grams of methamphetamine;
14 grams of cocaine; and
$6,955 cash.
February 2, 2021 ALERT searched two homes in Calgary and arrested a 31-year-old man. Jaspreet Cheema faces a number of drugs and firearms charges after ALERT seized:
A loaded handgun;
220 grams of fentanyl;
12 grams of cocaine;
1,912 grams of a cocaine buffing agent;
$12,970 cash.
Since 2018, ALERT teams from across the province have seized 18 kilograms of fentanyl powder and just over 250,000 fentanyl pills. Over 100 investigations have been conducted involving opioids.
Members of the public who suspect drug or gang activity in their community can call local police, or contact Crime Stoppers at 1-800-222-TIPS (8477). Crime Stoppers is always anonymous.
ALERT was established and is funded by the Alberta Government and is a compilation of the province's most sophisticated law enforcement resources committed to tackling serious and organized crime.
RCMP say competitor in Ironman is dead after volunteers pulled him from the water
CALGARY — RCMP say a competitor in an Ironman triathlon west of Calgary has died.
Police say they received a complaint of a drowning at Harmony Lake in Rocky View County on Sunday morning.
They say a 47-year-old Ontario man was located by Ironman race volunteers in the water.
The volunteers pulled him out, began CPR, and called EMS, but police say he died at the scene.
RCMP say they have contacted the medical examiner who will be assisting in determining a cause.
They say the man's family has been notified.
This report by The Canadian Press was first published Aug. 1, 2021.
The Canadian Press
FC Edmonton roll to 3-1 win over No. 1 Valour FC in CPL action
EDMONTON — FC Edmonton struck early and refused to relent Saturday as it rolled to a 3-1 victory over Valour FC in Canadian Premier League action.
Easton Ongaro put Edmonton (3-4-2) up 1-0 just 13 minutes in.
Tobias Warschewski added a goal for the home side in the 55th minute and eight minutes later, Amer Didic scored to give Edmonton the 3-0 lead.
Andy Baquero Ruiz clawed back a goal for Valour (6-3-0) in the 88th minute.
Edmonton outshot Valour 12-9, with six of its shots on target. Valour had three shots on goal.
Despite the result, Valour continues to sit atop the league with 17 points, one ahead of Pacific FC.
This report by The Canadian Press was first published July 31, 2021.
The Canadian Press