Fentanyl, cocaine, guns, and cash seized during million dollar bust in Calgary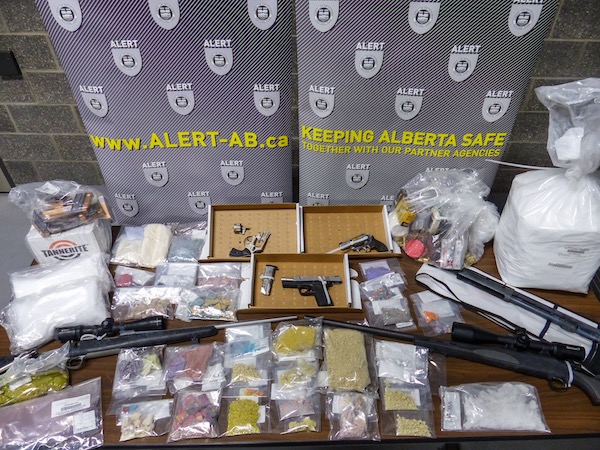 From Alberta Law Enforcement Response Team
Focus on fentanyl paying off with $1 million Calgary bust
Calgary… A recent drug bust in Calgary took upwards of 20,000 doses of fentanyl off the street, part of a series of recent investigations by ALERT that were aimed at disrupting the opioid market.
ALERT Calgary seized nearly $1 million worth of drugs and six firearms after two homes were searched on April 16, 2021. ALERT seized 4.5 kilograms of fentanyl, along with methamphetamine, cocaine, and buffing agents. Two people were arrested and 39 charges were laid.
"Fentanyl has been a scourge in our communities and organized crime is responsible. ALERT will remain ruthless in our pursuit of drug dealers, and investigations like these, demonstrate our success in getting harmful drugs off the street," said Supt. Dwayne Lakusta, ALERT CEO.
The million-dollar seizure is the highlight, to date, of a recent string of investigative successes by ALERT Calgary. The unit has worked in tandem with policing partners, such as Calgary Police Service and RCMP to specifically target street-level opioid and meth sales.
"Integration is the key element of ALERT's success. By working with our partners and sharing intelligence on emerging issues, ALERT's specialized units are able spring into action and deliver meaningful results," said Lakusta.
The following provides a brief synopsis and tally of recent investigative success, including ALERT's most recent bust. The investigations are not believed to be linked:
April 16, 2021 two people were arrested and two homes were searched in Calgary. Nicholas Rybenko, 39, and Wessen Vandenhoek, 35, face multiple drug and firearms charges after ALERT seized:
6 firearms;
4,505 grams of fentanyl;
353 grams of methamphetamine;
13 grams of cocaine;
17,146 grams of a suspected buffing agent;
$30,000 cash.
April 6, 2021 two homes in Calgary's Beltline were searched and a 24-year-old man was arrested. Ady Zhang Chang was charged with possession of drugs for the purpose of trafficking and possession of proceeds of crime, after ALERT seized:
134 grams of fentanyl;
181 grams of cocaine; and
$1,250 cash.
March 29, 2021 a traffic stop was initiated on a suspect believed to be involved in street-level drug sales. ALERT located drugs inside the vehicle and its occupants were arrested. Amrudin Karimyar, 23, and Mohit Sandhu, 19, were charged, and ALERT seized:
43 grams of fentanyl;
9 grams of methamphetamine;
14 grams of cocaine; and
$6,955 cash.
February 2, 2021 ALERT searched two homes in Calgary and arrested a 31-year-old man. Jaspreet Cheema faces a number of drugs and firearms charges after ALERT seized:
A loaded handgun;
220 grams of fentanyl;
12 grams of cocaine;
1,912 grams of a cocaine buffing agent;
$12,970 cash.
Since 2018, ALERT teams from across the province have seized 18 kilograms of fentanyl powder and just over 250,000 fentanyl pills. Over 100 investigations have been conducted involving opioids.
Members of the public who suspect drug or gang activity in their community can call local police, or contact Crime Stoppers at 1-800-222-TIPS (8477). Crime Stoppers is always anonymous.
ALERT was established and is funded by the Alberta Government and is a compilation of the province's most sophisticated law enforcement resources committed to tackling serious and organized crime.
Northern Alberta community of Fort Chipewyan evacuated due to wildfire
A large wildfire burns this handout image provided by the Government of Alberta and posted on their social media page. THE CANADIAN PRESS/HO-Government of Alberta- Alberta Wildfire
Fort Chipewyan
A hamlet in northern Alberta has been placed under an evacuation order as a wildfire burns nearby.
Residents of Fort Chipewyan, a community of about 800 people, had been told earlier in the day to be ready to leave with 15 minutes' notice.
Athabasca Chipewyan First Nation, Mikisew Cree First Nation, Fort Chipewyan Métis Nation and the Regional Municipality of Wood Buffalo issued a joint evacuation order for the community.
Officials say the out-of-control wildfire is about eight kilometres away from Fort Chipewyan's airport and is about 30 square kilometres in size.
The evacuation is being handled in stages, starting with residents in Allison Bay, the community closest to the wildfire boundary.
Air transportation to Fort McMurray, about 300 kilometres to the south, is being arranged, as well as temporary accommodations in Fort McMurray and Fort McKay for evacuees.
This report by The Canadian Press was first published May 30, 2023.
Tabulation change led to delay in voting results: Elections Alberta
United Conservative Party faithful gather to watch election returns in Calgary, Monday, May 29, 2023. An Elections Alberta official says a change implemented in how "vote anywhere" ballots in advance voting are counted likely contributed to delays in the publishing of results in Monday's provincial election. THE CANADIAN PRESS/Jeff McIntosh
By Bill Graveland in Calgary
An Elections Alberta official says a change in how advance "vote anywhere" ballots are counted likely contributed to a delay in publishing the results in Monday's provincial election.
Only a small fraction of results were available 90 minutes after polls closed.
And a United Conservative Party win wasn't called for another 90 minutes after that.
At some points, a candidate was shown as leading in a riding with a single vote.
Robyn Bell, a spokeswoman for Elections Alberta, says a key change made after the province's 2019 election was likely a factor.
She said it involves ballots that allow Albertans vote in advance at any polling station in the province.
"The report of tabulator results was occurring in returning offices for the first time this year. In the previous election in 2019, those ballots were transported back to Elections Alberta for a count and you may remember that resulted in a 2-1/2 day delay in reporting after the election," she said.
"They're not just counting votes for the candidates in their electoral division, they could be counting results for candidates in multiple divisions."
As well, Bell said transmitting the official statement of votes has to be inputted into the results site and every step of the way has a verification process.
"That just takes time and we prioritize the accuracy of reporting over the speed of reporting is ultimately what it comes down to."
Bell said after every election, there's an opportunity to provide recommendations on what went well and what didn't. Recommendations come in the report of the Chief Electoral Officer about six months after the election. She said the legislative assembly also has a chance to make suggestions.
"It could result in changes for the next provincial election."
Bell said despite the criticism, she thought things went well, although she understands the public was anxious to see the final results.
"It's just an evolution in the vote universe," she said.
"In 2019, I think the delay in counting ultimately kind of resulted in people feeling like their vote didn't matter, because the election was called before those 'vote anywhere' ballots were even counted."
Bell said there will be automatic recounts in Calgary Acadia and Calgary Glenmore, since the margin of victory in those constituencies was under 100 votes.
This report by The Canadian Press was first published May 30, 2023.