Live music at The VAT! Wait, what?
Yes! Local legendary live music venue has it's first show in months and it was me!
The last couple months have been trying to say the least and yesterday it felt like I had awoken from a bad dream. Finally I had a gig to get to. At last I was getting to connect with my musical brothers. It was surreal to put it lightly. The catch? No audience allowed in the room. Huh? Play a gig to nobody? Nope, the whole show was live streamed in real time on YouTube.
"The Marshall stack screaming behind me with joy."
What a trip! Almost unbelievable how much went into building the show. Dylan Cave and Calvin Bellows set up the coolest mission control a guy could ask for. Pete Stone was my first call for sound (one of my personal favourite guitar players and an incredible tech) and as usual his mix was pretty much epic. As to be expected. All in, with the crew we had about 13 people in the room. Every single one of us simply floored to be in the Vat about to catch a show; yet so many rules, guidelines and unease about this new normal in getting back to life. We did it tho. Behind closed doors with only the crew and us, we did it. It felt SO GOOD!
Man alive it felt good, looking across the stage and seeing Scotty in his natural habitat laying down the foundation that somehow rumbles and cuts simultaneously. Feeling the kick drum in the floor every time Sammy puts his foot down. The Marshall stack screaming behind me with joy. It was a proper night, the stars were aligned and we threw down. At the Vat.
From the bottom of my heart, THANK YOU to the team that put this together. Thank you, thank you, thank you. In a time where we need each other more than ever, I'm humbled that anyone would choose to put their time, talents and effort into my show. Live entertainment may not be the same for quite some time. Last night tho? that was as real as ever. Terry Cave you've got a legendary stage. I'm eternally grateful I get to perform on it.
For me performing is life, it's been overwhelmingly challenging to watch my shows drop off one by one without any real sign of when they could possibly return. This show was so important for my mental health. I hope in some small way we were able to connect and help escape a tiny bit of the intensity and stress that is now our "normal."
In short, stay cool, fam stay kind and who knows? Maybe we'll see you from the stage somewhere sometime soon. Until next time as always, peace, love and kindness. On purpose, with purpose.
Jesse Roads – Vocals/Guitar
Scott Wiber – Bass
Sam Leszczynski – Drums
Pete Stone – Sound
Calvin Bellows – Videogrophy
Dylan Cave – Stream Technician
Terry Cave – Bud King
Duane Rolheiser – Todayville
#RedDeerStrong – Can't go to see art? Enjoy Red Deer's 2020 Online Arts Festival!
Southside Dodge donates new van to Ronald McDonald House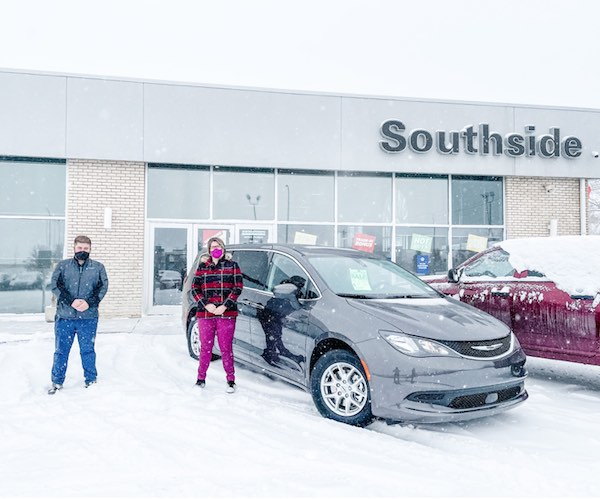 Matt Swainson (Vice President & General Manager, Southside Dodge Chrysler Jeep Ram) -left , Lori Rechlo (General Manager, Ronald McDonald House Charities Alberta – Red Deer House) – right
Submitted by

Sarah Heibein,

Stakeholder Relations Manager, Central Alberta Ronald McDonald House

We've received a donation of use of a Dodge Caravan from Southside Dodge- they've been an incredible support of us over the years. Attached is the photo we took at the dealership when we picked up the keys on Friday.
Ronald McDonald House Charities Alberta, Red Deer House is truly grateful to Matt Swainson and his entire team at Southside Dodge for their steadfast support of our work to keep families together during the unimaginable hardship of the need to travel for medical treatment for their sick or injured child. Our House is not a nice to have, but a need to have, and we are honoured to work with such an amazing community partner in Southside. The use of the 2021 Dodge Caravan will help us to keep our operating costs down so that we can focus on our work to keep families close.
We have operated in the city for over 8 years, ensuring there is a safe and comfortable place for families to rest while they focus on the recovery of their child(ren).
We are grateful to everyone in Red Deer who supports us! 😊
Smiles Thru Lindsey reaching out with a new video message and urging Albertans to look out for each other at this challenging time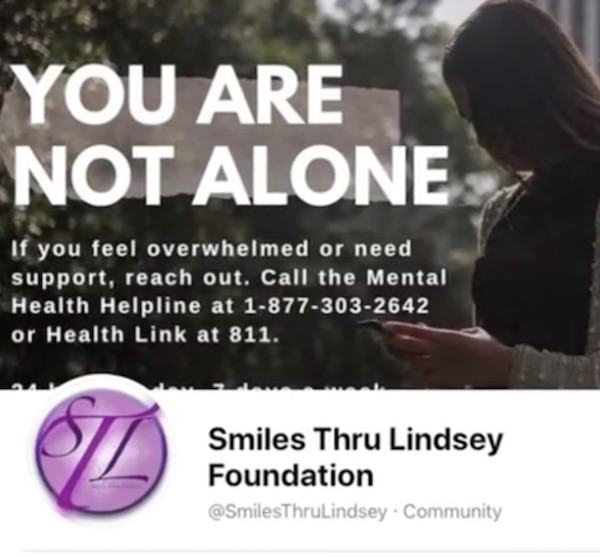 The holiday season is well behind us, we're heading into the coldest part of the winter, and although the days are starting to grow longer there's still a definite lack of daylight in our lives. The winter blues are a real thing and this year we have COVID, a whole new serious problem to add to our mental health issues.
COVID is also the reason the Smiles Thru Lindsey team has not been able do public events for many months. Unable to reach out physically through school visits and fund raisers, Smiles Thru Lindsey is reminding Central Albertans to check in on each other. Also, please follow the Smiles Thru Lindsey Facebook page . They'll lead you to the resources you or your loved ones need right away.
Meet Lindsey and the Smiles Thru Lindsey team in this powerful video. …And remember to check in on the people in your life.
If you'd like to help Smiles Thru Lindsey with a donation please click here.