Three Red Deer filmmakers receive $20,000 in production funding to produce documentaries.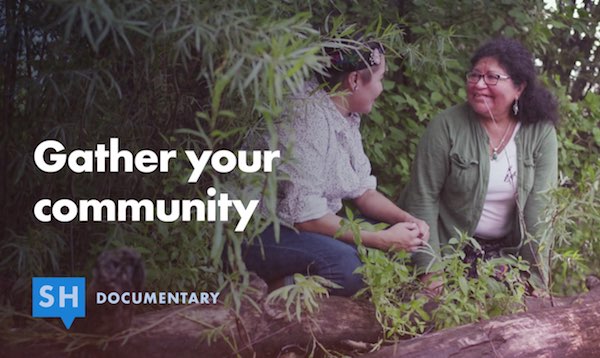 STORYHIVE's 19th edition aims to highlight remarkable people!
Remarkable people making positive contributions to their local communities by sharing how Canadian neighbourhoods adapt, change and strengthen connections in the face of distance and difficulty.
What is STORYHIVE? STORYHIVE from TELUS has proudly provided long-term support and resources for creators across BC and Alberta to grow their careers and empower them to share impactful stories that strengthen connections and inspire audiences around the world. How cool!
It's no secret that Red Deer is home to some amazing talents. Hosting the annual Central Alberta Film Festival (CAFF) giving acknowledgement to a very cool indie film scene right here in the heart of the province.
So who's repping Red Deer in the 19th edition of STORYHIVE? Check it out.
Creator Adam Jasper is taking viewers into the life of Jan Underwood, an industrious, heart-driven Red Deer resident who has helped ease the transition of grief-stricken refugees to a new beginning in Central Alberta through Central ALberta Refugee Effort (C.A.R.E). "A Refugee's Refuge – C.A.R.E" follows Jan as she navigates her own grief after the passing of her husband of 42 years Peter while she continues to support refugees through their own. Jan has been a staple of the Red Deer community and Adam looks forward to shining a light on this remarkable woman.
Director and possibly part-time detective Linda Pidhirney is producing "Anonymous Heroes," a documentary turned mystery that follows residents across Central Alberta as they share their experiences falling to unfortunate and desperate circumstances. In the midst of intense struggles, these residents encounter help from an anonymous hero that is a stranger to these residents. Linda dives into the stories of these Red Deer residents as they explain how this stranger brought them new hope.
Writer Jessica Swainson is making her film debut with "Jason and Me," a documentary about a friend everyone should have, Jason. Jason is a Red Deer resident who will see a need and connect people to fill that need. When Jessica was first writing her book and looking for a publisher, Jason dropped everything to help her find success. Whether it be a project, vision or even a door opened, Jason brings a smile to everyone's face that he meets. A true definition of a local hero.
These are just three of 40 projects selected out of 171 applications to receive not only $20,000 in funding, but also mentorship, customized career training and distribution from TELUS STORYHIVE Since 2014.
Alberta Premier Jason Kenney, top health officials, to give COVID-19 update
Premier Jason Kenney and top health officials are to provide an update on COVID-19 this afternoon as Alberta faces surging hospitalizations.
Chief medical officer of health, Dr. Deena Hinshaw, Alberta Health Services CEO Dr. Verna Yiu, and Health Minister Jason Copping are expected to join Kenney.
A surging number of COVID-19 infections, driven by the Omicron variant, is putting increasing strain on the province's already overwhelmed health-care system.
There were more than 1,100 people hospitalized for the virus in Alberta Wednesday, with expectations that admissions will soon exceed record highs seen during the previous wave.
Dr. Shazma Mithani, an emergency room physician in Edmonton, says wait times are longer than she has seen in at least five years.
Mithani says she is worried, as this wave continues to surge, that people needing treatment for COVID-19 and other medical emergencies could have worse outcomes because of stretched wait times.
This report by The Canadian Press was first published Jan. 20, 2022.
The Canadian Press
Alberta police chiefs say too soon to support drug decriminalization
CALGARY — The association representing Alberta police chiefs says it's too soon to decriminalize illicit drugs.
Calgary Chief Const. Mark Neufeld, president of the Alberta Association of Chiefs of Police, says a number of things need to be in place before decriminalization can be seriously considered.
Neufeld says that would include provincial regulations on drug consumption around minors, public consumption and the operation of vehicles.
He says some aspects of decriminalization are already in place in Alberta, where individuals are typically only charged with personal possession within the context of a public safety concern or other criminal conduct.
Neufeld says decriminalization alone wouldn't reduce addiction or overdose rates.
He says there needs to be a connection between law enforcement and public health so that people who need help can get.
This report by The Canadian Press was first published Jan. 20, 2022.
The Canadian Press