#RedDeerStrong – Can't go to see art? Enjoy Red Deer's 2020 Online Arts Festival!
Local visual, literary and performing artists take to the online stage
The year 2020 has taken quite a unique turn in the past couple of months, but digital communications and the arts have taken a forefront position as people spend more time at home, physical distancing and staying safe and healthy. While the Red Deer Arts Council's Kiwanis Art Gallery is closed, we are taking the opportunity to share creativity of all genres through our website and social media with the 2020 Online Arts Festival.
With grant funding from the City of Red Deer Culture Services, the arts council is pleased to be able to support participating artists in sharing their work through artist fees for this juried exhibition open to Central Alberta and Red Deer artists of all ages in performing, literary and visual disciplines.
This online festival will celebrate visual, performing, and literary arts through emailed submissions to the Red Deer Arts Council and provide local contributors with an artist fee for their participation in this juried project.
Whether a dancer, actor, writer, singer, painter or poet, artists of all kinds will share their talent and creativity through images and video performances or tutorials on the Red Deer Arts Council's online platforms.
This unique and exciting exhibition will exist on all arts council social media platforms and our website:
https://www.reddeerartscouncil.ca/online-arts-festival
https://www.facebook.com/reddeerartscouncil/
https://twitter.com/RDArtsCouncil
https://www.instagram.com/rdartscouncil/
Red Deer Arts Council is pleased to present the 2020 Online Arts Festival Juried Exhibition, which runs from May 1st to 31st and July 1st to 31st, 2020, with a pause for a special presentation in June
INFORMATION FOR ARTIST
2020 Online Arts Festival – Call for Submissions
We are calling on artists of all kinds in Red Deer to submit performance videos and images of 2D, 3D and written words to [email protected] for sharing with the wider community! This call is open to artists of all ages and genres. The only restriction is that we ask that YOU have created the work! We are also inviting artists to create tutorial videos (approximately 10 – 20 minutes) demonstrating a specific element of your artistry to be shared as well!
Your work will be shared on Facebook, Instagram, Twitter and on a specific page on our website!
Video submissions might include: a drawing or painting lesson, a dance number (please credit the musical artists for the audio.) a scene or monologue from a play, a song or a reading from a piece of our written material.
Images might include: a photo of your painting, drawing, photograph or sculptural work, an image of your written page. Images will be credited to the artist with a label card overlaid on the image to help protect your copyright. Videos and images will be credited in post descriptions / commentary and any artist statements submitted will be likewise shared.
The Fine Print: The Red Deer Arts Council, a Not-For-Profit Charity that receives public and private funding, will jury all submissions received for the appropriateness (in a public all-ages sphere) and for the quality of the content and reserve the right to curate all works that are shared by our professional arts service organization.
We ask that works not have been displayed in the Red Deer Arts Council's Kiwanis Gallery during a prior exhibition or be previously shared online in the year 2020.
Submission Details and Criteria:
This Juried Online Festival exhibition is an open call to all Visual, Literary and Performing artists in Red Deer and Central Alberta.

Digital image files for visual art works must be titled according to the completed Application & Declaration Form (attached) and labeled with the Title of the Work, Media, Date, Value for sale, and the Name of the Artist;

Video files should be named with the piece being performed/read. Works performed should be original works or have received permission from the identified creator; if another's music is used for dance pieces, please note credit for the performer and songwriters.

Video Tutorials should be approximately 10-20 minutes and should be edited prior to submission.

Works should not have previously been exhibited in the Kiwanis Gallery, nor shared elsewhere online or on social media in 2019 or 2020.

Jurors will remain Anonymous and will judge content on acceptability in a public all-ages forum as well as for quality.

Submission may be sent electronically with digital file attachments or for large size files, a link to a functioning downloadable file is acceptable.

Artist Fee Structure for this festival:
$50 for the 1st piece, $25 for subsequent pieces to a max of $100 per artist.

Kids' work (up to age 15, inclusive) will receive $25 for one item in gift card format (from a select list.)

For video tutorials, $50 per video tutorial (approx. 10-20 minutes) to a maximum payment of $100 per artist.
In your emailed submission, please include:
Your complete, signed (digital signatures accepted) Application & Declaration Form

Your images in .JPG or .PNG format and videos in .MOV or .MP4 file types (or similar, be sure it functions and is accessible.) Please name your file with the work title, corresponding to the attached form. You may also mail a USB key with your files to 110-4818 50 Avenue, Red Deer, AB T4N 4A3.

Your Artist Statement referring to the works (what inspired you), if applicable

A short Biography detailing your experience (approximately 2-3 sentences)

A list of your Facebook, Twitter and Instagram handles or webpage addresses so you can be tagged in the post
Submissions will be received on an ongoing basis until July 25, 2020. Incomplete submissions will be returned.
Southside Dodge donates new van to Ronald McDonald House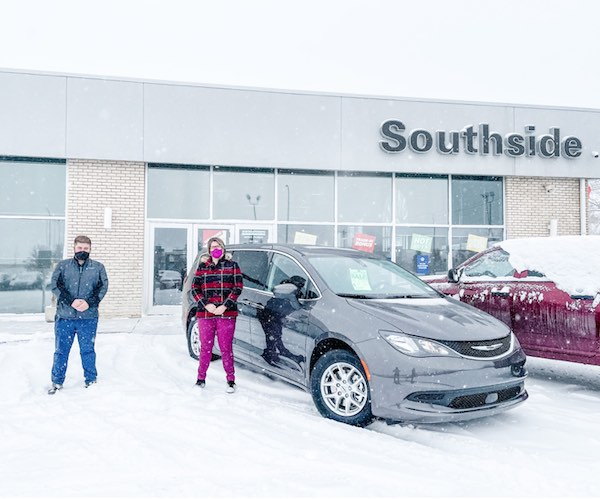 Matt Swainson (Vice President & General Manager, Southside Dodge Chrysler Jeep Ram) -left , Lori Rechlo (General Manager, Ronald McDonald House Charities Alberta – Red Deer House) – right
Submitted by

Sarah Heibein,

Stakeholder Relations Manager, Central Alberta Ronald McDonald House

We've received a donation of use of a Dodge Caravan from Southside Dodge- they've been an incredible support of us over the years. Attached is the photo we took at the dealership when we picked up the keys on Friday.
Ronald McDonald House Charities Alberta, Red Deer House is truly grateful to Matt Swainson and his entire team at Southside Dodge for their steadfast support of our work to keep families together during the unimaginable hardship of the need to travel for medical treatment for their sick or injured child. Our House is not a nice to have, but a need to have, and we are honoured to work with such an amazing community partner in Southside. The use of the 2021 Dodge Caravan will help us to keep our operating costs down so that we can focus on our work to keep families close.
We have operated in the city for over 8 years, ensuring there is a safe and comfortable place for families to rest while they focus on the recovery of their child(ren).
We are grateful to everyone in Red Deer who supports us! 😊
Smiles Thru Lindsey reaching out with a new video message and urging Albertans to look out for each other at this challenging time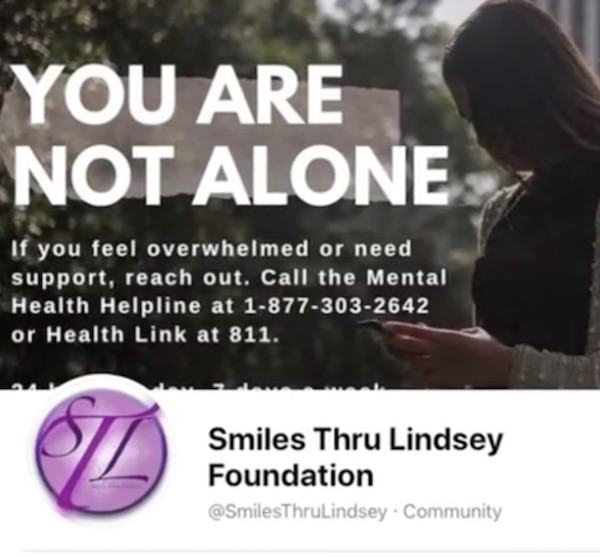 The holiday season is well behind us, we're heading into the coldest part of the winter, and although the days are starting to grow longer there's still a definite lack of daylight in our lives. The winter blues are a real thing and this year we have COVID, a whole new serious problem to add to our mental health issues.
COVID is also the reason the Smiles Thru Lindsey team has not been able do public events for many months. Unable to reach out physically through school visits and fund raisers, Smiles Thru Lindsey is reminding Central Albertans to check in on each other. Also, please follow the Smiles Thru Lindsey Facebook page . They'll lead you to the resources you or your loved ones need right away.
Meet Lindsey and the Smiles Thru Lindsey team in this powerful video. …And remember to check in on the people in your life.
If you'd like to help Smiles Thru Lindsey with a donation please click here.