#RedDeerStrong – Can't go to see art? Enjoy Red Deer's 2020 Online Arts Festival!
Local visual, literary and performing artists take to the online stage
The year 2020 has taken quite a unique turn in the past couple of months, but digital communications and the arts have taken a forefront position as people spend more time at home, physical distancing and staying safe and healthy. While the Red Deer Arts Council's Kiwanis Art Gallery is closed, we are taking the opportunity to share creativity of all genres through our website and social media with the 2020 Online Arts Festival.
With grant funding from the City of Red Deer Culture Services, the arts council is pleased to be able to support participating artists in sharing their work through artist fees for this juried exhibition open to Central Alberta and Red Deer artists of all ages in performing, literary and visual disciplines.
This online festival will celebrate visual, performing, and literary arts through emailed submissions to the Red Deer Arts Council and provide local contributors with an artist fee for their participation in this juried project.
Whether a dancer, actor, writer, singer, painter or poet, artists of all kinds will share their talent and creativity through images and video performances or tutorials on the Red Deer Arts Council's online platforms.
This unique and exciting exhibition will exist on all arts council social media platforms and our website:
https://www.reddeerartscouncil.ca/online-arts-festival
https://www.facebook.com/reddeerartscouncil/
https://twitter.com/RDArtsCouncil
https://www.instagram.com/rdartscouncil/
Red Deer Arts Council is pleased to present the 2020 Online Arts Festival Juried Exhibition, which runs from May 1st to 31st and July 1st to 31st, 2020, with a pause for a special presentation in June
INFORMATION FOR ARTIST
2020 Online Arts Festival – Call for Submissions
We are calling on artists of all kinds in Red Deer to submit performance videos and images of 2D, 3D and written words to [email protected] for sharing with the wider community! This call is open to artists of all ages and genres.  The only restriction is that we ask that YOU have created the work! We are also inviting artists to create tutorial videos (approximately 10 – 20 minutes) demonstrating a specific element of your artistry to be shared as well!
Your work will be shared on Facebook, Instagram, Twitter and on a specific page on our website!
Video submissions might include: a drawing or painting lesson, a dance number (please credit the musical artists for the audio.) a scene or monologue from a play, a song or a reading from a piece of our written material.
Images might include: a photo of your painting, drawing, photograph or sculptural work, an image of your written page.  Images will be credited to the artist with a label card overlaid on the image to help protect your copyright.  Videos and images will be credited in post descriptions / commentary and any artist statements submitted will be likewise shared.
The Fine Print:  The Red Deer Arts Council, a Not-For-Profit Charity that receives public and private funding, will jury all submissions received for the appropriateness (in a public all-ages sphere) and for the quality of the content and reserve the right to curate all works that are shared by our professional arts service organization.
We ask that works not have been displayed in the Red Deer Arts Council's Kiwanis Gallery during a prior exhibition or be previously shared online in the year 2020.
Submission Details and Criteria:
This Juried Online Festival exhibition is an open call to all Visual, Literary and Performing artists in Red Deer and Central Alberta.

Digital image files for visual art works must be titled according to the completed Application & Declaration Form (attached) and labeled with the Title of the Work, Media, Date, Value for sale, and the Name of the Artist;

Video files should be named with the piece being performed/read. Works performed should be original works or have received permission from the identified creator; if another's music is used for dance pieces, please note credit for the performer and songwriters.

Video Tutorials should be approximately 10-20 minutes and should be edited prior to submission.

Works should not have previously been exhibited in the Kiwanis Gallery, nor shared elsewhere online or on social media in 2019 or 2020.

Jurors will remain Anonymous and will judge content on acceptability in a public all-ages forum as well as for quality.

Submission may be sent electronically with digital file attachments or for large size files, a link to a functioning downloadable file is acceptable.

Artist Fee Structure for this festival:
$50 for the 1st piece, $25 for subsequent pieces to a max of $100 per artist.

Kids' work (up to age 15, inclusive) will receive $25 for one item in gift card format (from a select list.)

For video tutorials, $50 per video tutorial (approx. 10-20 minutes) to a maximum payment of $100 per artist.
In your emailed submission, please include:
Your complete, signed (digital signatures accepted) Application & Declaration Form

Your images in .JPG or .PNG format and videos in .MOV or .MP4 file types (or similar, be sure it functions and is accessible.) Please name your file with the work title, corresponding to the attached form. You may also mail a USB key with your files to 110-4818 50 Avenue, Red Deer, AB T4N 4A3.

Your Artist Statement referring to the works (what inspired you), if applicable

A short Biography detailing your experience (approximately 2-3 sentences)

A list of your Facebook, Twitter and Instagram handles or webpage addresses so you can be tagged in the post
Submissions will be received on an ongoing basis until July 25, 2020. Incomplete submissions will be returned.
Smiles Thru Lindsey reaching out with a new video message and urging Albertans to look out for each other at this challenging time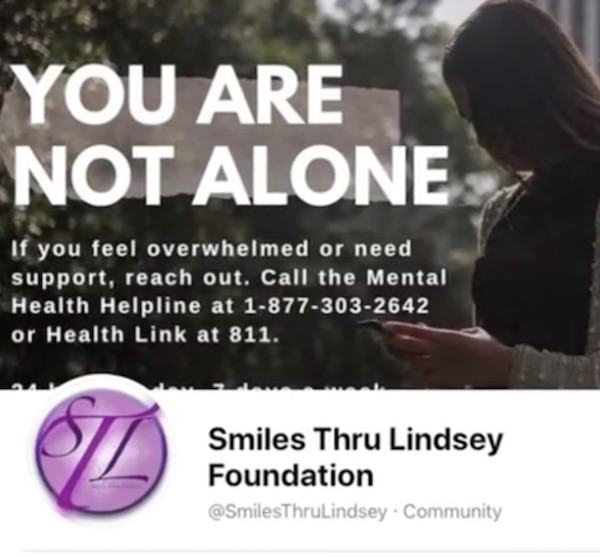 The holiday season is well behind us, we're heading into the coldest part of the winter, and although the days are starting to grow longer there's still a definite lack of daylight in our lives.  The winter blues are a real thing and this year we have COVID, a whole new serious problem to add to our mental health issues.
COVID is also the reason the Smiles Thru Lindsey team has not been able do public events for many months.  Unable to reach out physically through school visits and fund raisers, Smiles Thru Lindsey is reminding Central Albertans to check in on each other.  Also, please follow the Smiles Thru Lindsey Facebook page .  They'll lead you to the resources you or your loved ones need right away.
Meet Lindsey and the Smiles Thru Lindsey team in this powerful video.  …And remember to check in on the people in your life.
If you'd like to help Smiles Thru Lindsey with a donation please click here.
Hope, Faith and Love:  the Music Ministry of Gerard Renaud
"I feel more alive today in God than I did 20 years ago," said Gerard Renaud in the Red Deer Sacred Heart sanctuary.
The musician and worship leader had been asked by Shalom World, an international Catholic Ministry network with programs ranging from daily mass to talk shows, to provide worship music and meditations in 2019 but God had other plans.
"Shalom had come to Red Deer and put on a weekend at Sacred Heart Catholic Church and I had attended as I had never been to one before," said Renaud.  "They needed a guitarist, so I helped out and tailored my song choice to the theme of the weekend and they liked that.  Many of the international leaders were here and they invited me to be part of their Dallas event.  "
Renaud recalled that God had other plans as there were glitches in registration, so the Dallas trip was cancelled. Instead, he went to Vancouver to visit family and while he was there, he was part of 4 events with healings, music ministry and more members of Shalom management met with him!
Fast forward one year.
Early this Fall, Shalom came calling, this time they asked for two short devotions for Rejoice, one of which has already been posted (The Great Commission) and a second on Advent (Due December 18).
Communicating the grace and love of God has always been foremost in Renaud's' life.
"When I was a young man my family lived in Maple Ridge, BC, and I learned to play the guitar when I was nine years old on a 1965 Fender," remembered Renaud.  "My dad taught me 3 chords  in 1974. I credit God with giving me the talent to lean how to play and three months later, my family was the choir at St. Pats and we changed the music style to be more Avant Garde and by the time we changed churches 4 years later, church attendance was up even at the early masses."
By 1977 his family was playing up to 140 times a year in prisons, churches, and seniors' homes.
"Wherever we were wanted, we played," he said.  "The most memorable show we ever did was in 1977 at Alouette which was a medium security prison in Maple Ridge.  There were close to 200 inmates and we played during a prayer service and afterwards, we put on our regular show.  We played all kinds of music, There were not many at the service, but when we started to sing our standard set everyone left, and we were wondering what happened.  Not long later, we packed the chapel, and every wall was full!"
He noted that as a young boy of 12 he was singing 'Wasted Days and Wasted Nights,' and laughed about it.  "What does a 12-year old boy know about wasted days?  But, while we entertained our audiences, we ended up with an acapella Amazing Grace that had people in tears seeking the forgiveness of God."
Experiences like that shaped his family's music and ministry.
His spiritual journey is not restricted to music but also includes counseling and leading healing masses world-wide, a ministry that Sacred Heart has embraced for close to 3 years.
"When we had our first healing Mass in Red Deer more than 200 people came up for prayer," he remembered smiling.  "Father Tom, priest at the time, called him over and asked him a simple question, 'Where did these people come from?' I told Fr. Tom that if we hold one, they will come and they did."
Looking over the sanctuary, he continued to speak.
"But you have to remember that the Holy Spirit only moves like that after great prayer and humility, and we had spent 6 months praying every week for that," he said.  "All I did was to be obedient and do my part.  When I ministered in India, the same thing happened.  Over a couple of months, I led worship and prayed for thousands of people, some of whom I keep in contact with!  God is amazing."
When Shalom came calling, Renaud knew he had to let God speak.
The Great Commission | Gerard Renaud (shalomworld.org)
"My heart is evangelism, and I knew I had to challenge my audience with both a strong message and a powerful song so I chose 'What will you do with the time you have left,'" he said.  "We filmed it at Sacred Heart and after their editing, it debuted in early December."
He was not prepared for the impact his segment would have.
"One of the people of Shalom contacted me and told me that it had been posted in 4 countries and they had been receiving comments from Australia, Canada, Europe and the United States," he noted.  "Not only that, but even in this parish, the response from my fellow believers is amazing with people wanting to help.  Our parish priest, Father Jann wants us to produce a series of videos on faith, doctrine, and the gospels.  We are looking into equipment to help us live stream and work on our video ministry, all because of an invitation from Shalom."
Looking up at the cross, Renaud concluded with a simple statement, "If God asks something of you, do not walk away, but be obedient.  The rewards will be worth every sacrifice."
Renaud leads worship at Sacred Heart Catholic Church at the 11 a.m. Sunday Mass.