3 Questions for John Wing (The Tonight Show, America's Got Talent, Just For Laughs)
I think it's safe to say my first large scale comedy show I ever put on was bringing John Wing to town. Two sold out shows back to back in a market that hadn't really seen that kind of comedy talent in a long time. John had just finished up a stint on America's Got Talent and I remember thinking "holy heck, he's actually coming here…"
"I'm not a BARBARIAN, you know!"
– John Wing
Since then I have remained somewhat buds with John and have followed his journey over the last several years. John has performed on the Tonight Show with Jay Leno six times, performed several Just for Laughs and countless other festivals, clubs, cruise ships and more. John is an accomplished author spanning several books and most recently launched his "The Bad Piano Player" podcast.
I caught up with John and gave him the "3 QUESTIONS FOR" treatment.
1) As a Comic who's normally on tour a huge percentage of the time, what activity if any have you taken up or rekindled to keep the mind occupied?
I started playing the piano three or four hours a day, and planning podcasts. That's totally what kept me sane. Writing the episodes as well.
2) What's your favourite memory of being on the Tonight Show?
My first Tonight show was in 1990. Jim McCawley, the guy who booked and wrangled the comics, was holding the curtain, ready to pull it back when I was introduced. We were coming back from commercial. As we did, a couple of seconds before Jay started my intro, McCawley turned to me and said, "Hey, don't forget your jokes." I had my set typed out in my suit jacket pocket and I whipped it out for a final scan. Jesus, what an A-hole.
3) Ketchup or no ketchup on your Mac n' Cheese? Or no Mac n' Cheese at all?
No Ketchup on anything. I occasionally dip fries in Ketchup one by one, and I like cocktail sauce with shrimp, which is a form of ketchup but never ON anything. I'm not a BARBARIAN, you know!
Check out John's podcast and enjoy a little you time with your headphones on or cozied up by the fireplace with the bluetooth. The Bad Piano Player Podcast is available on PodTail, Buzzsprout, Apple podcasts and basically anywhere you get your podcast fix.
OR JUST CLICK HERE!
.
Click to see more stories on Here to Mars.
Elton John rockets toward retirement at Dodger Stadium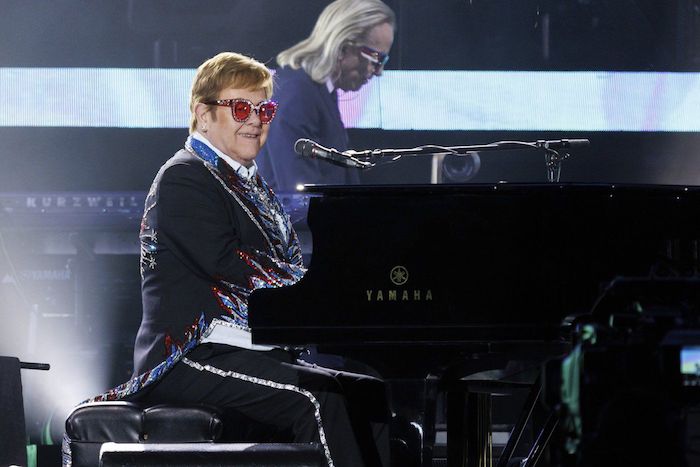 Elton John's career came fiull circle last night.
Forty seven years after he took the stage at Dodger Stadium in Los Angeles in a sequined-studded baseball uniform as the world's biggest pop star, John walked on to the same stage last night wearing a bedazzled Dodgers bathrobe.
It was a uniform more fitting for a 75-year-old man on the verge of retirement.
The crowd of more than 50-thousand roared at the moment that came in the final minutes of the final North American concert of a tour John says will be his last.
He told fans that "I want to spend time with my family because I'll be 76 next year — adding "I want to bring them out and show you why I'm retiring."
He embraced and kissed his husband, David Furnish, while his two sons, 11-year-old Zachary and 9-year-old Elijah, wearing matching Dodgers jackets that read "Elton" on the back, waved gleefully at the crowd.
John then broke into "Goodbye Yellow Brick Road," the inevitable final song that gave the "Farewell Yellow Brick Road" tour its name.
The crowd full of rocket men and rocket women, of blue jean babies and LA ladies, many John's age but plenty in their 20s and 30s and 40s, swayed and sang along as they had throughout the two-hour show during songs like "Rocket Man" and "Tiny Dancer."
Some wiped away tears.
Many were wearing their own sequins and spangles, sparkling spectacles, top hats, feather boas, and in a few cases, Donald Duck suits, representing stages of John's 55-year career.
When that last song ended, John shed the robe and exposed another retirement outfit, a green-and-red tracksuit, and climbed into a small, clear elevator that lifted him into an opening in the backdrop.
He could then be seen on a giant video screen walking down a yellow brick road into the distance.
CFR Rodeo, live music, street dancing, art, theatre and more downtown celebrations..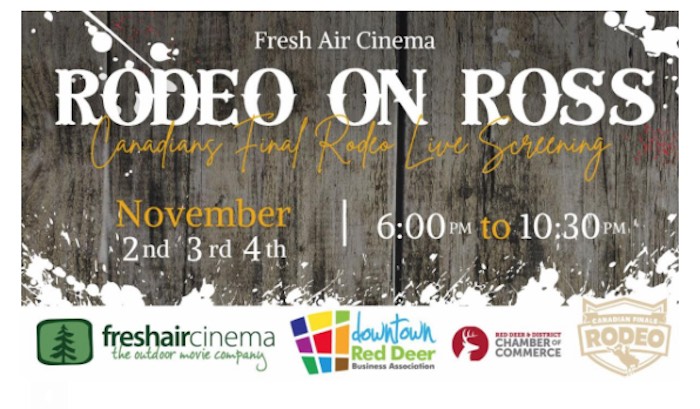 Live Music at The Velvet Olive
Mike Szabo at The Velvet Olive

October 26th @7:30

Join Mike Szabo on a journey of stories and songs he wrote and the covers that inspired him. Mike is promoting the release of his debut vinyl LP, Take My Heart 2020. Cover for the show is by donation and guests will be seated first come, first served.

Fish in a Birdcage at The Velvet Olive

October 28th @8:30

Dustan Townsend AKA "Fish in a Birdcage" is a young and passionate musical virtuoso. Townsend is originally from Red Deer, Alberta and is now on a two year long busking/street performing adventure around Europe with Spain being his next destination.
Family Street Dance October 29th
Grand Opening Celebration
October 29th
Yep, you heard that right! We're hosting a Grand Opening celebration for Red Deer's largest music store! When Long and McQuade bought the business in February of 2020, plans to renovate the store were made but had to be postponed. Fast forward to 2022, renovations are now finished and we would like to take this opportunity to celebrate the occasion with YOU, our amazing customers!
Come to the store on Oct. 29 for some awesome giveaway prizes, live music, and free food. Our BBQ will be fired up from 12 to 2 and we have live music scheduled from some excellent local musicians!
Trick or Treat Downtown Red Deer
October 31st
Trick or Treat October 31st-
12-4 pm
Trick or Treat with your little one at your favorite businesses and stop by the Ross Street Pation for a photobooth!
Contact Carbon + Oak for location information.
Rodeo on Ross
November 2nd, 3rd ,4th
Celebration 6 Years Arts & Culture
November 4th
A + Art Gallery & unique collections

Celebration 6 Years Exhibition

Details:

Opening Reception

Date: Friday, November 4th

Time: Noon to 4 pm

FREE Event
The Games of Love and Chance
November 10th to 27th
Prime stock Theater
@ Scott block theatre
November 10th to 27th.
Thursdays – Sundays 7 pm
PLUS 2 pm Matinees on Saturdays
Love must conquer clever disguises in this delightful comic masterpiece.

The Games of Love and Chance was originally written by Pierre de Marivaux at the height of opulence and extravagance during the reign of Louis XV in France. This playful and witty comedy has been newly translated and adapted by Artistic Director, Richard Beaune and this is it's world premiere! Indulge in an evening (or afternoon) of love, laughter and decadent silliness as Red Deer's only professional theatre company brings this sumptuous story of love and deception to life on stage.
Starpainter w/ Curtis Phagoo at The Velvet Olive
The Velvet olive

Starpainter is a folk rock band from Lethbridge, Alberta. They wear their influences on their sleeves, showcasing strong songwriting and an affinity for gently psychedelic alt-country tones. The band has been growing a following on the strength of their debut full-length titled Bury Me By My Family (2020). Their imaginative, guitar-heavy live show is built on a foundation of prairie-born craftsmanship with a pop sensibility that defies their youth.
Follow along with our NEW mural map, to enjoy the amazing murals that Downtown Red Deer has to offer!
Looking for a paper copy? Head to the Downtown Business Association office.
120, 5009 50 Ave.