Lacombe County amends "Community Standards" bylaw ahead of Wednesday's cannabis legislation
MEDIA RELEASE
October 15, 2018
Lacombe County Community Standards bylaw amended ahead of cannabis legislation
(Lacombe County, Alberta, October 15, 2018) – Following Lacombe County's Cannabis in Your Community public engagement campaign, County Council gave both second and third readings of the updated Community Standards Bylaw, and passed it during the October 11, 2018 council meeting.
Since the Government of Alberta gave municipalities the authority to set out their own rules on the smoking and vaping of cannabis products, Lacombe County met with the public to get their input on the bylaw. This was done in July 2018, in conjunction with the Planning Department – who are putting the final pieces in place on the necessary changes required to update the County's Land Use Bylaw.
"Our goal is to have a solid foundation in place that takes into the account the needs and concerns of the public," said Reeve Paula Law. "The feedback we heard indicated that our public wants us to limit cannabis consumption in a similar way to that of alcohol and tobacco consumption."
When cannabis legalization comes into effect on October 17, 2018, smoking or vaping cannabis products on any public places in Lacombe County will be prohibited. This includes community halls, sports fields, public open spaces (trails, nature reserves, parks, and green spaces), beaches, playgrounds, and anywhere else that the public are permitted to access.
Enforcement and Penalties
Under the authority of the Provincial Offences Procedures Act, police officers, peace officers, and any bylaw officers appointed under the Municipal Government Act are authorized to issue violation tickets to any person caught smoking or vaping cannabis in public spaces, and the product and device used to smoke or vape may be seized. The penalty for a first offence will be a fine of 0, with second and subsequent offences receiving a fine of at least 0.
After a public hearing on October 11, 2018, Council deferred a decision to make amendments to the Land Use Bylaw (LUB), which will accommodate the two new uses in the LUB as a result of cannabis legalization for cannabis production facilities and cannabis retail. This item will be brought back to a future County Council meeting.
Exporting Publicly Funded Jobs is Bad for Alberta.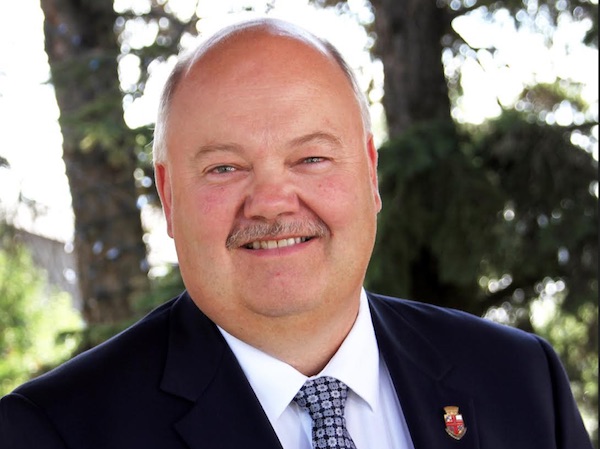 This article is submitted by The City of Lacombe
Mayor Grant Creasey
Recently, the Mayor of the Town of Athabasca, Colleen Powell, outlined what she described as a battle with implications for all Alberta. The problem she described was the decision by the Board of Governors of Athabasca University (AU) to adopt a "near-virtual" model. This model effectively takes well-paying rural Albertan jobs in her community and outsources them to communities like Victoria, Toronto – or anywhere else the institution approves. Over 10 years, this decision will reduce employment in that community by nearly 500 high quality jobs, according to Mayor Powell's opinion column submitted to the Edmonton Journal.
A similar battle is brewing in the City of Lacombe. Our largest employer, Alberta Financial Services Corporation (AFSC), has opted to pass a 'Work Away Policy,' essentially allowing staff to work remotely, anywhere in Canada.
Our Council has significant concerns with this decision, as it erodes employment opportunities both provincially and locally. Further, this policy change is not compliant with the formative legislation of AFSC.
It is important to remember that Athabasca University, and AFSC, were deliberately placed in our respective communities to promote rural development and viability. Premier Lougheed had a vision for Alberta that included locating publicly funded entities beyond the Edmonton and Calgary metropolitan regions – he recognized that strengthening rural Alberta strengthens all of Alberta.
As outlined in letters to our local MLA, as well as the Minister of Jobs, Economy and Innovation, the Minister of Agriculture and Forestry, and Premier Kenney, the City of Lacombe believes this Alberta Crown Corporation policy is bad for Lacombe and the province as a whole. While the letters outlining our concerns have gained limited traction, we believe Albertans should be aware of the implications when organizations outsource jobs away from rural communities like Lacombe and Athabasca.
AFSC's decision is against the Agriculture Financial Services Regulation; the governing document of the crown corporation. The regulation designates "Lacombe, Alberta as the location in Alberta at which the head office of the Corporation will be situated." Like AU, AFSC was intentionally placed in our community to support economic viability in smaller rural communities – and indeed it did, bringing highly-skilled and highly-paid employees to our community for years. Simply stated, AFSC's "Work Away Policy" disadvantages Lacombe and negatively impacts our local economy. It increases commercial vacancy and results in less overall commercial investment.
For this reason, I want to publicly thank Mayor Powell for speaking out on the damage caused when large publicly-funded institutions outsource Albertan jobs from the communities that rely on them, into other provinces.
These changes should concern us all, and we hope that Albertans will agree. Exporting publicly funded, high quality jobs from small Albertan communities to Toronto, Vancouver, or Montreal is ultimately harmful and will damage the economic viability of not only Athabasca and Lacombe, but all of Alberta.
Train Derailment south of Lacombe: 1 rail car leaked liquid asphalt
News Release from Blackfalds RCMP
Blackfalds RCMP advise of train derailment – Update
Blackfalds, Alta. – On July 2, 2021, at 8:15 p.m., Blackfalds RCMP received a 911 call of a train derailment along Highway 2A in Lacombe County.
Initial reports suggested a number of oil cars were leaking oil and possibly on fire. A nearby residence was evacuated as a precaution, and multiple emergency crews responded.
Emergency crews were able to determine that 23 train cars had derailed, four of which were carrying Tar Oil (liquid asphalt). Upon further inspection, only one of the cars was found to have a leak while the remaining were intact. No fires had started.
No injuries were reported and those evacuated were able to return home.
CP Rail and Lacombe County Emergency Management remain on scene and Highway 2A is expected to be blocked to traffic for several more hours while crews investigate and cleanup.
CP Rail Police has taken over this investigation.