Exporting Publicly Funded Jobs is Bad for Alberta.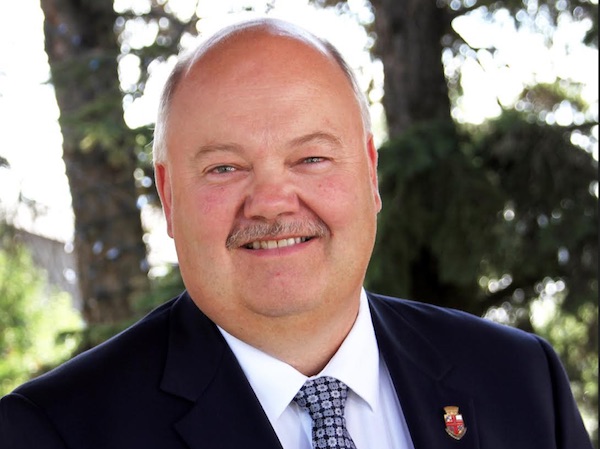 This article is submitted by The City of Lacombe
Mayor Grant Creasey
Recently, the Mayor of the Town of Athabasca, Colleen Powell, outlined what she described as a battle with implications for all Alberta. The problem she described was the decision by the Board of Governors of Athabasca University (AU) to adopt a "near-virtual" model. This model effectively takes well-paying rural Albertan jobs in her community and outsources them to communities like Victoria, Toronto – or anywhere else the institution approves. Over 10 years, this decision will reduce employment in that community by nearly 500 high quality jobs, according to Mayor Powell's opinion column submitted to the Edmonton Journal.
A similar battle is brewing in the City of Lacombe. Our largest employer, Alberta Financial Services Corporation (AFSC), has opted to pass a 'Work Away Policy,' essentially allowing staff to work remotely, anywhere in Canada.
Our Council has significant concerns with this decision, as it erodes employment opportunities both provincially and locally. Further, this policy change is not compliant with the formative legislation of AFSC.
It is important to remember that Athabasca University, and AFSC, were deliberately placed in our respective communities to promote rural development and viability. Premier Lougheed had a vision for Alberta that included locating publicly funded entities beyond the Edmonton and Calgary metropolitan regions – he recognized that strengthening rural Alberta strengthens all of Alberta.
As outlined in letters to our local MLA, as well as the Minister of Jobs, Economy and Innovation, the Minister of Agriculture and Forestry, and Premier Kenney, the City of Lacombe believes this Alberta Crown Corporation policy is bad for Lacombe and the province as a whole. While the letters outlining our concerns have gained limited traction, we believe Albertans should be aware of the implications when organizations outsource jobs away from rural communities like Lacombe and Athabasca.
AFSC's decision is against the Agriculture Financial Services Regulation; the governing document of the crown corporation. The regulation designates "Lacombe, Alberta as the location in Alberta at which the head office of the Corporation will be situated." Like AU, AFSC was intentionally placed in our community to support economic viability in smaller rural communities – and indeed it did, bringing highly-skilled and highly-paid employees to our community for years. Simply stated, AFSC's "Work Away Policy" disadvantages Lacombe and negatively impacts our local economy. It increases commercial vacancy and results in less overall commercial investment.
For this reason, I want to publicly thank Mayor Powell for speaking out on the damage caused when large publicly-funded institutions outsource Albertan jobs from the communities that rely on them, into other provinces.
These changes should concern us all, and we hope that Albertans will agree. Exporting publicly funded, high quality jobs from small Albertan communities to Toronto, Vancouver, or Montreal is ultimately harmful and will damage the economic viability of not only Athabasca and Lacombe, but all of Alberta.
Alberta reports three cases of new COVID subvariant, more hospitalizations, deaths
EDMONTON — Alberta Health says it has detected three cases of the BA. 2 variant and reported its second-highest rate of hospitalizations due to COVID-19.
The province says there were 1,418 hospitalizations Wednesday, a day after it broke its record with 1,443.
There were 1,309 people with the disease in non-intensive care and 109 patients in ICUs across the province.
The province also recorded 22 additional deaths, bringing the total to 3,505 since the pandemic began.
Alberta Health did not say when the three Omicron subvariant cases were detected.
Federal health officials say so far, 51 such cases have been detected throughout Canada.
This report by The Canadian Press was first published Jan. 26, 2022.
The Canadian Press
Elks sign all-star receivers Bowman, Arceneaux, three others
EDMONTON — The Edmonton Elks signed former all-star receivers Adarius Bowman and Emmanuel Arceneaux on Wednesday.
The Elks also added veteran receiver Caleb Holley, defensive back Matt Elam and defensive lineman Daniel Ross.
Bowman returns to the franchise after a five-year absence.
The 36-year-old is a three-time all-star, earning the honour in the 2014, 2015 and 2016 while he was playing in Edmonton.
Bowman helped Edmonton win the 2015 Grey Cup.
His 2016 season was one of the best in team history, with Bowman completing 120 receptions for 1,761 yards and nine touchdowns in 17 games.
Arceneaux, 34, is a two-time CFL all-star, and last played in the league in 2019, suiting up for the Saskatchewan Roughriders.
He last played for the Frisco Fighters of the Indoor Football League.
Best known for his time with the B.C. Lions, Arceneaux has 578 receptions in the CFL for 8,418 yards and 57 touchdowns.
Elam and Ross have both had brief stints in the NFL.
This report by The Canadian Press was first published Jan. 26, 2022.
The Canadian Press