It's playoff time! Rebels open up at home against Hitmen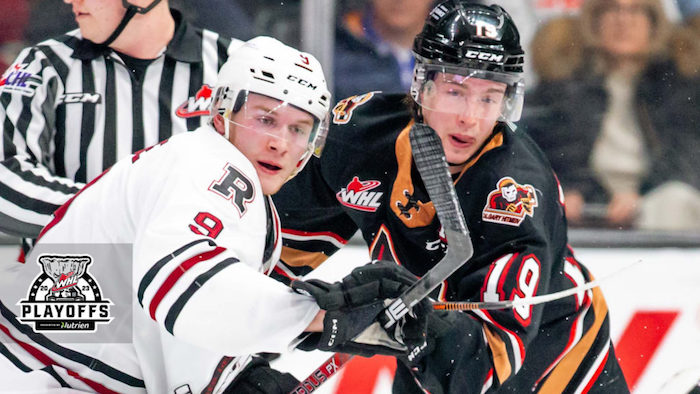 Rebels captain Jayden Grubbe picked up the 2022/2023 Players Award. In this photo by Rob Wallator, Grubbe battles against first round opponent Sean Tschigerl.
From the Red Deer Rebels
REBELS THIS WEEK
PLAYOFFS EDITION – MARCH 27, 2023
BRING ON THE HITMEN!
The Red Deer Rebels take on the Calgary Hitmen in round one of the 2023 WHL Playoffs presented by Nutrien.
The Rebels were 6-1-1-0 versus the Hitmen during the regular season. This will be the seventh playoff series between the two clubs with Red Deer having won four of the first six.
WHL Eastern Conference Quarterfinals – #2 Red Deer Rebels vs. #7 Calgary Hitmen
Game One Friday, March 31 7 p.m. Peavey Mart Centrium, Red Deer
Game Two Saturday, April 1 7 p.m. Peavey Mart Centrium, Red Deer
Game Three Monday, April 3 7 p.m. Scotiabank Saddledome, Calgary
Game Four Wednesday, April 5 7 p.m. Scotiabank Saddledome, Calgary
Game Five* Friday, April 7 7 p.m. Peavey Mart Centrium, Red Deer
Game Six* Sunday, April 9 2 p.m. Scotiabank Saddledome, Calgary
Game Seven* Tuesday, April 11 7 p.m. Peavey Mart Centrium, Red Deer
* If necessary
Single-game tickets for all Rebels home playoff games at the Peavey Mart Centrium can be purchased through Tickets Alberta. Playoff packages are available at reddeerrebels.com.
UCHACZ SCORES 50 GOALS
Centre Kai Uchacz is the sixth player in Rebels history to score 50 goals in a season. It's also the first time the Rebels have had a 50-goal scorer in back-to-back seasons since 1992-93 and 1993-94.
Player Season Goals
B.J. Young 1996‑97 58
Kyle Wanvig 2000‑01 55
Ben King 2021‑22 52
Craig Reichert 1993‑94 52
Dean Tiltgen 1992‑93 50
Kai Uchacz 2022‑23 50
YEAR-END AWARDS
The Rebels have handed out their annual year-end awards for the 2022-23 WHL Regular Season. Kai Uchacz took home four awards — the Three-Star Award, Hampton Inn and Suites Top Scorer, Bearcom Most Valuable Player and ATB Humanitarian of the Year. Christoffer Sedoff was honoured as the team's Top Defenceman. The Players' Award was presented to captain Jayden Grubbe. Jace Isley was honoured as the Darcy Robinson Most Underrated Player, Ollie Josephson picked up the Pattison Media Rookie of the Year award, and Carson Birnie was the recipient of the Telus Scholastic Player of the Year award.
20 year old Red Deer man faces child pornography charges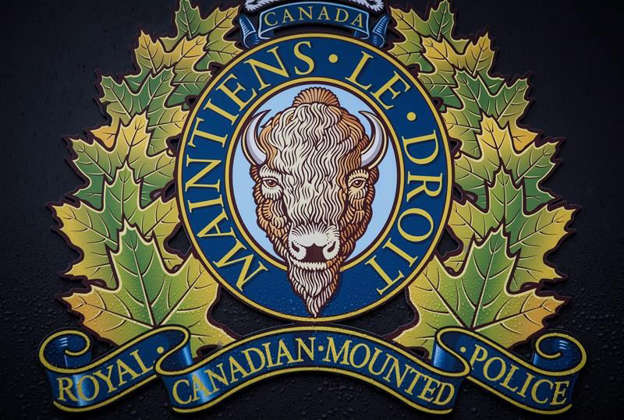 From Red Deer RCMP
Red Deer RCMP – one male arrested and charged with distribution of child pornography
On May 11, 2023 Red Deer RCMP arrested and charged a resident of Red Deer with child luring and multiple child pornography offences.
Red Deer General Investigative Section (GIS) conduct a joint investigation with ALERT's Internet Child Exploitation (ICE) unit.
Due to joint efforts in the lengthy inter-agency investigation, Red Deer RCMP arrested and charged 20-year-old Mark Andrada.
Andrada was charged with the following Criminal Code Offences:
Possession of Child Pornography
Exporting Child pornography
Accessing child pornography
Print/ publish/ make child pornography
Luring a child
Andrada allegedly engaged in sexually explicit online chats with a young female victim in Illinois. The victim was sextorted into providing photos and videos, which the accused later tried to sell. The FBI was involved in the investigation.
Andrada appeared before a Justice of the Peace and was released with his next court appearance set for June 9, 2023, at the Alberta Court of Justice in Red Deer.
If you have information about this matter, please contact the Red Deer RCMP at 403-406-2300 or your local police. If you wish to remain anonymous, you can contact Crime Stoppers at 1-800-222-8477 (TIPS), online at www.P3Tips.com or using the "P3 TIPS" app available through the Apple App or Google Play Store.
To report crime online, or for access to RCMP news and information, download the Alberta RCMP app through Apple or Google Play.
Red Deer Hospital Lottery announces $25,000 winner of the Early Bird Draw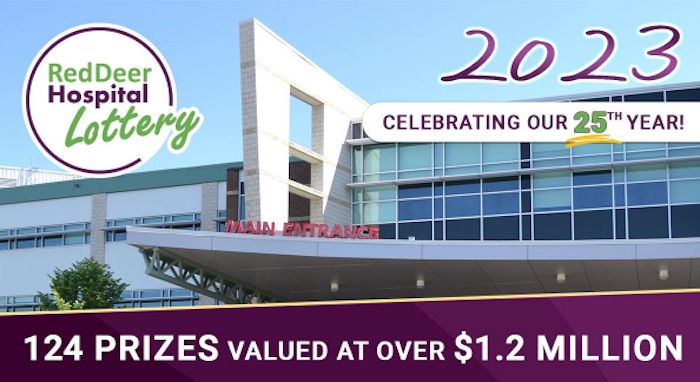 Congratulations to GAGE & VICTORIA SEAVILLEKLEIN of RED DEER,
the lucky winner of our $25,000 Early Bird Draw!
It's not too late to see your name on the Winners' List. But you'll have to hurry – tickets are only on sale until June 19th.
Our Grand Prize Sorento Custom Dream Home prize package is valued at $1,126,465 including furnishings from Urban Barn!
CHECK OUT OUR GREAT TICKET PACKAGES
1 for $25 • 5 for $75 • 10 for $125 • 25 for $250
Over $1.2 Million in prizing to be won!
Win half of an increasing jackpot of up to $1,000,000
$10 EACH | 10 FOR $25
25 FOR $50 | 50 FOR $75
Win half of the current jackpot of:
If you've ordered your tickets prior to receiving this email, thank you and good luck! If you know someone who would like to show their support for our hospital,
click below to forward this email to a friend.
Thank you so much for your support, and best of luck in the draws.
CALL RED DEER & AREA OR TOLL FREE
403.340.1878 1.877.808.9005