If fans don't fill the seats, should the CFL get government aid to stay alive? "Yes" or "No" on CFL help?
Here's the question: If fans stay away from home games, should the CFL get government aid to stay alive?
Does the Canadian Football League really matter anymore? I hope so, but I'm not sure. Honestly, I don't know what the CFL is any more. If you've got ideas to share – please, no comparisons with the NFL – I'm interested in seeing them.
The first team I ever paid attention to was the Toronto Argonauts. It was a long time ago – 1950, to be exact. Al Dekdebrun (who?) was the quarterback. Ulysses Curtis (who?) and Bill Bass (who?) were the running backs. Toronto won the Grey Cup that year, beating the Winnipeg Blue Bombers 13-0. All were among a rare group at the time: U.S guys known for gridiron purpose as immigrants.
This happened a full four years before Jackie Parker, the best player in CFL history, became an Edmonton Eskimo and seven years before Jim Finks arrived from the National Football League to develop running back Earl Lunsford and quarterback Joe Kapp for the Calgary Stampeders. They were imports, too.
There's no real room to question whether these Alberta franchises have been the brightest and most stable of all Canadian franchises, east and west, since that distant time.
Equally valuable, some of the time, have been the Bombers and the Saskatchewan Roughriders. All the rest have staggered more often than a room full of heavy drinkers on New Year's Eve; except perhaps for the Hamilton Tiger-Cats, they're still off balance. The B.C. Lions, despite the presence of Mike Reilly, who might be the best quarterback in the league, drew mostly yawns from spectators.
The Argos play home games in a facility where fans come disguised as empty seats. The Montreal Alouettes had a loyal owner who finally got tired of writing million-dollar cheques to cover team costs, so the league took control. About six months ago, two Toronto men bought the franchise. How long before league president Randy Ambrosie has to step up and take control again?
Ottawa had a terrible year on the field and a poor one at the gate last year. For billions of reasons tied logically to COVID-19, the outlook is not promising there.
Millions of words have been written and spoken about Ambrosie's big international dreams. Accountants have spent countless hours attempting to find the basis for his claim that the league needs about $30 million from the government to play at least a partial 2020 season. If no games are played, he estimates the need is more than 100 million so the CFL can operate in 2021.
Provincial governments have stepped up to help individual teams: then-Premier Don Getty introduced a fund to help Edmonton and Calgary; Saskatchewan's political bosses understood the province-wide love of the Roughriders and showed admirable tolerance when necessary.
For me, the Grey Cup has always been a mainstay in Canadian sports. Mature writers often referred to it as "the grand national drunk" because of the hordes who scheduled their annual holidays to attend. To ride eastward to Toronto on the old Grey Cup trains was a exercise in durability, especially if you had to write for publication on the way.
Prairie cities have continued to treat Grey Cup week as a celebration. Great times are had, civic and provincial budgets are fattened. A large number of games, regular season and playoffs, are exciting. Speed means more than bulk in the CFL. Many of the talented import players – Pinball Clemons and Tom Wilkinson are prime examples – have stayed in Canada to benefit our game.
All returns to the question: if fans stay away from home games, should the CFL get government aid to stay alive?
I vote yes, but I've been wrong before.
Judy's story: I'm on the healthy road!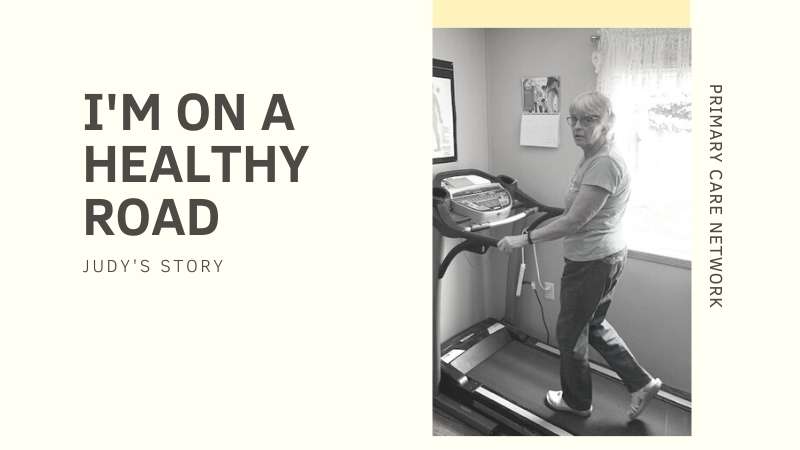 On the Healthy Road!
My journey to better health starting when my doctor told me my blood sugar was at pre-diabetes levels, my blood pressure continued to require medication and I had weight to lose.  He sent me to see the RDPCN nurse. After some appointments there, the nurse referred me to the Health Basics program.
Exercise was my downfall. Working from home, I always found something else to do rather than exercise.  Health Basics increased my awareness. I tracked what I was eating and became more aware of what I ate, when I ate and why I ate. I also realized things that would make me healthier that I wasn't doing.  I realized being healthy is a process and I took one healthy step at a time. I also became aware of the wider variety of options for healthy lifestyle.
My husband and I visited friends over the summer and noted they had lost weight.  This stimulated us to pay even more attention to our food intake. As a result of our overall efforts, I have lost about 32 pounds and my husband has lost 37. My blood sugar is now in the normal range. I have had significant decrease in my blood pressure medication. I have more energy. I enjoy exercising more as it is easier to move around and I have less arthritis pain. Health Basics is an excellent class- it started me on the healthy road. I also have much more confidence in my future health.
Click to learn more about the Red Deer Primary Care Network.
Read more success stories from the Primary Care Network.
Smiles Thru Lindsey reaching out with a new video message and urging Albertans to look out for each other at this challenging time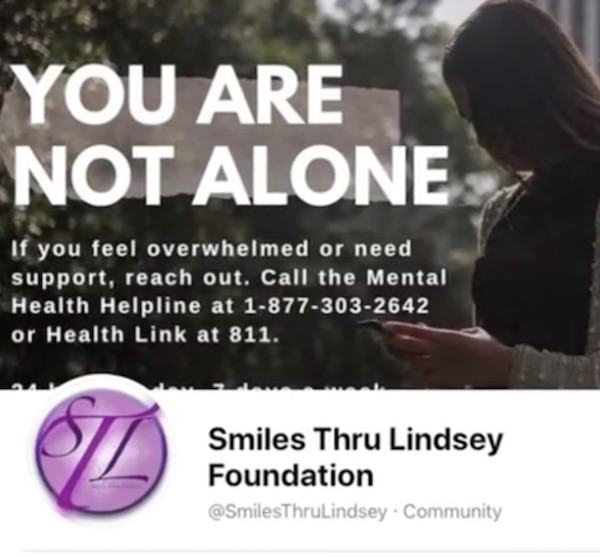 The holiday season is well behind us, we're heading into the coldest part of the winter, and although the days are starting to grow longer there's still a definite lack of daylight in our lives.  The winter blues are a real thing and this year we have COVID, a whole new serious problem to add to our mental health issues.
COVID is also the reason the Smiles Thru Lindsey team has not been able do public events for many months.  Unable to reach out physically through school visits and fund raisers, Smiles Thru Lindsey is reminding Central Albertans to check in on each other.  Also, please follow the Smiles Thru Lindsey Facebook page .  They'll lead you to the resources you or your loved ones need right away.
Meet Lindsey and the Smiles Thru Lindsey team in this powerful video.  …And remember to check in on the people in your life.
If you'd like to help Smiles Thru Lindsey with a donation please click here.