Wikipedia defines gaslighting as follows:
"is a form of psychological manipulation in which a person or a group covertly sows seeds of doubt in a targeted individual or group, making them question their own memory, perception, or judgment.
It may evoke changes in them such as cognitive dissonance or low self-esteem, rendering the victim additionally dependent on the gaslighter for emotional support and validation.
Using denial, misdirection, contradiction, and misinformation, gaslighting involves attempts to destabilize the victim and delegitimize the victim's beliefs."
Psychologist Bryant Welch (in his 2008 book State of Confusion: Political Manipulation and the Assault on the American Mind) stated the following:
"To say gaslighting was started by the Bushes, Lee Atwater, Karl Rove, Fox News, or any other extant group is not simply wrong, it also misses an important point. Gaslighting comes directly from blending modern communications, marketing, and advertising techniques with long-standing methods of propaganda.
They were simply waiting to be discovered by those with sufficient ambition and psychological makeup to use them."
On Dec 9/20, the United Nations produced the Emissions Gap Report 2020.
The document outlines the need to reduce global emissions in order to ensure that earth's temperature does not increase by 3 degrees Celsius in order to overt climate catastrophe. 2030 is the date of no return according to the UN.
An AP News article (dated June 29, 1989) stated the following from Noel Brown, director of the New York office of the U.N. Environment Program:
"Entire nations could be wiped off the face of the Earth by rising sea levels if the global warming trend is not reversed by the year 2000."
"Governments have a 10-year window of opportunity to solve the greenhouse effect before it goes beyond human control."
The United Nations has been stating that the world is going to end for the past 30+ years if drastic action isn't taken immediately.
Do you believe that Liberal Party's plan to increase the Carbon Tax over the next 10 years will save the planet?
Or is this merely a wealth distribution tax that shifts income from rural residents to those living in urban centres?
The Liberal government made a promise in their 2015 election campaign to end all long-term drinking water advisories on First Nations before March 2021.
On December 2, 2020, Indigenous Services Minister Marc Miller advised that the government would not meet this promise.
A new timeline for completion has not been given.
A recent report from Cooperation Canada highlighted the need for the government to increase foreign aid spending.
This goes beyond the billions already given on an annual basis and additional funds earmarked for COVID-19 support.
Is the government of Canada really interested in ending the long-term drinking water advisories or are these promises merely publicity stunts?
Effective December 13, 2020, thousands of Alberta small businesses were again forced to close their doors as a result of new government imposed COVID-19 health restrictions.
These closures come despite the government's lack of detail to support such closures, most notably, the compete failure of the track and trace system in the province.
Additionally, the closures come two weeks after Premier Kenney apologized for arbitrary lockdowns in March.
Where is the evidence that points to barbershops, massage therapists, gyms and other now restricted businesses as being the main driving factor of COVID-19?
Are the closures truly warranted or are small business owners being gaslighted by their own government?
Canadians have, for the most part, accepted restrictions on their personal freedoms in the name of the greater good throughout 2020.
The underlying belief in March was that we gain an understanding of the virus, find treatments or a vaccine and go on to live our normal lives again.
Recent articles suggest that light at the end of the lockdown tunnel may not be as close as we thought.
This is highlighted in an article by CBC that suggests that vaccines alone will not be enough to end pandemic measures quickly.
Given that we are nearly a year into this pandemic now, why hasn't the government pushed all of its resources to long-term care facilities?
Why after the most vulnerable are vaccinated, could the general population, who are not largely impacted by this virus, unable to return to a normal life?
Why do the goal posts keep moving?
Either the health measures (including vaccines) work or they don't. Right?
Jordan Peterson explains why Canadians should pay attention to the National Citizens Inquiry.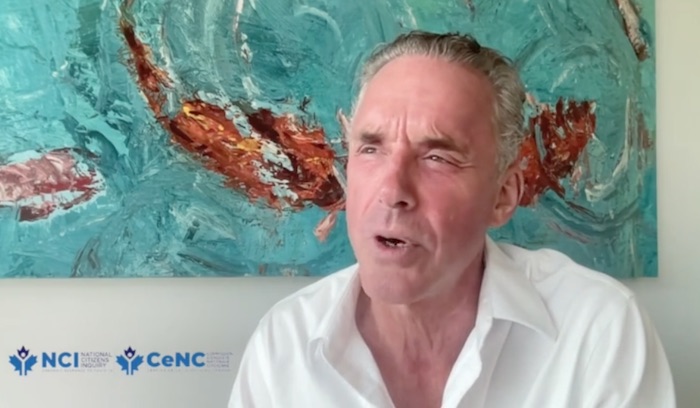 Most Canadians may be unaware that a Citizen-Led Inquiry into Canada's COVID-19 Response is underway. The first hearing which took place in Truro, Nova Scotia has already provided the five Inquiry Commissioners with hours of evidence to consider.
Hearings are also scheduled for Toronto, Winnipeg, Saskatoon, Red Deer, Vancouver, Quebec City, and finally Ottawa. The second round of hearings starts Thursday, March 30 in Toronto. On the eve of this, the National Citizens Inquiry has released a statement from renowned Canadian psychologist Jordan Peterson. Below in his message to the commissioners, Dr. Peterson outlines all the reasons this inquiry is so important.
A Citizen-Led Inquiry Into Canada's COVID-19 Response
Canada's federal and provincial governments' COVID-19 policies were unprecedented. These interventions into Canadians' lives, our families, businesses, and communities were, and to great extent remain, significant. In particular, these interventions impacted the physical and mental health, civil liberties and fundamental freedoms, jobs and livelihoods, and overall social and economic wellbeing of nearly all Canadians.
These circumstances demand a comprehensive, transparent, and objective national inquiry into the appropriateness and efficacy of these interventions, and to determine what lessons can be learned for the future. Such an inquiry cannot be commissioned or conducted impartially by our governments as it is their responses and actions to the COVID-19 which would be under investigation.
The National Citizen's Inquiry (NCI) is a citizen-led and citizen-funded initiative that is completely independent from government. In early 2023, the NCI will hear from Canadians and experts and investigate governments' COVID-19 policies in a fair and impartial manner.
The NCI's purpose is to listen, to learn, and to recommend. What went right? What went wrong? How can Canadians and our governments better react to national crises in the future in a manner that balances the interests of all members of our society?
---
Canadian psychologist, Dr. Jordan B. Peterson who is also an author, online educator, and Professor Emeritus at the University of Toronto spoke out about the Canadian response to COVID-19.
Dr. Peterson's prerecorded testimony was directed to the five Commissioners at the National Citizens Inquiry in Truro, Nova Scotia.
Toronto, Ontario
The National Citizen's Inquiry Hearings Event in the city of Toronto, Ontario Canada.
This event takes place starting March 30th to April 1st 2023.
Hearings go from 9:00am – 5:00pm Eastern Time.
You can register to attend the event here.
The hearing schedule is here.
Hockey Tolerance Is A Two-Way Street, Not A One-Way Road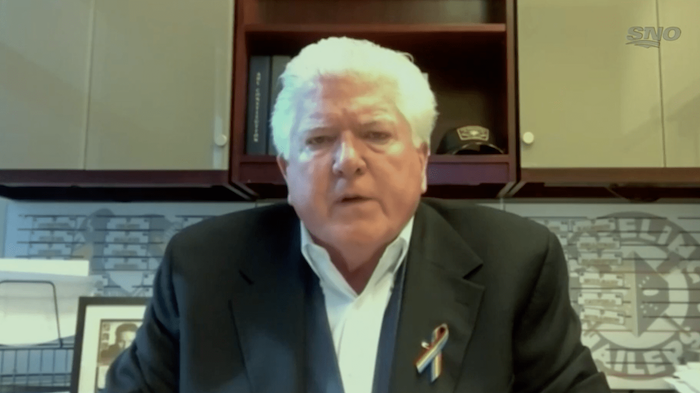 The problem with liberal tolerance in Canada is that it's not particularly liberal and it's certainly not tolerant. For instance, the "everyone must wear an LGBTQ-2 jersey" controversy we highlighted last week. The reverberations from goalie James Reimer declining to wear a San Jose Sharks rainbow jersey have continued all week.
It seems to have escaped many people's tolerance that refusing to march in a parade does not mean you hate the people in the parade. It is to say that you have a different opinion. One your employer can't compel you to abandon. An opinion guaranteed to you by generations of free speech and religious freedom.
It is why we have halal and kosher foods. Live and let live. But the hysteria is not stopping with Reimer. The radical blood hounds have tracked down new targets to mount on their gibbet of 100 percent conformity to Woke causes.
The latest NHLers caught up in this fundamental failure to communicate are the Staal brothers in Florida who followed Reimer's path to say that they haven't and won't wear symbols with which they disagree. Immediately the SJW sports media attacked them. When they said they wouldn't Pride jerseys it was shown by the gotchas ' that they had worn subtle LGBTQ jerseys in the past. As if this makes them hypocrites.
My friend Mark Hebscher asked if the NHL should suspend them. Really? What would Mark say if Edmonton's Zach Hyman, a Jew, declined to wear Muslim symbols on an Islamic Pride night? Would Mark demand Hyman be suspended?
What would he say if secular players in the league declined to wear the cross on their jersey for a Christian appreciation night? Should they be punished as haters? What if a pro sports team has a Mormon appreciation night. Does refusing to wear an LDS badge make people haters?
Of course these examples are moot. There are no progressive DEI laurels for creating political trip wires over Muslims or secularists to advance Woke influence. The only targets that matter here are conservative whites. Sports teams these days would only entertain the most provocative causes to create "a crisis that shouldn't go to waste" (in the words of Saul Alinsky in his Rules for Radicals).
So Brian Burke was imported by Rogers Hockey Night in Canada on Saturday to further whip the herd into 100-percent compliance on Pride jerseys— and to push Rogers corporate bonafides as a Woke organization. Burke has become a fervent LGBTQ-2 spokesman since his son Brendan came out (and was tragically killed in a car crash). Good on him as a parent.
But he's also a high-profile NHL figure, who was, in a major way, responsible for perpetuating the "boys-only" culture in the sport when he handled NHL discipline. He was his usual truculent self on HNIC as he conflated free speech with prejudice. He saw no room for tolerance on anything but the Pride agenda, insisting against all evidence that wearing the Pride jersey isn't a political statement. "I was born and raised a Catholic, I don't see any conflict between my religious beliefs and my ability to say to the LGBTQ+ community 'you're welcome here."
That's not what he's saying, but play along. Host Ron Maclean— with whom we have had our disagreements in the past— did his job, gamely asking why wasn't there a middle ground between hating and enforced 100 percent compliance to the cause? Burke shooed him away.
Naturally, radical social-media trolls pounced, asking for Maclean's scalp for doing his job. There can be no exceptions! Reason is not a long suit for these Maoist shills. They want to be in Pol Pot's Cambodia while their fellow citizens would prefer to remain in what used to be Canada before Justin Trudeau turned it into a postmodern state that stands for everything— and nothing.
The point that needs debate on HNIC is whether a few rich hockey players, who make so much money that they don't have to give a flip, are going to make the league more inclusive by wearing a Pride jersey for one night. Likely not.
As we've contended over decades, the key to acceptance of gays in hockey will be the coming-out of a prominent NHL star(s). They are out there. It wasn't high rhetoric from Brooklyn Dodgers GM Branch Rickey that changed the colour line in baseball. It was Jackie Robinson's forbearance. It wasn't slogans that slowly changed the skin colour of golf. It was Tiger Woods' utter dominance.
It was also the hyper-macho world that Brian Burke nurtured through the years before his son came out — not colourful jerseys— that has repressed gay participation in the NHL. The weeding-out of gay youth in the development process comes from the grass roots. (To his credit a penitent Burke now owns some of this.)
While it is commendable that Burke now supports his son's memory, flailing Christians for refusing to wear Pride jerseys is not the way to achieve understanding. Worshipping symbols is a divisive, not a unifying action that plays into the hands of forces Burke clearly does not acknowledge or understand. Radicals who use terms like white settler and cis-gender-entitlement to baffle the vulnerable. And who will discard him when he's no longer of use to them.
Those would be the people who applaud the current PM and his caucus for having equal numbers of women in their ranks— the same PM who fired his prominent female/ indigenous justice minister for insubordination when the RCMP dug too deep. And the same "feminist" women MPs who stood by silently as Trudeau publicly destroyed one of their own to save himself from RCMP scrutiny. Those are the cowards who back the destruction of free speech.
Churchill was prescient about appeasing today's virtue warriors when he long ago said that appeasers "are like people who feed the crocodile in hopes that the crocodile eats them last." Chomp.Chomp. Their day is coming.
Sign up today for Not The Public Broadcaster newsletters. Hot takes/ cool slants on sports and current affairs. Have the latest columns delivered to your mail box. Tell your friends to join, too. Always provocative, always independent. https://share.hsforms.com/16edbhhC3TTKg6jAaRyP7rActsj5
Bruce Dowbiggin @dowbboy is the editor of Not The Public Broadcaster A two-time winner of the Gemini Award as Canada's top television sports broadcaster, he's a regular contributor to Sirius XM Canada Talks Ch. 167. Inexact Science: The Six Most Compelling Draft Years In NHL History, his new book with his son Evan, was voted the seventh-best professional hockey book of all time by bookauthority.org . His 2004 book Money Players was voted sixth best on the same list, and is available via http://brucedowbigginbooks.ca/book-personalaccount.aspx