Alberta needs to fill agriculture jobs, amid a Covid- 19 created foreign worker shortage
Albertans out of work because of the COVID-19 pandemic, have a new resource to find a work in the province's essential agriculture businesses and companies that make-up the food supply chain.
"There are great job opportunities on Alberta farms and ranches." Devin Dreeshen, Minister of Agriculture and Forestry announced at the Alberta Legislature as the government launched a new web-based support page called, Agriculture Job Connector. Dreeshen added, "this new website will help Albertans find an exciting new job in this essential service."
Alberta is not the only jurisdiction in Canada and around the world that is having problems filling farm and food supply chain jobs.
In the United Kingdom, due to temporary farm worker restrictions during the COVID-19 pandemic, farmers have been scrambling to find workers so the crops can get planted and to stop crops from rutting on the trees or in the fields. Britons, usually make up only one percent of the temporary farm workforce. Citizens have responded to calls for a "new land army" to help fill the farm and food chain jobs. Up to 70,000 workers are needed. People looking for work have flocked to websites, searches for terms including "fruit picker" or "farm worker" surged by 338% and 107% respectively, with applications up 83% in the last month.
Family farms and companies throughout Alberta's food supply chain rely on the "federal temporary foreign workers (TFW) program" to hire seasonal and full-time jobs that Albertans do not historical fill. Although the federal government recently announced loosing some of the TFW rules, the industry is nervous about a worker shortfall. The coronavirus' on-going world-wide travel restrictions, along with a mandatory 14-day quarantine, once a foreign worker arrives, has raised serious concerns about a possible pending foreign worker shortage.
During this pandemic, the Ministry of Agriculture and Forestry is working to reinforce that the, 'agriculture and agri-food industry has never been more critical to the health and safety of Albertans and to our economy.' Dreeshen added, "Thank-you to all who continue to work that keep our food supply safe."
Alberta's Agriculture Job Connector has opportunities for both skilled and non-skilled workers. Some posted job openings are for one person, others need up to as many as 50 new hires. Job openings in Alberta can be found through these links, Alberta Alis, AgCareers.com, Career in Foods, Alberta Cattle Feeders' Association and Grasslands Recruitment Specialists. A sampling of some of the openings in Alberta, with the offer salaries can be found through the links below.
Some of the jobs open in Alberta from the links above;
Farm Foreman/Woman in Hussar, $26.75 to $28.00 an hour
Worm Picker in Stony Plain, $15.50 an hour *(Update, Job filled April 11th)
Packer Vegetables Farm in Medicine Hat, $15.20 an hour (30-vacancies)
Supervisor, Food Services in Wabasca-Desmarais, 15.50 an hour (2-vacancies)
Vegetable Farm Worker in Wildwood, $15.00 an hour (6-vacancies)
Farm Labourer in Acme, $15.00 to 22.00 an hour
Branch Manager Crop Input Retailer, in Fairview
Swine Herdsperson in Mayerthorpe, $16.00 to $17.50 an hour (2-vacancies)
Dairy Herdsperson in Isidore, $20.00 an hour(4-vacancies)
Video of day in the life at a beef cattle operation. Kolk Farms Ltd., in Iron Springs
Beef Cattle Herdsperson in Picture Butte, $21.75 an hour (4-vacancies)
Labourer Beef Processing in Calgary, $15.00 to $17.50 an hour
Cattle Farm Worker in St. Michael, $18.00 to $20.00 an hour
Apiary Technician (Bee Keeper) in Morinville, $15.00 to $24.00 an hour (3-vacancies)
Certified Crop Advisor in Brooks, salary not posted
Dairy Sales Rep in Edmonton, salary not posted
Cheese Maker in Ponoka, $23.00 to $24.00 an hour
Farm Machinery Operator in Olds, $20.00 to $25.00 an hour (2-vacancies)
Mushroom Harvesting Labourer in Crossfield, $15,00 an hour (28-vacancies)
General Poultry Farm Worker in Ferintosh, $20.00 an hour (5-vacancies)
Poultry Farm Foreman/­Woman in Millet, $21.65 an hour
Poultry Farm Worker in Ponoka, $15.00 to $17.00 an hour (6-vacancies)
Greenhouse Worker in Redcliff, $15.20 an hour (3-vacancies)
Food Processing Labourer Pork in Lethbridge, $15.40 to $22.75 an hour (5-vancanies)
Pork Production Technician in Falher, $15.90 an hour (8-vacancies)
Food Processing Labourer Beef in High River, 19.55 to $23.50 an hour (50-vacancies)
Click here to read more on Todayville Edmonton.
Canada under pressure to produce more food, protect agricultural land: report
A field of wheat is pictured near Cremona, Alta., Tuesday, Sept. 6, 2022. Canada's agricultural land is under increasing pressure as demand for food grows domestically and internationally while the industry grapples with limited resources and environmental constraints, a new report found. THE CANADIAN PRESS/Jeff McIntosh
By Rosa Saba
Canada's agricultural land is under increasing pressure to produce more food as demand grows domestically and internationally, while the industry grapples with limited resources and environmental constraints, a new report found.
"We need to grow more food on less land and in a volatile climate," said Tyler McCann, managing director of the Canadian Agri-Food Policy Institute.
The report by the institute released Thursday looks at the pressures on Canada's agricultural land to produce more food while also mitigating and adapting to the effects of climate change, said McCann.
Despite Canada being a big country, it doesn't have as much agricultural land as people might think, said McCann, with the report noting that agricultural land makes up only around seven per cent of the country.
Because of that, we can't take what we do have for granted, he said. "We need to be really thoughtful about how we are using our agricultural land."
In 2020, Canada was the eighth largest country in terms of cropland area, the report said, with that cropland decreasing by seven per cent over the previous two decades.
Canada is a major producer and net exporter of agriculture and agri-food products, the report said, exporting $91 billion in products in 2022, and one of the top 10 exporters of wheat, canola, pulses, pork and beef.
In the coming years, Canada will face increased demand from countries whose populations are growing, the report said.
"With population growth on one side and climate change on the other, Canada will be amongst an increasingly smaller number of countries that is a net exporter," said McCann, noting that Canada's own population is growing, and farmland also needs to be protected against urban sprawl.
The wildfires clouding Canadian skies this week are a "vivid reminder" of the pressure that extreme weather and the changing climate are putting on the agricultural sector, said McCann.
"We need to clearly mitigate … agriculture's impact on climate change. But we also need to make sure agriculture is adapting to climate change's impacts," he said.
One of the ways the world has responded to demand for increased agricultural production over time is to create more agricultural land, in some cases by cutting down forests, said McCann. But that's not a viable option for Canada, which doesn't have a lot of land that can be sustainably converted into farmland — and even if it could, doing so could have a variety of adverse environmental effects, he said.
Some of the practices used to reduce emissions and sequester carbon in agriculture can also improve production output on existing farmland, the report found, such as precision agriculture and no-till practices.
However, intensifying the production of current agricultural land also comes with potential environmental downsides, the report said.
For example, McCann said fertilizer is an important part of sustainable agriculture, but there's a balance to be struck because excessive use of fertilizer can quickly turn food production unsustainable.
"We need to be a lot more thoughtful about the inputs that we're using," he said, adding the same can be said about the use of technology in agriculture and the policies and programs put in place to encourage sustainable intensification of Canadian agriculture.
The report recommends that Canada adopt policies that provide financial incentives and technical assistance to farmers and develop regulatory frameworks promoting sustainable land use, as well as promoting education and awareness campaigns, so that the country can "ensure the long-term sustainability of its agricultural sector while protecting the environment."
This report by The Canadian Press was first published June 8, 2023.
ALBERTA WILDFIRE – FUNDING ANNOUNCEMENTS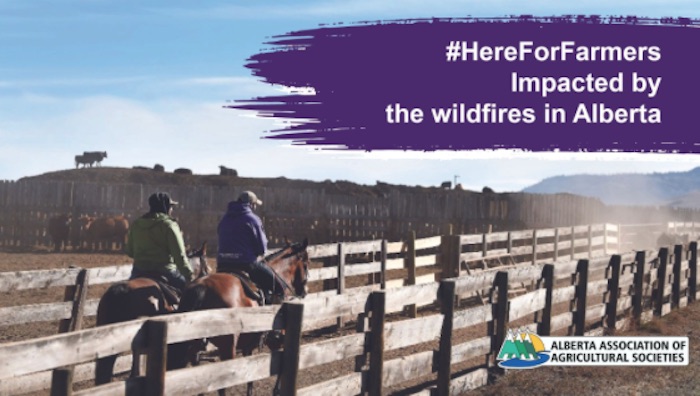 We understand the significant impact that these wildfires have had on our agricultural communities, and we are committed to providing assistance where it is needed the most.
We have two grants that we can apply for in order to secure funding for wildfires. The application deadline for both grants is June 15th.
If your organization has incurred expenses related to aiding your community during this crisis, we encourage you to apply for funding.
Applications for funding must be submitted no later than June 15th, 2023.

We're proud to offer support for agricultural producers affected by recent wildfires,
provided by TELUS Agriculture & Consumer Goods.
CLICK HERE FOR MORE INFORMATION
Applications for relief must be submitted by JUNE 15, 2023.