Fans of Flames and Oilers go to familiar response: "Fire the Coach!"
Officially, the National Hockey League season is over for the only two teams this province really cares about. While survivors prepare for action in Round Two of the Stanley Cup playoffs, both the Edmonton Oilers and the Calgary Flames are setting up what should be fascinating games of chop and change.
The final on-ice breath for 2020 took place after the Dallas Stars humbled Calgary 7-3 to win their best-of-seven series in six games. Days earlier, the Edmonton Oilers were outworked and outscored in a five-game loss to the Chicago Black Hawks.
Promptly, supporters of both teams fell to the oldest response in the Dedicated Fan yearbook: fire the coach.
Dave Tippett was singled out because he juggled some lines. Truly, his Oilers were not good enough at forward, on defence or in goal. Interim Flames head coach Geoff Ward drew immediate criticism on Thursday for replacing Cam Talbot with an ice-cold David Rittich in the early stages of the Stars' record-setting offensive burst following their early 3-0 deficit. Talbot gave up three goals on only eight shots, but Ritich's immediate performance was even worse.
Before the sixth and decisive game, Ward expressed optimism about his team's future. "This is more relentless, more prepared, a better team" than the group that faded badly as a playoff top seed a year ago, he said. Well, for the first 20 minutes, he was absolutely correct. Fan frustration will not force any changes behind the bench. On the ice is entirely different. Goaltending, for example, is a serious concern in both centres.
Edmonton's pair, Mikko Koskinen and Mike Smith are 32 and 38, respectively. At the very least, a reliable young netminder is required. Talbot, widely inconsistent before being traded to Calgary for Koskinen two years ago, shone through most of the playoffs for the Flames this season and drew solid support from teammates Sean Monahan and Mikael Backlund after Thursday's shoddy start.
Monahan's generous view did not detract from the likelihood that the veteran winger, in common with linemate Johnny Gaudreau, is sure to be prominent in trade talks, starting almost immediately.
Captain and key defenceman Mark Giordano, 35, finally showed signs of age. Partner T.J. Brodie, 29, would attract serious offers if general manager Brad Treliving put him on the market.
Good news for Calgary is that on-ice leader Matt Tkachuk has shown no sign of abandoning his fiery style. He was sadly missed after suffering an apparent concussion in Game Two. The seasoned Backlund, and youngsters Andrew Mangiapane, Dillon Dube and Sam Bennett are set for solid futures up front.
In Edmonton, the question about offence is simple: who will play with Connor McDavid on one line and Leon Draisaitl on another? Third- and fourth-liners on the 2020 roster will have plenty of company looking for jobs next year.
At this point, Edmonton lags behind its provincial rivals in at least one important area. It must be remembered that the Flames won their so-called elimination round by defeating a strong (but injured) group of Winnipeg Jets. The Oilers, who would mortgage the future of the entire Icer District for a brilliant young defender such as Miro Heiskanen of Dallas, Cale Makar of Colorado or Quinn Hughes of Vancouver (all still active in playoffs) have no such victory as a building block at this point.
Police looking for these 3 suspects after Super 8 Motel in Innisfail robbed early Monday morning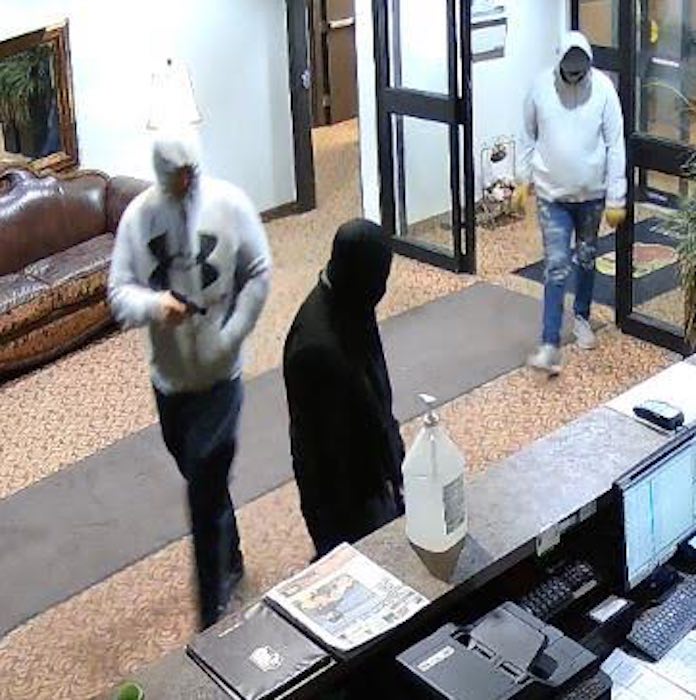 Innisfail RCMP investigate robbery
Innisfail Ala. – On May 29, 2023, at approximately 4:10 a.m., the Super 8 motel in Innisfail was the victim of an armed robbery. Three male suspects entered the hotel, two of which had firearms. Money was demanded from the manager. All three left the motel in a vehicle which is described as:
Chevrolet Dura Max truck
Sliver
Lifted
The suspects are described as:
Suspect #1: Caucasian male, tall and muscular. Wearing jeans and a grey Under Armour hoody. He was carrying a pistol.
Suspect #2: Caucasian male, short. Wearing all black. He was carrying a sawed off shotgun
Suspect #3: Caucasian male tall with a chubby belly. He was wearing a grey hoody, jeans and a black ball hat.
If you have information about this incident, please call the Innisfail RCMP at 403-227-3341 or call your local police. If you want to remain anonymous, you can contact Crime Stoppers by phone at 1-800-222-8477 (TIPS), by internet atwww.tipsubmit.com, or by SMS (check your local Crime Stoppers www.crimestoppers.ab.ca for instructions).
'Tragic accident' blamed for recent death of giraffe at Calgary Zoo
The Wilder Institute/Calgary Zoo says a "tragic accident" led to the recent death of an adult Masai giraffe. A statement from the zoo says the female giraffe named Emara died May 19 after tangling one of her horns on a cable surrounding her enclosure. THE CANADIAN PRESS/HO-Wilder Institute/Calgary Zoo-Sergei Belskey
Calgary
The Calgary Zoo says a "tragic accident" led to the recent death of one of its adult Masai giraffes.
A statement from the zoo says a female giraffe named Emara died May 19 after tangling one of her horns in a cable surrounding her enclosure.
The statement says a necropsy revealed Emara fell against the enclosure fence and died almost instantly of a broken neck.
Emara, who had just turned 12, came to Calgary from the San Diego Zoo in 2016.
The statement says she was a treasured member at the zoo and was known for her cautious yet curious personality and gentle nature.
The zoo says it is checking fencing within its African Savannah Yard enclosure to see if changes are needed to better protect the other giraffes and animals that share the space.
Doug Whiteside, interim associate director of animal care and welfare at the zoo, said Emara was in her prime and was in excellent health when she died.
"Major life changes such as this not only affect our people but can affect our animal residents as well," Whiteside said in the statement Monday.
He said the zoo's remaining giraffes, Nabo and Moshi, are doing well.
Grief counsellors are being made available to Emara's caregivers and other zoo staff.
This report by The Canadian Press was first published May 29, 2023.