CFL faces very difficult future
This is an unpleasant reality: The Canadian Football League faces an extremely difficult future.
In truth, it may not have a future at all.
In the few days since commissioner Randy Ambrosie finally confirmed the obvious that the 2020 season had been only a figment of many imaginations, there has been a rush of both critics and devout supporters to explain at least partially the many reasons for the CFL's arrival on the edge of final, fatal league disappearance.
Most of the observers are content to point out that large markets such as Toronto and Vancouver lost their way after National Football League franchises were established in nearby Buffalo (the Bills) and Seattle (the Seahawks),creating a painful reduction of several million dollars in gate revenue each year.
If only that were true . . . but it is not.
Much more damage has been done through simple — but very thorough — disrespect of the game by the owners and presidents and general managers positioned to grow Canadian football rather than to destroy it.
At one point, the Canadian brand of football was vastly different from the U.S.-based game although both admittedly grew from the foundation of British rugby.
In the 1950s, after decades of evolution, the biggest obvious disparity remained the difference in on-field lineups: 12 in Canada, 11 in the United States. The extra players provided more blocking and, often, more of a ground attack. Although imports had been approved, there were still more Canadians — many more — on every roster.
At that time, the Americans allowed unlimited blocking on every play; in Canada, no legal interference was allowed more than 10 yards downfield. Blocking on pass plays was a non-no in this country for many years.
This space, and many more, have wallowed in the old truth that Canada once paid U.S. imports more than the NFL did. Witness,for example, all-time Edmonton Eskimo great Jackie Parker; he and other imports signed here because the Canadian dollar had more value on the market than the American buck did.
Former Calgary Stampeders stars Earl Lunsford and Don Luzzi — all-star fullback and two-way tackle — entered the CFL a few years later for similar reasons. They played when the single point had strategic importance. Now, it is considered both unique and insignificant.
Veteran punt returners like 5-foot-8 Gene Wlasiuk of Saskatrchewan boasted wryly that they entered the league as six-footers but shrank when swarmed by tacklers. No blocking on punt returns, back then.
During this general time frame, U.S.- trained coaches and general managers became a majority. Jim Finks in Calgary, himself once a starter at quarterback in the NFL, heard claims that the CFL players were "too small": to be real football players. He countered by pointing out the NFL had finally followed the CFL in using elusive runners and receivers; he was right. By and large, Canadians didn't notice.
Hugh Campbell created a dynasty in Edmonton by making sure Canadian players had some ability, and then using them in every situation.
Through it all, import limits grew from a handful to today's situation where rosters are clogged with more unknown U.S. college kids and pro failures than ever before. Alleged experts present the obnoxious theory that the CFL should openly become a farm system for NFL teams.
Misguided commissioner Ambrosie saluted his entry to the new job by proposing that the CFL should be loaded, as quickly as possible, with citizens from Greece, Germany, Scotland, or any other nation with strong, well-conditioned athletes who might be better than the kids graduating year after year from Canadian universities.
History shows that the CFL has spent so much time emulating the NFL and seeking "gimmicks" to boost profits that the road to any future was lost entirely. The most devastating example of contempt for their own product came when Herb Capozzi, a former B.C. Lions player, wrote a nationally-syndicated weekend column in which he insisted "Canadians Play Lousy Football."
Later, he operated the Lions franchise and ultimately the entire league.
No further questions needed.
The USMCA's self-destruct button: review clause conjures fears of 2018 all over again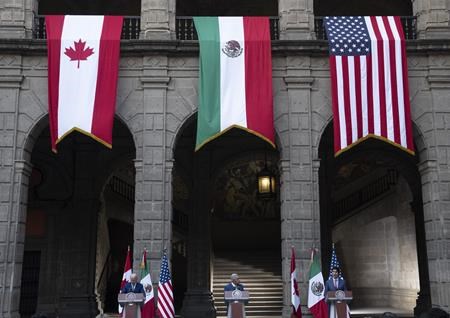 WASHINGTON — It's been less than three years since the U.S.-Mexico-Canada Agreement replaced NAFTA as the law of the land in continental trade, and there are already hints of the existential anxiety that preceded it.
That's because of the so-called "sunset provision," a clause that reflects the lingering working-class distrust of globalization in the U.S. that helped Donald Trump get elected president back in 2016.
Article 34.7 of the agreement, the "review and term extension" clause, establishes a 16-year life cycle that requires all three countries to sit down every six years to ensure everyone is still satisfied.
That clock began ticking in the summer of 2020. If it runs out in 2026, it triggers a self-destruct mechanism of sorts, ensuring the agreement — known in Canada as CUSMA — would expire 10 years later without a three-way consensus.
For Canada, the sunset provision "is a minefield," said Lawrence Herman, an international trade lawyer and public policy expert based in Toronto.
"It is certainly not a rubber-stamping exercise — far from it."
Of particular concern is the fact that the provision doesn't spell out in detail what happens if one of the parties indicates that it won't sign off on extending the deal without significant changes to the terms.
"The concern is that this could mean, in effect, that we'll be into a major renegotiation of CUSMA in 2026," by which time the political landscape in both the U.S. and Mexico could look very different, Herman said.
"What happens then? The government and business community need to be thinking about this and start preparing the groundwork and doing contingency planning now."
The deal as it stands is hardly perfect, if the number of disputes is any indication.
In the 33 months since USMCA went into effect in July 2020, 17 disputes have been launched among the three countries, compared with a total of 77 initiated over the course of NAFTA's 25-year lifespan.
The U.S. remains unhappy with how Canada has allocated the quotas that give American dairy producers access to markets north of the border. Canada and Mexico both took issue with how the U.S. defined foreign auto content. And Canada and the U.S. oppose Mexico favouring state-owned energy providers.
The Canada-U.S. disputes are likely to be on the agenda when Prime Minister Justin Trudeau sits down later this week in Ottawa with President Joe Biden, his first official visit to Canada since being sworn in two years ago.
"The president's really excited about doing this, about going up there and really going to Ottawa for no other purpose than the bilateral relationship," National Security Council spokesman John Kirby told the White House briefing Monday.
Prior meetings between the two have typically been on the margins of international summits or at trilateral gatherings with their Mexican counterpart, Andrés Manuel López Obrador.
Kirby cited climate change, trade, the economy, irregular migration and modernizing the continental defence system known as Norad as just some of "a bunch of things" the two leaders are expected to talk about.
"He has a terrific relationship with Prime Minister Trudeau — warm and friendly and productive."
Trade disputes notwithstanding, the overwhelming consensus — in Canada, at least — is that USMCA is vastly better than nothing.
"I don't want to be alarmist about this, but we cannot take renewal for granted," said Goldy Hyder, president and CEO of the Business Council of Canada, after several days of meetings last week with Capitol Hill lawmakers.
Constantly talking up the vital role bilateral trade plays in the continent's continued economic health is a cornerstone of Canada's diplomatic strategy. The message Hyder brought home from D.C.? Don't stop now.
"We met several senators, we met people from the administration, and their message was, 'Be down here. Make your case. Continue to remind Americans of the role that Canada has in their economy,'" he said.
"We've got to … be a little less humble in the United States and start reminding Americans just how much skin in the game that they have in Canada."
That can be a challenging domestic political truth in the U.S., where deep-seated resentment over free trade in general and NAFTA in particular metastasized in 2016 and persists to this day.
Biden likes to put a blue-collar, Buy American frame around policy decisions. His original plan to advance electric-vehicle sales saved the richest incentives for vehicles assembled in the U.S. with union labour.
Aggressive lobbying by Canada helped avert a serious crisis for Canada's auto sector; the Inflation Reduction Act that Biden ultimately signed included EV tax credits for vehicles assembled in North America.
For many, it was a cautionary tale about the importance of arguing Canada's interests in Washington.
A strong U.S. depends on a strong Canada, said Rob Wildeboer, executive chairman and co-founder of Ontario-based auto parts supplier Martinrea International Inc., who took part in last week's D.C. meetings.
"The USMCA and the ability to move goods across borders is extremely important to us, it's extremely important to our industry, it's extremely important to this country, and it's a template for the things we can do together with the United States," Wildeboer said.
"In order for the U.S. to be strong, it needs strong neighbours, and Canada's right at the top of the list."
This report by The Canadian Press was first published March 21, 2023.
James McCarten, The Canadian Press
Oilers need overtime heroics to sink Sharks 5-4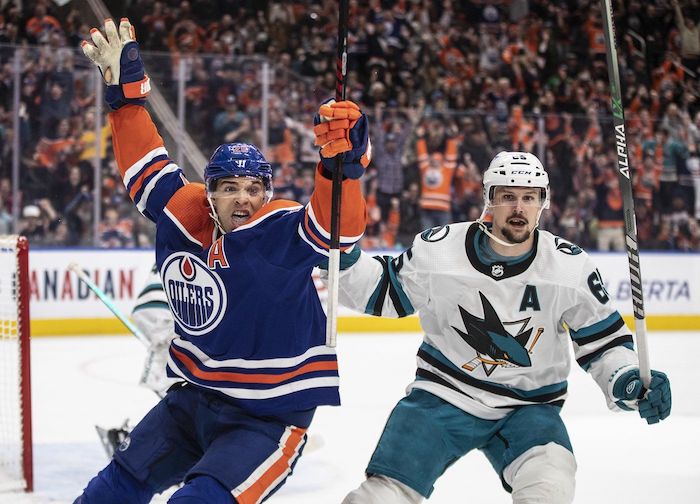 San Jose Sharks' Erik Karlsson (65) looks on as Edmonton Oilers' Darnell Nurse (25) celebrates his goal during overtime NHL action in Edmonton on Monday March 20, 2023.THE CANADIAN PRESS/Jason Franson
By Shane Jones in Edmonton
Darnell Nurse scored the overtime winner on his team's 52nd shot as the Edmonton Oilers won their fourth game in a row, defeating the San Jose Sharks 5-4 on Monday night, a game that featured four goals called back on video review.
Ryan Nugent-Hopkins was able to spring Nurse on a breakaway and he scored with just 15 seconds left in overtime.
Mattias Ekholm had a pair of goals and Nick Bjugstad and Kailer Yamamoto also scored for the Oilers (40-23-8) who have won eight of their last 10.
Erik Karlsson had two goals and Alexander Barabanov and Steven Lorentz also replied for the Sharks (19-37-15) who saw their losing streak extended to seven games. The Sharks have one win in their last 13 games.
The Sharks looked like they had an early lead just 1:14 in when Tomas Hertl cleanly beat Oilers goalie Jack Campbell with a blast to the top corner, only to have the goal called back via video review on an offside call.
San Jose would get the game's first goal, however, just 5:48 into the first, as a big rebound off of a Hertl shot came out to Barabanov, who wired home his 15th.
Edmonton pulled even at 7:08 of the opening frame as Warren Foegele found a wide-open Bjugstad at the side of the net and he had an easy time scoring his third as an Oiler before Sharks starter James Reimer could get across the crease.
The Oilers looked to have surged ahead midway through the first on the power play on a deflection in front by Zach Hyman, but the goal was disallowed upon review for goaltender interference.
Edmonton officially made it 2-1 just 30 seconds into the second period as a pass ticked off a pair of defenders before hitting the stick of Yamamoto, who scored his 10th.
The Sharks looked to have tied the game six minutes into the middle frame on a goal by Andreas Johnsson, but once again the goal was called back on goalie interference after a challenge.
San Jose tied the game at 8:32 of the second as Lorentz was stopped by Campbell on his original breakaway shot, but was able to bat his own rebound out of the air and in for his eighth.
The Sharks made it 3-2 less than two minutes later when blown coverage allowed Fabian Zetterlund to make a soft pass to Karlsson in alone, and he beat Campbell with a nifty deke.
Edmonton tied it again 11:48 into the second period, as Ekholm changed gears and cut in on net before beating Reimer with a backhand shot.
Karlsson gave the Sharks yet another lead a couple minutes later, taking a feed in the shot and blasting a one-timer in for his second of the game and 22nd of the season.
An unbelievable fourth goal was called back four minutes into the third as a goal off an odd-man rush by Noah Gregor was deemed to have been offside, the third goal taken away from the Sharks.
Cody Ceci fished a sure goal to safety as it was on its way into the Edmonton net, allowing Ekholm to score his second of the game a couple minutes later with 3:47 remaining in the third, walking in and powering a slapshot past Reimer to make it 4-4.
Reimer would make a huge save with 47 seconds remaining on Leon Draisaitl on the power play to send the game to extra time.
NOTES
It was Campbell's first start in the Edmonton net since a 6-5 loss at the Winnipeg Jets on March 4, as he served as a backup to Stuart Skinner for the last six games. … Out with injuries for the Sharks were Luke Kunin (knee), Markus Nutivaara (lower body), Jacob MacDonald (undisclosed) and Evgeny Svechnikov (lower body). … The Sharks assigned forward William Eklund to their AHL squad on Sunday and called up Andrew Agozzino, who made his season debut. … Missing for the Oilers were Ryan Murray (back) and Ryan McLeod, who missed his third game with an upper body injury. … The Oilers came into the contest leading the league with 3.91 goals per game, and have scored 138 goals and had averaged 4.31 goals/game since Jan. 1. Edmonton had scored four or more goals in 13 of their last 16 games. … The Sharks entered the contest having allowed four-plus goals per game 39 times this year, the second-most in the NHL.
UP NEXT
Oilers: Remain at home to face the Arizona Coyotes on Wednesday.
Sharks: Play the second game of a three-game road trip in Vancouver on Thursday.
This report by The Canadian Press was first published March 20, 2023.