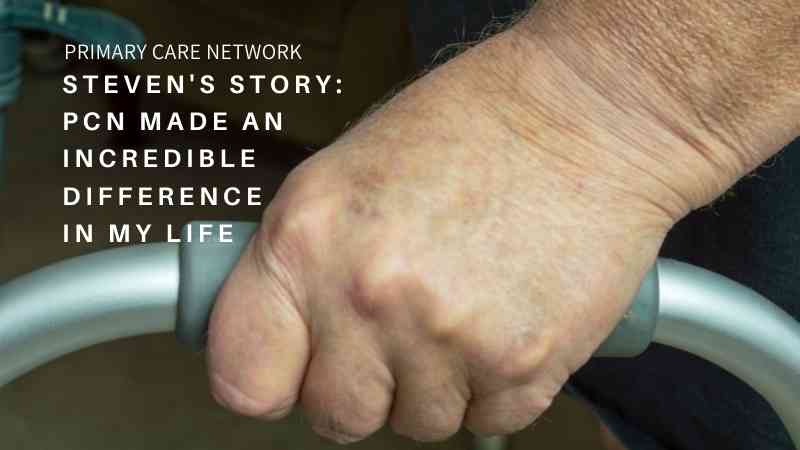 Every day is a new day!
Life was challenging for Steven after a series of 5 heart attacks that have affected his physical and mental health over the last 10 to 12 years. Steven became quite isolated and had little interaction with anyone. He was on a number of medications which changed over time, yet he never felt good. He also tried different doctors and finally ended up with one who referred him to the RDPCN. He has taken both the Happiness program and the Moving on with Persistent Pain program twice, and also taken Health Basics, Anxiety to Calm, Quit Smoking, and used the services of a pharmacist and mental health counselor.
The PCN staff has connected him with other community resources such as the Golden Circle. His medication has been decreased and he has gained perspective on different healthy solutions to his challenges.
Steven says the PCN has made a tremendous difference in his life. He has gained social skills and confidence which started through interacting with the PCN staff. Gradually he has put his foot forward and used the skills he learned to connect with other people and programs. He is a very different person than he was two years ago. It is much easier for him to talk to people. He does lots of walking using his walker. And he has a much healthier perspective: Every day is a new day and he makes the most of it!
Steven's wife and daughter have attended PCN programs on his recommendation and loved them. Steven says every connection with the PCN has been is very positive and very educational!
Click here to learn more about the Red Deer Primary Care Network.
Cick here to read more success stories from the PCN.
TotalEnergies EP Canada ups stake in Fort Hills oilsands project
Calgary – TotalEnergies EP Canada Ltd. says it is increasing its ownership in the Fort Hills oilsands project by acquiring part of Teck Resources Ltd.'s stake in the mine.
Teck announced last year that it would sell its 21.3 per cent stake in Fort Hills to Suncor Energy Inc., the third partner in the project, for about $1 billion.
However, TotalEnergies EP Canada says it has exercised its pre-emption right to acquire an additional 6.65 per cent in the project from Teck for $312 million.
The deal brings the company's stake in Fort Hills to 31.23 per cent. Suncor will own the rest.
French company TotalEnergies announced in September 2022 its plan to exit the Canadian oilsands by spinning off TotalEnergies EP Canada in 2023.
It says the acquisition of an additional interest in Fort Hills helps build TotalEnergies EP Canada for the future.
This report by The Canadian Press was first published Jan. 27, 2023.
Companies in this story: (TSX:TECK.B, TSX:SU)
Rookie goalie Jaxson Stauber in form as Blackhawks dump Flames 5-1
By Darren Haynes in Calgary
Rookie goaltender Jaxson Stauber made it two wins in as many career starts by making 34 stops on Thursday to help the Chicago Blackhawks to a 5-1 victory over the Calgary Flames.
Taylor Raddysh, Boris Katchouk, Jason Dickinson, Sam Lafferty and Connor Murphy, into an empty net, scored for Chicago (15-28-4), which entered the game last in the NHL's overall standings. Max Domi had an assist to extend his point streak to four games (one goal, three assists).
Jonathan Huberdeau scored for Calgary (23-17-9). The Flames sit outside of a playoff spot in the Western Conference after last season finishing atop the Pacific Division.
Markstrom had 24 stops for the Flames. Winless in his last four decisions (0-3-1), his record fell to 13-13-5. That's 10 times this season Markstrom has received one or no goals for support.
With Alex Stalock (concussion) out, Stauber made his NHL debut on Saturday in a 5-3 win in St. Louis.
The undrafted 23-year-old is in his first pro season after signing as a free agent last March after playing the previous two years with Providence College. He began the season with AHL Rockford.
Tied 1-1 after 20 minutes, Chicago seized control in the second period with three unanswered goals.
At 9:39, Katchouk one-timed a pass from Luke Philp past Markstrom, who was screened.
Chicago made it a two-goal lead at 15:37 when both Flames defencemen Nikita Zadorov and MacKenzie Weeger went to Patrick Kane, leaving the middle of the ice open. Kane's pass sent Dickenson in alone and he beat Markstrom over his shoulder.
Just 30 seconds later, another defensive miscue from the Flames resulted in a two-on-one rush with Colin Blackwell setting up Lafferty for his eighth goal of the season.
The Flames outshot the visitors 18-6 in the third period, but couldn't beat Stauber. The scattered booing from disgruntled fans throughout the stanza was at its loudest at the final buzzer as Calgary players left the ice.
In a listless first period from the home side, Chicago scored first at 17:47 when Raddysh beat Markstrom under his arm.
The Flames would tie it in the final minute. Huberdeau took a pass from Kadri and made a slick move to tuck the puck behind Stauber.
TOEWS AND TANEV OUT
Both teams were without key players. Calgary defenceman Chris Tanev (upper body) was out. His spot was taken by Connor Mackey, a healthy scratch the last 16 games.
Chicago was without captain Jonathan Toews (non-COVID illness). Philp was inserted into the lineup and recorded his first NHL point.
MILESTONE FOR TOFFOLI
Tyler Toffoli played in the 700th game of his career. He has played 86 games for the Flames.
Toffoli has also played for Los Angeles (515), Vancouver (10) and Montreal (89).
UP NEXT
Blackhawks: Wrap up a three-game road trip on Saturday in Edmonton.
Flames: Are back in action Friday night in Seattle.
—
This report by The Canadian Press was first published Jan. 26, 2023.