Is Police Brutality a Racial Issue simply because the Media says so?
For the first time in my lifetime, there is finally a topic that has garnered ubiquitous agreement; George Floyd was murdered. Absolutely nobody is challenging this assertion, and the cop who killed him along with his uniformed accomplices are almost certainly going to spend a long time in jail.
George Floyd's murder was the spark that lit a powder keg of frustration, pain, and outrage which has exploded across dozens of cities worldwide. His death has been interpreted as proof of the long-held, media endorsed belief that Cops are hunting and killing Black people, as if it was a sport.
Canadian news outlets parrot their American counterparts by repeatedly referring to the killing of Mr. Floyd as, "the RACIST murder of George Floyd". With relentless repetition, the "racist" murder narrative has easily convinced most people that the cop, Derek Chauvin killed Mr. Floyd, at least in part because of his skin colour. Although no evidence has been presented to suggest that Chauvin had any history of racist comments, or associations with racist organizations, the conclusion by the media has been nearly unanimous.
In criminal law, for a crime to exist, there must be two main elements: Actus Reus, and Mens Reus. Actus Reus is the physical element of the crime, or the "act", and Mens Reus is the mental element of the crime, or the "intention". The act is much easier to prove than the intention, but the intention doesn't have to be proven. Intention can instead be assumed based on circumstances and past history. Now that you have a lesson in Criminal Law 101, you may see a problem with the media narrative of George Floyds' death being concluded as "racist".
Although it's entirely possible that Derek Chauvin was in fact a murderous white supremacist, at this point we don't have any actual evidence that would help us understand either his intentions, or his personal beliefs. All we know for sure is that Officer Chauvin's arrest and control procedures were entirely wrong, and were certainly a major factor in the death of Mr. Floyd. Having a knee on a person's neck for more than a few seconds is not an acceptable practice in any circumstance.
But about those "protests"….
The public is absolutely justified in staging massive protests over the police brutality which caused a man to die unnecessarily. Police must be held accountable for their actions, and change must happen to prevent similar instances in the future. The issue though, isn't about the protests, it's about the underlying assumptions being made which are fueling the protests.
First, FBI statistics are not supportive of the assumption that black people die in custody more than white people. Though, there are other stats from other sources which strongly support this assumption, it's difficult to know which stats to believe. Even if the stats did show, without a doubt that black people die in custody more than white people, the only factor mentioned to explain this is "racism".
Has anyone asked the obvious question of, …why else could this be happening? What other factors may be at play?
Did you know there is another segment of society who are just as likely to die in custody as black people? Military Veterans. Since this segment can not be identified by race, religion, or heritage, what possible explanation could there be for Veterans to be dying in custody at nearly twice the rate of non-veterans? It seems like a valid question to ask, and even an important question to ask in order for us to be able to better understand why some people die in custody more than others. It seems there must be more to it than racism, but that's not a question that anyone seems to be interested in asking.
Without the media supported presumption that George Floyd's murder was motivated by racism, the protests would not likely be morphing into full out criminal riots. When the looting starts, the valid protests end. Adorning your living room with an ill-gotten 75" flatscreen does not honour the life of George Floyd, nor does it provide an argument for defunding the police.
By fueling the violence both the media and many politicians have been partly responsible for the deaths of numerous police officers and civilians of all races. Anger over one death has caused the deaths of many others, and that is not an outcome that can be justified.
In 2016, Tony Timpa died in Police custody in nearly the exact same way as George Floyd. The main difference is that Mr. Timpa wasn't arrested for committing a crime, instead Mr. Timpa called 911 for help because he was scared, and having a psychotic episode. Tony Timpa asked the police for help, and within 15 minutes of the police arriving, Tony was dead. Timpa was cuffed, and placed on his face with an officer kneeling on his back for several minutes. Like Mr. Floyd, Mr. Timpa begged for help, said he couldn't breath, and told the officer that they were killing him. The Cops laughed and joked once Timpa lost consciousness, and like Floyd, they did not attempt to resuscitate him.
Tony Timpa happened to be white. The National media showed very little interest in the story, and the arresting officers were not fired, and did not do jail time even though the autopsy concluded the death as a Homicide. The three officers were charged, but the charges were all dropped, and they got off scot-free. If the George Floyd protests are about Police Brutality, then where are the protests for Tony Timpa? Why is his name not mentioned as a precursor to the current situation? It seems that if the accusation of racism can't be used, then the story will not be run.
The media likes it when you're angry, and they love it when you're scared. The more frightened you are, the more you look to the media for answers. The more angry you are, the more likely you are to participate in newsworthy protests. Either way, the media wins at your expense.
You should be outraged at the death of George Floyd, but if you're not equally outraged about Tony Timpa, then you're not really interested in Police reform.
Most Police officers are dedicated public servants who are doing an impossible job. I'm not anti-cop in any way. I am however anti-corruption no matter where I find it. Whether it's in the media, with the Police, within the Government, corruption and abuse of power must be addressed, and fixed. In the absence of good questions, and clear thought, corruption will always flourish.
Mark Meincke
Author, Writer, Podcast Host
Buy the Home Seller's Bible by clicking HERE
Buy "Why not Me?" HERE
For more stories, visit Todayville Calgary.
New app uses AI to help Calgary medical students practise interacting with patients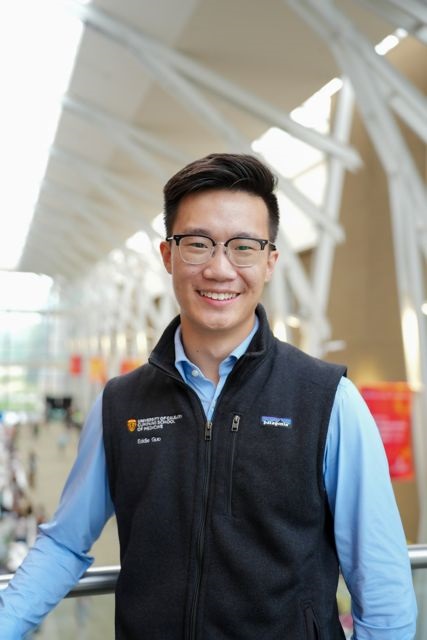 A Calgary medical student has developed a new app that allows future doctors to work on their diagnostic and communication skills before they set up their practices. Eddie Guo, seen in an undated handout photo, is a second-year student at the University of Calgary's Cumming School of Medicine. He says that one of the challenges in medical school is becoming better at interacting with patients. THE CANADIAN PRESS/HO-University of Calgary
By Bill Graveland in Calgary
A Calgary medical student has developed an app that allows future doctors to work on their diagnostic and communication skills before they set up their practices.
Eddie Guo, a second-year student at the University of Calgary's Cumming School of Medicine, said one of the challenges beyond the book learning in medical school is becoming better at interacting with patients.
As a result, he's turned to the rapidly growing area of artificial intelligence to create a number of virtual patients, with a variety of health conditions, that a student can talk to.
"It's good to get more than just two or four hours of the practice we get in medical school to really be able understand what it's like to communicate in a real-life scenario," said Guo.
"We think it's a good idea to have more than a few hours of practice before actually going out into the wild and seeing patients for the first time."
Guo created a program, called OSCE-GPT, where the computer is the patient. Users choose the patient's gender and can select a scenario or let the computer decide on one for them.
"I'm Ben Johnson and I've been having some really bad abdominal pains over the past two days. It's in the right upper quadrant and it spreads to my back," said the robotic male voice in the program.
"I've also been feeling nauseous and vomiting. I'm here in the emergency department because of the pain."
The AI patient can answer questions about its condition and, after the conversation, provides feedback to the student along with a list of other questions that could have been asked.
Guo said until he is finally allowed on the medical wards, the only other interactions he gets are with standardized patients, professional actors who present with various conditions.
"As you can imagine, they're really quite good at their job, but they're also very expensive," Guo said.
"We don't get that much opportunity really to practise speaking with a patient, and so what this app was born out of was a lack of possibility to practise."
Guo collaborated with medical resident Dr. Mehul Gupta. He said this kind of additional help will make for better doctors.
"One of the things we learn again and again in medical school, and that's reinforced again in residency, is that the history you take from a patient is almost 99 per cent of the diagnosis that you make and the impression you make on a patient the first time you speak with them is long-lasting," Gupta said.
"If you have the opportunity to practise to tailor your questions to see how you could have done better, you really do become a better doctor overall."
Guo said the app is still being upgraded and at this point there is no image of a patient that shows up on the screen. He said he is hoping that things like a chest X-ray, a CT scan or a picture of someone's skin could be incorporated into the program.
Within the first month of the app's launch, more than 550 health-care trainees from Canada and across the world including Europe, India, Saudi Arabia and the United States signed on.
This report by The Canadian Press was first published Sept. 22, 2023.
Officials say some patients showing 'severe symptoms' in Calgary daycare outbreak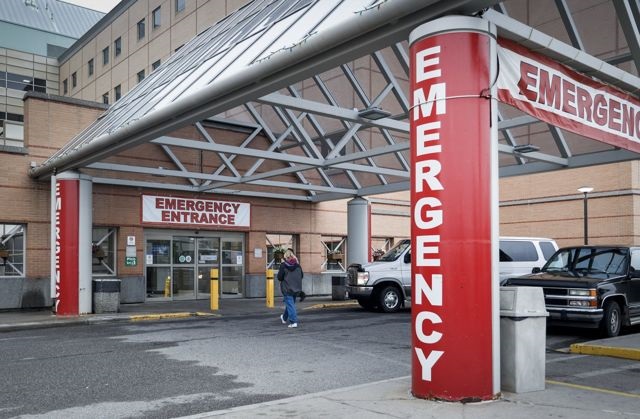 The entrance to the emergency department at Peter Lougheed hospital is pictured in, Calgary on Tuesday, Aug. 22, 2023. An Alberta health official says some of the 22 patients in hospital after an E. coli outbreak at several Calgary daycares have severe symptoms. THE CANADIAN PRESS/Jeff McIntosh
By Bill Graveland in Calgary
An Alberta health official says some of the 22 patients in hospital after an E. coli outbreak at several Calgary daycares have severe symptoms.
Alberta Health Services says there are now 96 laboratory-confirmed cases due to the outbreak, which is up from 56 on Tuesday.
Dr. Francesco Rizzuti, medical officer of health for the Calgary Zone, said Wednesday that the number in hospital has risen from 15. He said 16 are at Alberta Children's Hospital and six are at Peter Lougheed Centre.
"The majority of individuals that get sick from E. coli generally improve on their own and without specific treatment, typically within 10 days," Rizzuti said.
"However, a small portion may develop more severe complications. Currently, we have a handful of children who are hospitalized with these more serious illnesses related to this outbreak."
Rizzuti said that due to privacy concerns, he couldn't say how many are suffering from severe symptoms. He also would not would confirm any of them have hemolytic uremic syndrome, also known has HUS, which affects the kidneys and causes blood clots.
"Hemolytic uremic syndrome can be a severe consequence. At this time, because we do have small numbers and I want to respect the privacy of the parents, I'm unable to speak to the exact numbers," he said.
"But it is a small proportion of our laboratory-confirmed cases who do have severe illness and are in hospital at the moment."
Rizzuti said it was his decision to close six Calgary Fueling Brains daycares and five others out of an abundance of caution after he received calls from city emergency wards.
He said it could take a while before the investigation into the source of the E. coli is found. Public health officers have already taken samples from the central kitchen shared by the daycares.
"They collected a number of food samples, both leftover foods as well as frozen foods, from the site and these are being tested in our laboratory. These do take some time," Rizzuti said.
"Typically in outbreaks like this, we may not find a food source."
Faisal Alimohd, co-founder and chairman of Fueling Brains, said he's saddened that children are sick and immediately began working with AHS to investigate the outbreak.
"Though not all Fueling Brains child-care campuses are currently classified as being on outbreak status by AHS, we have proactively closed all potentially impacted locations as a precaution," Alimohd said in a statement.
"The exact source of the outbreak has not been identified, but we will be reviewing our policies, procedures and sourcing related to food services for our facilities."
This report by The Canadian Press was first published Sept. 6, 2023.