Why The News Is Fake, And Liberals Rely On Racism
Love him or hate him, President Trump has woken the masses to the truth that the news is often inaccurate, and occasionally blatantly false. When called out, reporters wail in their feeble response, "It was an honest mistake, and we retracted it!" The truth is, the news media have little interest in being accurate or unbiased, instead their goal is to procure ratings for the purpose of receiving advertising revenue. Profit is their master.
By analyzing data from Google and Youtube, we now know scientifically what we have always assumed anecdotally, "If it bleeds, it leads". Violence and catastrophe has always been the driving factor in editorial decision making. As a result, mildly unfortunate events are made to appear as if they are massive catastrophe's and in the absence of a convenient cataclysm, shocking events are occasionally staged. The news is not "reporting the facts", it's info-tainment. The news NEEDS you to be either outraged or terrified in order for you to tune in and consume the media. If you don't consume…then they don't have a business model. Keeping you angry and afraid is how they make money, which is why they will assassinate the character of anyone who dares to contradict their story line. They have to attack in order to survive.
State sponsored news such as RT, or the CBC are not any better. In addition to catering to their advertisers, they also have to appease the governments who fund them. If either Putin or Trudeau need help from their state run broadcasters, …they get it. Media CEO's know who butters their bread, and they know how to keep their high paid cushy jobs. If you're looking to the news for the truth, you're looking in the wrong place.
Mainstream media is dying. The information monopoly which provides the media with breath is being choked to death by the free flow of information on the internet. No longer do people rely on being force fed their information by those with questionable motives. Instead, we all have alternative sources available in abundance.
Podcasts, and independent news commentators have supplanted the paternalistic talking heads we are accustomed to seeing, anchoring the evening news. VIA the internet, sagely voices from the wilderness have found their way to the mountain tops to expound their wisdom to eager ears, which has the media backed into a corner and fighting for it's life.
And now for the rest of the headline…
Those with aligned goals tend to be friends. If I help you, and you help me…then our symbiotic relationship is something that we will both endeavor to protect at all costs. The media and leftest politicians coexist with such a relationship.
Leftist identity politics is a one-trick pony which relies on outrage for it's very existence. Their brand identity is steeped in the fight against racism and inequality. Though it has a noble face, this strategy wasn't born out of altruism. Liberal politicians recognized long ago that if they could be seen as avengers of civil rights, that they could win a lot of votes…and until recently, the strategy has worked quite well.
Racism in North America has been on a dramatic decline since the late 1980's. Racist jokes which were once acceptable to share around the campfire, or in the locker room are now received with shock and disdain…and rightly so. Could you imagine if the Brocket 99 Cassette tape was made today? The backlash would be immense, the creators would be publicly flogged, and the news would be covered globally. Racist parody is no longer tolerated, and minstrel shows are extinct. As society has progressed, leftist politicians have lost leverage. Now that racism has been largely eradicated…what possible strategy could the leftist parties possibly use to retain their power? Far left politicians NEED racism to be a problem so that they can be the hero's, so where there is a vacuum, they will find a way to fill it.
Bigotry, misogyny and homophobia are all unacceptable anymore, as they should be. This however has created a big problem for politicians whose entire political platforms have been branded as being the saviors of the oppressed, so as these issues became less prevalent, climate change has helped to fill the void. Once again, a valid issue is being used not because of a sense of environmental responsibility, but instead because there needs to be a boogeyman under the bed. But still, the cries of racism ring out across the land at the slightest provocation.
Of course racism is still an issue of sorts, but it's nothing like it was fifty years ago, and to pretend otherwise is a slap in the face to all those who have suffered through the horrors of it.
Racism is an issue today, because liberal politicians and the media need it to be a problem. Both fuel the flames of hatred and division, then blame conservatives as the propagators as is seen in example after example. Fortunately people are waking up to the fact that most news is nothing more than lefitst propaganda. #Blexit, and #walkaway are gaining steam, and the liberal grip on our society is starting to slip, which they find terrifying.
To fight back, riots have been encouraged, and even indirectly funded by the Democratic party, all in an attempt to destabilize society, and claw back their power and influence. There are no lengths they will not stoop to in order to regain control, and the media is largely in lock-step.
Before you decide to attend a protest, or throw a brick in a riot, ask yourself who it is that you are actually fighting for. Chances are, your fighting for the wrong people without knowing it.
Mark Meincke
403-463-4313
This article was originally published on June 26, 2020.
Buy the Home Seller's Bible by clicking HERE
Buy "Why not Me?" HERE
For more stories, visit Todayville Calgary.
New app uses AI to help Calgary medical students practise interacting with patients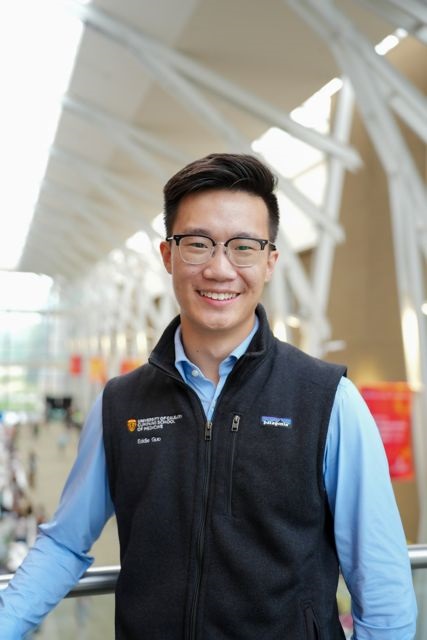 A Calgary medical student has developed a new app that allows future doctors to work on their diagnostic and communication skills before they set up their practices. Eddie Guo, seen in an undated handout photo, is a second-year student at the University of Calgary's Cumming School of Medicine. He says that one of the challenges in medical school is becoming better at interacting with patients. THE CANADIAN PRESS/HO-University of Calgary
By Bill Graveland in Calgary
A Calgary medical student has developed an app that allows future doctors to work on their diagnostic and communication skills before they set up their practices.
Eddie Guo, a second-year student at the University of Calgary's Cumming School of Medicine, said one of the challenges beyond the book learning in medical school is becoming better at interacting with patients.
As a result, he's turned to the rapidly growing area of artificial intelligence to create a number of virtual patients, with a variety of health conditions, that a student can talk to.
"It's good to get more than just two or four hours of the practice we get in medical school to really be able understand what it's like to communicate in a real-life scenario," said Guo.
"We think it's a good idea to have more than a few hours of practice before actually going out into the wild and seeing patients for the first time."
Guo created a program, called OSCE-GPT, where the computer is the patient. Users choose the patient's gender and can select a scenario or let the computer decide on one for them.
"I'm Ben Johnson and I've been having some really bad abdominal pains over the past two days. It's in the right upper quadrant and it spreads to my back," said the robotic male voice in the program.
"I've also been feeling nauseous and vomiting. I'm here in the emergency department because of the pain."
The AI patient can answer questions about its condition and, after the conversation, provides feedback to the student along with a list of other questions that could have been asked.
Guo said until he is finally allowed on the medical wards, the only other interactions he gets are with standardized patients, professional actors who present with various conditions.
"As you can imagine, they're really quite good at their job, but they're also very expensive," Guo said.
"We don't get that much opportunity really to practise speaking with a patient, and so what this app was born out of was a lack of possibility to practise."
Guo collaborated with medical resident Dr. Mehul Gupta. He said this kind of additional help will make for better doctors.
"One of the things we learn again and again in medical school, and that's reinforced again in residency, is that the history you take from a patient is almost 99 per cent of the diagnosis that you make and the impression you make on a patient the first time you speak with them is long-lasting," Gupta said.
"If you have the opportunity to practise to tailor your questions to see how you could have done better, you really do become a better doctor overall."
Guo said the app is still being upgraded and at this point there is no image of a patient that shows up on the screen. He said he is hoping that things like a chest X-ray, a CT scan or a picture of someone's skin could be incorporated into the program.
Within the first month of the app's launch, more than 550 health-care trainees from Canada and across the world including Europe, India, Saudi Arabia and the United States signed on.
This report by The Canadian Press was first published Sept. 22, 2023.
Officials say some patients showing 'severe symptoms' in Calgary daycare outbreak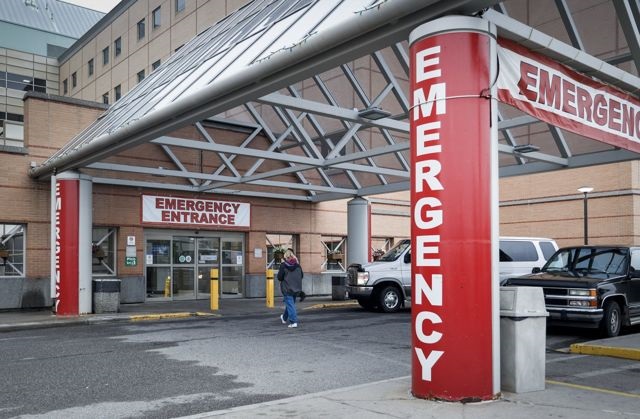 The entrance to the emergency department at Peter Lougheed hospital is pictured in, Calgary on Tuesday, Aug. 22, 2023. An Alberta health official says some of the 22 patients in hospital after an E. coli outbreak at several Calgary daycares have severe symptoms. THE CANADIAN PRESS/Jeff McIntosh
By Bill Graveland in Calgary
An Alberta health official says some of the 22 patients in hospital after an E. coli outbreak at several Calgary daycares have severe symptoms.
Alberta Health Services says there are now 96 laboratory-confirmed cases due to the outbreak, which is up from 56 on Tuesday.
Dr. Francesco Rizzuti, medical officer of health for the Calgary Zone, said Wednesday that the number in hospital has risen from 15. He said 16 are at Alberta Children's Hospital and six are at Peter Lougheed Centre.
"The majority of individuals that get sick from E. coli generally improve on their own and without specific treatment, typically within 10 days," Rizzuti said.
"However, a small portion may develop more severe complications. Currently, we have a handful of children who are hospitalized with these more serious illnesses related to this outbreak."
Rizzuti said that due to privacy concerns, he couldn't say how many are suffering from severe symptoms. He also would not would confirm any of them have hemolytic uremic syndrome, also known has HUS, which affects the kidneys and causes blood clots.
"Hemolytic uremic syndrome can be a severe consequence. At this time, because we do have small numbers and I want to respect the privacy of the parents, I'm unable to speak to the exact numbers," he said.
"But it is a small proportion of our laboratory-confirmed cases who do have severe illness and are in hospital at the moment."
Rizzuti said it was his decision to close six Calgary Fueling Brains daycares and five others out of an abundance of caution after he received calls from city emergency wards.
He said it could take a while before the investigation into the source of the E. coli is found. Public health officers have already taken samples from the central kitchen shared by the daycares.
"They collected a number of food samples, both leftover foods as well as frozen foods, from the site and these are being tested in our laboratory. These do take some time," Rizzuti said.
"Typically in outbreaks like this, we may not find a food source."
Faisal Alimohd, co-founder and chairman of Fueling Brains, said he's saddened that children are sick and immediately began working with AHS to investigate the outbreak.
"Though not all Fueling Brains child-care campuses are currently classified as being on outbreak status by AHS, we have proactively closed all potentially impacted locations as a precaution," Alimohd said in a statement.
"The exact source of the outbreak has not been identified, but we will be reviewing our policies, procedures and sourcing related to food services for our facilities."
This report by The Canadian Press was first published Sept. 6, 2023.