Being a Cop has Always Been a Thankless Job
Being a cop has always been a thankless job.
But in our current climate, police would be happy for the bygone days of a thankless community, compared to what they are currently enduring.
Never before in modern history have police officers been accused of being the worst of society. Today, the reputation of cops is constantly under attack by the media. And fringe groups who purport to have a noble agenda are paradoxically allowed by our governments to wreak havoc on our cities without consequence. Entire city blocks have been burned, children have been murdered, and yet the media all but ignores the backlash of the problem, which they themselves are largely responsible for inciting.
Well-intended people have been duped into believing that roughly half of society are devout white supremacists, and that visible minorities are being hunted and killed by the police. The media bolsters this false narrative daily, which has created an incredibly unstable and explosive environment. When a group of people believes that they are in danger of being killed by the police, it's only natural for a member of that group to be afraid, and resist arrest. When you resist arrest, you are making a safe situation dangerous by escalating the force required to arrest you. If you comply with the orders of the police officer, you are almost ALWAYS safe. It is extremely rare that a compliant arrestee is harmed or killed as a result of the arrest. In those rare instances, the police officers are likely at fault, and deserve to be charged. Only improved training and selection practices can reduce these rare instances.
A part of policing which very few average people are willing to engage in is combat. Most people have never been in a dangerous fistfight, but for cops, getting into scraps is a common occurrence. Some of these fights involve armed bad guys who are high on crystal meth, and who are nearly impossible to control. When a crazed meth head charges at you with a knife, the only realistic response is to pull out your pistol and fire a few rounds into the center of the target. The pollyanic fools who cry, "you should have shot them in the leg!" have no concept of the reality of combat. There isn't a police officer alive that has the training and skill to reliably make a "leg shot" against a crazed charging assailant. And no, a taser is not reliable enough to deploy in this situation either.
Armchair critics are quick to judge and condemn the use of violent force, without having the faintest idea of the reality of a combat environment. Many will recoil at the word "combat", by saying, "combat is for a battle field, not for our streets! Our cops are not soldiers!" And, they would be wrong. Combat is a violent "must win" altercation. When someone is violently resisting arrest…that absolutely qualifies as combat. It's not the police who initiate the combat…it's the person being arrested who creates the combat situation, which the police have no choice but to respond to with force.
Police officers work in a world that is completely foreign to most middle class folks. The average person can no more understand what it is to be a cop, than they can understand what it's like to live on Mars.
It seems that the public has forgotten the simple fact that cops are just people. Flawed, regular human beings who have decided to risk their lives so that others may live safely.
When people join the police force, they do so for one of four reasons.
Most join out of a sense of responsibility to provide meaningful service to their community. These people tend to make the best police officers, and often make up the majority of a good police force. Lately the media has been ignoring the fact that most police officers fit this description.
Some others join out of a sense of adventure, craving fun and action in their job.
And there are those who join simply to have a respectable, and reliable source of income.
But unfortunately, there are a few who join because they crave having a sense of power. These are the problem cops which every police organization tries to weed out, yet every police service has at least a few of these problem children to deal with. These are the minority of cops, which the media are currently focusing on, and they are painting all police with this contaminated brush.
In addition to these four types of police officers, there is a rare outlier. Occasionally, a trigger-happy psychopath will slip through the cracks. The psychological evaluations are put in place as a filter to weed out these types of applicants, but no system is perfect. Psychopaths often know the right words to say, and how to mask their true identity. Even a lie detector test can be defeated by a psychopath or sociopath. I won't pretend that these people don't occasionally make it onto an otherwise honourable police service, however I also won't agree that police services across the western world have been over-run by them as the media would have you believe.
There are bad apples in every organization, and try as you might, you'll never weed 100% of them out. If you're going to have a large group of people, there will always be a tiny minority within the ranks who will potentially cause great harm.
The truth about police officers is that they have chosen a life of dangerous, high stress service, so that you and I can live a safer, less stressful life. They deal with dangerous people, so that YOU don't have to. They literally get punched in the face, so that YOU don't have to. Lets face it, most people have no ability whatsoever to defend themselves against a violent attacker. We should all be grateful to those who put themselves in harms way so that they can arrest, and lock up the people who are a danger to society.
Now, with all of that being said, how can Police officers muscle through the negativity and added danger they now face?
Let's' start with something we can control, which is our perspective.
"I hate you!" are three words a parent never wants to hear from their child. When it happens, although it may sting for a moment, a good parent quickly realizes that their kid is simply having a fit, and doesn't know how else to express themselves. Also, it's easy to discard unkind words from a child by realizing that they simply don't know any better. "If they knew better, they would do better" is a mantra I strive to remember.
When it's a large group of "adults" who are pitching a fit in the form of a riot, it's difficult to remember that they don't know any better. EVERYONE feels justified in their cause, regardless of the facts at hand.
Regardless of the haters, try to remember why you're there in uniform. You are there to serve those who need you, with or without their appreciation. Your life is one of sacrifice, and some days suck worse than others, but there are still good days. You help. You DO make a difference, and whether the public knows it or not, they need you.
Remember that the anti-cop sentiment is based on a belief in a false narrative. Despite the demonstrative evidence to the contrary, these misguided people actually believe that the Police are out to get people of colour. We must realize that although misguided, their outrage is real to THEM. They really don't know any better, and it's not their fault. The media has created this environment with their bias.
Be mindful of your focus.
Now is a great time to stay off of Facebook. If you can't limit your social media, then at least purge everyone from your contacts list who shared negative posts about the police. It's easy to unfriend, unfollow, or even BLOCK people. You don't need to engage. You won't change anyone's mind, so why try?
Remember, and focus on those who appreciate you. If you look, you'll see armies of supporters who are cheering for you. They may be the "silent" majority, but they are there all the same.
Mark E. Meincke
Listen to this article on Operation Tango Romeo
HERE
Canada's food costs expected to increase by $700 per family in 2024: report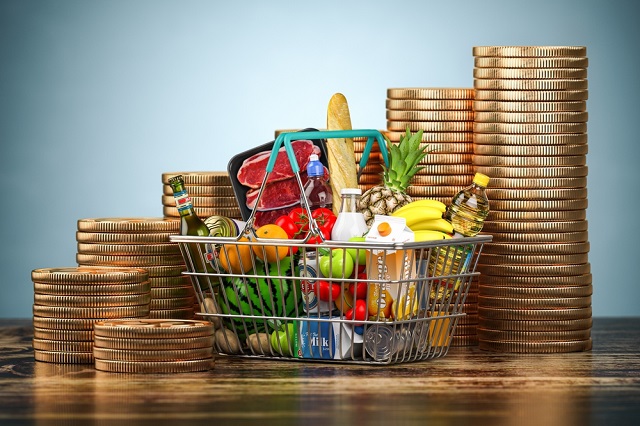 'When Trudeau's carbon tax makes it more expensive for farmers to grow food and truckers to deliver food, his carbon tax makes it more expensive for families to buy food'
A new report estimates that food costs for a family of four in Canada will increase by $700 in 2024 amid the ongoing carbon tax and rising inflation.
On November 27, researchers from Dalhousie University, the University of Guelph, the University of Saskatchewan, and the University of British Columbia published Canada's Food Price Report 2024, which reveals that food prices will only rise in 2024.
"The current rate for food price increases is within the predicted range at 5.9% according to the latest available CPI data," the report stated. The report further revealed that the increases are expected to be less than in 2023.
According to the research, the total grocery bill for a family of four in 2024 is projected to be $16,297.20, which is a $701.79 increase from last year.
Bakery, meat, and vegetables are expected to see a 5% to 7% increase, while dairy and fruit prices are projected to ride 1-3%. Restaurant and seafood costs are estimated to increase 3-5%.
The report further revealed that, "Canadians are spending less on food this year despite inflation," instead choosing either to buy less food or to buy poorer quality of food.
"Food retail sales data indicates a decline from a monthly spend of $261.24 per capita in August 2022 to a monthly spend of $252.89 per capita in August 2023, indicating that Canadians are reducing their expenditures on groceries, either by reducing the quantity or quality of food they are buying or by substituting less expensive alternatives," it continued.
In addition to food prices, the report found that "household expenses like rent and utilities are also increasing year over year."
"A recent report by TransUnion found that the average Canadian has a credit card bill of $4,000 and a 4.2% increase in household debt compared to last year, all of which are possible contributors to reduced food expenditures for Canadians," it continued.
Canadian Taxpayer Federation Director Franco Terrazzano told LifeSiteNews, "The carbon tax makes grocery prices more expensive."
"When Trudeau's carbon tax makes it more expensive for farmers to grow food and truckers to deliver food, his carbon tax makes it more expensive for families to buy food," he explained.
"The carbon tax will cost Canadian farmers $1 billion by 2030," Terrazzano added. "The government could make groceries more affordable for Canadians by scrapping the carbon tax."
Conservative leader Pierre Poilievre referenced the report, blaming the increased prices on Prime Minister Justin Trudeau's policies, saying, "EVERYTHING is more expensive after 8 years of Trudeau. He's not worth the cost."
EVERYTHING is more expensive after 8 years of Trudeau.

He's not worth the cost. pic.twitter.com/0tCwaRJHwC

— Pierre Poilievre (@PierrePoilievre) December 7, 2023
The report should not come as a surprise to Canadians considering a September report by Statistics Canada revealing that food prices are rising faster than the headline inflation rate – the overall inflation rate in the country – as staple food items are increasing at a rate of 10 to 18 percent year-over-year.
Despite numerous reports indicating Canadians are experiencing financial hardship, the Trudeau government has largely ignored the pleas of those asking for help, while consistently denying their policies have any impact on inflation or the economy more broadly.
Trudeau has continued to refuse to extend the carbon tax exemption to all forms of home heating, instead only giving relief to Liberal voting provinces.
The carbon tax, framed as a way to reduce carbon emissions, has cost Canadians hundreds more annually despite rebates.     
The increased costs are only expected to rise, as a recent report revealed that a carbon tax of more than $350 per tonne is needed to reach Trudeau's net-zero goals by 2050.     
Currently, Canadians living in provinces under the federal carbon pricing scheme pay $65 per tonne, but the Trudeau government has a goal of $170 per tonne by 2030.    
The Trudeau government's current environmental goals – which are in lockstep with the United Nations' "2030 Agenda for Sustainable Development" – include phasing out coal-fired power plants, reducing fertilizer usage, and curbing natural gas use over the coming decades. 
The reduction and eventual elimination of so-called "fossil fuels" and a transition to unreliable "green" energy has also been pushed by the World Economic Forum (WEF) – the globalist group behind the socialist "Great Reset" agenda in which Trudeau and some of his cabinet are involved. 
However, some western provinces have declared they will not follow the regulations but instead focus on the wellbeing of Canadians.  
Both Alberta and Saskatchewan have repeatedly promised to place the interests of their people above the Trudeau government's "unconstitutional" demands, while consistently reminding the federal government that their infrastructures and economies depend upon oil, gas, and coal. 
"We will never allow these regulations to be implemented here, full stop," Alberta Premier Danielle Smith recently declared. "If they become the law of the land, they would crush Albertans' finances, and they would also cause dramatic increases in electricity bills for families and businesses across Canada."     
Saskatchewan Premier Scott Moe has likewise promised to fight back against Trudeau's new regulations, saying recently that "Trudeau's net-zero electricity regulations are unaffordable, unrealistic and unconstitutional."   
"They will drive electricity rates through the roof and leave Saskatchewan with an unreliable power supply. Our government will not let the federal government do that to the Saskatchewan people," he charged.  
APP Update: Chief Actuary of Canada to provide opinion on Alberta's share of CPP assets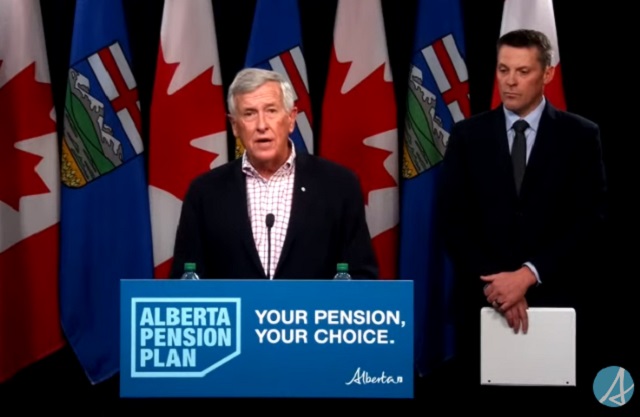 Alberta Pension Plan engagement
The Alberta Pension Plan Engagement Panel is giving the office of the chief actuary of Canada some time to release findings before scheduling new public sessions.
This fall, the Alberta Pension Plan Engagement Panel, led by former provincial treasurer Jim Dinning, invited Albertans to discuss the findings of an independent report on a potential provincial pension plan. The panel has been collecting feedback from Albertans since then, with more than 76,000 Albertans participating in five telephone town hall sessions and more than 94,000 Albertans completing the online survey. The first phase of the engagement is now complete, and the panel will now analyze what it has heard from Albertans so far.
"Albertans can rest assured that their voices have been heard and that's why I tabled the Alberta Pension Protection Act, which provides Albertans with certainty that their pension contributions are safe and that we will not proceed with a provincial plan without their say through a referendum. This is a complex process and one that we do not take lightly."
During this first phase of engagement, it quickly became clear that Albertans wanted more precise information on the value of the asset transfer Alberta would be entitled to receive if it were to withdraw from the Canada Pension Plan. While the LifeWorks report was able to provide a reasonable asset transfer value by relying on publicly available data, determining a more precise number requires analysis from the federal government.
Following discussions between Canada's finance ministers, the federal finance minister has committed to asking the chief actuary of Canada to provide an opinion on Alberta's share of the CPP assets. Alberta's government is hopeful that this work can be completed promptly so that Albertans can have as much information as possible as they consider the possibility of a new plan. To that end, the panel has decided to give the chief actuary of Canada some time to release their findings before scheduling new public engagement sessions.
Albertans continue to have the opportunity to participate in the conversation by reading the information on AlbertaPensionPlan.ca and completing the online workbook.
"We are pleased with how many Albertans we have reached with our consultations to date. The LifeWorks report presents an opportunity worth exploring and Albertans have answered that call, but what we've heard loud and clear is that they want to hear how the federal government calculates the asset transfer number. We will start the next round of public meetings when we have more clarity on that number, but in the meantime, we encourage everyone to have a look at our workbook and provide feedback there."
Throughout this entire process Alberta's government committed to ensuring the most-up-to-date information is provided to Albertans.
Related information