Edmonton company releases a world first NFT project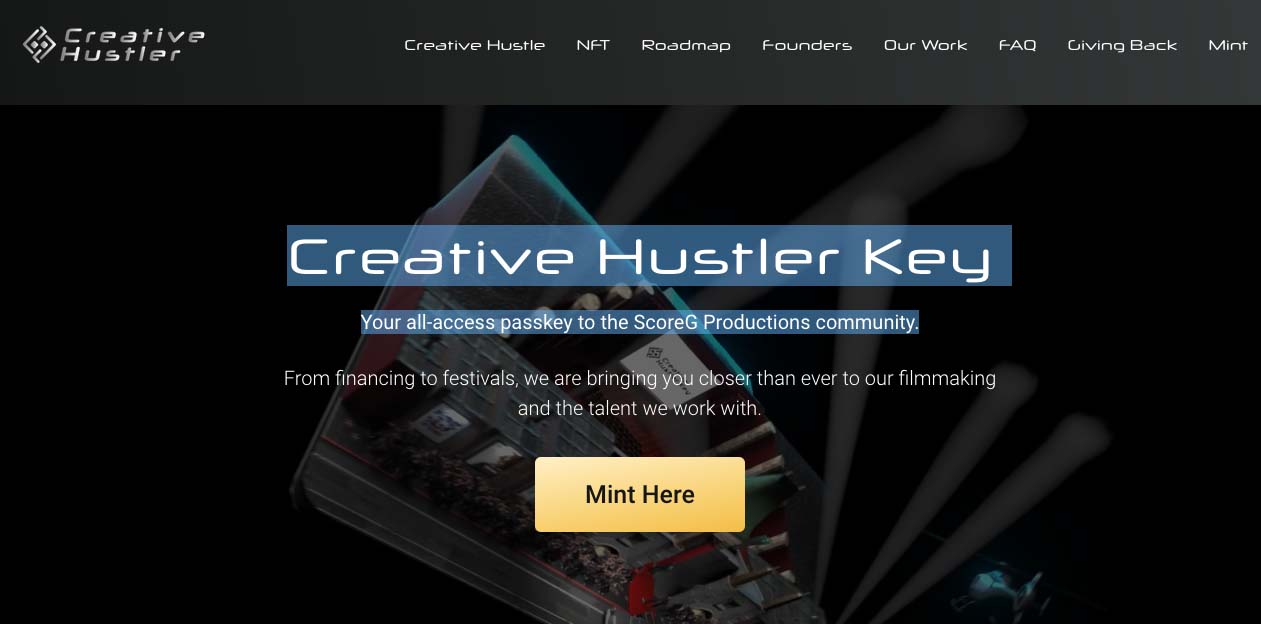 Edmonton based; Score G Productions, launched a first of its kind in the world NFT (non-fungible token) project on April 17th. It's called, Creative Hustler Key. Creative Hustler Key gives buyers through a one-time payment, a lifetime all-access passkey to the Score G Productions. This includes access to a full community of content producers, executive producers, exclusive 3-D NFT artwork, exclusive videos, and even monthly members only access to online workshops featuring creative content producers from around the world. The Creative Hustler Key NFT even offers chances to win access to live in-production sets, access to their studios during editing and post-production, and chances to win tickets and trips to future red-carpet movie premier events. There's more in the works too. Basically, buyers will get access to Score G Productions' impressive Rolodex and industry knowledge.
There are only 999 pass keys for sale, once gone, it will never be expanded, with the promise of no copycat versions of this Creative Hustler Key to ever be started by their team.
We asked Score G Productions founder, father of three, married to his high school sweetheart, Edmonton based Adam Scorgie why he'd take on such a huge undertaking when they are already successful in the film production industry? Scorgie replied, "We get calls, emails and social media posts asking us to help people all the time. People approach us at public events, asking for mentorship, internships, contact access, script readings, it is all kind of overwhelming." Continuing, "I wish I had people I could have called when I was starting out. I knew what I wanted to do, but I knew no one and knew nothing." Explaining, "This is our pay it forward move. I want to help as many people as possible, in any way I can."
A huge personal belief for Scorgie is explained, "I like to do things in and as a team; this will be a world's first team like this. Extremely unique."
The now, world-wide known and highly respect filmmaker with an extensive library of finished and in-production projects never planned on being a film producer, he in fact, never went to film school. He did however, go to acting school in New York and had credits in voice, as dancer, movie and soap opera acting credits. Things were looking up and moving along nicely.
But then his father, Buddy, got sick, very quickly. At 23, he dropped his dreams of Hollywood fame and fortune, moving back to Kelowna where he was born and raised to take over his dad's business, Cheetah's Show Lounge & Bar. Kelowna's only stripper bar. "I went from 23 to 35 in like six months!" the forced adult entertainment entrepreneur said.
His father passed away after a short health battle.
Then things got "really tough". A lawsuit was filed against his father's estate, he had a new partner in the business. While he tried to keep the clothes on his own back and his business afloat; Adam noticed a lot of his patrons, high school friends, same age as himself with cash pouring out of their pockets and stacked high on their tables in the VIP section. They all had 70+ thousand-dollar trucks, 50k Harleys, houses and more. He asked them, what the hell they were all doing to become so rich, so fast? They all said, "We are in the Union, you should join us."
This was in the height of the multi-billion-dollar BC Bud days. The "Union" was code for underground pot grower for organized crime rings being done at arm's length. While Adam admits, he did come close to joining the "Union", he ended up selling his share in the stripper club and put every last cent he had, plus some extra money borrowed from his stepdad into making a full-length documentary movie with his new partner, Vancouver director Brett Harvey. The film was called, The Union: The Business Behind Getting High and it quickly gained a cult following around the world.
And the rest is history! If only it was that easy. Scorgie laughs while reminiscing, "People said I was nuts. I have heard that a lot over the years, especially for just living in Edmonton and not Hollywood."
He fully expects people to say this again about this unique NFT rollout. Being young and ahead of the curve is nothing new for Adam and his team. Scorgie expands, "We didn't have any money for PR marketing firms or to pay agents to promote us. So, we did it all on Facebook and other social media platforms." Continuing, "We had 1.2 million followers on Facebook alone. "Today every production has huge teams of social media specialists, with very expensive detailed marketing plans for social media promotions long before any production even gets close to post-production."
Scorgie remembers one meeting with Hollywood executives when they were shopping a world-wide release of the final cut of the Union. One said, "Oh isn't that cute, you have a Facebook page." Then they saw the Union page had over a million followers for the indie production. Adding, "That got their attention. No one is laughing at us anymore." Finishing, "And years from now, no one will be over this new NFT project."
One of Scorgie's closest friends and partner in Score G Productions, Shane Fennessey, explains more about the Creative Hustler Key project, "There is nothing in the world like what we just launched by offering a real, hands-on community of successful high-quality, award-winning professionals from the film production industry." Adding, "NFT's are known for exclusive digital images and video, yes with us you still get exclusive 3-D images that took months to produce and exclusive videos with the purchase of these keys." Continuing, "What is truly different and very exciting is that this is a utility driven NFT project, a place where professionals will collaborate. It has long-term value too. We are young. As long as we are a business, these keys never expire" Adding, "There are no annual renewal fees, you own the Keys, you can sell them for the going price any time in the future, you can even add them to your estate, they are yours."
Expanding on the added values of the only 999 keys available, Fennessey says, "We know how to apply for grants, we know where the grants are, we know how to fund-raise for the next project." Continuing, "We know all the tax credits and other forms of how to finance projects. We are going to share all of this and even more knowledge that we have about this industry."
In closing Fennessey said, "We love the idea of opening doors for new young Creative Hustlers." Asked if it will it sell out, "Most likely and very quickly we expect, with no outside advertising or media coverage 10% of the 999 keys sold in just the first 2-hours of the Sunday release."
Details for how to get involved can be found here; https://creativehustlerkey.com/
Score G Production's main catalogue;
Saskatchewan ranchers call for investigation into retail meat pricing
REGINA — A group of Canadian ranchers is calling for an investigation into meat pricing.
The Saskatchewan Stock Growers Association says it's asking the provincial and federal governments to look into what it calls an "imbalance" between the price ranchers receive for the cattle and the price consumers pay at the meat counter.
The group says many ranchers and feedlots are operating at a loss this year. Grass is still scarce on the Prairies due to last summer's drought, and the cost of feed grain and fuel has skyrocketed since last year.
But packers and retailers are reporting strong profits this year. The Stock Growers say they believe slaughterhouses may be intentionally running fewer shifts to in order to keep wholesale beef prices high and allow fed cattle supplies to build up in the countryside.
In the U.S., the Biden administration has already expressed concerns about rising meat prices and vowed to implement policies aimed at increasing competition in the meat-packing sector.
According to Statistics Canada, the retail price of beef is up 11.2 per cent year-over-year.
This report by The Canadian Press was first published July 5, 2022.
The Canadian Press
First test production of plastic a milestone for Heartland Petrochemical Complex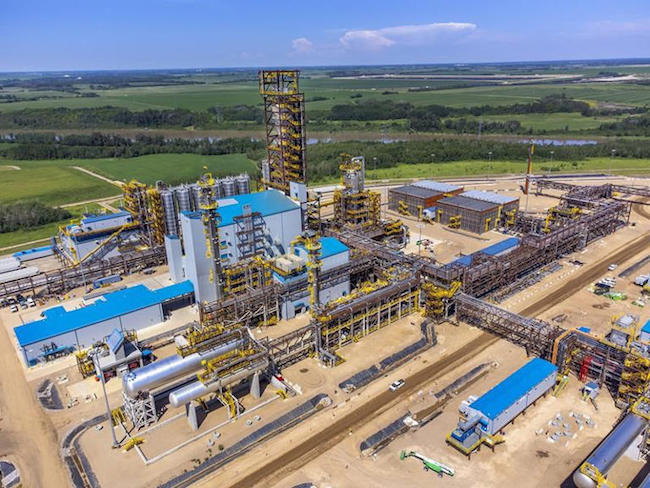 CALGARY — The $4.3-billion Heartland Petrochemical Complex, which has been under construction northeast of Edmonton since 2018, has produced its first plastic pellets.
Owner and operator Inter Pipeline Ltd. said Tuesday the newly commissioned facility has been producing test pellets steadily since late June, an important milestone en route to the expected start of full commercial operation sometime this fall.
The Heartland Petrochemical Complex will convert Alberta propane into 525,000 tonnes per year of polypropylene beads, an easily transported form of plastic that is used in the manufacturing of a wide range of finished products.
Steven Noble, spokesman for Calgary-based Inter Pipeline, said the facility will be the first integrated propane dehydrogenation and polypropylene production facility in North America. He said approximately 70 per cent of Heartland's total production capacity has been already contracted out to long-term customers.
"Through the duration of the project's construction, we've seen demand for polypropylene increase significantly … including at one point hitting an all-time record (market price)," Noble said in an interview. "The demand that we initially forecast certainly hasn't gone away."
The Heartland facility is being built with the support of a $408-million grant from Alberta's provincial government. The cash grant, part of an incentive program aimed at growing the province's petrochemicals sector, is to be paid to Inter Pipeline in equal instalments over three years once the complex is operational.
Noble said by creating a new market for propane, the Heartland facility is an example of how natural resource development in Alberta is diversifying.
"The fact that we're now looking at our raw resources in a different way, and figuring out different ways to get value out of them and create other refined products right here at home … is really the part of the story that everyone here is excited about," he said.
The Heartland Petrochemical Complex is expected to employ 300 people once fully operational.
The polypropylene produced at the facility will be branded as Heartland Polymers.
This report by The Canadian Press was first published July 5, 2022.
Amanda Stephenson, The Canadian Press