Drive in Christianity!  Coming soon to a church near you!
On March 20 more than 60 vehicles gathered on the corner of 39th Street and 30th Avenue at 10:15 a.m. for a unique experience.
It was not a family comedy, nor an adventure film that brought folks out, but rather the bold proclamation of the Gospel of Jesus Christ by Pastor Ben Elliot of Deer Park Church (formerly the Deer Park Alliance Church) via FM transmission (88.5 FM) for those in the parking lot and nearby neighbourhood.
Four rows of cars filled the lot with anywhere from 1 to 4 people per vehicle for an hour.
"This week I had the privilege of being home and was invited to be part of a province wide conference call with Premier Kenney and Minister Dr. Deena Hinshaw," said Elliott during his sermon on Sunday. "I was nervous when I suggested what we were planning for our service and we got the thumbs up from everyone. He also asked us as faith leaders to pray for government and ministry leaders to make good decisions in this difficult time."
He added that the church was going to ensure that the maximum number of 15 people was observed with only 4 volunteer parking attendants, 3 musicians and 1 pastor.
"I know it is tempting to get out of your car and chat with your friend but please don't, be like our youth and chat with them across a window," said Elliott who is also head of the Red Deer Ministerial Association. "We want to honor the restrictions while honouring God by gathering together."
Elliott spoke on cabin fever, an experience citizens across Canada are well familiar with.
"Robert Service wrote about cabin fever in a poem called Pious Pete and we are well familiar with the phenomena," he said. "Even King David, in 1 Sam 25 was not immune to the effects of continual exposure to the same people, except he lived in a cave!"
He noted that the good news is, that even while he was not in the public, David sought God and was corrected by God! He concluded his message by challenging us to honor God by being agents of peace and his salvation in our families.
Meanwhile, this particular drive-in was one of many services throughout the city and one of many formats.
Churches like Crossroads have live streamed their services for some time to service their growing congregation and others have moved to youtube presentations for viewing anytime.
Unity Baptist Church in north Red Deer has gone to Zoom for their services.
"This morning there was 40 people who logged into the sermon," said Kent Lindsay, a
Unity Baptist congregant. "It was a great interactive way to experience a service without being there."
Meanwhile, prayer groups like the Red Deer Catholic Mens Group have moved to Whatapp for communication and alerting members to Zoom sessions with other believers for rosary prayers and other intercessions.
"There are many ways for believers to meet and encourage each other during this time," said pastor Andrew Rilling of Deer Park Church. "From live streams to youtube personal phone calls, to our drive in format, Gods people need to encourage each other. His word is always working and He meets us in our needs. As a believer and a pastor I am encouraged and know that God is always working among us."
Southside Dodge donates new van to Ronald McDonald House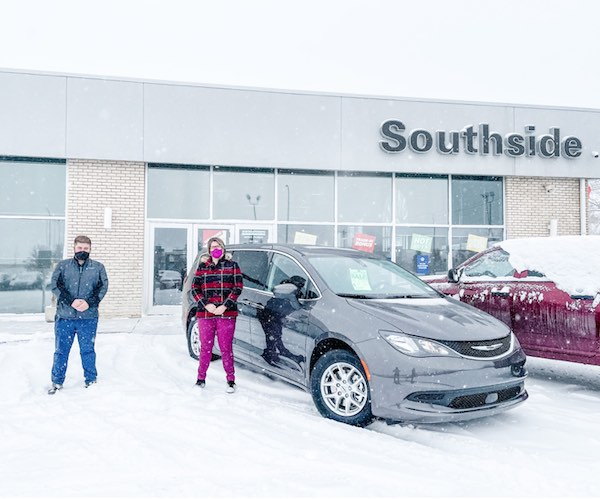 Matt Swainson (Vice President & General Manager, Southside Dodge Chrysler Jeep Ram) -left , Lori Rechlo (General Manager, Ronald McDonald House Charities Alberta – Red Deer House) – right
Submitted by

Sarah Heibein,

Stakeholder Relations Manager, Central Alberta Ronald McDonald House

We've received a donation of use of a Dodge Caravan from Southside Dodge- they've been an incredible support of us over the years. Attached is the photo we took at the dealership when we picked up the keys on Friday.
Ronald McDonald House Charities Alberta, Red Deer House is truly grateful to Matt Swainson and his entire team at Southside Dodge for their steadfast support of our work to keep families together during the unimaginable hardship of the need to travel for medical treatment for their sick or injured child. Our House is not a nice to have, but a need to have, and we are honoured to work with such an amazing community partner in Southside. The use of the 2021 Dodge Caravan will help us to keep our operating costs down so that we can focus on our work to keep families close.
We have operated in the city for over 8 years, ensuring there is a safe and comfortable place for families to rest while they focus on the recovery of their child(ren).
We are grateful to everyone in Red Deer who supports us! 😊
Smiles Thru Lindsey reaching out with a new video message and urging Albertans to look out for each other at this challenging time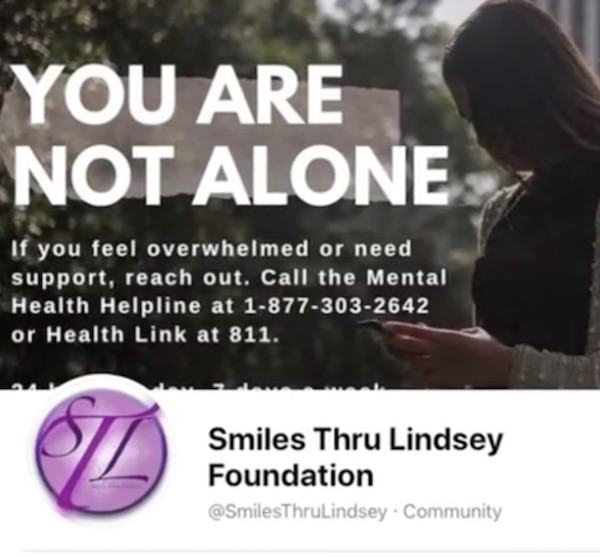 The holiday season is well behind us, we're heading into the coldest part of the winter, and although the days are starting to grow longer there's still a definite lack of daylight in our lives. The winter blues are a real thing and this year we have COVID, a whole new serious problem to add to our mental health issues.
COVID is also the reason the Smiles Thru Lindsey team has not been able do public events for many months. Unable to reach out physically through school visits and fund raisers, Smiles Thru Lindsey is reminding Central Albertans to check in on each other. Also, please follow the Smiles Thru Lindsey Facebook page . They'll lead you to the resources you or your loved ones need right away.
Meet Lindsey and the Smiles Thru Lindsey team in this powerful video. …And remember to check in on the people in your life.
If you'd like to help Smiles Thru Lindsey with a donation please click here.