Comfort & Joy – Evelyn's Story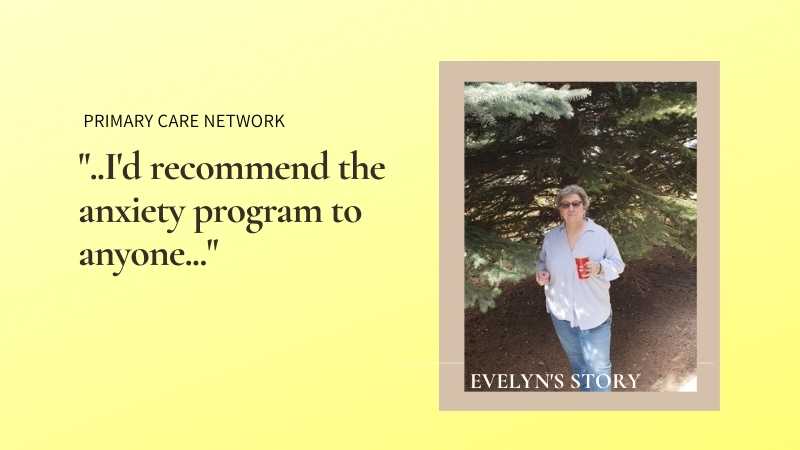 Evelyn has suffered from anxiety and depression for some time but generally had it under control. Then a family incident last summer sent her into crash mode. He family doctor suggested she see a Red Deer PCN mental health counselor. The counselor was excellent and set her on a good path. He also recommended that she go to the Anxiety to Calm program. She did sign up but did not attend as she wasn't ready. After more work with her counselor she attended.
Evelyn says, "It was amazing". When I did the assessment at the start of the class all my answers were low and on the left hand side. When I did my final assessment, all the answers were to the far right, amazingly better. I couldn't believe that had been me just 8 weeks before.
As I went through the program I thought of how I spent the last years with my mom  before she died and I would always say to her I pray for your comfort and joy. Last Christmas I got a card from children I used to babysit and the words comfort and joy were prominent on the card. That prompted me to look for comfort and joy and now I realize it is right in front of me. I get it from a nice walk, touching the trees, a steaming cup of coffee or a hot shower. I have learned to savor all of the wonderful everyday things in life. I have a much healthier mindset- I have come so far.
I thank the counselor for his patience and for nudging me to the Anxiety program. I would recommend it to everybody. I also really liked that the counselor was right in my doctor's clinic. It was comfortable and gave me trust in him from the start."
To learn more about the RDPCN programs, visit www.reddeerpcn.com
Grant's story: Amazing Improvement with Hard Work & Support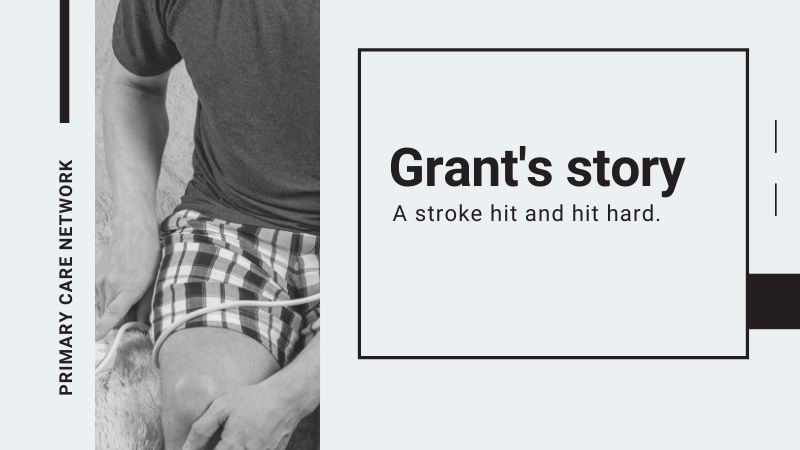 Grant was in his mid-fifties – maybe a bit overweight but with no other cardiovascular risk factors. However, a stroke hit and hit hard. His right side was very compromised, he had little use of his hands, he was unable to walk or lift his right arm. He was hospitalized in Red Deer for 4 months and then went to the Centennial Centre in Ponoka for rehab for 6 months. His doctor had told him that he would be bound to a wheelchair for the rest of his life and would never walk again or be able to recover from this stroke. This made Grant angry as he didn't want this prognosis.
Since that time, he has put a lot of work and effort into getting better. The physios and rehab team helped him make progress, but he kept asking them how he could get more training. They were able to refer him to Recreation Therapy at RDPCN. His therapist arranged to work with him at the Gary W Harris Canada Games Centre three times per week. He is doing a lot better now. He can walk with a cane and he can lift 30 pounds on the machines at the gym. He can now clap hands. He has gained strength and control, his gait has improved along with his endurance, and he has an increased range of motion and strength in his upper extremities. He can now do many more tasks of daily living such as carry groceries, cook and barbeque.
Grant states that his doctor can't believe his progress. Other people he knows have said very similar things. Working with the Rec Therapist has been very encouraging and supportive. The Rec Therapist has really helped me to stay motivated. Having a plan for myself also helps the attendants at the Gary Harris Centre to work with me to move forward. I have highly recommended this program to others I know who have had a stroke.
My work is not done but I am proud of the progress I have made and thankful for everything I can do for myself.
To learn more about the RDPCN programs, visit www.reddeerpcn.com
Keep cool with the firefighters this Thursday!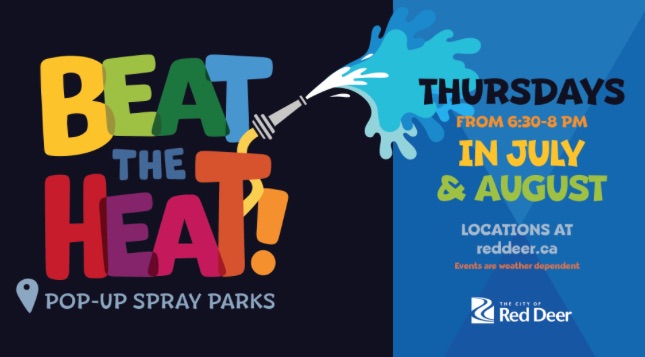 Pop-up Spray Parks
Members of Red Deer Emergency Services, RCMP and Municipal Enforcement blasted the hoses to keep you cool Thursdays in July and August.
Pop-up spray parks are popping up across Red Deer this summer. Beat the heat with Red Deer Emergency Services, Municipal Policing Services and RCMP in a neighbourhood near you.
Participants are reminded to not attend if they are feeling unwell or are currently required to quarantine.
Thursdays from 6:30 – 8 p.m.
| Date | Location | Address |
| --- | --- | --- |
| | | |
| July 22 | Highland Green Community Centre | 65 Halladay Avenue |
| July 29 | Deer Park Community Association | 181 Dowler Street |
| August 5 | To Be Confirmed | —– |
| August 12 | Riverside Meadows Community Centre | 6021 57 Avenue |
| August 19 | Joseph Welsh Elementary School | 4401 37 Avenue |
*Events are weather dependent.