Clean tech innovation cuts emissions, creates jobs
March 12, 2019
Alberta's Climate Leadership Plan is helping major industries reduce emissions and create jobs while cutting costs and becoming more competitive.
Emissions Reduction Alberta is funding more than a dozen new clean technology projects across the province, while Energy Efficiency Alberta is supporting small and medium-sized oil and gas companies to reduce methane emissions through upgrades.
"Innovation is a key part of Alberta's economic and environmental success, and our industries continue to show tremendous leadership. Clean technology investments lead to made-in-Alberta solutions that support jobs, protect our environment, and point Alberta toward a healthy, prosperous future."
Emissions Reduction Alberta (ERA)
From Fort McMurray to Waterton, 16 innovative clean technology projects will receive funding through ERA's $100-million Biotechnology, Electricity and Sustainable Transportation (BEST) Challenge – the largest challenge in ERA's history.
These projects have a combined value of $600 million and the potential to reduce a total of 2.5 million tonnes of greenhouse gas emissions by 2030 – the same as taking 530,700 cars off the road. These projects will also result in 114 new jobs.
"Our BEST Challenge is about accelerating the most promising clean technology solutions across multiple sectors – from new solar opportunities in coal-impacted communities to efficient fleet solutions. These projects will be a showcase for innovative technologies that can be adopted in communities across Alberta. They support economic growth, community health and demonstrate environmental leadership on a national and global scale."
The Alberta Motor Transport Association (AMTA) is working to develop and demonstrate a 700-kilometre-plus-range zero emission truck. These trucks will reduce greenhouse gas emissions through improved fuel efficiency of the fuel cell hybrid drivetrain. Sequestering carbon at the hydrogen generation facility will result in even greater emissions reductions.
"This is a very exciting project for the AMTA and our member companies. This initiative is primarily about moving freight on Alberta's highways with zero emissions, but it is also about the future of the Alberta economy. Alberta is in the transportation fuel business, and that business is changing. The AZETEC project demonstrates that Alberta's commercial transportation industry is leading the transition towards innovative, zero-emission transportation that meets the province's unique needs."
Another funding recipient, eCAMION, is working on a project to transition Alberta's buses from diesel to electric. Its first-of-a-kind charging system could lower installation and operating costs, encouraging broader and faster adoption across the province. eCAMION will partner with the City of Edmonton on a trial of its fast-charge technology. A complete list of BEST Challenge projects is available here.
Energy Efficiency Alberta (EEA)
Government is providing an additional $5 million to support the continued success of EEA's popular $10-million Methane Emissions Reduction initiative.
The program has already made it easier for 30 small and medium-sized oil and gas companies to address methane waste through energy-efficient equipment upgrades, which also helps facilities hire more staff, reduce annual emissions and boost competitiveness. To date, 2,534 applications are approved, with at least 1,500 more anticipated by March 31, 2019.
"Through methane-reduction education and deployment of existing technologies, companies ultimately have the ability to become more competitive and efficient. This announcement will result in a great collaboration to further our methane-reduction programming for the oil and gas sector."
The funding boost will also support a $1.5-million grant for the Petroleum Technology Alliance of Canada to introduce technologies that reduce methane emissions. The grant is expected to reduce up to 200,000 tonnes of emissions – the same as taking 42,460 cars off the road.
"Energy Efficiency Alberta's Methane Emissions Reduction initiative is a momentous step towards a massive deployment of proven, cost-effective, economic methane-mitigation technologies that will benefit our people, planet and industry. It will enable producers – large and small – to maintain competitiveness, while helping Alberta's entrepreneurs and small technology providers prosper and create jobs."
"EEA's Methane Emissions Reduction Program continues to improve the province's emissions inventory while growing local jobs and incentivizing capital investment in Alberta-based emission-reduction projects. We look forward to continuing to contribute to the success of this program and working with industry to implement emission-reduction technologies."
Quick facts
The biotechnology, electricity and sustainable transportation sectors account for more than 40 per cent of Alberta's annual greenhouse gas emissions.
ERA takes action on climate change and supports economic growth and diversification by investing carbon pricing paid by industry directly into clean technology solutions that reduce emissions, attract investment and create jobs. To date, ERA has committed more than $572 million in funding to 164 projects with a total value of roughly $4.3 billion.
The climate change impact of methane is 25 times greater than carbon dioxide over a 100-year period. Methane emissions in 2014 from Alberta's oil and gas sector accounted for 70 per cent of provincial methane emissions, and 25 per cent of all emissions from the upstream oil and gas sector.
The Methane Emissions Reduction Program was announced in October 2018, and 60 per cent of the first year's budget has already been committed. The program received three dozen applications in the first six weeks.
Saskatchewan ranchers call for investigation into retail meat pricing
REGINA — A group of Canadian ranchers is calling for an investigation into meat pricing.
The Saskatchewan Stock Growers Association says it's asking the provincial and federal governments to look into what it calls an "imbalance" between the price ranchers receive for the cattle and the price consumers pay at the meat counter.
The group says many ranchers and feedlots are operating at a loss this year. Grass is still scarce on the Prairies due to last summer's drought, and the cost of feed grain and fuel has skyrocketed since last year.
But packers and retailers are reporting strong profits this year. The Stock Growers say they believe slaughterhouses may be intentionally running fewer shifts to in order to keep wholesale beef prices high and allow fed cattle supplies to build up in the countryside.
In the U.S., the Biden administration has already expressed concerns about rising meat prices and vowed to implement policies aimed at increasing competition in the meat-packing sector.
According to Statistics Canada, the retail price of beef is up 11.2 per cent year-over-year.
This report by The Canadian Press was first published July 5, 2022.
The Canadian Press
First test production of plastic a milestone for Heartland Petrochemical Complex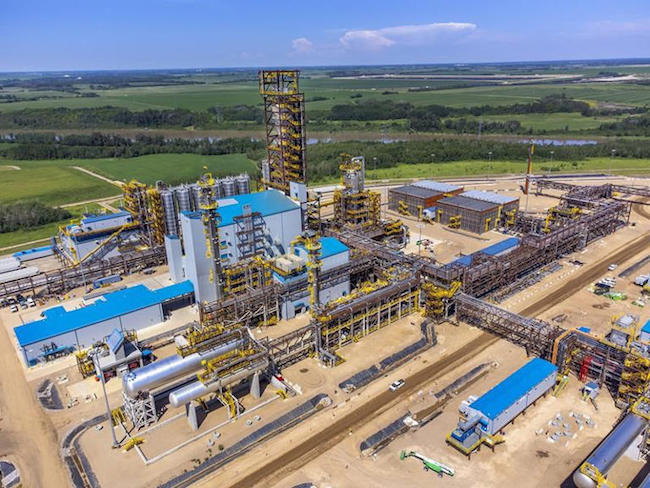 CALGARY — The $4.3-billion Heartland Petrochemical Complex, which has been under construction northeast of Edmonton since 2018, has produced its first plastic pellets.
Owner and operator Inter Pipeline Ltd. said Tuesday the newly commissioned facility has been producing test pellets steadily since late June, an important milestone en route to the expected start of full commercial operation sometime this fall.
The Heartland Petrochemical Complex will convert Alberta propane into 525,000 tonnes per year of polypropylene beads, an easily transported form of plastic that is used in the manufacturing of a wide range of finished products.
Steven Noble, spokesman for Calgary-based Inter Pipeline, said the facility will be the first integrated propane dehydrogenation and polypropylene production facility in North America. He said approximately 70 per cent of Heartland's total production capacity has been already contracted out to long-term customers.
"Through the duration of the project's construction, we've seen demand for polypropylene increase significantly … including at one point hitting an all-time record (market price)," Noble said in an interview. "The demand that we initially forecast certainly hasn't gone away."
The Heartland facility is being built with the support of a $408-million grant from Alberta's provincial government. The cash grant, part of an incentive program aimed at growing the province's petrochemicals sector, is to be paid to Inter Pipeline in equal instalments over three years once the complex is operational.
Noble said by creating a new market for propane, the Heartland facility is an example of how natural resource development in Alberta is diversifying.
"The fact that we're now looking at our raw resources in a different way, and figuring out different ways to get value out of them and create other refined products right here at home … is really the part of the story that everyone here is excited about," he said.
The Heartland Petrochemical Complex is expected to employ 300 people once fully operational.
The polypropylene produced at the facility will be branded as Heartland Polymers.
This report by The Canadian Press was first published July 5, 2022.
Amanda Stephenson, The Canadian Press