Clean tech innovation cuts emissions, creates jobs
March 12, 2019
Alberta's Climate Leadership Plan is helping major industries reduce emissions and create jobs while cutting costs and becoming more competitive.
Emissions Reduction Alberta is funding more than a dozen new clean technology projects across the province, while Energy Efficiency Alberta is supporting small and medium-sized oil and gas companies to reduce methane emissions through upgrades.
"Innovation is a key part of Alberta's economic and environmental success, and our industries continue to show tremendous leadership. Clean technology investments lead to made-in-Alberta solutions that support jobs, protect our environment, and point Alberta toward a healthy, prosperous future."
Emissions Reduction Alberta (ERA)
From Fort McMurray to Waterton, 16 innovative clean technology projects will receive funding through ERA's $100-million Biotechnology, Electricity and Sustainable Transportation (BEST) Challenge – the largest challenge in ERA's history.
These projects have a combined value of $600 million and the potential to reduce a total of 2.5 million tonnes of greenhouse gas emissions by 2030 – the same as taking 530,700 cars off the road. These projects will also result in 114 new jobs.
"Our BEST Challenge is about accelerating the most promising clean technology solutions across multiple sectors – from new solar opportunities in coal-impacted communities to efficient fleet solutions. These projects will be a showcase for innovative technologies that can be adopted in communities across Alberta. They support economic growth, community health and demonstrate environmental leadership on a national and global scale."
The Alberta Motor Transport Association (AMTA) is working to develop and demonstrate a 700-kilometre-plus-range zero emission truck. These trucks will reduce greenhouse gas emissions through improved fuel efficiency of the fuel cell hybrid drivetrain. Sequestering carbon at the hydrogen generation facility will result in even greater emissions reductions.
"This is a very exciting project for the AMTA and our member companies. This initiative is primarily about moving freight on Alberta's highways with zero emissions, but it is also about the future of the Alberta economy. Alberta is in the transportation fuel business, and that business is changing. The AZETEC project demonstrates that Alberta's commercial transportation industry is leading the transition towards innovative, zero-emission transportation that meets the province's unique needs."
Another funding recipient, eCAMION, is working on a project to transition Alberta's buses from diesel to electric. Its first-of-a-kind charging system could lower installation and operating costs, encouraging broader and faster adoption across the province. eCAMION will partner with the City of Edmonton on a trial of its fast-charge technology. A complete list of BEST Challenge projects is available here.
Energy Efficiency Alberta (EEA)
Government is providing an additional $5 million to support the continued success of EEA's popular $10-million Methane Emissions Reduction initiative.
The program has already made it easier for 30 small and medium-sized oil and gas companies to address methane waste through energy-efficient equipment upgrades, which also helps facilities hire more staff, reduce annual emissions and boost competitiveness. To date, 2,534 applications are approved, with at least 1,500 more anticipated by March 31, 2019.
"Through methane-reduction education and deployment of existing technologies, companies ultimately have the ability to become more competitive and efficient. This announcement will result in a great collaboration to further our methane-reduction programming for the oil and gas sector."
The funding boost will also support a $1.5-million grant for the Petroleum Technology Alliance of Canada to introduce technologies that reduce methane emissions. The grant is expected to reduce up to 200,000 tonnes of emissions – the same as taking 42,460 cars off the road.
"Energy Efficiency Alberta's Methane Emissions Reduction initiative is a momentous step towards a massive deployment of proven, cost-effective, economic methane-mitigation technologies that will benefit our people, planet and industry. It will enable producers – large and small – to maintain competitiveness, while helping Alberta's entrepreneurs and small technology providers prosper and create jobs."
"EEA's Methane Emissions Reduction Program continues to improve the province's emissions inventory while growing local jobs and incentivizing capital investment in Alberta-based emission-reduction projects. We look forward to continuing to contribute to the success of this program and working with industry to implement emission-reduction technologies."
Quick facts
The biotechnology, electricity and sustainable transportation sectors account for more than 40 per cent of Alberta's annual greenhouse gas emissions.
ERA takes action on climate change and supports economic growth and diversification by investing carbon pricing paid by industry directly into clean technology solutions that reduce emissions, attract investment and create jobs. To date, ERA has committed more than $572 million in funding to 164 projects with a total value of roughly $4.3 billion.
The climate change impact of methane is 25 times greater than carbon dioxide over a 100-year period. Methane emissions in 2014 from Alberta's oil and gas sector accounted for 70 per cent of provincial methane emissions, and 25 per cent of all emissions from the upstream oil and gas sector.
The Methane Emissions Reduction Program was announced in October 2018, and 60 per cent of the first year's budget has already been committed. The program received three dozen applications in the first six weeks.
From maybe to no: Alberta cabinet ministers give range of answers on replacing Kenney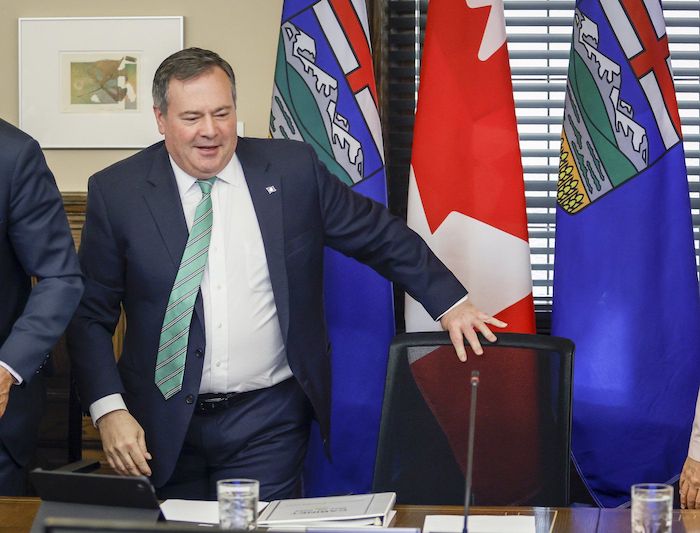 By Dean Bennett in Edmonton, Alberta, Canada
The race to replace Jason Kenney as United Conservative Party leader and Alberta premier has two entrants so far along with a number of cabinet ministers who, when asked if they plan to run, delivered answers ranging from maybe to a hard no.
Government house leader and Environment Minister Jason Nixon says he has not ruled out running for the top job but has more thinking to do and, for now, is focused on the spring sitting of the legislature.
"At the end of the day, internal politics are internal politics, but the people of Alberta expect us to come up here and get to work," Nixon told reporters on his way into the house Tuesday.
"I haven't ruled anything out (on a leadership bid)," he added. "I'll be doing what I think is best for the party under the lens of making sure that we stay united and that we defeat the NDP in a year."
Transportation Minister Rajan Sawhney said she will consult with her family, constituents and Albertans before deciding.
"I haven't made up my mind as of yet," she said.
Finance Minister Travis Toews refused multiple times to say whether he would be running or not running, or whether he's even considering it at all.
"This week we are focused on the people's business," said Toews.
Justice Minister Tyler Shandro said he will not run for the leadership but plans to run again for a seat in Calgary-Acadia in the 2023 provincial election.
"It's never crossed my mind to run for the leader of any political party," said Shandro. "I wasn't sure I wanted to be a politician or MLA in the first place."
Advanced Education Minister Demetrios Nicolaides said he won't be in the running.
"I don't have any plans for anything like that," he said, adding he does plan to run in the election.
Health Minister Jason Copping also tossed cold water on a bid.
"I'm not considering running for the leadership at this time. I'm focused on delivering health care for Albertans," he said.
Children's Services Minster Rebecca Schulz said: "It's too early to say."
Labour Minister Kaycee Madu had two words: "No comment."
On Monday, Jobs, Economy and Innovation Minister Doug Schweitzer announced he won't run for the leadership and won't run again for his seat in Calgary-Elbow.
Two candidates — Brian Jean and Danielle Smith — have said they will seek the leadership.
Jean and Schweitzer ran and lost to Kenney in the inaugural UCP leadership race in 2017. Jean has since returned to politics, winning a seat for the UCP earlier this year in a byelection on a platform to unseat Kenney as leader.
Smith is the former leader of the Wildrose Party, which merged under Jean with Kenney's Progressive Conservatives in 2017 to form the UCP.
The UCP is still working on details of the leadership race and no rules or timeline have been presented yet.
Tuesday was the first day the house sat since Kenney said last week he will quit the top job once a new leader is chosen.
He made the announcement after receiving 51 per cent support in a leadership review vote by party rank and file. He said the result reflects a deep division in the party that won't be fixed if he stays premier.
The Opposition NDP continued to hammer away at what it calls the "interim UCP" government. It said while the government focuses on its internal drama, Albertans are facing real challenges, including inflation, high gas and utility costs and long waiting lists for surgery.
"(There's) all kinds of uncertainty in Alberta politics right now, but one constant (is) this premier's self-importance," NDP finance critic Shannon Phillips told Kenney as he sat across the aisle from her, signing documents and answering questions in the house.
"Anyway," Phillips added, "enough about yesterday's man."
This report by The Canadian Press was first published May 24, 2022.
Oilers outlast Flames to grab 3-1 series lead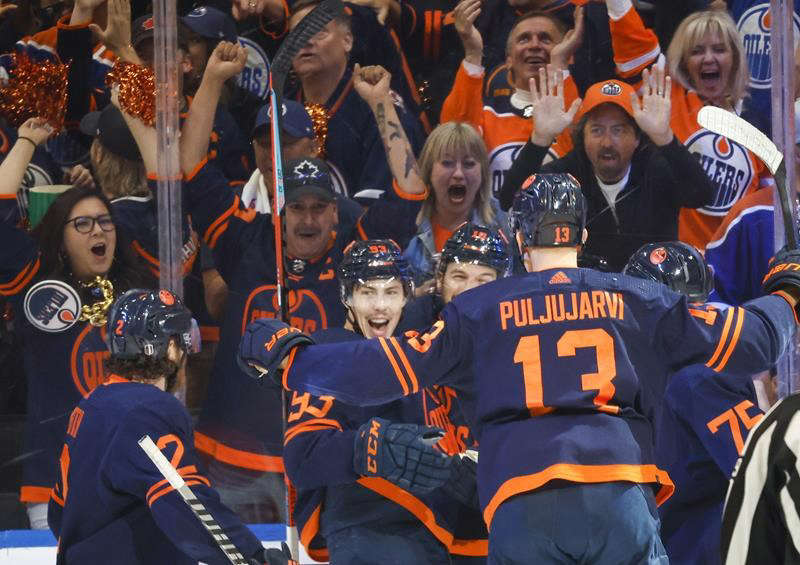 EDMONTON — Ryan Nugent-Hopkins scored his second goal of the night with 3:27 left in regulation as the Edmonton Oilers defeated the Calgary Flames 5-3 on Tuesday to take a 3-1 lead in the teams' second-round playoff series.
Evander Kane, with his NHL-best 11th and 12th of the post-season, and Zach Hyman had the other goals for Edmonton, which got 29 saves from Mike Smith. Leon Draisaitl added two assists.
Connor McDavid also had two assists to give him a league-topping 25 points in 11 playoff outings this spring for the Oilers, who kept their foot on the gas with a third straight victory over their provincial rival.
Elias Lindholm, Mikael Backlund and Rasmus Andersson, on a short-handed goal from his own end in the third period to tie proceedings 3-3, replied for Calgary, which will look to stave off elimination in the first post-season Battle of Alberta in 31 years Thursday at home in Game 5.
Jacob Markstrom stopped 21 shots.
After trailing 3-0 after the first period and 3-2 through 40 minutes, Calgary improbably knotted things in the third on an Edmonton power play when Andersson fired a 150-foot clearing attempt from his own end that somehow fooled Smith at 10:56 and stunned Rogers Place.
But with the Oilers wobbling, Nugent-Hopkins shovelled home his fourth of the playoffs from Markstrom's doorstep to send the nervous crowd into a frenzy.
Andersson then took a four-minute penalty for high-sticking with 2:40 left to effectively kill off the game before Kane iced it into an empty net.
Edmonton also held a 2-1 series lead in the first round against the Los Angeles Kings only to play what the Oilers described as their worst performance of the month in a 4-0 loss.
They won't be thrilled with this Game 4 either, but got the victory for a stranglehold on the series.
Markstrom, who had allowed 14 goals in the series before getting pulled after two periods with Calgary trailing Sunday's Game 3 by a 4-0 score line, played the puck behind his own net on the first shift, but put it right on Nugent-Hopkins' stick for him to bury his third inside a deafening arena.
The goal was the third-fastest in Oilers' playoff history, just short of McDavid (19 seconds in 2020) and Fernando Pisani (16 seconds in 2006).
One of three finalists for the Vézina Trophy as the NHL's top netminder, Markstrom recovered to deny Darnell Nurse on a chance a couple minutes later before Smith was at full stretch on a Johnny Gaudreau one-time chance.
Calgary winger Tyler Toffoli then took a tripping penalty and the Oilers made the visitors pay when Hyman outmuscled a hobbled Chris Tanev — back in the lineup for the first time since Game 6 of the opening round despite a suspected upper-body injury — in tight to bury his fifth goal of the series and seventh of the playoffs at 9:53.
The Flames, who topped the Pacific Division in the regular season, pushed back with a couple of decent shifts, but Kane, who was coming off a natural hat trick in Game 3, made it 3-0 with 66 seconds remaining in the period on a shot that nicked off blue-liner Nikita Zadorov.
Calgary finally showed some life on slick power play in the second with Kane off for slashing, and Lindholm eventually picked the top corner for his fifth at 9:04 after the Oilers twice failed to clear the defensive zone.
Backlund got the Flames within one at 3-2 just 36 seconds later when he stepped past Duncan Keith and fired his fourth past Smith.
Smith made a good stop on a Lindholm power-play chance early in the third before the home side got its second man-advantage with 11 minutes left in regulation.
Markstrom kept his team within striking distance with a terrific pad stop on Draisaitl, who was looking to become the first player in NHL history to register record three-plus points in four straight playoff games, with a terrific pad stop before Andersson's shocking equalizer from well inside his own blue line.
This report by The Canadian Press was first published May 24, 2022.
___
Follow @JClipperton_CP on Twitter.
Joshua Clipperton, The Canadian Press