Alberta Achievement – Teck, Cenovus Energy and Imperial relinquish leases to add to the largest boreal protected land in the world
The Ronald Lake Bison Herd in the newly established Kitaskino Nuwenëné Wildland
From the Province of Alberta
Historic agreement protects northern boreal forest
The newly created Kitaskino Nuwenëné Wildland conserves natural landscapes and watersheds, while supporting traditional Indigenous uses and sustainable development.
The wildland will preserve more than 160,000 hectares of land just south of Wood Buffalo National Park, protecting the Peace-Athabasca watershed and increasing ecological integrity and habitat for species at risk such as woodland caribou and the Ronald Lake Bison herd. Kitaskino Nuwenëné means "our land" in both Cree and Dene.
"This is a truly remarkable accomplishment and I'm thrilled that industry, government and Indigenous communities worked together to make this boreal protection plan a reality. The Kitaskino Nuwenëné Wildland will help sustain local wildlife, protect critical watersheds and ensure the exercise of treaty rights and traditional uses for future generations to come."
Initially proposed by Mikisew Cree First Nation, the wildland will safeguard their way of life while addressing concerns raised in a 2016 UNESCO report on Wood Buffalo National Park. It adds to the largest contiguous area of boreal protected land in the world.
"I am excited to be working together with the Province of Alberta, Mikisew Cree First Nation, industry partners and other Indigenous communities on this Quick Start project as part of Canada's Nature Legacy. This is a great example of what can happen when we work together to protect important habitat for species at risk, like caribou and bison. This is an important milestone in creation and conservation which will help us reach our goal of doubling the amount of nature we're protecting in Canada's lands and oceans."
"We applaud the establishment of the Kitaskino Nuwenëné Wildland. Protecting this area is part of Mikisew's stewardship vision for our lands and waters. This new park will help conserve areas that are important to our people and provide greater certainty that Mikisew ancestral lands can be monitored and better protected. We appreciate the collaborative efforts by industry and the provincial and federal governments to make this park a reality and their recognition of our inherent commitment to protecting our rights, Wood Buffalo National Park, the Peace Athabasca Delta and resources like the Ronald Lake Bison Herd. Articles of the United Nations Declaration on the Rights of Indigenous Peoples are more clearly visible with this successful collaboration."
By voluntarily relinquishing oilsands and mining leases in response to Indigenous Peoples' concerns, industry champions Teck, Cenovus Energy and Imperial played a vital role in securing the land base for the new wildland.
"The creation of this new protected area shows what is possible when Indigenous communities, government and industry build strong relationships and work together. Teck is honoured to have worked closely with Indigenous communities, especially the Mikisew Cree First Nation and Athabasca Chipewyan First Nation, to preserve this culturally – and ecologically – important region."
"Imperial is pleased to support the work by the Mikisew Cree First Nation to champion this significant community-industry-government initiative leading to the creation of this new protected area. This area of high biodiversity potential supports the ecological integrity of Wood Buffalo National Park and promotes the long-term stewardship of areas and resources that are critical to the continuation of Indigenous rights and cultures."
Previously proposed as the Biodiversity Stewardship Area, the new wildland is the result of months of collaborative discussion between Indigenous groups, industry and other stakeholders, and federal and provincial governments, as well as public consultation.
Saskatchewan ranchers call for investigation into retail meat pricing
REGINA — A group of Canadian ranchers is calling for an investigation into meat pricing.
The Saskatchewan Stock Growers Association says it's asking the provincial and federal governments to look into what it calls an "imbalance" between the price ranchers receive for the cattle and the price consumers pay at the meat counter.
The group says many ranchers and feedlots are operating at a loss this year. Grass is still scarce on the Prairies due to last summer's drought, and the cost of feed grain and fuel has skyrocketed since last year.
But packers and retailers are reporting strong profits this year. The Stock Growers say they believe slaughterhouses may be intentionally running fewer shifts to in order to keep wholesale beef prices high and allow fed cattle supplies to build up in the countryside.
In the U.S., the Biden administration has already expressed concerns about rising meat prices and vowed to implement policies aimed at increasing competition in the meat-packing sector.
According to Statistics Canada, the retail price of beef is up 11.2 per cent year-over-year.
This report by The Canadian Press was first published July 5, 2022.
The Canadian Press
First test production of plastic a milestone for Heartland Petrochemical Complex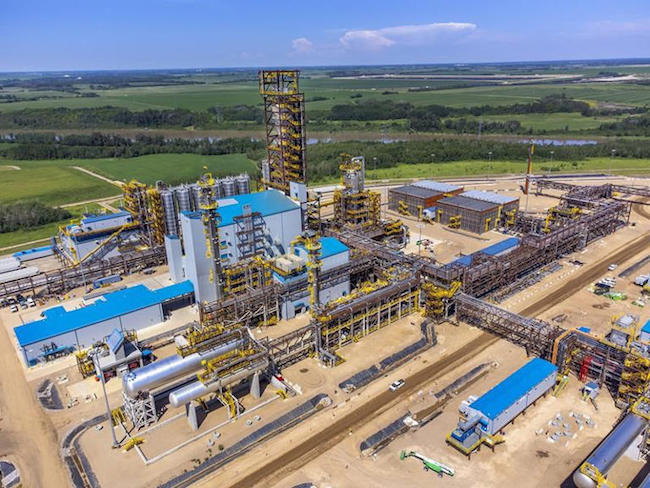 CALGARY — The $4.3-billion Heartland Petrochemical Complex, which has been under construction northeast of Edmonton since 2018, has produced its first plastic pellets.
Owner and operator Inter Pipeline Ltd. said Tuesday the newly commissioned facility has been producing test pellets steadily since late June, an important milestone en route to the expected start of full commercial operation sometime this fall.
The Heartland Petrochemical Complex will convert Alberta propane into 525,000 tonnes per year of polypropylene beads, an easily transported form of plastic that is used in the manufacturing of a wide range of finished products.
Steven Noble, spokesman for Calgary-based Inter Pipeline, said the facility will be the first integrated propane dehydrogenation and polypropylene production facility in North America. He said approximately 70 per cent of Heartland's total production capacity has been already contracted out to long-term customers.
"Through the duration of the project's construction, we've seen demand for polypropylene increase significantly … including at one point hitting an all-time record (market price)," Noble said in an interview. "The demand that we initially forecast certainly hasn't gone away."
The Heartland facility is being built with the support of a $408-million grant from Alberta's provincial government. The cash grant, part of an incentive program aimed at growing the province's petrochemicals sector, is to be paid to Inter Pipeline in equal instalments over three years once the complex is operational.
Noble said by creating a new market for propane, the Heartland facility is an example of how natural resource development in Alberta is diversifying.
"The fact that we're now looking at our raw resources in a different way, and figuring out different ways to get value out of them and create other refined products right here at home … is really the part of the story that everyone here is excited about," he said.
The Heartland Petrochemical Complex is expected to employ 300 people once fully operational.
The polypropylene produced at the facility will be branded as Heartland Polymers.
This report by The Canadian Press was first published July 5, 2022.
Amanda Stephenson, The Canadian Press