City Council setting the tone for the long run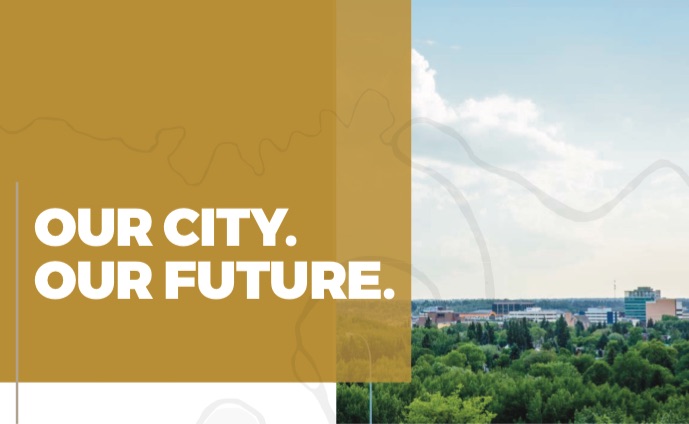 City Council to consider 2023 – 2026 Strategic Plan
Innovative Thinking. Strategic Results. Vibrant Community. These are the vision statements that extend throughout the 2023-2026 Strategic Plan that Council will consider during their regular meeting on Monday. The Strategic Plan outlines Council's priorities and direction for The City during the course of Council's term.

"We are proud of our innovative and collaborative approach to developing the 2023-2026 Strategic Plan. This plan is truly the result of good process and listening to citizens who contributed through the Shape your Red Deer public participation that took place this spring," said Mayor Ken Johnston. "Our plan is a blueprint for the important work The City of Red Deer undertakes for the benefit of the entire community; this visioning allows us to make decisions that are not only right for our citizens today, but for years to come so we can become the community we all aspire to be."

The key principles that will guide The City's work include respect, new ways of doing, future-focused, citizen-centric service and financial sustainability. The plan also includes three focus areas with outcomes to be achieved by 2026:
Thriving City: A thriving local economy, driven by a healthy business community and vibrant downtown is paramount, while continuing to protect and enhance the environment.
Community Health and Wellbeing: Red Deerians cherish the spaces, places and year-round experiences Red Deer offers to promote physical, mental, and social wellbeing. The community is proud of the welcoming and inclusive city Red Deerians call home.
Connected and Engaged City: Council engages with citizens in ways that build strong, respectful, and collaborative relationships. Citizens feel valued and included in decisions about their city.
"The strategic planning process doesn't end once developed and adopted by Council. Each department and division will be aligning their service delivery to the Strategic Plan," said Tara Lodewyk, City Manager. "We will regularly report on our progress towards achieving each outcome in public and visible ways."
The Strategic Plan is a key planning document for The City of Red Deer as it is City Council's direction to administration. The development process begins every four years, following the municipal election and sets the direction for the organization for the duration of a Council's term. Once approved, the Strategic Plan provides the foundation for many of The City's decisions, including financial resource allocation through the upcoming budget process.
To read more about the Strategic Plan, including previous plans, and how public engagement shaped the plan visit www.reddeer.ca/strategicplan.
Woody's Spray Park among three recreation facilities to be enhanced by donation from Red Deer business leader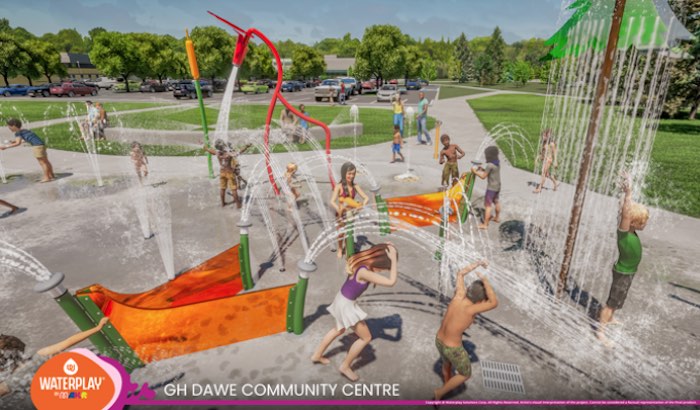 Enhancing recreation through community partnership
A long time community supporter and local business owner is contributing to three recreation amenities within Red Deer through personal financial contribution. Woody Paylor has graciously donated funds that will see the replacement of a community park and the naming of the new spray park and a current athletic park.
Woody's contribution will be honoured for years to come with the naming of the new spray park at G.H. Dawe Community Centre, which will be named Woody's Spray Park; and the track at Lindsay Thurber Comprehensive High School will be named Woody's Athletic Park. A portion of the contribution will also be used to replace the playground at the Bower-Kin Community Centre.
"Over the years, Woody has supported many community initiatives that lead to enhanced quality of life for Red Deerians. He is passionate about initiatives that enable individuals of all ages and abilities to have opportunities to get outdoors, be active, and build community in a city they call home," said Mayor
Ken Johnston. "His financial contribution to the three amenities speaks to this and will leave a lasting legacy on our beloved recreation amenities for generations to come."
Each of the three amenities that will benefit from his generosity have a personal connection to him and his family. The track is where he and his family have spent numerous hours training and supporting annual community events. The Bower-Kin park has provided hours of entertainment to the youth
connected to his family as well as the surrounding neighborhood. The spray park will bring joy to generations for many years to come, as one of the many enhancements occurring at the G.H. Dawe Community Centre.
"Red Deer and Central Alberta have been very kind to my family and supported our business in tremendous ways. I feel privileged to give back to a community we care about. The outdoor trails and parks have been the jewel of our city and my family wants to see that continued," said Woody Paylor.
"My wife Val and I have spent many hours at community playgrounds, and we are excited to be part of building one together with the Bower Community Association. Our entire family has enjoyed events at the track, and we are thrilled to see this amenity continue to provide a similar experience for others in
the community".
The City will coordinate the playground replacement. As part of the design process, the neighbourhood will be involved in the playground design through engagement with the Bower-Kin Community Association that will help bring the vision to life. Planning is anticipated to begin over the winter, with construction to take place in the spring and summer of 2023.
Woody's Athletic Park has preplanned construction beginning in Summer 2023 with an anticipated completion by Fall 2023. Woody's Spray Park has an anticipated opening of early Summer 2023.
The City will be hosting community events for each of these amenities upon completion, where we can celebrate Woody's legacy in our community.
Woody's commitment to community spirit, togetherness, and active living, are all exemplified with this generous contribution. The contribution amount and the terms of the agreement will not be publicly disclosed. Although Woody wishes these terms remain confidential, we can share that it is one of the
largest personal contributions made to City recreation spaces.
The G.H. Dawe Community Centre Expansion project is expected to be open in late February 2023, with Woody's Spray Park opening in the summer of 2023. For more information on the project, visit www.reddeer.ca/daweexpansion.
City's Culture Development Fund provides arts groups with nearly $350,000 in grants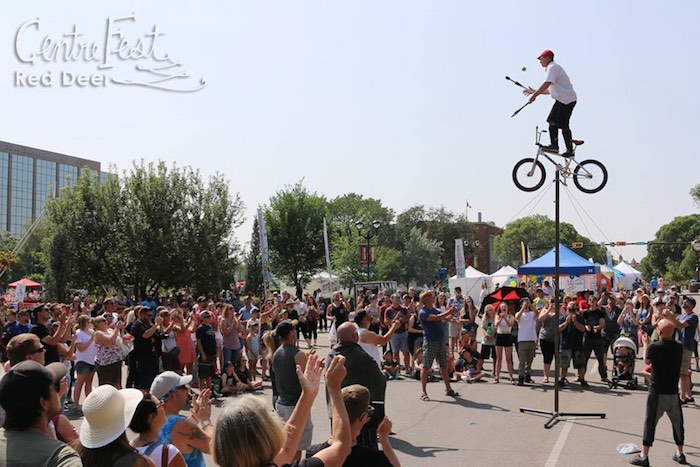 Community Culture Development Fund continues support of local arts, culture and heritage groups
16 not-for-profit organizations in Red Deer have been granted a total of $346,825 in multi-year funding from The City of Red Deer's Community Culture Development Fund – Culture Development Category.The Community Culture Development Fund has provided financial support to not-for-profit organizations delivering arts, culture, and heritage initiatives in our community since 2000. Grant funds are intended to assist organizations, build their capacity to provide a service, manage a cultural facility, act as an umbrella organization for other cultural organizations, develop new cultural programs and services, and/or produce a community-based special event or festival.

The Culture Development Category provides long term support (up to three years) to service providers to offset operational costs required to deliver culture programs and services within the community. A maximum of $30,000 is available per application, and eligible organizations may submit multiple applications.

$573,875 was requested of the $400,000 in available funds for this funding cycle and approximately 60 per cent of requests were approved. $20,000 was assigned to the next intake of the Community Culture Development Fund – Culture Opportunities Category in 2023. The remaining funds of $33,175 have been allocated to the next intake of the Culture Development Category.

"The City is proud to support the variety of events and educational opportunities provided to Red Deerians by these important community organizations," said Bobby-Jo Stannard, Community Development Superintendent. "From arts, music and children's theatre to heritage, improv and annual festivals, the vibrancy of Red Deer's arts scene is evident from this list of not-for-profit groups."

The following organizations were each awarded three years of funding for the 2023-2025 funding cycle.
Organization
Amount
Approved
per year
Project description/support for:
Central Alberta Chamber Orchestra
$10,000.00
Central Alberta Chamber Orchestra regular season concerts, educational and community outreach performances
African Caribbean Centre of Central Alberta
$5,000.00
Annual Red Deer Afro-Caribbean Festival
Against the Wall Theatre Society
$9,375.00
Improvisational theatre programming, education and performance
Association Canadienne Francophone de l'Alberta Regionale de Red Deer (French Canadian Association of Alberta, Red Deer Region)
$5,000.00
A bilingual Celebration of Winter event
Central Alberta Film Festival Association
$10,000.00
Growth and expanded engagement: annual Central Alberta Film Festival, educational workshops and film challenges
Friends of Sunnybrook Farm Society
$30,000.00
Sunnybrook Farm Museum programs: preservation, education, entertainment and access to historic site
Norwegian Laft Hus Society
$15,000.00
Expanding public cultural and educational programming
Prime Stock Theatre Co. Society
$30,000.00
Bard on Bower outdoor summer Shakespeare festival
Red Deer Arts Council
$30,000.00
Arts presentation programming
Red Deer Arts Council
$30,000.00
Arts outreach programming
Red Deer Arts Council
$15,000.00
Arts development programming
Red Deer Cultural Heritage Society
$30,000.00
Canada Day celebrations
Red Deer Family Services
$15,000.00
Central Alberta Children's Festival
Red Deer Festival of Performing Arts Society
$25,000.00
Annual Red Deer Festival of the Performing Arts
Red Deer Pottery Club
$5,450.00
Year-round ceramic arts program opportunities for members and community outreach programs
Red Deer Summer CentreFest Society
$30,000.00
CentreFest Street Performer Festival
Red Deer Symphony Orchestra Association
$12,000.00
Symphony @ the Snell programming
Red Deer Symphony Orchestra Association
$20,000.00
RDSO Community Concerts: Accessible performances in the community
Tree House Youth Theatre Society
$20,000.00
Tree House Youth Theatre skill development programs and productions