Canada's Feedlots Facing an Uncertain Future
Canada's Feedlots Facing an Uncertain Future
The coronavirus has taken a huge toll on the North American meat industry. As the virus continues to claim the lives of workers and workplace conditions become unsafe, many meat processing plants simply haven't been able to adequately staff their facilities. Subsequently, many plants and feedlots — including leading brands in Alberta — have temporarily shut down operations.
Other big names that haven't experienced outbreaks in their facilities have managed to remain open or at least reopen and function at a lower capacity. However, even these cattle feedlots and processing plants are facing an uncertain future as the pandemic drags on.
A Dip in Demand
In addition to facility outbreaks, a dip in demand for pork, poultry and beef has also resulted in major setbacks for feedlots and slaughterhouses. Since officials issued stay-at-home orders three months ago, restaurants and butchers haven't been ordering as much meat from big-industry meat processors. Instead, with no guests to serve or customers to whom they might sell prime cuts, these businesses have dramatically cut their orders.
Of course, the meat industry wasn't expecting this sudden decrease in demand. As cows continued to birth calves and inventory built up in feedlots, these companies were left with no other choice than to cull thousands of animals per day and discard the carcasses. Obviously, this represents a massive amount of waste as well as a huge loss of profit.
Selling Calves
Many small farmers and large industrial developments also worry they'll lose money this fall when it comes time to sell calves. These cow-calf operations usually generate a decent amount of revenue when the economy is good. In light of recent events, however, market conditions aren't exactly prime for selling calves.
Moreover, as feedlots reach and exceed maximum capacities, the animals will most likely become more anxious. This increase in stress levels will negatively impact their immune systems and, ultimately, the quality of meat that comes from them. Consequently, this fall's herd may not be as healthy as the last, meaning they'll sell for much less and leave feedlots and meat processors in the red.
Assistance and Adjustments
Early last month, the Canadian government announced it would provide $252 million in federal assistance to the agri-food sector. The vast majority of this federal aid will go to processing plants in hopes of better-protecting workers and helping facilities function at full capacity once again. Still, as long as demand is low, it's unlikely the industry will bounce back quickly — even with financial assistance. At best, this money will help keep the industry afloat until restaurants and eateries fully reopen.
Additionally, meat processing plants that have remained open or resumed operations are beginning to consciously cut their inventory and production output to meet the decrease in demand. While this will help the meat industry, it may cause issues for fast-food chains and restaurants that may experience shortages as a result.
Is the Worst Yet to Come?
Over the past few weeks, some major meat processors and cattle feedlots have begun to reopen. Already, they're back to processing 60,000 cattle per week. However, prices aren't rising for consumers, thus showcasing the resiliency of the Canadian food system. In the coming months, bottlenecks should stop and business should be able to return to normal — as long as a second and third wave of coronavirus cases don't sweep the nation.
In the future, the meat industry might invest more in expanding local and regional food supply chains. This way, if Cargill, National Beef, JBS and Tyson — which own more than 80% of the beef supply — shut down again, small ranchers could provide meat for their communities. Thus, the industry wouldn't face such an uncertain future if another pandemic were to occur.
Canadian Federal Government Taking Measures to Reduce Impact of COVID-19 on Agriculture
UFA announces Farm & Ranch Supply story in Gasoline Alley along with historic $28 million patronage membership dividend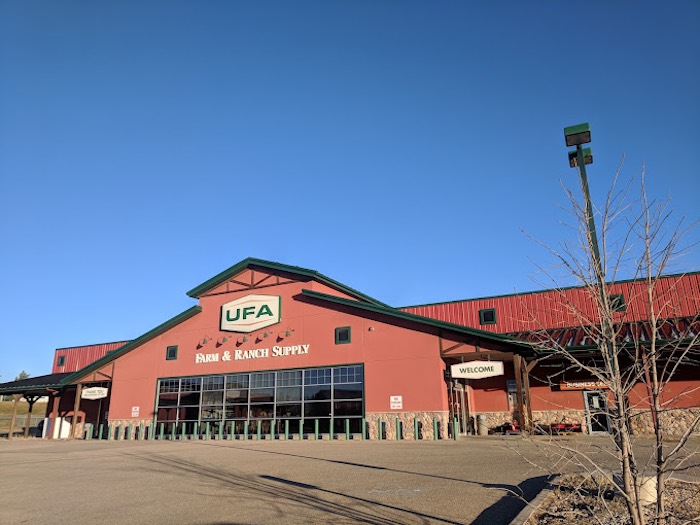 UFA Announces $28 Million Patronage Dividend
UFA shared big news today announcing a historic patronage dividend of $28 million back to its membership and fully opening two new locations in Saskatchewan!
UFA has consistently delivered patronage to its members, this marks the sixth consecutive year of increased patronage and a 56 per cent increase over last year.
One of the primary benefits to being a co-operative member is patronage, and this year's patronage dividend is truly significant. We have expanded our patronage program to reward our membership by paying on more categories of purchases. More products our members use daily on their farm, ranch, or for their business now earn them patronage rewards. We are proud to grow and deliver patronage consistently. At UFA, members can count on their co-operative and on patronage.
Scott Bolton, President and CEO, UFA
With a minimum $5,000 purchased in 2022, Patronage will be paid on Clear and Dyed Dieselex® Gold (6 cents per litre), Clear and Dyed Diesel (5 cents per litre), Clear and Dyed Gasoline (1 cent per litre), and 3 per cent on most other purchases, excluding Micro Beef, crop nutrition (i.e. bulk fertilizer and micro-nutrients) and leased purchases.
We believe good business is rooted in investing in good relationships and consistently rewarding our membership with a growing patronage dividend demonstrates our commitment. We take great pride in our patronage program. As owners of UFA, our success is truly our members' reward.
Kevin Hoppins, Board Chair, UFA.
UFA had a very strong fiscal year. In addition to the $28 million patronage dividend, it reported $2.4 billion in financial revenues and $157 million in earnings before interest, taxes, depreciation, and amortization (EBITDA).
The co-operative continues to invest in core businesses. Along with a multi-phased Saskatchewan expansion, it increased its Dieselex Gold® offering with the premium product available at its new locations. UFA also unveiled plans for a new Red Deer Farm & Ranch Supply store location to be built in Gasoline Alley. It demonstrated its commitment to its customers launching UFA MarketPLACE, expanding its product selection and featuring products not otherwise available in its Farm & Ranch Supply stores. Most importantly, health and safety remained a key priority. UFA first received its COR Certification in 2007 and since 2013, has been consistently at or above a 95 per cent score, with an impressive final score of 96 per cent in the 2022 COR Audit.
In addition to the $28 million patronage announcement, UFA shared that it officially opened its doors in Weyburn and Yorkton. These sites are part of the expansion of UFA's petroleum business into key markets in central and eastern Saskatchewan.
We believe in the value of giving our members and customers choice. People living in or nearby these communities now have another option of where to spend their hard-earned dollars. Expanding our network is part of a concerted strategy to grow from an Alberta-focused fuel and agribusiness co-operative to a western-Canadian leader.
Scott Bolton, President and CEO, UFA
Meet the Weyburn and Yorkton Petroleum Agents
UFA is leveraging its agent operating model at its new locations. The agents are excited to serve their local communities and provide the excellent service that UFA is known for. Jason and Laura Lee Petersen will be operating Weyburn and Mark Lukash is the Yorkton agent.
The combination of a robust supply chain, one of the largest Cardlock networks in Western Canada, and strong agent partners is essential to the success of UFA's petroleum business.
Features of the new UFA petroleum locations:
Gasoline and Clear and Dyed Diesel

DEF

at the pump and UFA, Shell and Chevron branded lubricant products

High-speed pumps and wide lanes

State-of-the-art warehouse and office

Dieselex® Gold

. UFA is pleased to offer its exclusive diesel offering to Saskatchewan. This top-tier premium product is engineered to enhance fuel efficiency, reduce maintenance, and increase power.
UFA is the exclusive distributor of Dieselex® Gold
UFA also announced Dunmore and Saskatoon as the next locations in UFA's expansion strategy
The new Dunmore, Alberta petroleum location will complement UFA's solid operating presence in the region and will eventually replace UFA's existing petroleum site in the southwest end of Medicine Hat.
Saskatoon services a large portion of west and central Saskatchewan and has accessibility from Highway 16 for travelers along the corridor, including from Lloydminster. The new site will be able to service local industrial and agricultural businesses conveniently.
The 114-year-old member-owned co-operative will continue to grow to service major agribusiness, oil and gas and industrial centres throughout Western Canada. Dunmore, Alberta, and Saskatoon, Saskatchewan, locations will complement UFA's existing petroleum locations in Alberta and Saskatchewan.
UFA is committed to investing in our network and bringing our unique product selection to new locations throughout Western Canada. The regions around Dunmore, Alberta, and Weyburn, Yorkton and Saskatoon, Saskatchewan, and the other markets selected for additional locations are key marketsin Western Canada's agribusiness and industrial economy. The expansion project will provide significant investment throughout Western Canada and UFA looks forward to serving the local communities where the new petroleum sites will be located. Along with looking at new investment opportunities, we believe it is essential to give back to rural communities we serve, ensuring they thrive well into the future.
Don Smith, Vice President, Petroleum and Innovation, UFA.
Weyburn UFA Petroleum Agency
Founded in 1909, UFA Co-operative Limited is an Alberta-based agricultural co-operative with more than 120,000 member-owners. UFA's network comprises 113 bulk fuel and Cardlock Petroleum locations, 34 Farm & Ranch Supply stores and a support office located in Calgary, AB. Independent Petroleum Agents and over 1,000 UFA employees provide products, services and agricultural solutions to farmers, ranchers, members and commercial customers in Alberta, British Columbia and Saskatchewan.
11 states consider 'right to repair' for farming equipment
By Jesse Bedayn in Denver
DENVER (AP) — On Colorado's northeastern plains, where the pencil-straight horizon divides golden fields and blue sky, a farmer named Danny Wood scrambles to plant and harvest proso millet, dryland corn and winter wheat in short, seasonal windows. That is until his high-tech Steiger 370 tractor conks out.
The tractor's manufacturer doesn't allow Wood to make certain fixes himself, and last spring his fertilizing operations were stalled for three days before the servicer arrived to add a few lines of missing computer code for $950.
"That's where they have us over the barrel, it's more like we are renting it than buying it," said Wood, who spent $300,000 on the used tractor.
Wood's plight, echoed by farmers across the country, has pushed lawmakers in Colorado and 10 other states to introduce bills that would force manufacturers to provide the tools, software, parts and manuals needed for farmers to do their own repairs — thereby avoiding steep labor costs and delays that imperil profits.
"The manufacturers and the dealers have a monopoly on that repair market because it's lucrative," said Rep. Brianna Titone, a Democrat and one of the bill's sponsors. "(Farmers) just want to get their machine going again."
In Colorado, the legislation is largely being pushed by Democrats while their Republican colleagues find themselves stuck in a tough spot: torn between right-leaning farming constituents asking to be able to repair their own machines and the manufacturing businesses that oppose the idea.
The manufacturers argue that changing the current practice with this type of legislation would force companies to expose trade secrets. They also say it would make it easier for farmers to tinker with the software and illegally crank up the horsepower and bypass the emissions controller — risking operators' safety and the environment.
Similar arguments around intellectual property have been leveled against the broader campaign called 'right to repair,' which has picked up steam across the country — crusading for the right to fix everything from iPhones to hospital ventilatorsduring the pandemic.
In 2011, Congress passed a law ensuring that car owners and independent mechanics — not just authorized dealerships — had access to the necessary tools and information to fix problems.
Ten years later, the Federal Trade Commission pledged to beef up its right to repair enforcement at the direction of President Joe Biden. And just last year, Titone sponsored and passed Colorado's first right to repair law, empowering people who use wheelchairs with the tools and information to fix them.
For the right to repair farm equipment — from thin tractors used between grape vines to behemoth combines for harvesting grain that can cost over half a million dollars — Colorado is joined by 10 states including Florida, Maryland, Missouri, New Jersey, Texas and Vermont.
Many of the bills are finding bipartisan support, said Nathan Proctor, who leads Public Interest Research Group's national right to repair campaign. But in Colorado's House committee on agriculture, Democrats pushed the bill forward in a 9-4 vote along party lines, with Republicans in opposition even though the bill's second sponsor is Republican Rep. Ron Weinberg.
"That's really surprising, and that upset me," said the Republican Wood.
Wood's tractor, which flies an American flag reading "Farmers First," isn't his only machine to break down. His grain harvesting combine was dropping into idle, but the servicer took five days to arrive on Wood's farm — a setback that could mean a hail storm decimates a wheat field or the soil temperature moves beyond the Goldilocks zone for planting.
"Our crop is ready to harvest and we can't wait five days, but there was nothing else to do," said Wood. "When it's broke down you just sit there and wait and that's not acceptable. You can be losing $85,000 a day."
Rep. Richard Holtorf, the Republican who represents Wood's district and is a farmer himself, said he's being pulled between his constituents and the dealerships in his district covering the largely rural northeast corner of the state. He voted against the measure because he believes it will financially impact local dealerships in rural areas and could jeopardize trade secrets.
"I do sympathize with my farmers," said Holtorf, but he added, "I don't think it's the role of government to be forcing the sale of their intellectual property."
At the packed hearing last week that spilled into a second room in Colorado's Capitol, the core concerns raised in testimony were farmers illegally slipping around the emissions control and cranking up the horsepower.
"I know growers, if they can change horsepower and they can change emissions they are going to do it," said Russ Ball, sales manager at 21st Century Equipment, a John Deere dealership in Western states.
The bill's proponents acknowledged that the legislation could make it easier for operators to modify horsepower and emissions controls, but argued that farmers are already able to tinker with their machines and doing so would remain illegal.
This January, the Farm Bureau and the farm equipment manufacturer John Deere did sign a memorandum of understanding — a right to repair agreement made in the free market and without government intervention. The agreement stipulates that John Deere will share some parts, diagnostic and repair codes, and manuals to allow farmers to do their own fixes.
The Colorado bill's detractors laud that agreement as a strong middle ground while Titone said it wasn't enough, evidenced by six of Colorado's biggest farmworker associations that support the bill.
Proctor, who is tracking 20 right to repair proposals in a number of industries across the country, said the memorandum of understanding has fallen far short.
"Farmers are saying no," Proctor said. "We want the real thing."
___
Jesse Bedayn is a corps member for the Associated Press/Report for America Statehouse News Initiative. Report for America is a nonprofit national service program that places journalists in local newsrooms to report on undercovered issues.