Calgary Crime Group Linked to Fentanyl Lab, Drug Importation, Homicide
A year-long investigation by ALERT has dismantled an alleged organized crime group operating out of Calgary. ALERT worked alongside the Calgary Police Service and the U.S. Drug Enforcement Administration to link the group to numerous alleged criminal offences.
Project Arbour was an investigation by ALERT Calgary's organized crime and gang team that uncovered a Calgary organized crime group's alleged operation of a fentanyl and steroids lab; cross-border drug trade and Utah's largest meth seizure; and the alleged role in the murder of Colin Reitberger and Anees Amr. Project Arbour concluded on February 15, 2018, when several Calgary homes were searched and arrests were made.
"I want to applaud all investigators and officers involved in Project Arbour for helping to keep Alberta communities safe. Thanks to the hard work of ALERT, CPS and their partner agencies, this year-long investigation has taken deadly drugs off our streets," said Kathleen Ganley, Alberta Minister of Justice and Solicitor General. "Project Arbour is proof that ALERT's cooperative approach to policing works."
Project Arbour began shortly after 100 kilograms of meth was found in a vehicle occupied by three Calgary-area men in October 2016. The vehicle was stopped just south of Provo, Utah, and was part of an investigation by Utah Highway Patrol, DEA Los Angeles and DEA Salt Lake City. The seizure was described as the state's largest meth bust and it is believed the drugs were destined for Canada.
Since the record seizure and arrest, ALERT has worked alongside the DEA to share intelligence and enforcement strategies. It is the investigators' belief that the Canadians arrested were couriers and working for a Calgary-based organized crime group under the direction of Allistair Chapman. ALERT further alleges that the group was involved in the importation and exportation of drugs from Alberta, British Columbia, and the United States.
Meanwhile, north of the border, a suspected clandestine drub laboratory was located in Calgary as part of the investigation. A garage in the Rosscarrock area was allegedly being used to produce fentanyl and steroid pills. The RCMP's Clandestine Lab Enforcement and Response (CLEAR) Team dismantled the suspected lab and, in the process, seized a functioning pill press, pill press punch dies, a 50-litre powder mixer, and more than 17 kilograms of various chemical powders.
The pill press seized was capable of producing an estimated 18,000 pills an hour and the dies bore the stamps familiar to fentanyl of "80" and "CDN". The pill press was contaminated with fentanyl and submitted for destruction.
The RCMP CLEAR team was later utilized to dismantle a suspected cannabis resin manufacturing lab in the Cougar Ridge neighbourhood, where an additional 500 grams of suspected fentanyl powder was seized along with varying amounts of cannabis products.
A total of four search warrants were conducted during Project Arbour. In addition to the large quantities of drugs seized, investigators also seized five firearms – including two shotguns and three rifles – and body armour.
CPS has worked closely with ALERT on Project Arbour, as it is believed Colin Reitberger was killed because of his link to the drug trade and Anees Amr was an unintended target. Christian Ouellette was arrested weeks after the shooting in June 2017, and the 20-year-old is allegedly part of Chapman's criminal organization. Project Arbour yielded evidence to suggest that Blais Delaire, another member of Chapman's group, assisted Ouellette in obtaining the weapon used in the homicides.
Three other members of Chapman's group were arrested as part of Project Arbour: Matthew Speirs, 24; Drew Mann, 25; and Bryan Livingston, 32. A total of 46 charges have been laid related to drug offences, conspiracy to import/export, firearms trafficking, and participating/instructing a criminal organization.
Project Arbour resulted in the following items being seized:
5 firearms;
18 kilograms of suspected fentanyl powder;
Pill press and dies;
50-litre powder mixer;
7 kilograms of methamphetamine;
2 kilograms of cocaine;
700 grams of heroin;
8.5 kilograms of cannabis products; and
Two vehicles seized.
The powder substances have been submitted for complete chemical analysis and ALERT is awaiting the full results.
A number of partner agencies were involved in Project Arbour, including various teams within the Calgary Police Service and RCMP; RCMP Ridge Meadows; Alberta Sheriffs; Canada Border Services Agency (CBSA); Financial Transactions and Reports Analysis Centre of Canada (FINTRAC); and DEA offices in Salt Lake City, Los Angeles, Imperial County, and Vancouver.
Members of the public who suspect drug or gang activity in their community can call local police, or contact Crime Stoppers at 1-800-222-TIPS (8477). Crime Stoppers is always anonymous.
ALERT was established and is funded by the Alberta Government and is a compilation of the province's most sophisticated law enforcement resources committed to tackling serious and organized crime. Members of the Calgary Police Service, Edmonton Police Service, Lethbridge Police Service, Medicine Hat Police Service and RCMP work in ALERT.
Join us for our 2023 Induction Ceremony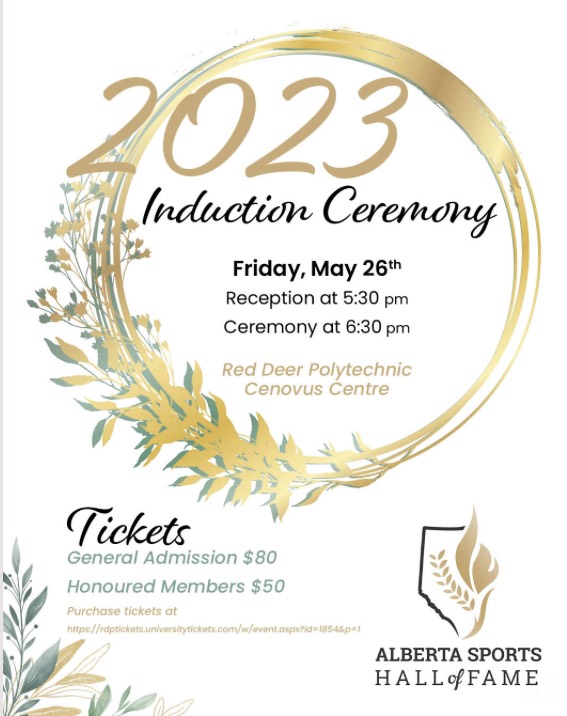 Our 2023 Induction Ceremony will be on Friday, May 26th at the Red Deer Polytechnic Cenovus Centre. Cocktails and appetizers will begin at 5:30 pm, with the ceremony starting at 6:30 pm. The class of 2023 is as follows:
Athletes
Andrew Buckley-Football
Mike Johnson-Baseball
Helen Upperton-Bobsleigh
Builders
Cara Currie Hall-Multisport
Allan Ferchuk-Multisport
Greg Peterson-Football
Lyn Radford-Multisport
Teams
Old Grizzlys 1991-1994-Hockey
Awards
Wilf Brooks-Achievement –Hockey
Mark Stephen-Bell Memorial – Radio Broadcaster
Dr. Marcus Dunsworth-Pioneer- Multisport
Tickets are $80 or $50 for Honoured Members. You can purchase your tickets by clicking here.
If you have any questions or need help purchasing tickets, please call 403-341-8614.
Honoured Member Cody Snyder to be Inducted into the Bull Riding Hall of Fame
Honoured Member Cody Snyder will be the first Canadian inducted into the Bull Riding Hall of Fame.
Cody started riding junior steers in rodeo competitions when he was eight years old, and at twelve, he finally rode his first bull. By the age of fifteen, Cody was the Canadian Amateur Bull Riding Champion. Through 1980 and 1981, Cody gained the experience he needed to lead the Canadian Professional Rodeo Bull Riding standings in 1982. He was nineteen years old. He was inducted into our Hall in 2002 as a Rodeo Athlete.
Learn more about this story by following the link below.
This newsletter is sponsored by the RBC Foundation.
Honoured Member Highlight – Allan Coulter
Volleyball Athlete – Inducted in 1997
Allan Coulter was a member of Canada's National Men's Volleyball Team from 1979 to 1992. He competed in over 700 international volleyball matches and was selected as Team Captain from 1988 – 1992. He competed in both the 1984 Summer Olympics and the 1992 Summer Olympics. He was described as the 'quickest hitting middle blocker' Canada has ever had. Allan continued to compete with the Calgary 'Canuck Volleyball Stuff' and became the spokesman, leader and role model for Canada's National Team Program.
Provincial Sport Organization: Volleyball Alberta
Their primary goal is to promote and develop volleyball at all levels throughout Alberta. Volleyball Alberta services the needs of its membership which consists of athletes, coaches, officials, and anyone interested in the sport of volleyball in the province.
Artifact in Focus!
F. E. Osborne Memorial Trophy: Tuxis Junior League Champions, Operated by Calgary Tuxis Coucil, Annual Competition. 1949-1957.
Honoured Member Dr. David Legg Teaches Adaptive Sports to Elementary Students
The Alberta Sports Hall of Fame partnered with Calgary Adaptive Hub and Honoured Member Dr. David Legg to teach students about adaptive sports.
Professor at the Mount Royal University department of Health and Physical Education, David is an engaging lecturer and supports his students in finding practical experience working with individuals with disabilities in adapted sport. He has devoted his life as a volunteer in sport for athletes with a disability at the provincial, national and international level. He was inducted in 2022 as a Paralympic/Multisport Builder.
Thank You Northern Alberta Curling Championship Society!
We want to give a huge shout-out to the Northern Alberta Curling Championship Society for sponsoring a new interactive for the Hall. The new curling rink is a great addition to our space.
If you or your organization would like to sponsor a new interactive for the Hall, please email us at [email protected] or call 403-341-8614.
Donate Now​
The Alberta Sports Hall of Fame needs your support to continue the ongoing preservation of Alberta's sports history and the development of museum exhibits. We are grateful and appreciative of the generosity of our supporters and friends. We would be happy to assist you in choosing how your personal legacy will be fulfilled and the many options available. Here is some information on donating shares to ASHFM and the benefits to you as a donor.
Alberta top court downgrades murder convictions in quadruple homicide case
Calgary – Alberta's top court has downgraded two convictions in a high-profile case involving the torture and killing of a man and the deaths of three others from first-degree to second-degree murder.
The Alberta Court of Appeal released the decision Friday in the cases of Tewodros Kebede and Yu Chieh Liao over the killing of Hanock Afowerk.
Afowerk's body was found in a ditch outside Calgary in July 2017. He had been bound, beaten, strangled and shot.
Three other bodies were found in Afowerk's burnt-out car at a suburban construction site. No murder charges have been laid in those deaths.
Court heard that Afowerk's death was the culmination of a plot to kidnap him and extort him for money. The jury agreed with the Crown that Afowerk's killing had been part of the plan from the start.
But the Appeal Court said the trial judge failed to explain that while the kidnapping and beating had clearly been planned, Afowerk's killing may not have been. It suggested the defendants may have not have been recruited to kill him.
The Crown relied heavily on a text message sent by Kebede before the killing, which read: "U up for the job tonight?", as evidence of planning. But because the recipient of that message didn't testify to it, the Appeal Court concluded its meaning was unclear.
The court gave the Crown the choice of retrying the case or substituting second-degree verdicts. It chose the latter.
The court dismissed the defendants' application for a new trial
"Following the trial judge's instructions, the jury must have found by their verdict that both appellants actively participated in the murder of Mr. Afrowerk," the Appeal Court said in its written judgment.
"Both would therefore be properly convicted of second-degree murder. Accordingly, there will be no prejudice to the appellants if we substitute the verdicts to reflect that fact."
Kebede and Liao must now reappear before the trial judge for sentencing.
The change does not affect Kebede's and Liao's convictions involving the deaths of the other three victims.
Liao was found guilty of being an accessory in the murders of Cody Pfeiffer, Glynnis Fox and Tiffany Ear, whose remains were found in Afowerk's charred car.
Kebede was convicted of being an accessory in Pfeiffer's murder.
This report by The Canadian Press was first published Dec. 23, 2022.
— By Bob Weber in Edmonton