Around Red Deer May 10th…..
12:29 pm – Red Deer RCMP are investigating what's considered to be the non-suspicious death of a man near Kin Kanyon. Read More.
12:06 pm – Lacombe City Council has approved amendments to the Southeast Area Structure Plan in order to facilitate redevelopment in the industrial area of the plan and ensure alignment with the City's 2015 Municipal Development Plan (MDP). Chief Administrative Officer Dion Pollard says in a release that "They do not change the overall intent or proposed land uses of the area; rather they ensure that future developments within the area align with the City's current development standards."
12:02 pm – The Town of Innisfail is excited to announce the opening of new RV dump station on Friday, May 19! Read More.
Fore more local news, click here!
12:01 pm – Innisfail's annual fire hydrant maintenance and flushing program is now underway. Read More.
11:57 am – The Town of Sylvan Lake handed out it's Leaders of Tomorrow Excellence Awards on Monday! Find out who was recognized!
11:54 am – Sylvan Lake Town Council has amended it's bylaw that regulates the hours in which licensed establishments may serve alcohol, and provide outdoor entertainment. Check this week's Town Council Highlights!
For more local news, click here!
11:51 am – Street sweeping continues in Sylvan Lake today as well. Read More.
11:50 am – Crews with the Town of Sylvan Lake have figured out what's up with that water leak at the intersection of 50th Street and 47th Avenue. Read More.
11:37 am – Street sweeping continues in Lacombe today: on Onyx Ave, Opal Cl, Fieldstone Blvd, Hearthstone Dr, Knightsbridge Rd, Telford Cr and Pickwick Lane. Don't forget to move your vehicles!
For more local news, click here!
11:32 am – The Blackfalds Fire Department is hosting an Open House and BBQ tonight to mark National Emergency Preparedness Week. Read More.
11:26 am – May 7-13 is National Emergency Preparedness Week. Please join the Penhold Fire Department on Wednesday May 10 at 6:30 pm for an open house and BBQ. There will be some excellent information on hand for everyone.
11:17 am – Street sweeping continues in Red Deer's Sunnybrook South and Bower neighbourhoods today. Read More.
For more local news, click here!
10:04 am – There's a long list of FCSS events going on in Red Deer County over the coming weeks. Check them out here!
9:59 am – Find out more about Red Deer County's Rural Property Crime Prevention efforts with the RCMP. Details and Video Here.
9:49 am – There's a Town Hall Meeting with Red Deer County Division 6 Councillor Christine Moore tonight. The focus will be a Crime Prevention Strategy. It's 7:00 pm at the Poplar Ridge Hall.
For more local news, click here!
9:06 am – Red Deer RCMP are looking for the owner of a tandem bike that police recovered this week in some brush in the area of Taylor Drive and 22 Street. If your tandem bike was stolen recently, please contact Red Deer RCMP Exhibits staff at 403-406-2574 from Monday to Thursday between 8 am and 6 pm and Friday between 8 am and 3:30 pm. You will be asked to provide a description of the bike to prove ownership.
9:02 am – Red Deer County Council approved 2nd and 3rd reading of the municipal tax rate bylaw for 2017 at it's Regular Meeting on Tuesday, May 9th. In recognition of the continued economic challenges, Council has approved a zero percent increase in tax rates. Major projects for the year include Gasoline Alley road construction, bridge repairs and contributions to the Delburne Agriplex.
8:58 am – Street sweeping continues in Penhold today:
· Windsor Avenue (from Emma Street to Grey Street)
· Newton Drive (from Hayter Street to Robinson Avenue)
· Logan Avenue
· Hampton Close
· Hutton Place
For more local news, click here!
8:51 am – Heads up Red Deer motorists! City crews have a number of projects they're working on, so you can expect to see some road closures throughout the City over the next little while. Read More.
8:43 am – Maskwacis RCMP are pleased to advise that Azhlyn Buffalo that was previously reported as missing, has now been safely located. Mounties Thank the public and media for their help in finding her.
8:39 am – The Town of Penhold has provided an update on it's Capital Projects currently underway.
The Oxford Reservoir Water Main Feeder – Construction on this project is progressing. Minor traffic delays may be expected on Oxford Blvd.
Drainage Project in Lane Way behind Morton Close – The start of this project has been postponed. Expected start date is now

Monday May 15, 2017

.
Robinson Avenue Storm Line Project – Construction has been delayed. Work is expected to begin on

Tuesday May 23, 2017.
For more local news, click here!
8:32 am – June is Block Party month in Lacombe, so the City is excited to announce that for 2017 they will be giving away $100 gift cards to Lacombe CO-OP to help purchase party supplies. Register your June Block Party during the month of May to be entered for a chance to win. Draws will be made on June 1. Click here to download your registration package.
8:22 am – The G.H. Dawe Community Centre in Red Deer is closed from 8:30 am – 4:00 pm today due to a private function. Details Here.
8:17 am – The Netflix series, 13 Reasons Why, debuted on March 31, 2017, and is trending nationally as well as in the Red Deer Catholic Regional Schools community. Officials say this 13-hour series depicts strong and graphic themes of suicide, bullying, sexual assault, drug use, and other social issues. While District officials are unaware of any specific incidents related to the series, they want to provide parents with an opportunity to discuss the series with mental health professionals. That chance is tonight from 7:00 – 9:00 pm at St. Thomas Aquinas Middle School (3821 39 St, Red Deer, AB T4N 0Y6). All parents in the community are invited to attend.
For more local news, click here!
8:11 am – Students from Ecole Secondaire Notre Dame High School in Red Deer will showcase their talents at the annual Spring Evening of the Arts tonight. This event will take place in the school's Gathering Area.
8:07 am – The City of Red Deer has chosen St. Patrick's Community School to plant a tree on the West side of the school today. The school has invited the Mayor's office, as well as City Councillors to attend and celebrate Arbour Day with the school's Grade one and two students at 10:30 am!
8:01 am – Grade 7 Badminton players from St. Francis of Assisi Middle School in Red Deer will be competing at the CWAJHAA's today!
Most unused COVID-19 vaccines will expire at the end of the year: auditor general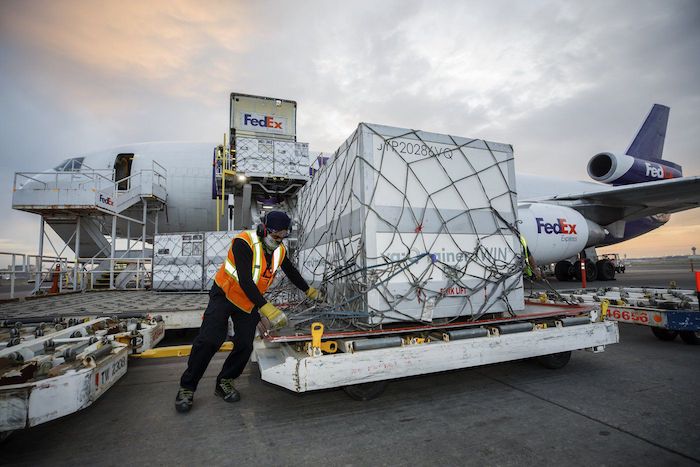 By Laura Osman in Ottawa
Tens of millions of doses of COVID-19 vaccines are likely about to expire and go to waste because of a failure to manage an oversupply, Canada's auditor general reported Tuesday — a failure with an estimated price tag of about $1 billion.
Karen Hogan has released the results of her office's investigation into the government's efforts to get ahold of COVID-19 vaccine doses in the early days of the pandemic, and track how many people got them.
The auditor gave the Public Health Agency of Canada and the Procurement Department a thumbs up when it came to quickly getting enough doses into the country to meet vaccination goals, but said the government did a much poorer job of managing all that supply.
"We found that the Public Health Agency of Canada was unsuccessful in its efforts to minimize vaccine wastage," Hogan wrote in the report.
The government knew that by signing advanced purchase agreements with a number of pharmaceutical companies there was a risk of buying up more COVID-19 vaccines than Canadians needed.
PHAC and the federal government signed deals with seven companies that were developing vaccines in 2020 and 2021, in case only a few them were approved by Health Canada.
So far six of those have been authorized by the drug review agency.
"In my view, it was a prudent approach given all the uncertainty back in 2020," she said at a press conference Tuesday.
The auditor found that about half of the 169 million doses the government paid for have made it into the arms of Canadians between December 2020 and May 2022.
The federal government announced plans to donate some 50 million surplus doses to other countries, but as of May 31 only about 15 million had been given away and another 13.6 million expired before they could be donated.
Canada has offered the remaining 21.7 million doses to other countries but so many countries are now offering donations that the market is saturated, Hogan said, and those vaccines will be wasted if they are not distributed soon.
There were also 32.5 million doses in federal and provincial inventories by the end of the audit period in May, worth about $1 billion, based on the auditor's estimate.
Hogan said in her report that the majority of those doses will expire by the end of 2022.
Hogan said the public health agency informed her that another 10 million have expired since the end of the audit and another 11 million were donated.
Part of the problem, she said, was that provinces and territories did not communicate and share data with PHAC.
"Although some provinces and territories consistently reported to the agency, the agency was unable to obtain complete data from most. This meant that the status of these doses was unknown and reduced the agency's ability to predict supply needs and plan for donations," the report said.
The auditor general's office and the public health agency itself warned for a decade before the COVID-19 pandemic that there were serious gaps in the federal and provincial health data sharing plans.
In January 2021, Deloitte Inc. was awarded a $59.1 million contract to come up with a national vaccine management system called VaccineConnect to share timely information about vaccine distribution, coverage and safety.
Some elements of that program were up and running on time, but others were delayed and the auditor found that PHAC was instead using spreadsheets to manually track expiration dates and waste as of June 2021.
The information silos made it difficult for vaccine companies to monitor national safety indicators of their products, as they've been ordered to by Health Canada.
"Companies cannot entirely fulfil this requirement when they do not have access to the necessary data on adverse events," the report said.
Hogan found two incidents in 2021 where companies learned of adverse effects to their vaccines from the media and urgently requested the data from the government, but couldn't get access to it for three months.
Canada is also the only G7 country that does not follow World Health Organization guidance to share case-level information about patients who have adverse effects after immunization, and instead sends only summary data.
This report by The Canadian Press was first published Dec. 6, 2022.
Federal Court of Appeal upholds all but one rule on airline compensation
OTTAWA — The federal court of appeal says it will uphold all but one ofthe rules that bolster compensation for air passengers subjected to delayed flights and damaged luggage.
The court on Tuesday dismissed the appeal that challenged the validity of the passenger bill of rights, with the exception of one regulation that applies to the temporary loss of baggage.
Air Canada and Porter Airlines Inc., along with 16 other appellants that include the International Air Transport Association had argued that the passenger rights charter launched in 2019 violates global standards and should be rendered invalid for international flights.
In court filings, the airlines argued the regulation exceed the Canadian Transportation Agency's authority and went against a multilateral treaty by imposing compensation requirements for flight cancellations or lost baggage that were too stringent.
The CTA and Attorney-General argued there is no conflict between the passenger protections and the treaty.
The FCA initially turned down a request from the airlines to suspend the Air Passenger Protection Regulations (APPR) in 2020.
This report by The Canadian Press was first published Dec. 6, 2022.
Companies in this story: (TSX:AC)
The Canadian Press