Around Red Deer May 10th…..
12:29 pm – Red Deer RCMP are investigating what's considered to be the non-suspicious death of a man near Kin Kanyon. Read More.
12:06 pm – Lacombe City Council has approved amendments to the Southeast Area Structure Plan in order to facilitate redevelopment in the industrial area of the plan and ensure alignment with the City's 2015 Municipal Development Plan (MDP). Chief Administrative Officer Dion Pollard says in a release that "They do not change the overall intent or proposed land uses of the area; rather they ensure that future developments within the area align with the City's current development standards."
12:02 pm – The Town of Innisfail is excited to announce the opening of new RV dump station on Friday, May 19! Read More.
Fore more local news, click here!
12:01 pm – Innisfail's annual fire hydrant maintenance and flushing program is now underway. Read More.
11:57 am – The Town of Sylvan Lake handed out it's Leaders of Tomorrow Excellence Awards on Monday! Find out who was recognized!
11:54 am – Sylvan Lake Town Council has amended it's bylaw that regulates the hours in which licensed establishments may serve alcohol, and provide outdoor entertainment. Check this week's Town Council Highlights!
For more local news, click here!
11:51 am – Street sweeping continues in Sylvan Lake today as well. Read More.
11:50 am – Crews with the Town of Sylvan Lake have figured out what's up with that water leak at the intersection of 50th Street and 47th Avenue. Read More.
11:37 am – Street sweeping continues in Lacombe today: on Onyx Ave, Opal Cl, Fieldstone Blvd, Hearthstone Dr, Knightsbridge Rd, Telford Cr and Pickwick Lane. Don't forget to move your vehicles!
For more local news, click here!
11:32 am – The Blackfalds Fire Department is hosting an Open House and BBQ tonight to mark National Emergency Preparedness Week. Read More.
11:26 am – May 7-13 is National Emergency Preparedness Week. Please join the Penhold Fire Department on Wednesday May 10 at 6:30 pm for an open house and BBQ. There will be some excellent information on hand for everyone.
11:17 am – Street sweeping continues in Red Deer's Sunnybrook South and Bower neighbourhoods today. Read More.
For more local news, click here!
10:04 am – There's a long list of FCSS events going on in Red Deer County over the coming weeks. Check them out here!
9:59 am – Find out more about Red Deer County's Rural Property Crime Prevention efforts with the RCMP. Details and Video Here.
9:49 am – There's a Town Hall Meeting with Red Deer County Division 6 Councillor Christine Moore tonight. The focus will be a Crime Prevention Strategy. It's 7:00 pm at the Poplar Ridge Hall.
For more local news, click here!
9:06 am – Red Deer RCMP are looking for the owner of a tandem bike that police recovered this week in some brush in the area of Taylor Drive and 22 Street. If your tandem bike was stolen recently, please contact Red Deer RCMP Exhibits staff at 403-406-2574 from Monday to Thursday between 8 am and 6 pm and Friday between 8 am and 3:30 pm. You will be asked to provide a description of the bike to prove ownership.
9:02 am – Red Deer County Council approved 2nd and 3rd reading of the municipal tax rate bylaw for 2017 at it's Regular Meeting on Tuesday, May 9th. In recognition of the continued economic challenges, Council has approved a zero percent increase in tax rates. Major projects for the year include Gasoline Alley road construction, bridge repairs and contributions to the Delburne Agriplex.
8:58 am – Street sweeping continues in Penhold today:
· Windsor Avenue (from Emma Street to Grey Street)
· Newton Drive (from Hayter Street to Robinson Avenue)
· Logan Avenue
· Hampton Close
· Hutton Place
For more local news, click here!
8:51 am – Heads up Red Deer motorists! City crews have a number of projects they're working on, so you can expect to see some road closures throughout the City over the next little while. Read More.
8:43 am – Maskwacis RCMP are pleased to advise that Azhlyn Buffalo that was previously reported as missing, has now been safely located. Mounties Thank the public and media for their help in finding her.
8:39 am – The Town of Penhold has provided an update on it's Capital Projects currently underway.
The Oxford Reservoir Water Main Feeder – Construction on this project is progressing. Minor traffic delays may be expected on Oxford Blvd.
Drainage Project in Lane Way behind Morton Close – The start of this project has been postponed. Expected start date is now

Monday May 15, 2017

.
Robinson Avenue Storm Line Project – Construction has been delayed. Work is expected to begin on

Tuesday May 23, 2017.
For more local news, click here!
8:32 am – June is Block Party month in Lacombe, so the City is excited to announce that for 2017 they will be giving away $100 gift cards to Lacombe CO-OP to help purchase party supplies. Register your June Block Party during the month of May to be entered for a chance to win. Draws will be made on June 1. Click here to download your registration package.
8:22 am – The G.H. Dawe Community Centre in Red Deer is closed from 8:30 am – 4:00 pm today due to a private function. Details Here.
8:17 am – The Netflix series, 13 Reasons Why, debuted on March 31, 2017, and is trending nationally as well as in the Red Deer Catholic Regional Schools community. Officials say this 13-hour series depicts strong and graphic themes of suicide, bullying, sexual assault, drug use, and other social issues. While District officials are unaware of any specific incidents related to the series, they want to provide parents with an opportunity to discuss the series with mental health professionals. That chance is tonight from 7:00 – 9:00 pm at St. Thomas Aquinas Middle School (3821 39 St, Red Deer, AB T4N 0Y6). All parents in the community are invited to attend.
For more local news, click here!
8:11 am – Students from Ecole Secondaire Notre Dame High School in Red Deer will showcase their talents at the annual Spring Evening of the Arts tonight. This event will take place in the school's Gathering Area.
8:07 am – The City of Red Deer has chosen St. Patrick's Community School to plant a tree on the West side of the school today. The school has invited the Mayor's office, as well as City Councillors to attend and celebrate Arbour Day with the school's Grade one and two students at 10:30 am!
8:01 am – Grade 7 Badminton players from St. Francis of Assisi Middle School in Red Deer will be competing at the CWAJHAA's today!
For more local news, click here!
Women's tennis tour suspends China events over Peng concerns
The head of the women's professional tennis tour announced Wednesday that all WTA tournaments would be suspended in China because of concerns about the safety of Peng Shuai, a Grand Slam doubles champion who accused a former high-ranking government official in that country of sexual assault.
Peng posted her allegations on social media last month.
WTA Chairman and CEO Steve Simon wrote in a statement that he doesn't believe China has addressed Peng's safety "in any credible way."
He said he doubts Peng is not subject to coercion and intimidation.
Simon repeated his call for a "full and transparent investigation — without censorship" into Peng's accusations.
___
More AP tennis: https://apnews.com/hub/tennis and https://twitter.com/AP_Sports
Howard Fendrich, The Associated Press
CNN suspends Chris Cuomo for helping brother in scandal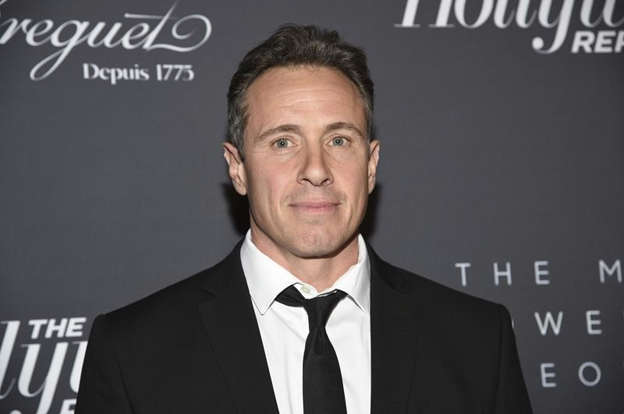 NEW YORK (AP) — CNN indefinitely suspended anchor Chris Cuomo on Tuesday after details emerged about how he helped his brother, former New York Gov. Andrew Cuomo, to face charges of sexual harassment earlier this year.
The network said documents released by New York's attorney general Monday indicated Cuomo took a greater level of involvement in his brother's efforts than CNN executives previously knew.
"As a result, we have suspended Chris indefinitely, pending further evaluation," the network said.
The CNN anchor pressed sources for information on his brother's accusers and reported back to the governor's staff, and was active in helping craft their response to the charges, according to emails and a transcript of his testimony to investigators working for state Attorney General Letitia James. Her office found Andrew Cuomo sexually harassed at least 11 women.
Chris Cuomo previously acknowledged talking to his brother and offering advice when the governor faced harassment charges. But the information released Monday revealed far more details about what exactly Chris Cuomo did. Andrew Cuomo resigned in August to avoid a likely impeachment trial.
Cuomo's program, which airs at 9 p.m. Eastern time on weeknights, averaged 1.3 million viewers, narrowly outpacing Anderson Cooper as CNN's most popular show, according to the Nielsen company. Like many cable newscasts, viewership is down significantly after being swollen during the election year.
Cuomo appeared on his program on Monday night, talking about COVID-19 and politics without mentioning his own issues.
There was no immediate response to a request for comment sent to Cuomo and the lawyer who represented him during this summer's testimony.
Anderson Cooper subbed for Cuomo on his show Tuesday.
During the first two months of the pandemic, Cuomo interviewed his brother on the air a number of times. It was a hit with viewers, although it violated CNN's policy of not having Cuomo report on his brother, and was a programming choice that has grown worse with time and additional revelations.
Chris Cuomo frequently consulted with his brother's aides when Andrew was fighting the charges last May, sometimes disagreeing with their advice.
"This is my brother, and I'm trying to help my brother through a situation where he told me he did nothing wrong," Cuomo testified last July to investigators at the attorney general's office.
He has said he did nothing to influence his own network's coverage of the story.
Cuomo also said he reached out to other journalists to find out whether they were writing stories about his brother, most notably seeking information on what Ronan Farrow of the New Yorker was writing. He acknowledged he didn't tell CNN he was doing this, and characterized his actions as nothing out of the ordinary for a journalist.
Critics have called on CNN to take action following the attorney general's release, with David A. Graham of The Atlantic saying Cuomo should resign — or be fired by CNN if he doesn't.
After it was first revealed last May by The Washington Post that Cuomo had consulted with his brother's aides, CNN released a statement saying that his actions were inappropriate, but it did not discipline him.
Cuomo, a lawyer, is 13 years younger than Andrew Cuomo, who he has described as his best friend. They are the sons of former New York Gov. Mario Cuomo, who was in office from 1982 to 1996.
He worked for several years at ABC News, joining CNN in 2013 as co-host of the network's morning show.
A veteran TV executive, Shelley Ross, wrote a column for The New York Times in September saying Cuomo had groped her at a party 16 years ago. Cuomo told the newspaper that "I apologized to her then, and I meant it."
David Bauder, The Associated Press