Around Red Deer May 10th…..
12:29 pm – Red Deer RCMP are investigating what's considered to be the non-suspicious death of a man near Kin Kanyon. Read More.
12:06 pm – Lacombe City Council has approved amendments to the Southeast Area Structure Plan in order to facilitate redevelopment in the industrial area of the plan and ensure alignment with the City's 2015 Municipal Development Plan (MDP). Chief Administrative Officer Dion Pollard says in a release that "They do not change the overall intent or proposed land uses of the area; rather they ensure that future developments within the area align with the City's current development standards."
12:02 pm – The Town of Innisfail is excited to announce the opening of new RV dump station on Friday, May 19! Read More.
Fore more local news, click here!
12:01 pm – Innisfail's annual fire hydrant maintenance and flushing program is now underway. Read More.
11:57 am – The Town of Sylvan Lake handed out it's Leaders of Tomorrow Excellence Awards on Monday! Find out who was recognized!
11:54 am – Sylvan Lake Town Council has amended it's bylaw that regulates the hours in which licensed establishments may serve alcohol, and provide outdoor entertainment. Check this week's Town Council Highlights!
For more local news, click here!
11:51 am – Street sweeping continues in Sylvan Lake today as well. Read More.
11:50 am – Crews with the Town of Sylvan Lake have figured out what's up with that water leak at the intersection of 50th Street and 47th Avenue. Read More.
11:37 am – Street sweeping continues in Lacombe today: on Onyx Ave, Opal Cl, Fieldstone Blvd, Hearthstone Dr, Knightsbridge Rd, Telford Cr and Pickwick Lane. Don't forget to move your vehicles!
For more local news, click here!
11:32 am – The Blackfalds Fire Department is hosting an Open House and BBQ tonight to mark National Emergency Preparedness Week. Read More.
11:26 am – May 7-13 is National Emergency Preparedness Week. Please join the Penhold Fire Department on Wednesday May 10 at 6:30 pm for an open house and BBQ. There will be some excellent information on hand for everyone.
11:17 am – Street sweeping continues in Red Deer's Sunnybrook South and Bower neighbourhoods today. Read More.
For more local news, click here!
10:04 am – There's a long list of FCSS events going on in Red Deer County over the coming weeks. Check them out here!
9:59 am – Find out more about Red Deer County's Rural Property Crime Prevention efforts with the RCMP. Details and Video Here.
9:49 am – There's a Town Hall Meeting with Red Deer County Division 6 Councillor Christine Moore tonight. The focus will be a Crime Prevention Strategy. It's 7:00 pm at the Poplar Ridge Hall.
For more local news, click here!
9:06 am – Red Deer RCMP are looking for the owner of a tandem bike that police recovered this week in some brush in the area of Taylor Drive and 22 Street. If your tandem bike was stolen recently, please contact Red Deer RCMP Exhibits staff at 403-406-2574 from Monday to Thursday between 8 am and 6 pm and Friday between 8 am and 3:30 pm. You will be asked to provide a description of the bike to prove ownership.
9:02 am – Red Deer County Council approved 2nd and 3rd reading of the municipal tax rate bylaw for 2017 at it's Regular Meeting on Tuesday, May 9th. In recognition of the continued economic challenges, Council has approved a zero percent increase in tax rates. Major projects for the year include Gasoline Alley road construction, bridge repairs and contributions to the Delburne Agriplex.
8:58 am – Street sweeping continues in Penhold today:
· Windsor Avenue (from Emma Street to Grey Street)
· Newton Drive (from Hayter Street to Robinson Avenue)
· Logan Avenue
· Hampton Close
· Hutton Place
For more local news, click here!
8:51 am – Heads up Red Deer motorists! City crews have a number of projects they're working on, so you can expect to see some road closures throughout the City over the next little while. Read More.
8:43 am – Maskwacis RCMP are pleased to advise that Azhlyn Buffalo that was previously reported as missing, has now been safely located. Mounties Thank the public and media for their help in finding her.
8:39 am – The Town of Penhold has provided an update on it's Capital Projects currently underway.
The Oxford Reservoir Water Main Feeder – Construction on this project is progressing. Minor traffic delays may be expected on Oxford Blvd.
Drainage Project in Lane Way behind Morton Close – The start of this project has been postponed. Expected start date is now

Monday May 15, 2017

.
Robinson Avenue Storm Line Project – Construction has been delayed. Work is expected to begin on

Tuesday May 23, 2017.
For more local news, click here!
8:32 am – June is Block Party month in Lacombe, so the City is excited to announce that for 2017 they will be giving away $100 gift cards to Lacombe CO-OP to help purchase party supplies. Register your June Block Party during the month of May to be entered for a chance to win. Draws will be made on June 1. Click here to download your registration package.
8:22 am – The G.H. Dawe Community Centre in Red Deer is closed from 8:30 am – 4:00 pm today due to a private function. Details Here.
8:17 am – The Netflix series, 13 Reasons Why, debuted on March 31, 2017, and is trending nationally as well as in the Red Deer Catholic Regional Schools community. Officials say this 13-hour series depicts strong and graphic themes of suicide, bullying, sexual assault, drug use, and other social issues. While District officials are unaware of any specific incidents related to the series, they want to provide parents with an opportunity to discuss the series with mental health professionals. That chance is tonight from 7:00 – 9:00 pm at St. Thomas Aquinas Middle School (3821 39 St, Red Deer, AB T4N 0Y6). All parents in the community are invited to attend.
For more local news, click here!
8:11 am – Students from Ecole Secondaire Notre Dame High School in Red Deer will showcase their talents at the annual Spring Evening of the Arts tonight. This event will take place in the school's Gathering Area.
8:07 am – The City of Red Deer has chosen St. Patrick's Community School to plant a tree on the West side of the school today. The school has invited the Mayor's office, as well as City Councillors to attend and celebrate Arbour Day with the school's Grade one and two students at 10:30 am!
8:01 am – Grade 7 Badminton players from St. Francis of Assisi Middle School in Red Deer will be competing at the CWAJHAA's today!
As MPs urge support, Trudeau demurs on whether government backs COVID-19 waiver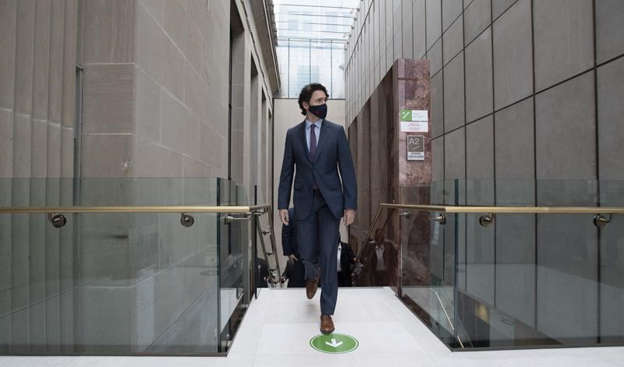 WASHINGTON — Justin Trudeau stopped well short Friday of endorsing efforts to lift the veil on the trade secrets behind COVID-19 vaccines, insisting instead that Canada is already doing plenty to improve access to doses around the world.
Those efforts include taking earnest part in negotiations at the World Trade Organization about a possible waiver to the rules that protect those secrets, the prime minister told a news conference.
But whether he believes such a step would have the desired effect of rapidly increasing the supply of vaccines in the developing world, Trudeau pointedly refused to say.
"We need to emphasize that these are multilateral discussions with a great number of countries who all have different perspectives," he said in French when asked if he supports the idea.
"Canada is at the table to help find a solution. We're not blocking any negotiations; we need to work in the right way to ensure that people around the world will be vaccinated."
In theory, a waiver to the Agreement on Trade-Related Aspects of Intellectual Property Rights, or TRIPS, would make it easier for developing countries to import the expertise, equipment and ingredients necessary to make their own vaccines.
The idea has been gaining steam in recent weeks, winning endorsements from progressive activists, lawmakers and anti-poverty groups around the world.
It got its biggest push to date Wednesday when U.S. Trade Representative Katherine Tai expressed American support for the idea and committed to text-based talks at the World Trade Organization.
Critics, however, call the idea wrong-headed, citing the glacial pace of WTO talks, the fact all 164 member countries would need to sign off, the complexities of vaccine manufacturing and the importance of the pharmaceutical business model that helped develop the vaccines in the first place.
Ottawa's position on the proposed waiver has been slow to coalesce.
International Trade Minister Mary Ng initially tweeted Canada's support for the U.S. decision and promised to work with its closest trading partner, but did not say if Canada would join the talks or advocate for a waiver.
Her promise in the House of Commons the next day committed Canada to sitting down at the negotiating table, but again left out any clues as to what position the government would take.
"We certainly are going to be actively participating in these negotiations," Ng said Friday, adding that Canada is focused on removing "all barriers" to vaccines, including production problems, supply-chain bottlenecks or export restrictions.
To make that point, Trudeau announced a $375-million cash infusion Friday for a World Health Organization "accelerator" that fosters the development and distribution of COVID-19 tests, therapeutic drugs and vaccines to low- and middle-income countries.
Ng's statement earlier Friday also made clear that the government "firmly believes in the importance of protecting (intellectual property)."
Diana Sarosi, policy and campaigns director for Oxfam Canada, called it a step in the right direction that Canada has agreed to talks, but assailed the government's "wait-and-see approach" on intellectual property.
"Canada continues to prioritize profits over public health," Sarosi said in a statement.
Others in the House of Commons, including members of Trudeau's own government, are making their position crystal clear.
A broad coalition of parliamentarians from across the political spectrum wrote to Trudeau this week to express support for a temporary waiver. More than 75 MPs and senators had signed on by Friday afternoon.
"We're not talking about running shoes or farm equipment — we are talking about a global health crisis, a planetary pandemic, that puts all of us at risk," NDP MP Don Davies told a news conference.
"I think it's a fair criticism to say that a number of countries — and I'm sorry to include Canada in this, but I must — have been stalling that process."
Even Conservative Leader Erin O'Toole joined the fray.
"Conservatives support a temporary suspension to intellectual property rules in this pandemic to help get vaccines as quickly around the world as possible," O'Toole said Friday.
A waiver is strongly opposed by the pharmaceutical industry, as well as a number of key world leaders who say it would be counterproductive to current vaccine production efforts and undermine the very business model that gave rise to the vaccines in the first place.
Others warn that consensus is notoriously difficult to come by at the world trade body — any single country can kill a proposal. Several prominent members, including Germany and the U.K., stand firmly opposed to the idea of a waiver.
This report by The Canadian Press was first published May 7, 2021.
— With files from Mia Rabson, Stephanie Taylor and Lina Dib in Ottawa
James McCarten, The Canadian Press
Note to readers: This is a corrected story. An earlier version said all signatories to the letter were MPs.
Manitoba's top doctor questioned in church challenge of COVID-19 restrictions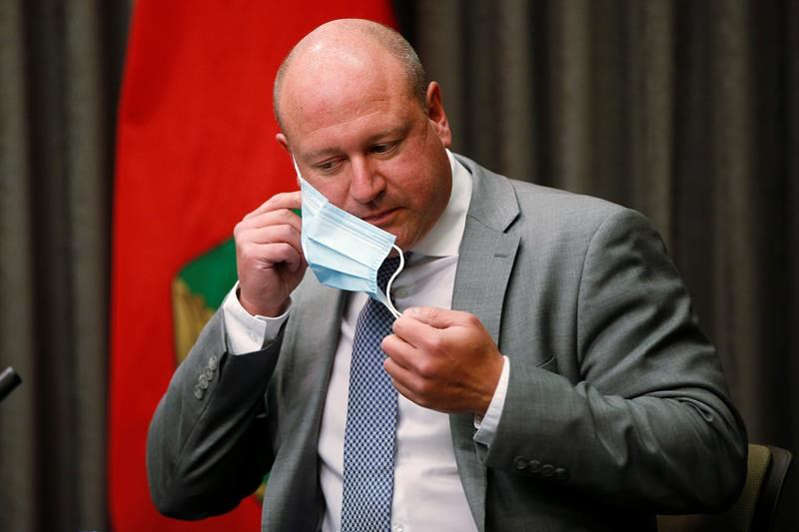 WINNIPEG — Manitoba's top doctor told a court challenge of the province's public health rules Friday that restrictions on faith-based gatherings had to be imposed because health care was being overwhelmed during the pandemic's second wave.
Seven churches are fighting public health orders meant to stem the spread of the COVID-19 virus.
"We could not be wrong," Dr. Brent Roussin testified in Court of Queen's Bench. "We had to limit places we knew transmission was going to occur because our hospitals were full."
Roussin, chief public health officer, told court there were numerous clusters of infections linked to faith-based gatherings before churches were closed down last November.
At the time, non-essential stores were also shuttered and group gatherings banned as cases surged and a deadly wave of infections swept through long-term care homes.
"Our hospitals were full of COVID-19 patients. Our ICUs were full of COVID-19 patients," Roussin testified.
"We had to act on the trends we were seeing. We were in crisis."
Roussin, who has a medical and a law degree on top of a master of public health, has been the face of Manitoba's response since the beginning of the pandemic.
The Justice Centre for Constitutional Freedoms, a Calgary-based group representing the churches, has said Manitoba's public health rules are unjustified violations of charter-protected freedoms.
The churches are arguing their right to worship and assemble has been violated by the restrictions, which has led to "a crisis of conscience, loneliness and harm to their spiritual well-being."
Public health orders targeting churches were loosened in January. Worship services are currently restricted to 10 people or 25 per cent capacity, whichever is less, and everyone is required to wear a mask.
Government lawyers have told court it's within the bounds of the legislature to grant the chief public health officer authority to impose reasonable rules.
Jared Brown, a lawyer for the churches, questioned if the application of public health orders was fair, whether enforcement was applied evenly and if the restrictions were successful.
"Shutting down churches has not stopped community spread," Brown said.
Roussin said cases dropped after the restrictions came into place. But he agreed that community transmission is still taking place and added the more infectious variants have brought new challenges.
The Manitoba government reported 502 new COVID-19 cases Friday, the highest one-day count since the pandemic's second wave. Health officials said they are adding intensive care beds to prepare for a surge of hospitalizations.
Brown spent much of his cross-examination asking Roussin about studies, data collection and the efficacy of the PCR test, one of the main ones used to detect the virus.
Roussin said PCR tests have been important to understand what is happening in the community. Seven per cent of positive cases show up in hospital about 10 days later.
He told court there would be severe economic and societal consequences if COVID-19 were allowed to spread unchecked.
Roussin testified that hospitals fill up and more health-care workers are out sick when there's significant community infection. It can mean serious problems even for people who don't have the virus but need health services.
He said that the goal with public health orders is to keep people safe, avoid deaths as much as possible and minimize social disruption. The province is still studying some of the unintended or unexpected consequences of the orders, he added.
Roussin told court many physicians and nurses have called for even tighter restrictions.
"I'm bound by using the least restrictive means."
The constitutional challenge is one of the latest attempts by churches across the country to quash pandemic restrictions on faith gatherings.
The Justice Centre has filed similar challenges in Alberta and British Columbia.
In Alberta, a pastor accused of violating public health orders was on trial earlier this week.
This report by The Canadian Press was first published May 7, 2021.
Kelly Geraldine Malone, The Canadian Press