Around Red Deer May 11th…..
2:01 pm – RCMP are investigating the theft of a large amount of heavy steel tubing at Alberta Industrial Metals last weekend. Read More.
1:25 pm – RCMP are investigating after some overnight vandalism to the site of the 50th Street water main repair project. Read More.
For more local news, click here!
12:43 pm – Although Red Deer building permit values are down overall on the year, residential and commercial sector permits so far this year are holding their own compared to values in 2016. Read More.
12:35 pm – The gymnasium at the G.H. Dawe Community Centre in Red Deer is closing for renovations starting Monday, May 15th. Read More.
12:30 pm – There's an Emergency Preparedness Family BBQ at the Library Learning Centre in Innisfail tonight! Read More.
For more local news, click here!
12:26 pm – To celebrate the Grand Opening of the NexSource Centre, users are eligible to purchase either a six-month or annual pass at 50% off the regular rate! Pass sale is from Friday, May 12 – Sunday, May 28, 2017.
12:22 pm – The Town of Sylvan Lake has been issued an extension by Alberta Environment & Parks, which allows the Town to follow the terms and conditions of an existing approval to operate the Sylvan Lake Wastewater System – 2nd Extension, until May 1, 2018.
12:20 pm – Street sweeping continues in Sylvan Lake today. Read More.
Fore more local news, click here!
12:13 pm – Trash to Treasure Week begins in Lacombe tomorrow! Read More.
12:11 pm – Residential street sweeping continues in Lacombe today on Sandstone Ave, Blackstone Ave, Hangingstone Dr, Hathaway Lane, Coventry Lane, Dickens Lane and Petticoat Lane.
12:09 – Refurbishments are now done at the outdoor tennis courts in Lacombe! Read More.
For more local news, click here!
11:57 am – Red Deer County crews are continuing their work on roadside weeds and other vegetation. Read More.
11:55 am – Red Deer County wants to make sure you're prepared for an emergency. Check out these tips to keep you and your family safe!
11:49 am – Lacombe County will be hosting a two-day voluntary farm vehicle safety check on May 30th and 31st at their new public works shops located in the east and west sides of the County. The purpose of this check is to increase both the safety and the awareness of the local agricultural industry as it relates to vehicle safety. Read More.
For more local news, click here!
11:42 am – Red Deer RCMP are looking for two male suspects after an attempted armed robbery in a downtown parking lot next to the Tennis Bubble. Read More.
11:39 am – The Abbey Centre in Blackfalds is going Solar! Read More.
11:31 am – Red Deer College Motion Picture Arts graduate, Carlee Ryski, won Best Performance by an Alberta Actress at The Rosies held in Edmonton at the end of April. The annual gala for the Alberta Film & Television Awards brings out Alberta's brightest stars and industry professionals to honour and celebrate the year's best in production. Over 50 Rosie Awards were presented, recognizing excellence in all aspects of Alberta's screen-based content. Read More.
For more local news, click here!
11:25 am – Street sweeping continues in Penhold today:
Lucina Street
Maplewood Boulevard
Healey Street
Henderson Crescent
9:32 am – A motion by the Board of Trustee of Red Deer Public Schools to advocate for a single publicly funded education system has been supported by a vote of 4 to 3. Read More.
9:22 am – Carter Brouilette of Sylvan Lake, a Grade 10 student at École Secondaire Notre Dame High School in Red Deer received the Silver Duke of Edinburgh Award. He is one of four students in Alberta to receive this prestigious award this year. The Duke of Edinburgh Award program is the world's leading youth achievement award. The premise behind this award is that not all learning happens in the classroom. The award program honours students that show commitment and achievement to a variety of activities of their choice.
For more local news, click here!
9:13 am – Leona Staples has been appointed as a member and designated as chair of The Board of Governors of Olds College for a term to expire on May 8, 2020. Also, Donna Maxwell has been appointed as a member of The Board of Governors of Olds College for a term to expire on May 8, 2020. Mark Kaun has been reappointed as a member of The Board of Governors of Olds College for a term to expire on July 7, 2020.
9:05 am – Red Deer Rebels athletic therapist Josh Guenther has resigned due to personal reasons. Guenther was with the Rebels for the 2016-17 season. Read More.
8:43 am – Kathleen Ganley, Minister of Justice and Solicitor General, will make remarks at the Alberta Municipal Enforcement Association's annual banquet and awards ceremony in the Monaco room at the Sheraton Hotel in Red Deer tonight at 5:00 pm.
For more local news, click here!
8:37 am – The Red Deer Catholic Regional School Division will recognize the service of it's staff, inductees and staff accomplishments with appropriate gifts and awards at their annual Celebration of Excellence tonight at 5:00 pm.
8:32 am – Grade 8 Badminton players from St. Francis of Assisi Middle School in Red Deer will compete at the CWAJHAA's being held at the school from 4 – 8 pm today.
8:27 am – Hundreds of Grade 5 boys from Red Deer Catholic Regional Schools and Red Deer Public Schools will gather together at the G.H. Dawe Community Centre for the annual Grow Boys event today. This full-day leadership conference (with assistance from students attending École Secondaire Notre Dame High School) helps to provide these students with an opportunity to discover, improve, and share skills in a variety of ways. This day provides sessions to support the happy, healthy growth and development of these students.
For more local news, click here!
8:12 am – RDC's Be Fit for Life Centre is once again encouraging young girls to keep moving. The 14th annual Go Girl event at the Collicutt Centre today will promote health, confidence and physical activity to more than 600 Grade 5 girls in the Red Deer Public School District and Red Deer Catholic Regional Schools.
8:04 am – Today is the Grand Opening of the Glendale Science and Technology School's Escape Rooms. Students in grade six at Glendale have designed and built two locked rooms. Testing is complete and they're ready to open! You can sign up for either "The Cargo Hold" or "Space Lab" or both! Click here to sign up!
7:54 am – The G.H. Dawe Community Centre will be closed today from 8:30 a.m. to 4 p.m. due to a private function. The facility will reopen to the public at 4 p.m. Read More.
For more local news, click here!
Women's tennis tour suspends China events over Peng concerns
The head of the women's professional tennis tour announced Wednesday that all WTA tournaments would be suspended in China because of concerns about the safety of Peng Shuai, a Grand Slam doubles champion who accused a former high-ranking government official in that country of sexual assault.
Peng posted her allegations on social media last month.
WTA Chairman and CEO Steve Simon wrote in a statement that he doesn't believe China has addressed Peng's safety "in any credible way."
He said he doubts Peng is not subject to coercion and intimidation.
Simon repeated his call for a "full and transparent investigation — without censorship" into Peng's accusations.
___
More AP tennis: https://apnews.com/hub/tennis and https://twitter.com/AP_Sports
Howard Fendrich, The Associated Press
CNN suspends Chris Cuomo for helping brother in scandal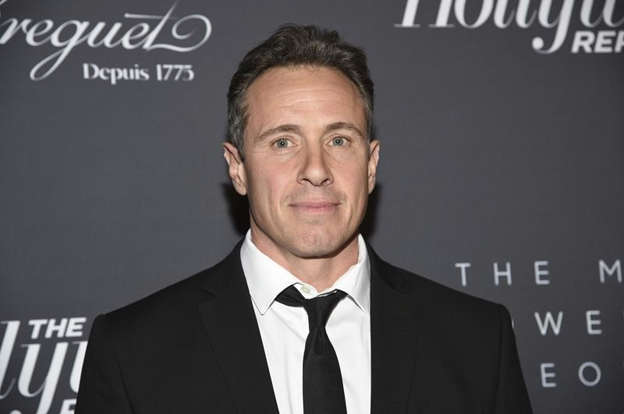 NEW YORK (AP) — CNN indefinitely suspended anchor Chris Cuomo on Tuesday after details emerged about how he helped his brother, former New York Gov. Andrew Cuomo, to face charges of sexual harassment earlier this year.
The network said documents released by New York's attorney general Monday indicated Cuomo took a greater level of involvement in his brother's efforts than CNN executives previously knew.
"As a result, we have suspended Chris indefinitely, pending further evaluation," the network said.
The CNN anchor pressed sources for information on his brother's accusers and reported back to the governor's staff, and was active in helping craft their response to the charges, according to emails and a transcript of his testimony to investigators working for state Attorney General Letitia James. Her office found Andrew Cuomo sexually harassed at least 11 women.
Chris Cuomo previously acknowledged talking to his brother and offering advice when the governor faced harassment charges. But the information released Monday revealed far more details about what exactly Chris Cuomo did. Andrew Cuomo resigned in August to avoid a likely impeachment trial.
Cuomo's program, which airs at 9 p.m. Eastern time on weeknights, averaged 1.3 million viewers, narrowly outpacing Anderson Cooper as CNN's most popular show, according to the Nielsen company. Like many cable newscasts, viewership is down significantly after being swollen during the election year.
Cuomo appeared on his program on Monday night, talking about COVID-19 and politics without mentioning his own issues.
There was no immediate response to a request for comment sent to Cuomo and the lawyer who represented him during this summer's testimony.
Anderson Cooper subbed for Cuomo on his show Tuesday.
During the first two months of the pandemic, Cuomo interviewed his brother on the air a number of times. It was a hit with viewers, although it violated CNN's policy of not having Cuomo report on his brother, and was a programming choice that has grown worse with time and additional revelations.
Chris Cuomo frequently consulted with his brother's aides when Andrew was fighting the charges last May, sometimes disagreeing with their advice.
"This is my brother, and I'm trying to help my brother through a situation where he told me he did nothing wrong," Cuomo testified last July to investigators at the attorney general's office.
He has said he did nothing to influence his own network's coverage of the story.
Cuomo also said he reached out to other journalists to find out whether they were writing stories about his brother, most notably seeking information on what Ronan Farrow of the New Yorker was writing. He acknowledged he didn't tell CNN he was doing this, and characterized his actions as nothing out of the ordinary for a journalist.
Critics have called on CNN to take action following the attorney general's release, with David A. Graham of The Atlantic saying Cuomo should resign — or be fired by CNN if he doesn't.
After it was first revealed last May by The Washington Post that Cuomo had consulted with his brother's aides, CNN released a statement saying that his actions were inappropriate, but it did not discipline him.
Cuomo, a lawyer, is 13 years younger than Andrew Cuomo, who he has described as his best friend. They are the sons of former New York Gov. Mario Cuomo, who was in office from 1982 to 1996.
He worked for several years at ABC News, joining CNN in 2013 as co-host of the network's morning show.
A veteran TV executive, Shelley Ross, wrote a column for The New York Times in September saying Cuomo had groped her at a party 16 years ago. Cuomo told the newspaper that "I apologized to her then, and I meant it."
David Bauder, The Associated Press