Around Red Deer May 11th…..
2:01 pm – RCMP are investigating the theft of a large amount of heavy steel tubing at Alberta Industrial Metals last weekend. Read More.
1:25 pm – RCMP are investigating after some overnight vandalism to the site of the 50th Street water main repair project. Read More.
For more local news, click here!
12:43 pm – Although Red Deer building permit values are down overall on the year, residential and commercial sector permits so far this year are holding their own compared to values in 2016. Read More.
12:35 pm – The gymnasium at the G.H. Dawe Community Centre in Red Deer is closing for renovations starting Monday, May 15th. Read More.
12:30 pm – There's an Emergency Preparedness Family BBQ at the Library Learning Centre in Innisfail tonight! Read More.
For more local news, click here!
12:26 pm – To celebrate the Grand Opening of the NexSource Centre, users are eligible to purchase either a six-month or annual pass at 50% off the regular rate! Pass sale is from Friday, May 12 – Sunday, May 28, 2017.
12:22 pm – The Town of Sylvan Lake has been issued an extension by Alberta Environment & Parks, which allows the Town to follow the terms and conditions of an existing approval to operate the Sylvan Lake Wastewater System – 2nd Extension, until May 1, 2018.
12:20 pm – Street sweeping continues in Sylvan Lake today. Read More.
Fore more local news, click here!
12:13 pm – Trash to Treasure Week begins in Lacombe tomorrow! Read More.
12:11 pm – Residential street sweeping continues in Lacombe today on Sandstone Ave, Blackstone Ave, Hangingstone Dr, Hathaway Lane, Coventry Lane, Dickens Lane and Petticoat Lane.
12:09 – Refurbishments are now done at the outdoor tennis courts in Lacombe! Read More.
For more local news, click here!
11:57 am – Red Deer County crews are continuing their work on roadside weeds and other vegetation. Read More.
11:55 am – Red Deer County wants to make sure you're prepared for an emergency. Check out these tips to keep you and your family safe!
11:49 am – Lacombe County will be hosting a two-day voluntary farm vehicle safety check on May 30th and 31st at their new public works shops located in the east and west sides of the County. The purpose of this check is to increase both the safety and the awareness of the local agricultural industry as it relates to vehicle safety. Read More.
For more local news, click here!
11:42 am – Red Deer RCMP are looking for two male suspects after an attempted armed robbery in a downtown parking lot next to the Tennis Bubble. Read More.
11:39 am – The Abbey Centre in Blackfalds is going Solar! Read More.
11:31 am – Red Deer College Motion Picture Arts graduate, Carlee Ryski, won Best Performance by an Alberta Actress at The Rosies held in Edmonton at the end of April. The annual gala for the Alberta Film & Television Awards brings out Alberta's brightest stars and industry professionals to honour and celebrate the year's best in production. Over 50 Rosie Awards were presented, recognizing excellence in all aspects of Alberta's screen-based content. Read More.
For more local news, click here!
11:25 am – Street sweeping continues in Penhold today:
Lucina Street
Maplewood Boulevard
Healey Street
Henderson Crescent
9:32 am – A motion by the Board of Trustee of Red Deer Public Schools to advocate for a single publicly funded education system has been supported by a vote of 4 to 3. Read More.
9:22 am – Carter Brouilette of Sylvan Lake, a Grade 10 student at École Secondaire Notre Dame High School in Red Deer received the Silver Duke of Edinburgh Award. He is one of four students in Alberta to receive this prestigious award this year. The Duke of Edinburgh Award program is the world's leading youth achievement award. The premise behind this award is that not all learning happens in the classroom. The award program honours students that show commitment and achievement to a variety of activities of their choice.
For more local news, click here!
9:13 am – Leona Staples has been appointed as a member and designated as chair of The Board of Governors of Olds College for a term to expire on May 8, 2020. Also, Donna Maxwell has been appointed as a member of The Board of Governors of Olds College for a term to expire on May 8, 2020. Mark Kaun has been reappointed as a member of The Board of Governors of Olds College for a term to expire on July 7, 2020.
9:05 am – Red Deer Rebels athletic therapist Josh Guenther has resigned due to personal reasons. Guenther was with the Rebels for the 2016-17 season. Read More.
8:43 am – Kathleen Ganley, Minister of Justice and Solicitor General, will make remarks at the Alberta Municipal Enforcement Association's annual banquet and awards ceremony in the Monaco room at the Sheraton Hotel in Red Deer tonight at 5:00 pm.
For more local news, click here!
8:37 am – The Red Deer Catholic Regional School Division will recognize the service of it's staff, inductees and staff accomplishments with appropriate gifts and awards at their annual Celebration of Excellence tonight at 5:00 pm.
8:32 am – Grade 8 Badminton players from St. Francis of Assisi Middle School in Red Deer will compete at the CWAJHAA's being held at the school from 4 – 8 pm today.
8:27 am – Hundreds of Grade 5 boys from Red Deer Catholic Regional Schools and Red Deer Public Schools will gather together at the G.H. Dawe Community Centre for the annual Grow Boys event today. This full-day leadership conference (with assistance from students attending École Secondaire Notre Dame High School) helps to provide these students with an opportunity to discover, improve, and share skills in a variety of ways. This day provides sessions to support the happy, healthy growth and development of these students.
For more local news, click here!
8:12 am – RDC's Be Fit for Life Centre is once again encouraging young girls to keep moving. The 14th annual Go Girl event at the Collicutt Centre today will promote health, confidence and physical activity to more than 600 Grade 5 girls in the Red Deer Public School District and Red Deer Catholic Regional Schools.
8:04 am – Today is the Grand Opening of the Glendale Science and Technology School's Escape Rooms. Students in grade six at Glendale have designed and built two locked rooms. Testing is complete and they're ready to open! You can sign up for either "The Cargo Hold" or "Space Lab" or both! Click here to sign up!
7:54 am – The G.H. Dawe Community Centre will be closed today from 8:30 a.m. to 4 p.m. due to a private function. The facility will reopen to the public at 4 p.m. Read More.
Most unused COVID-19 vaccines will expire at the end of the year: auditor general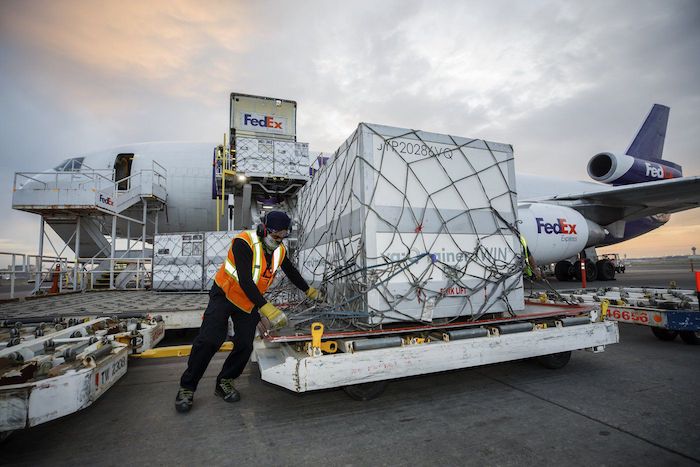 By Laura Osman in Ottawa
Tens of millions of doses of COVID-19 vaccines are likely about to expire and go to waste because of a failure to manage an oversupply, Canada's auditor general reported Tuesday — a failure with an estimated price tag of about $1 billion.
Karen Hogan has released the results of her office's investigation into the government's efforts to get ahold of COVID-19 vaccine doses in the early days of the pandemic, and track how many people got them.
The auditor gave the Public Health Agency of Canada and the Procurement Department a thumbs up when it came to quickly getting enough doses into the country to meet vaccination goals, but said the government did a much poorer job of managing all that supply.
"We found that the Public Health Agency of Canada was unsuccessful in its efforts to minimize vaccine wastage," Hogan wrote in the report.
The government knew that by signing advanced purchase agreements with a number of pharmaceutical companies there was a risk of buying up more COVID-19 vaccines than Canadians needed.
PHAC and the federal government signed deals with seven companies that were developing vaccines in 2020 and 2021, in case only a few them were approved by Health Canada.
So far six of those have been authorized by the drug review agency.
"In my view, it was a prudent approach given all the uncertainty back in 2020," she said at a press conference Tuesday.
The auditor found that about half of the 169 million doses the government paid for have made it into the arms of Canadians between December 2020 and May 2022.
The federal government announced plans to donate some 50 million surplus doses to other countries, but as of May 31 only about 15 million had been given away and another 13.6 million expired before they could be donated.
Canada has offered the remaining 21.7 million doses to other countries but so many countries are now offering donations that the market is saturated, Hogan said, and those vaccines will be wasted if they are not distributed soon.
There were also 32.5 million doses in federal and provincial inventories by the end of the audit period in May, worth about $1 billion, based on the auditor's estimate.
Hogan said in her report that the majority of those doses will expire by the end of 2022.
Hogan said the public health agency informed her that another 10 million have expired since the end of the audit and another 11 million were donated.
Part of the problem, she said, was that provinces and territories did not communicate and share data with PHAC.
"Although some provinces and territories consistently reported to the agency, the agency was unable to obtain complete data from most. This meant that the status of these doses was unknown and reduced the agency's ability to predict supply needs and plan for donations," the report said.
The auditor general's office and the public health agency itself warned for a decade before the COVID-19 pandemic that there were serious gaps in the federal and provincial health data sharing plans.
In January 2021, Deloitte Inc. was awarded a $59.1 million contract to come up with a national vaccine management system called VaccineConnect to share timely information about vaccine distribution, coverage and safety.
Some elements of that program were up and running on time, but others were delayed and the auditor found that PHAC was instead using spreadsheets to manually track expiration dates and waste as of June 2021.
The information silos made it difficult for vaccine companies to monitor national safety indicators of their products, as they've been ordered to by Health Canada.
"Companies cannot entirely fulfil this requirement when they do not have access to the necessary data on adverse events," the report said.
Hogan found two incidents in 2021 where companies learned of adverse effects to their vaccines from the media and urgently requested the data from the government, but couldn't get access to it for three months.
Canada is also the only G7 country that does not follow World Health Organization guidance to share case-level information about patients who have adverse effects after immunization, and instead sends only summary data.
This report by The Canadian Press was first published Dec. 6, 2022.
Federal Court of Appeal upholds all but one rule on airline compensation
OTTAWA — The federal court of appeal says it will uphold all but one ofthe rules that bolster compensation for air passengers subjected to delayed flights and damaged luggage.
The court on Tuesday dismissed the appeal that challenged the validity of the passenger bill of rights, with the exception of one regulation that applies to the temporary loss of baggage.
Air Canada and Porter Airlines Inc., along with 16 other appellants that include the International Air Transport Association had argued that the passenger rights charter launched in 2019 violates global standards and should be rendered invalid for international flights.
In court filings, the airlines argued the regulation exceed the Canadian Transportation Agency's authority and went against a multilateral treaty by imposing compensation requirements for flight cancellations or lost baggage that were too stringent.
The CTA and Attorney-General argued there is no conflict between the passenger protections and the treaty.
The FCA initially turned down a request from the airlines to suspend the Air Passenger Protection Regulations (APPR) in 2020.
This report by The Canadian Press was first published Dec. 6, 2022.
Companies in this story: (TSX:AC)
The Canadian Press