Armistice Day 11/11/1918 from a Red Deer perspective in pictures and story
Armistice Day 1918
One hundred and two years ago, at the 11th hour of the 11th day of the 11th month (i.e. November 11, 1918), the horrific First World War finally came to an end. It was one of the most momentous events in history.
The outbreak of the War in August 1914 had been greeted with patriotic excitement. Eager young men flocked to the Red Deer Armouries to enlist. Many felt that if they did not join up as soon as possible, they would miss the "big show" before it was over by Christmas. (Click on any image to enlarge it and open gallery).
Before long, however, the reality of modern war began to set in. The Canadians saw their first major action at St. Julien in April 1915. This great battle involved the first mass use of poison gas as a weapon on the Western Front. The Canadians won high honours for their bravery and tenacity in the horrendous conditions. Nevertheless, the casualty rate was staggering, including many from Central Alberta.
The summer and fall of 1916 brought the epic Battle of the Somme. The first day's assault brought 57,470 casualties for the British forces (still the worst one day loss of life in the history of the British Army). When the battle finally ended in November 1916, there were more than one million casualties. Nearly 50 young men from Red Deer and area lost their lives and roughly three times that number were wounded. Tragically, the stalemate along the Front continued.
1917 brought some great victories for the Canadian Corps. The best remembered is the Battle of Vimy Ridge in April. However, that triumph came with a great cost. 12 young men from Red Deer and area lost their lives in the first day's assault and another 16 were killed during the rest of the battle.
That victory was followed by Hill 70. While that battle once again demonstrated Canadian skill and valour, more than 40 from Central Alberta became casualties.
Passchendaele was technically a victory, but the losses of life were so horrendous and the gains so limited that it is hard to consider it as such. The Canadians suffered 16,000 casualties through an incredible sea of mud to move the line less than 9 ½ km. Sir Winston Churchill later summed up the battle as "a forlorn expenditure of valour and life without equal in futility".
In the spring of 1918, the Germans launched a huge, and initially successful, grand offensive. However, by summer, it had faltered. The Western Front ground into another stalemate.
Then on August 8, 1918, the Allied High Command launched a major offensive with the Canadians as one of the key units in the great assault. The successes by the Canadian Corps at the French city of Amiens were truly impressive. A huge hole was punched through the German defences.
German morale was permanently shattered. German General Eric Ludendorff described the commencement of the Battle of Amiens as the "black day of the German Army in the history of the War".
The great Allied victory turned out to be the first of a string of major successes, collectively known as The 100 Days. The German armies were soon rapidly falling back from their frontal positions in Northern France and Belgium. The Canadians, as some of the very best assault troops in the Allied forces, often led the push forwards.
On September 27, 1918, the Battles of Canal du Nord and Cambrai commenced. By the time that the City of Cambrai was captured in October, the Canadians had scored one of the most impressive tactical victories of the War.
Once again, the costs had been enormous. From August to October 11, 1918, more than 40,000 Canadians had either been killed or wounded (20% of the total Canadian losses of the War).
Hence, the community greeted the pending news of the end of the War with as much of a sense of relief as one of rejoicing. Nearly 120 local young men had lost their lives. A great many others suffered wounds to their bodies and their minds. The terrible toll of the war was amplified by the fact that several of the returning veterans were bringing home a new scourge, the Spanish Influenza.
In early November, the Canadians were advancing towards the Belgian city of Mons, where the fighting for the British forces had commenced in August 1914. It was a highly symbolic objective.
On November 7, the local C.P.R. employees were given a half-day holiday on the rumour that a cease-fire agreement had already been signed. On November 8, one of the local weekly newspapers printed two editions in order to keep up with the rapid succession of announcements and rumours.
On Monday, November 11 at 1:30 a.m., word was received that all hostilities would cease on all fronts at 11 a.m., London time. Just as the fighting came to an end, the Canadians captured Mons. Thus, the Great War ended where it had begun.
The local papers quickly printed a special issue with the news. Mayor G. W. Smith declared a half-day public holiday. Plans were also quickly made for a civic celebration despite the Board of Health's injunction against any public gatherings.
At 12:30 p.m., all the bells and whistles in the city broke out in a thirty- minute peal of rejoicing. Patriotic songs were played on a special calliope that had been set up at the Western General Electric steam plant.
A crowd of returned veterans, local dignitaries and ordinary citizens paraded through the streets with the Red Deer Community Band and the local Fire Brigade taking the lead. The throngs then gathered in what is now City Hall Park for a ceremony of celebration and thanksgiving.
There were numerous speeches and choruses of songs. Helen Moore Dawe and Ruth Locke led the crowd in the singing. A gramophone was used to broadcast a special address by Sir Thomas White, the federal Minister of Finance. Mayor G.W. Smith asserted in his speech that this was "the most important day in history since the death of Jesus Christ".
In the evening, there was a huge bonfire on the City Square accompanied by the shooting of fireworks. City Council also treated a large number of veterans to a special civic banquet.
Tragically, the joys over the end of the War were quickly dampened by a renewed outbreak of the flu caused by the large public gatherings. By the time that the great pandemic abated towards the end of the year, the flu claimed 54 lives locally.
Nevertheless, people fervently prayed that they had just witnessed the end of "The War to End All Wars".
Michael Dawe
This article was updated from it's original publication date of November 11, 2018.
Trevor's Story: I Have Anxiety and Depression. Where Can I Get Help?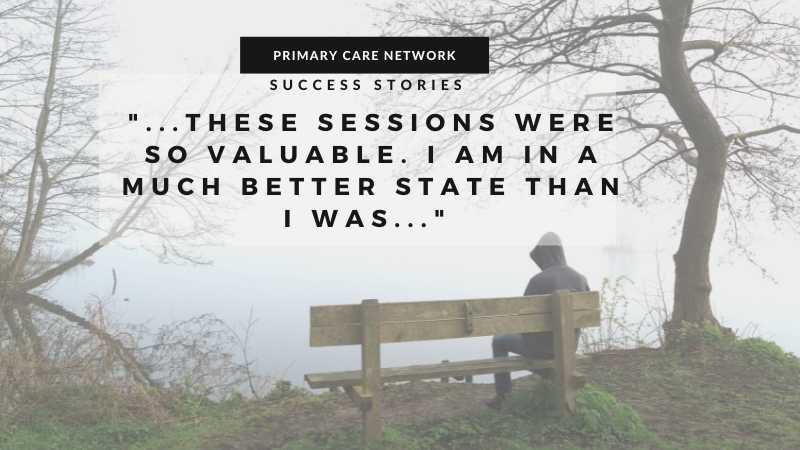 Trevor has suffered from anxiety and depression for a while. He had no idea where or how to get help with this. In discussing this with his doctor, he was referred to a Mental Health Counselor at Red Deer Primary Care Network.
Trevor says, "I, the skeptic, didn't expect that I would get much help but did decide to work with the counselor. I needed to do something. We had 6 sessions together. The counselor provided me with insight on things that should have been so obvious to me but they weren't. You don't know what you don't know. The counselor provided me with very practical and valuable tools. I came away with a different, more positive way to think about things. And it was just great to have a non-judgmental person to listen to me. It is a relief to just be able to tell someone who was really listening about my struggles.
These sessions were so valuable. I am in a much better state than I was. My struggles are not over but I manage to get through each day using the tools and improved mindset that I learned.
If anyone else is struggling like me I recommend no matter if they think it won't help  just go, go in with an open mind. Even if you just feel you need someone to talk to you will get valuable tools to help manage your situation."
To learn more about the RDPCN programs, visit www.reddeerpcn.com
Read more Success Stories from the Red Deer Primary Care Network.
Kinsmen Dream Home Lottery Tickets Now Available – Click Here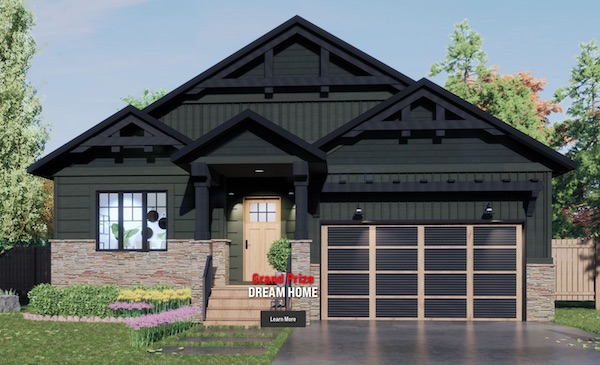 The Red Deer Kinsmen Dream Home Lottery is back for 2021
For the past 40 years, the Dream Home Lottery has been the cornerstone of the Red Deer Kinsmen's contribution to the community's greatest needs. Many of
the new playgrounds and sporting facilities you see are funded completely or partially with funds raised by the Red Deer Kinsmen. This year, you can once again help the Red Deer Kinsmen make a local impact in your community by supporting the Dream Home Lottery.
The 2021 Lottery is a little different from previous years with more prizes and chances to win. This year's lottery offers 104 prizes valued at over $864,700;
including the Grand Prize, fully landscaped show home in the new community of Timberlands. The $744,000, 2,368 sq. ft. dream home, built by True-Line
Homes features 3 bedrooms, 3 bathrooms plus den, a fully upgraded kitchen with premium appliances, Quartz Island, and walk-in pantry.
For supporters who buy their tickets early, there are TWO Early Bird cash prizes. Deadline for Early Bird #1 – $10,000 cash is 11:59pm November 11th. Deadline for Early Bird #2 – $25,000 cash is 11:59pm December 2nd.
Other prizes include vacations, home renovation packages, exercise equipment, tech, electronics, cash and much more. Tickets are $100 each, 5 for $150, 15
for $250 or our best package 50 for $350. They can be purchased online at reddeerkinsmenlottery.com or by calling 1.833.511.3863 and leaving a message. The lottery is presented by Kinsmen Club of Red Deer.
Back again is the 50/50 Cash Raffle where one lucky ticket holder will take home half of the total ticket sales. Tickets are $10 each, 10 for $25, 25 for $50
or 50 for $75.
Red Deer Kinsmen Dream Home Lottery License #575571 / 50/50 Cash Raffle License #575572
The final ticket deadline is 11:59 pm December 23, 2021. The final draws will be held January 5, 2022.
2021 Dream Home
Since 1981 the Kinsmen Club of Red Deer has run their annual Dream Home Lottery from October to December.  Using local home builders and trades, this project is the club's largest fundraiser.  Lives continue to change as we make that magical phone call letting the winner know they have just won a new home while the funds raised continue to support our local initiatives.  In 2020, the club had to make the difficult decision to forgo the dream home portion of its lottery due to the unknown brought on by COVID, however, in 2021 we are coming back with an even bigger and better lotto!
With the ongoing support of heroes like you, we are able to support some incredible agencies that truly make our community better.
The money raised from the lottery stays within our community. Whether it's one of the many playgrounds, arenas, Discovery Canyon, Library Link or the new Family Link Centre in Parkland Mall, the Kinsmen have been able to construct numerous community structures from our fundraising efforts. However, those are only a very small part of what we are able to do.
These charities are an important part of the City of Red Deer, and it is crucial that we as a community always do what we can to support them. By being able to help provide funding for these and other groups help them make incredible changes in people's lives that would otherwise be impossible. We are so fortunate to live in a community of such caring, giving people. It is because of you that we are able to do what we do.
Prizes
EARLY BIRD PRIZES
2 Early Bird Cash prizes
• #1 – $10,000 CASH – Deadline: November 11, 2021
Draw will take place on November 23, 2021, at Stride Management Corp. (12:00 pm)
**Only tickets purchased before 11:59 pm on Nov 11, 2021, will be eligible for the Early Bird#1
• #2 – $25,000 CASH – Deadline December 2, 2021
Draw will take place on December 14, 2021, at Stride Management Corp. (12:00 pm)
**Only tickets purchased before 11:59 pm on Dec 2, 2021, will be eligible for the Early Bird#2
GRAND PRIZE DREAM HOME
The Forest by True-Line – 26 Tillier Street, community of Timberlands Red Deer, AB T4N 5E7
• Valued at $744,000!
• 2,368 sq. Ft. of developed living space, 3 Bedrooms, 3 Bathrooms plus Den, Finished basement & Landscaping
ADDITIONAL PRIZES
• 104 prizes worth over $864,700 to be won!
• Prizes include vacations, home renovations, epic experiences, exercise equipment, tech, cash,
and so much more!
THE 50/50 CASH RAFFLE
• Win half of an ever-increasing jackpot!
• Tickets are easy to buy – 1 for $10, 10 for $25, 25 for $50 or 50 for $75. Purchasers are not
required to purchase a ticket in the Red Deer Kinsmen Dream Home Lottery to purchase
tickets in the 50/50 Cash Raffle lottery.
• For a list of charities that benefit from the 50/50 Cash Raffle, please visit reddeerkinsmen.com
Red Deer Kinsmen Dream Home Lottery Licence #575571 / 50/50 Cash Lottery Licence #575572
Final Draw
• Ticket Cut-off is December 23, 2021 (11:59 pm)
• Final Draws will take place January 5, 2022 at Stride Management Corp. (11:00 am)
TICKET PRICES
1 for $100 • 5 for $150 • 15 for $250 and our best value 50 for $350
**Minimum prize value is $100**
Cause
The Red Deer Kinsmen have served the City of Red Deer since 1937 through fundraising and support of its many groups, community projects, and the people who make it an amazing place to live. This year is even more important as we were unable to run the Dream Home Lottery in 2020 due to the Covid pandemic.
Please go https://reddeerkinsmenlottery.com/cause/ for a full list of organizations the Red Deer Kinsmen have supported in the past.
Call Toll Free 1-833-511-3863
Order Online: reddeerkinsmenlottery.com

We are proud to have been associated with some truly outstanding organizations, including the:
Red Deer Food Bank
Cystic Fibrosis
Red Cross
Youth and Volunteer Centre
Central Alberta Women's Emergency Shelter
Red Deer Pond Hockey
Minor Hockey
Red Deer Public School Board Foundation – Bright Start Program
Hospice Society
Red Deer Royals
Red Deer College
Paediatric Ward
Blackfalds Field House
Penhold Multi Plex
and many more!