Armistice Day 11/11/1918 from a Red Deer perspective in pictures and story
Armistice Day 1918
One hundred and two years ago, at the 11th hour of the 11th day of the 11th month (i.e. November 11, 1918), the horrific First World War finally came to an end. It was one of the most momentous events in history.
The outbreak of the War in August 1914 had been greeted with patriotic excitement. Eager young men flocked to the Red Deer Armouries to enlist. Many felt that if they did not join up as soon as possible, they would miss the "big show" before it was over by Christmas. (Click on any image to enlarge it and open gallery).
Before long, however, the reality of modern war began to set in. The Canadians saw their first major action at St. Julien in April 1915. This great battle involved the first mass use of poison gas as a weapon on the Western Front. The Canadians won high honours for their bravery and tenacity in the horrendous conditions. Nevertheless, the casualty rate was staggering, including many from Central Alberta.
The summer and fall of 1916 brought the epic Battle of the Somme. The first day's assault brought 57,470 casualties for the British forces (still the worst one day loss of life in the history of the British Army). When the battle finally ended in November 1916, there were more than one million casualties. Nearly 50 young men from Red Deer and area lost their lives and roughly three times that number were wounded. Tragically, the stalemate along the Front continued.
1917 brought some great victories for the Canadian Corps. The best remembered is the Battle of Vimy Ridge in April. However, that triumph came with a great cost. 12 young men from Red Deer and area lost their lives in the first day's assault and another 16 were killed during the rest of the battle.
That victory was followed by Hill 70. While that battle once again demonstrated Canadian skill and valour, more than 40 from Central Alberta became casualties.
Passchendaele was technically a victory, but the losses of life were so horrendous and the gains so limited that it is hard to consider it as such. The Canadians suffered 16,000 casualties through an incredible sea of mud to move the line less than 9 ½ km. Sir Winston Churchill later summed up the battle as "a forlorn expenditure of valour and life without equal in futility".
In the spring of 1918, the Germans launched a huge, and initially successful, grand offensive. However, by summer, it had faltered. The Western Front ground into another stalemate.
Then on August 8, 1918, the Allied High Command launched a major offensive with the Canadians as one of the key units in the great assault. The successes by the Canadian Corps at the French city of Amiens were truly impressive. A huge hole was punched through the German defences.
German morale was permanently shattered. German General Eric Ludendorff described the commencement of the Battle of Amiens as the "black day of the German Army in the history of the War".
The great Allied victory turned out to be the first of a string of major successes, collectively known as The 100 Days. The German armies were soon rapidly falling back from their frontal positions in Northern France and Belgium. The Canadians, as some of the very best assault troops in the Allied forces, often led the push forwards.
On September 27, 1918, the Battles of Canal du Nord and Cambrai commenced. By the time that the City of Cambrai was captured in October, the Canadians had scored one of the most impressive tactical victories of the War.
Once again, the costs had been enormous. From August to October 11, 1918, more than 40,000 Canadians had either been killed or wounded (20% of the total Canadian losses of the War).
Hence, the community greeted the pending news of the end of the War with as much of a sense of relief as one of rejoicing. Nearly 120 local young men had lost their lives. A great many others suffered wounds to their bodies and their minds. The terrible toll of the war was amplified by the fact that several of the returning veterans were bringing home a new scourge, the Spanish Influenza.
In early November, the Canadians were advancing towards the Belgian city of Mons, where the fighting for the British forces had commenced in August 1914. It was a highly symbolic objective.
On November 7, the local C.P.R. employees were given a half-day holiday on the rumour that a cease-fire agreement had already been signed. On November 8, one of the local weekly newspapers printed two editions in order to keep up with the rapid succession of announcements and rumours.
On Monday, November 11 at 1:30 a.m., word was received that all hostilities would cease on all fronts at 11 a.m., London time. Just as the fighting came to an end, the Canadians captured Mons. Thus, the Great War ended where it had begun.
The local papers quickly printed a special issue with the news. Mayor G. W. Smith declared a half-day public holiday. Plans were also quickly made for a civic celebration despite the Board of Health's injunction against any public gatherings.
At 12:30 p.m., all the bells and whistles in the city broke out in a thirty- minute peal of rejoicing. Patriotic songs were played on a special calliope that had been set up at the Western General Electric steam plant.
A crowd of returned veterans, local dignitaries and ordinary citizens paraded through the streets with the Red Deer Community Band and the local Fire Brigade taking the lead. The throngs then gathered in what is now City Hall Park for a ceremony of celebration and thanksgiving.
There were numerous speeches and choruses of songs. Helen Moore Dawe and Ruth Locke led the crowd in the singing. A gramophone was used to broadcast a special address by Sir Thomas White, the federal Minister of Finance. Mayor G.W. Smith asserted in his speech that this was "the most important day in history since the death of Jesus Christ".
In the evening, there was a huge bonfire on the City Square accompanied by the shooting of fireworks. City Council also treated a large number of veterans to a special civic banquet.
Tragically, the joys over the end of the War were quickly dampened by a renewed outbreak of the flu caused by the large public gatherings. By the time that the great pandemic abated towards the end of the year, the flu claimed 54 lives locally.
Nevertheless, people fervently prayed that they had just witnessed the end of "The War to End All Wars".
Michael Dawe
This article was updated from it's original publication date of November 11, 2018.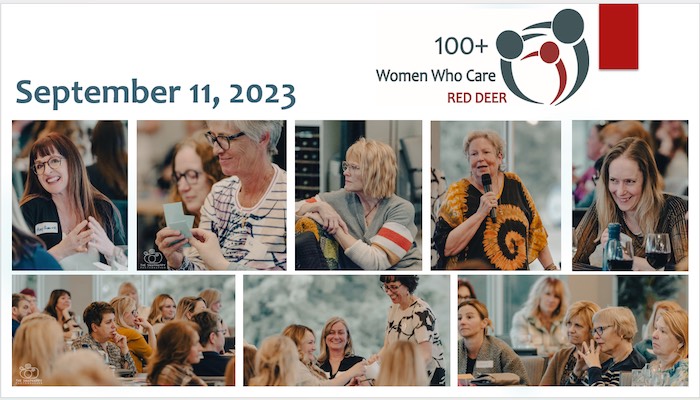 News release from 100 Women Who Care
The room was buzzing with energy and connection on Monday night – what a great way to kick off the fall with a full-house!
Thanks to everyone who joined us, with a special thank you to the 14 new members and their friends who encouraged them to join. There were also a few ladies simply checking out the vibe and we hope to see them again.
We had three excellent, engaging presentations from:
Judy-Ann Wybenga – Red Deer Food Bank Society
Jean Stinson – Red Deer Action Group Society
Lisa Smith – Central Alberta Pregnancy Care Centre
Congratulations to Judy-Ann! Our donations are going to the Red Deer Food Bank Society for their Community Kitchen initiative. We sure hope we get two big cans on the donor board. (Inside joke, ya had to be there!
)
There are two ways to make your donations to the Red Deer Food Bank through the Red Deer and District Community Foundation:
Mail a cheque to the Red Deer & District Community Foundation at 4901 48 St #503, Red Deer, AB T4N 6M4. Please write "100+ Women RD" along with "Red Deer Food Bank" in the memo line.
OR
Use this link or QR code to donate

– just be sure to note Red Deer Food Bank on the online form. If you can, please consider adding $4 to your online donation to cover the Foundation's processing fees. Simply click on the link to do so – no need to add it to your donation.
https://www.canadahelps.org/en/dn/67021
The Red Deer and District Community Foundation manages our donations and ensures that they arrive all present and accounted for to the recipient charities. Erin Peden, Executive Director of the RDDCF (and 100+ Women member) gave us an enlightening date on the amazing work happening at the Foundation. It sure had both of us thinking about ways we can support it more.
Thank you Jody Wianko for the update from CMHA. Our donation helped more that 340 people since April.
Kim Mortimer, The SnapHappy Photographer, was everywhere in the room getting great action shots. The sample above from April's meeting shows what a fun, yet serious, group we are. It's so great having you at the meetings, Kim. And for bringing friends!
There is so much happening in Central Alberta! Here are a few of the community announcements:
We asked and these gals delivered! Jillian donated a beautiful autumn arrangement and two tickets to the Mustard Seed's Bowls for Bellies event. Shelley donated a $100 gift certificate from her family business, Twisted Steel Blacksmithing. Annamarie donated a gorgeous fresh bouquet on behalf of Hucal and Edwards Orthodontics.
We asked and you delivered! The Central Alberta Women's Emergency Shelter and Safe Harbour Society are very grateful for the generous donations of toiletries and personal care items.
It was great to see so many people arrive early to socialize and a number that stuck around after the meeting to keep the evening's energy going. Thank you to Mary Warrener, Samantha Sheridan and Gail Bellanger for all their help at the registration desk, collecting and counting ballots, and generally keeping us organized. Thanks also to everyone who assisted with the post-meeting clean up. We hardly had to lift a finger and it gave us a chance to visit a few of you.
And lastly – aargh – EMAIL ISSUES! We have heard from many of you that you're not getting our emails, so we took some time before sending this out to restructure our email list. Fingers crossed that it worked! Please respond to the read request. This will help us gauge who is and who isn't getting the emails. Please compare notes with your 100+ Women friends, too, by asking if they received this email and letting us know if there are still gaps. Our apologies to everyone who hasn't been in the loop and we that this is rectified "toot sweet"
.
NEXT MEETING: MONDAY, NOVEMBER 27.
With so much gratitude to all of you,
Cindy and Susan
Turning the Tide on Cyberbullying: How Social Media Can Be a Protective Force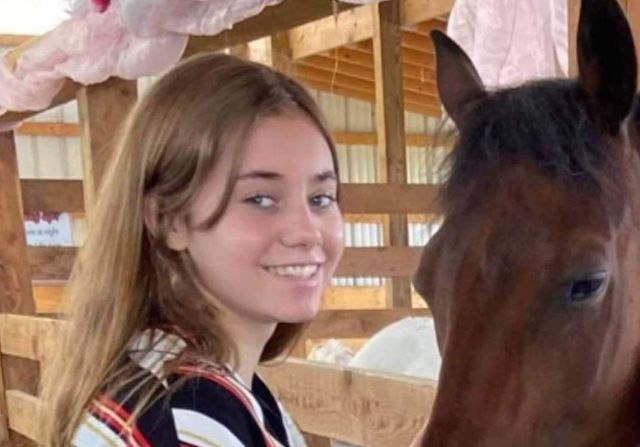 14 year old Adriana Kuch from New Jersey took her life because of bullying.
This article submitted by Cheryl Lynn Mark of DownloadAstro
In a digital age where the lines between reality and the virtual world blur, cyberbullying has emerged as a dark cloud on the horizon. But what if, instead of being a part of the problem, social media platforms could be channeled as a part of the solution?
This article will delve into the potential of social media as a protective force against cyberbullying. Here's a roadmap of the discussion.
The rise of cyberbullying: current standing
Despite numerous expert-backed articles and the efforts of concerned organizations, cyberbullying remains a pervasive issue.
Earlier this year, we learned that 14-year-old Adriana Kuch from New Jersey took her life because of bullying. Apparently, another girl assaulted her at school, and the video of the said incident was posted on TikTok.
Before she did the unthinkable, Adriana said to her father, "I don't want to be that girl who gets beat up on video and made fun of." It was a sad thing for such a young girl to end up that way. And we hope that no one else will ever be in that situation again. Her story serves as a harrowing reminder of the devastating impact of cyberbullying.
The sad reality is that cyberbullying is difficult to fight as it comes in many different shapes and forms and is prevalent on all the major social media platforms.
But the truth is that social media is just a tool… Sometimes it's not just about apps/websites — it's the bad people on them.
This is why today, we're going to dig deeper into how to use social media to our advantage. For parents, it's essential to guide their children through navigating the platform. Time is always changing, and so is how we protect our children from harm like cyberbullying.
Social Media Tools for Protection
In the dynamic realm of social media, user safety is paramount. As cyberbullying continues to pose challenges, platforms are arming users with tools designed to enhance their online protection.
Consider the following essential features:
Privacy Settings: Controlling who sees posts and personal information
Privacy settings act as the first line of defense against unwanted intrusions. Most platforms allow users to decide who can view their content, be it the public, friends, or specific groups.
By limiting the visibility of posts and personal details, users can minimize exposure to potential threats. Regularly reviewing and updating privacy settings ensures that one's online profile remains secure from prying eyes. It's also advisable to restrict location sharing to prevent unsolicited real-world confrontations.
Reporting and Blocking: Quick actions against bullies
When faced with online harassment, a swift response can deter the perpetrators. Social media platforms have streamlined their reporting processes, making it easier for users to flag inappropriate content or behavior.
The blocking feature serves as an immediate barrier, ensuring that the bully can no longer contact or view the victim's profile. This empowers the victim to reclaim their digital space without fear of further victimization.
Safety Centers: Resources offered by platforms for users in distress
Recognizing the profound impact of cyberbullying, many platforms have established safety centers. These are dedicated hubs containing articles, tutorials, and resources about online safety.
These centers often collaborate with mental health professionals and NGOs to provide guidance, helplines, and support for those affected by cyberbullying. They serve as a testament to the platform's commitment to fostering a safer and more inclusive online environment.
While cyberbullying remains a concerning issue, armed with the right tools and knowledge, users can better protect themselves. Regularly updating oneself with the latest safety features and practices is essential to navigating social media's vast and often tumultuous waters.
Positive Online Communities
If you're not joining any communities right now, you're missing out. Positive online communities stand out as beacons of hope. These communities are a testament to the fact that the internet, when harnessed correctly, can be a space for unity, support, and upliftment.
Here are some of the best benefits of joining a positive and uplifting community:
1. Emotional Support
Being part of a positive community provides a safety net, offering members a place to share their feelings, challenges, and experiences, knowing they'll be met with understanding and empathy.
2. Personal Growth and Learning
Uplifting communities often foster an environment of continuous learning, where members share resources, advice, and experiences, contributing to personal development and growth.
3. Networking Opportunities
Beyond emotional support, these communities provide opportunities to connect with like-minded individuals, potentially leading to collaborations, partnerships, or new friendships.
4. Increased Positivity and Well-being
Regular interaction within a positive community can boost one's mood, decrease feelings of loneliness, and contribute to overall mental well-being.
5. Resilience During Difficult Times
During challenging phases of life, having a supportive community can provide the strength and resilience needed to navigate and overcome adversity.
6. Shared Resources and Opportunities
Uplifting communities often pool together resources, information, or opportunities that can be beneficial for members, be it in the form of job leads, workshops, or educational content.
7. Sense of Belonging
Perhaps one of the most profound benefits is the innate human desire for connection and belonging. Being part of a positive community fulfills this need, reminding members that they are part of something bigger than themselves.
To find a positive and uplifting community, start by researching forums, groups, or platforms related to one's interests or needs, paying attention to reviews or feedback from current members. Attend virtual or in-person events to get a feel for the community's vibe.
For guiding children, emphasize the importance of online safety, encourage them to share their online experiences, and advise them to seek out communities that promote kindness, mutual respect, and constructive communication, steering clear of negative or toxic spaces.
The Influencer Effect
In the age of social media, influencers hold considerable sway over their vast audiences, making them invaluable allies in the fight against cyberbullying. Influencers have taken up the mantle of being digital role models. Many leverage their platforms to advocate for kindness, inclusion, and mutual respect in the online realm. To have a positive online environment, populate your social media platforms with influencers promoting such acts.
Remember to follow positive people in your life to strengthen your mind when fighting off negative forces.
Parental involvement in navigating the digital realm
Navigating the digital realm can be a daunting task for children, making parental involvement and guidance essential to ensuring a safe and wholesome online experience.
Open dialogue between parents and children about their online experiences is fundamental. Such conversations allow children to share their online triumphs and challenges and feel supported.
Regular discussions educate kids about potential online hazards, from cyberbullying to privacy concerns. When children know they can turn to their parents without fear of judgment or punishment, they are more likely to seek advice during troubling times.
Simple strategies for parents to stay involved:
1. Set Boundaries
Establish designated tech-free times, such as during meals, encouraging face-to-face communication and ensuring devices don't overshadow real-world interactions.
2. Co-View and Co-Play
Occasionally, join your child in their favorite online game or watch their beloved YouTube channel together. This shared experience provides insights into their online world.
3. Educate Through Discussion
Instead of merely setting rules, explain the reasons behind them, fostering understanding and cooperation.
4. Tech in Common Areas
Keep computers and other devices in shared spaces, like the living room, to casually oversee your child's online activities.
5. Stay Updated
Familiarize yourself with the latest social media platforms, games, and online trends popular among kids. This knowledge aids in understanding their digital experiences better.
By actively participating and showing genuine interest in their child's online life, parents can build trust, promote safety, and foster responsible digital habits.
Suggested read: What is the Most Likely Way Your Child can be Bullied Online?
The Bottom Line
As the fabric of our digital interactions evolves, social media's role shifts from being merely a platform for connection to a force that can either uplift or harm. While challenges like cyberbullying persist, the collective effort of users, platforms, influencers, and parents can transform these virtual spaces into nurturing environments.
The onus isn't just on the individual or the platform, but on the entire online community. Just recently, Georgia's Republican leadership identified combating cyberbullying as a primary legislative focus. Lt. Gov. Burt Jones, who's going to collaborate with educational institutions and social media firms to formulate the bill, said, "That's not going to be limited to school districts, it's going to have teeth in it where the people perpetrating these things, we're going to try to hold them accountable."
By promoting empathy, understanding, and proactive protection, we all can play a part in ensuring that the internet remains a space of positivity, growth, and safety for everyone, especially our younger generation.