Ann's story: having someone to talk to and guide me to be healthier really helped!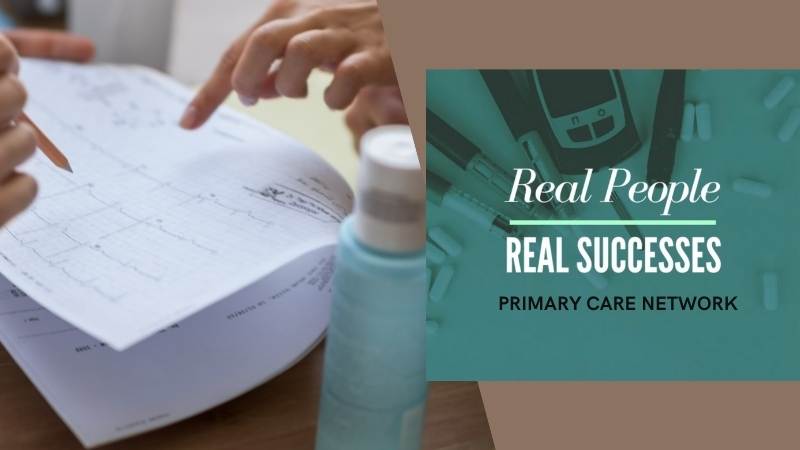 Ann shared her story of working with the PCN nurse towards better health. "I was diagnosed in November 2019 with diabetes and our doctor suggested that if I could lose about 10-15 lbs then I probably would not need to go on medication. He suggested a time frame around end of February and that he would contact a nurse for me to consult with. This was a bit of a shock and I wasn't sure I would be able to lose so much in such a short time.
We had recently moved from BC to Alberta to be closer to our grandchildren after we both retired. Within 4 months of arriving and lucky enough to get registered with a new doctor my husband found out that he had prostate cancer and a blood cancer called Polycythemia Vera. This just blew us both away. He had no symptoms of any of these diseases. So, for almost all of 2019 we were constantly in at the Cancer Clinic at Red Deer or the Imaging Clinic. This took a huge toll on both of us. I developed high blood pressure, my anxiety level was through the roof, wasn't sleeping, had ocular migraines and I was also trying to get my weight loss going. I felt I was falling apart.  I didn't realise at the time that all this was contributing to my being overweight.
I have been a weight watcher member for around 25 years. Had some success then every few years I would go back again but in 2014 after I retired, I decided to try again and along with a friend I lost 22lbs and got down to 130lbs for (5ft) person, I felt good. I kept this off until late 2018. Right now, I am back at 150lbs.
Just being able to talk to the PCN nurse was such a good help for me mentally as I felt I had no one to talk to who understood what I was going through. She helped me understand a lot about diabetes and every month that we met my blood level was decreasing and I was losing a few pounds. However, when my husband was told that his potassium was a bit high, I had to restructure our meals. So, everything he had to avoid was what I was supposed to eat.  The nurse connected me with a dietitian who immediately told me to stop "dieting" as this was stressing me out even more than before. Just to make sure that I still ate sensibly, did some exercise and to put the scale away and only weigh myself once a month. This has really helped, and I am starting to sleep better, I don't feel nearly as anxious and I have a more positive outlook. I realise that I will eventually lose a few pounds, I might not get back to my 130lbs, but it will take time and I'm fine with that.
I think if I had been back in BC, I would have been able to talk to my friends about what I was going through and I might have got some help quicker. Sharing your feelings is not easy but it sure helps. I appreciated the PCN nurse listening and helping me make a plan to improve my mental as well as my physical health." 
To learn more about the RDPCN programs, visit www.reddeerpcn.com
Loss of Brother to Addiction and Mental Illness Inspires Sister to Raise Money by Selling Face Masks.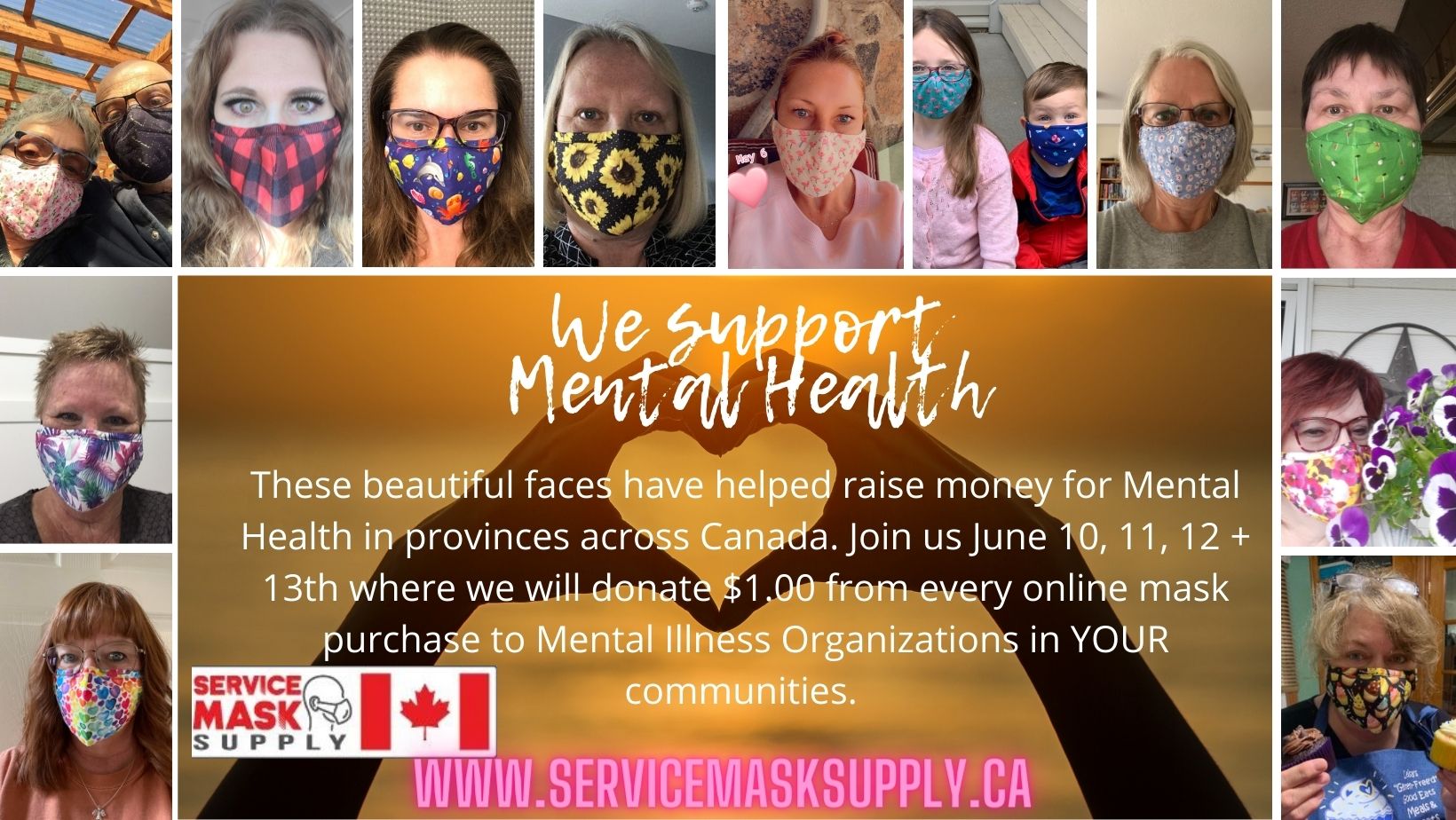 Starting June 10th, until midnight Sunday, June 13th customers across Canada can help raise funds for Mental Health Organizations in their own provinces by purchasing much needed luxury cotton face masks.
Jodee Prouse, from Sylvan Lake, Alberta, co-owner of Service Mask Supply (SMS) is the provider of one of Canada's best-selling luxury 3-layer Cotton Face Masks. She announced today that they will be donating $1.00 from every mask purchase on June 10, 11, 12 and 13th to Mental Illness Programs and Organizations in communities across Canada. "We all look forward to when we no longer need to wear face masks," says Jodee, "and we are getting really close. I am proud that we can provide a much-needed product and at the same time allow others the opportunity to come together to raise money for Mental Health in their own communities."
SMS is excited to announce that for 4 days this week, $1.00 from every mask will be donated to different Mental Health Organizations across Canada. Customers can place their order online, each mask is $5.00, and will ship directly to their homes or businesses. Jodee is proud of her team and orders quickly ship the next business day, leaving from their warehouse in Alberta. All monies collected will go back into each province to where the order was shipped. As an example, Alberta portion will go back to Canadian Mental Health Association Alberta Division, Manitoba to Rainbow Resource Centre and so on. This allows every Canadian the opportunity to make a difference and take part.
From the beginning, SMS had an amazingly simple business model, originally supplying schools and oilfield companies: provide comfortable and affordable masks (each is only $5.00) with patterns that make people smile. Smile. It is what Jodee and her business partner son Ryan believes we need more of right now during these unprecedented times. "My son and I, at different times in our lives, have both struggled with anxiety and depression. We lost a much-loved member of our family when our brother/uncle lost his battle with mental illness and alcoholism when he took his own life in March of 2012. He was only 39. This helped solidify our commitment to helping to eliminate the shame and stigma surrounding mental health."
Now more than ever we want to bring communities together. And remind people they are not alone.
SMS is proud to be celebrating over 17,000 customers across Canada this week. They know that much of their success has been driven by their passionate customers, repeat business and recommendations to family, friends, and co-workers. "It fills my heart to receive not only Facebook messages and emails daily on how much they love our masks," says Jodee, "but also the heartfelt words where strangers feel comfortable and safe enough to share some of their own mental health or addiction challenges."
SMS has over 150 unique colors and patterns with such unique designs as sunflowers, flamingo's, tie dye, dog lover, pretty kitties, fishing lures, butterflies, hearts, breast cancer, yoga, fine wine, pride, cupcakes and many more. Great for work, play, indoors and outdoors too with sizes for the whole family.
Learn more visit: www.servicemasksupply.ca
For more information you can email [email protected]
RCMP looking for suspect in weapons investigation after disturbance at Sylvan Lake Beach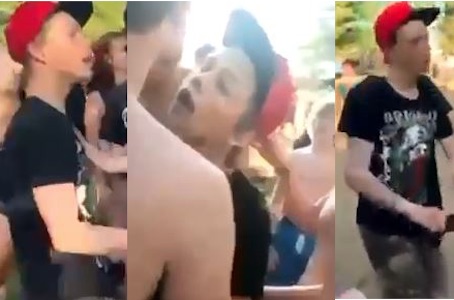 Sylvan Lake RCMP Investigate Weapons Offences
On June 2, 2021 at approximately 8 p.m., members of the Sylvan Lake RCMP detachment responded to numerous 911 calls regarding a large disturbance involving firearms and knives in the pier area of Sylvan Lake Beach
Approximately 200 people were in close proximity to the event, and the investigation has identified a smaller group and a person of interest.  Sylvan Lake RCMP are seeking the assistance of the public in identifying the subject of interest in the photographs.  The subject is described as follows:
Caucasian male
Slim build
Wearing red high top shoes with black laces,
Camouflage pants,
Red ball cap with flat brim
Black t-shirt with a masked skull logo.
Should you have any information regarding the subject of interest, please contact the Sylvan Lake RCMP Detachment directly at 403-858-7200 or via e-mail at [email protected] or CrimeStoppers at 1-800-222-TIPS (8477).