Alberta Silver Medalist fights through the tragic death of his coach
Janick Lacroix keeps fighting with his late coach in his heart and ear
By Chris Welner of HipCheck Media
There's a voice Alberta boxer Janick Lacroix hears when he steps in the ring.
"Keep your hands up!"
"Keep punching!"
"Show respect"
"Show class."
The words are part of many memories Lacroix holds for Mike Kucik, his coach who was shot to death at the age of 76 in an unexplainable tragedy in small-town Saskatchewan.
Lacroix was only 13 when the shooting happened and didn't understand why his coach of almost two years was gone.
"It was a really tough day and I thought this can't be true," remembered Lacroix the morning after losing the gold medal bout at the Canada Winter Games in Red Deer, Alta. "I got depressed and I thought that's it. I'm not going to box again."
Kucik was a lifelong fan of the fight game from Ponteix, Sask. He boxed as a young man and had been in many a corner in the decades that followed as a trainer. No one really knows what happened, but it is believed a long-time friend shot Kucik before taking his own life.
"Mike meant a lot to me. He was like my second dad. He taught me to respect my opponent no matter what, to work hard and not to be scared of anyone," says Lacroix. "He was my mentor and a great guy all around."
Kerry Fahlman attended Kucik's funeral in the summer of 2016 and told Lacroix he would take up his friend's coaching mantle if the lad wanted to relocate three hours west to Medicine Hat. With his mom's blessing, Janick took the offer and resumed training. Now 16, he lives on his own, trains seven days a week and attends Grade 11 at Medicine Hat High School.
"I definitely fought for my old coach Mike. I always fight for him. Everything I do is for him now," says Lacroix. "Even when Kerry's talking, I'll hear Mike's voice. He's always with me."
Born and raised in small-town Quebec, Lacroix's family moved west to Saskatchewan when he was 7 years old. A few years later, when a hockey buddy asked if he wanted to join him at boxing, Lacroix found his new passion.
"I saw Janick the day after dad was killed and he was devastated," says Kucik's daughter Sharon. "My dad did his coaching out of his garage and Janick just stood in the garage and cried so hard. He started punching the big bag that was hanging in there, and just kept punching it so hard. Even though I was devastated and still in shock I had to reach out to him and try to console him.
"I know for a fact that my dad will always be with him. Janick had so much respect for my dad."
Lacroix has had 47 fights in his young career. He won a silver medal at the 2017 Canadian national boxing championships, took gold in 2018 in the 70-kilogram class and was named Alberta's boxer of the year. After his loss in the Canada Games final to Ontario's Mohammed Zawadi, Lacroix was already looking forward to a potential rematch at the nationals in Victoria in April. He knows he'll have extra help in his corner.
"Mike treated me like his son. He checked on me every morning, made sure I did my training and ate well, did my homework. He was a great role model," says Lacroix
In his pocket, Lacroix keeps a silver locket engraved with a pair of boxing gloves on one side and "Enjoy the Journey" on the other. Inside are two pictures: one of a young boxer named Mike Kucik, the other shows Kucik and a boy with dreams of being an Olympic champion. In the other pocket is a Canada Winter Games silver medal.
Click here to read a tribute to Mike Kucik by his grandson Christopher Rouleau.
Instagram @Janick_Lacroix
Gift that keeps giving: 35 Alberta non-profits funded through the 2019 Canada Winter Games Legacy Fund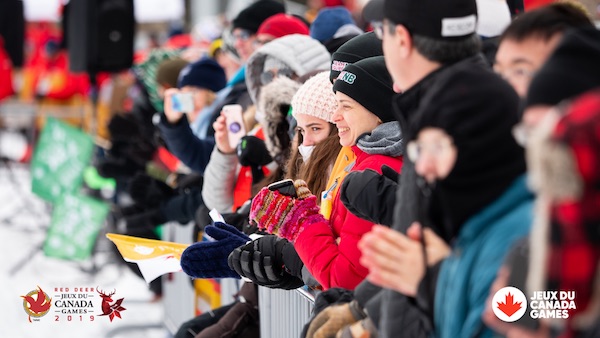 From the Canada Games Council
LEGACIES OF THE 2019 CANADA WINTER GAMES CONTINUE TO GROW
Legacy Fund Society awards legacy funds to not-for-profits across Alberta
The 2019 Canada Winter Games Legacy Fund Society has awarded the financial legacy from the 2019 Games to not-for-profit sport and community organizations across Alberta.
"The Legacy Fund Society is pleased to announce that we have awarded $655,000 in grants to 35 not-for-profit sport and community organizations across Alberta," said Guy Pelletier, Legacy Fund Society Chair. "The grants support a wide variety of projects across the province. These organizations and their respective projects build on the numerous legacies of the 2019 Games."
Through a grant application process in early 2021, the Legacy Fund Society received and reviewed funding requests for 200 projects from nearly 150 organizations at a value of over $7.1 million.‍
"The response to our call for applications was phenomenal. There was no shortage of meaningful and innovative projects," said Pelletier.
"The 2019 Canada Games in Red Deer were truly transformative and continue to foster meaningful legacies across Alberta," said Kelly-Ann Paul, Senior Vice-President of Host Relations at the Canada Games Council. "These legacy grants will enrich and uplift organizations and communities as we strive to strengthen the fabric of Canada through the power of sport."
Requests for funding were reviewed and evaluated based on their alignment with the values of the 2019 Games and distributed in four categories: athlete and coach or official development; infrastructure or equipment development or acquisition; sport development capacity building; and non-sport or discretionary projects.
The following is a listing of the organizations who were awarded funding:
‍
2019 Canada Winter Games Chair Lyn Radford Wins STC Sport Event Volunteer of the Year Award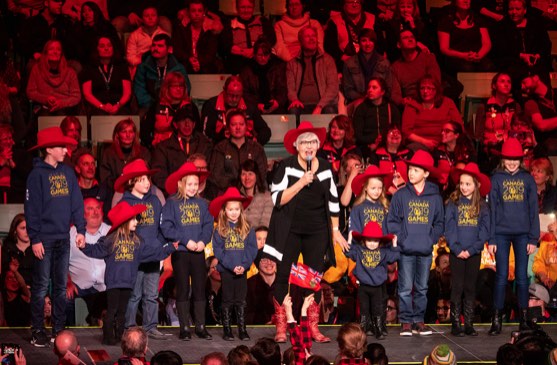 From the Canada Games Council
Lyn Radford, Chair of the 2019 Canada Winter Games, has been named the recipient of the 2020 Sport Tourism Canada (STC) Sport Event Volunteer of the Year Award.
The presentation of the 2020 PRESTIGE awards, postponed from last year, were hosted virtually as a gala on-line production. The presentation was hosted by Olympian, World Cup medallist and CBC Broadcaster Kelly VanderBeek.
The STC Sport Event Volunteer of the Year Award recognizes the outstanding contributions of an individual's volunteer efforts during the hosting of one or more sport events in Canada in 2019.
Lyn Radford Background and Accomplishments
-Lyn Radford served as the Chair of the 2019 Canada Winter Games Host Society from 2014 – 2019
-Lyn oversaw the leadership, planning, execution, governance, and fundraising of the 2019 Canada Games, while serving as the primary spokesperson for the organization
-She is the first singular female Chairperson of a Host Society in Canada Games history
Lyn has volunteered her time to other major events throughout Red Deer and Alberta including the following:
2003, 2006 and 2007 Bid Committee member for Alberta & Western Canada Games
Committee member for 2013 Memorial Cup Bid
Chair of the 2006 Alberta Summer Games
Directed the 2010 Olympic Torch Celebration
Served as a Director for 1998 Alberta Winter Games
Served as a Director for the 2004 and 2012 Scotties Tournament of Hearts
Served as a Director for the inaugural 2013 Tour of Alberta cycling race
Served as Capital Campaign Chair for Red Deer's Ronald McDonald House
Founding member of both the Alberta Sport Development Centre – Central and the Red Deer Leadership Centre
Served on the Alberta Sport Connection as the Provincial Games Chair
Served as a Director on Red Deer College's Board of Governors
Lyn has been recognized through various other awards including:
2005 Alberta Centennial Medal for Volunteer Service
2006 Toyota Never Quit Award
2007 Mayors Award of Distinction for Volunteer Service
Red Deer's 2009 Citizen of the Year
2011 Women of Excellence Lifetime Achievement Award winner
Governor General of Canada 2012 Queen Elizabeth II Diamond Jubilee Medal
2019 City of Red Deer Lifetime Achievement Award
2019 honorary bachelor of interdisciplinary studies degree
Quotes
"The 2019 Canada Winter Games were an incredible event that showcased our nation's top amateur athletes and left behind a legacy of infrastructure, sustainability, and community pride in Red Deer. Lyn Radford was the driving force behind how successful these Games were, and we are grateful for the years of hard work and dedication she invested in the 2019 Canada Winter Games. The Canada Games are stronger than ever because of Lyn, and we're thrilled that she's being recognized for all of her accomplishments."
Evan Johnston, Chair, Canada Games Council
"Congratulations to Lyn on being recognized by Sport Tourism as the Sport Event Volunteer of the Year. What a well deserved honor. Lyn has worked tirelessly as a volunteer for all of her adult life. No task is too small or too large for her to tackle. But the legacy of her volunteerism goes deeper than just her own involvement in a myriad of activities and events. She leads, motivates, encourages, cajoles and celebrates in such an infectious manner that the result is literally thousands of people who are giving back to their community because of her passion for commitment. The 2019 Canada Winter Games was just one of many opportunities for her to lead others to impact our community. I am sure all of the nominees have been involved in their events because of an intrinsic motivation to make a difference. And Lyn was no different. Her motivation is never about self but about transforming community and people. During one day in the preparation for the Games, Lyn made an important presentation to our political leaders in the morning, helped with the orientation of volunteers in the afternoon and then was found hanging ornamental snowflakes from the light posts of main street in the evening. She exemplifies the saying 'life is short-do stuff that matters-for and with others."
Hugh McPherson, Vice Chair, 2019 Canada Winter Games Host Society
"Thank you to Sport Tourism Canada for recognizing the 2019 Canada Winter Games, and the hard work of our "force-to-be-reckoned with" Chair, Lyn Radford. This award recognizes the leadership, strength and fortitude demonstrated by our Chair, Lyn Radford and CEO, Scott Robinson, and the more than 5,000 incredible community volunteers. We made this once-in-a-lifetime moment ours, as individuals, as a community, and as a country in pursuit of possibilities. Congratulations Lyn on this prestigious award."
Tara Veer, Mayor of Red Deer
About the Canada Games
Held once every two years, alternating between winter and summer, the Canada Games are the largest multi-sport event in Canada for up and coming amateur athletes. Each Games features two weeks of competition, between 16 – 19 sports, approximately 3,400 summer and 2,350 winter athletes, and over 4,000 volunteers. Hosted in every province at least once since their inception in Quebec City in 1967, the Games are proud of their contribution to Canada's sport development system in addition to their lasting legacy of sport facilities, community pride and national unity.
The organization of the Canada Games is made possible thanks to the contribution and support of the Government of Canada, provincial/territorial governments, host municipalities and the Canada Games Council.