Alberta justice minister hikes fines, promises renewed effort on COVID-19 scofflaws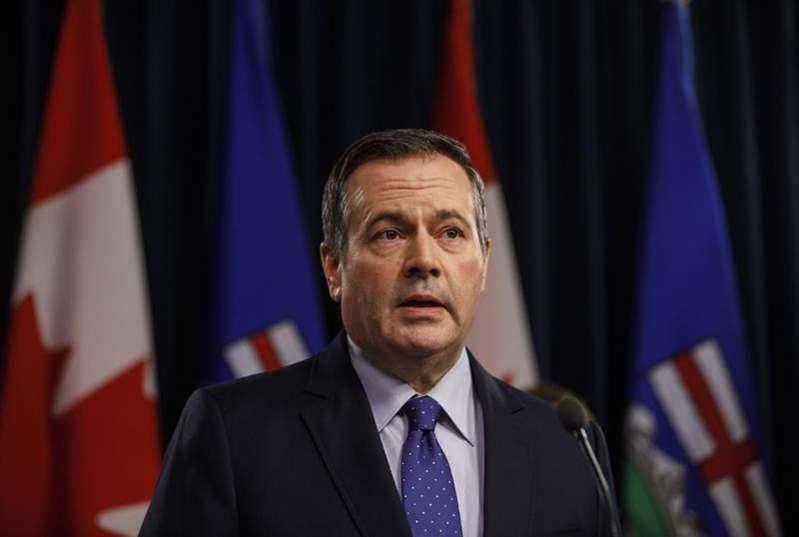 EDMONTON — Alberta has doubled fines for disobeying public health measures meant to fight COVID-19 and Justice Minister Kaycee Madu is promising a renewed effort to stop public health scofflaws will succeed.
"Enforcement will be done, and Albertans will see it being done," Madu told a news conference Wednesday.
"It has become clear that there are a small few who refuse to comply with reasonable and legitimate public health orders"
The United Conservative government passed an order in council Wednesday that doubles fines for public health violations to $2,000.
Madu said there is also a new protocol for health officials, police and government to co-ordinate and target repeat individuals and groups that flout the law.
He said he discussed with police chiefs this week what further tools and resources they need to step up enforcement.
Premier Jason Kenney on Tuesday announced stronger measures to reverse soaring COVID-19 cases that threaten to overwhelm hospitals by month's end and to force doctors to decide which patients get life-saving care.
Kenney's government has been criticized for being a paper tiger on lawbreakers. In January, it allowed some restaurants to flout dine-in restrictions. GraceLife church, in Spruce Grove, Alta., west of Edmonton, was able to hold Sunday services for months that officials have said ignored rules on masks, capacity limits and physical distancing. Police physically blocked off the church just a month ago.
The enforcement issue made headlines again on this weekend when hundreds of people gathered near Bowden in central Alberta for a pre-advertised maskless "No More Lockdowns" protest rodeo.
Edmonton and Calgary have also seen maskless mass protests against health restrictions.
Action was taken Wednesday against one accused repeat offender. Alberta Health Services announced the Whistle Stop Café in Mirror, Alta., had been physically closed and access barred. The café had been flagged for repeatedly breaking COVID-19 health restrictions by staying open and serving customers.
Opposition NDP Leader Rachel Notley said Kenney's government set its enforcement policy up for failure from the get-go by stressing education first and enforcement as a last resort.
Referring to the protocol Madu outlined, Notley said: "The fact there is a protocol to tell them to talk to each other is not new. It is a policy dressed up to look like action, but it is not significant, and that's why we're calling on them to do more."
She criticized the plan to target only repeat offenders: "(That) says to me their plan is to give everybody their first rodeo free, which is in effect what they did with the Bowden rodeo.
"This has to stop because that Bowden rodeo will turn out to be a super-spreader. People will get sick from that rodeo. People will get seriously ill."
Kenney announced tighter rules Tuesday, some of which came in effect Wednesday. Outdoor gatherings, which had been limited to 10 people, are now capped at five. Worship services, which were allowed at 15 per cent capacity, have been reduced to 15 people maximum.
Retailers, which had been open at 15 per cent customer capacity, are restricted to 10 per cent.
On Friday, all kindergarten to Grade 12 students will learn from home. On Sunday, restaurants must close their patios and offer takeout service only. Personal wellness services, including hair salons and barber shops, will have to close.
Indoor social gatherings remain banned. Entertainment venues, including movie theatres and casinos, also remain closed.
As of Wednesday, Alberta had 24,156 active cases of COVID-19, with 666 people in hospital. It has experienced the highest infection rates in North America in recent weeks.
There are almost 1.7 million Albertans who have received at least one dose of vaccine. About one in three adults have had a shot.
Kenney said the vaccination rollout will be expanded drastically, with everyone in the province 12 and older to soon be eligible.
Every Albertan born in 1991 or earlier will be able to book vaccinations starting Friday. On Monday, appointments will be offered to anyone born between 2009 and 1992.
Earlier Wednesday, Health Canada approved the Pfizer-BioNTech vaccine for children as young as 12.
This report by The Canadian Press was first published May 5, 2021.
Dean Bennett, The Canadian Press
Battle of Alberta starts with a bang as Flames down Oilers 9-6 to open playoff series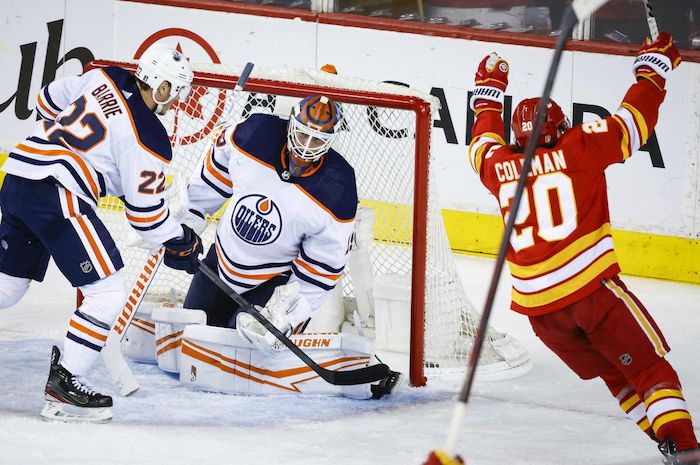 By Donna Spencer in Calgary
Matthew Tkachuk scored a hat trick for the Calgary Flames in Wednesday's 9-6 win over the Edmonton Oilers to open their playoff series.
The NHL's first playoff Battle of Alberta in 31 years compensated for its long absence with an abundance of goals in Game 1.
Blake Coleman scored twice for the Flames. Rasmus Andersson and Andrew Mangiapane each had a goal and two assists.
Elias Lindholm and Brett Ritchie also scored for Calgary while goaltender Jacob Markstrom stopped 22 shots for the win.
Zach Hyman scored twice for Edmonton. Connor McDavid produced his fourth straight multi-point game in the playoffs with a goal and three assists.
Edmonton's captain leads the league's post-season points race with five goals and 13 assists.
Leon Draisaitl had a goal and two assists and Kailer Yamamoto and Evan Bouchard also scored for the Oilers.
Edmonton starter Mike Smith was pulled in the first period after allowing three Calgary goals on 10 shots. Mikko Koskinen made 32 saves in relief.
The winner of the best-of-seven series advances to the Western Conference final.
Game 2 is Friday at the Saddledome before the series heads to Edmonton for Sunday's Game 3 and Tuesday's Game 4.
Teams that take a 1-0 lead in a best-of-seven series hold a series record of 503-232 (.684), according to NHL statisticians.
In a matchup of potent offences, the question ahead of the series was which team could keep the puck on its sticks and spend more time in the offensive zone.
Calgary dominated that department early. The Flames scored twice in a 25-second span in the first minute and led 3-0 by 6:05 when Smith was replaced by Koskinen.
Calgary's two goals in the opening 51 seconds was the fastest two goals to start an NHL playoff game, and electrified a sea of red dotted with Oiler orange and blue at the Scotiabank Saddledome.
The Oilers would not go quietly, however.
The Flames had survived a goaltender-dominated, grinding series with the Dallas Stars in the first round.
Wednesday's Game 1 was, by contrast, an open-ice track meet of mediocre goaltending. The Flames held a 40-18 edge in shots after two periods, but led 6-5 heading into the third.
Edmonton's Yamamoto briefly tied the game at 1:28 putting McDavid's rebound over Markstrom's outstretched pad.
Andersson regained the lead for Calgary at 2:57. Mangiapane from behind the net fed the all-alone defenceman whose wrist shot beat Koskinen's glove.
Tkachuk gave the Flames a two-goal lead at 8:55 with his second of the night. He snared a Draisaitl turnover at the blue line and beat Koskinen five-hole on a breakaway.
Tkachuk scored into an empty net to complete his hat trick. Hats rained down onto the Saddledome ice and chants of "we want 10" goals soon followed.
Draisaitl pulled the visitors within a goal at 19:21 of the second period when he beat Markstrom far side on an odd-man rush with McDavid.
Hyman scored at 9:38 and 14:06 of the second period. He circled out from behind the net and whipped the puck by Markstrom's glove for his second.
Hyman skated the puck into Calgary's end, stopped and got a shot away between defenceman Michael Stone's legs that deflected off Markstrom and into the top corner for his first.
Tkachuk batted in a rebound for a power-play goal at 8:24 after Bouchard converted a McDavid pass at 7:10. McDavid spun off of Dillon Dube to get a cross-ice pass away to Bouchard.
Zack Kassian's roughing penalty after Bouchard's goal gave Calgary the man-advantage for Tkachuk's goal.
Coleman struck 45 seconds into the second period and again at 6:10 for a 5-1 Flames lead.
He redirected a Noah Hanifin shot for his second goal and put a rebound over a prone Koskinen during a scramble around the crease for his first.
McDavid glided in front of the net and patiently waited for Markstrom to commit before tucking the puck between the goalie's pads at 7:41 of the first period.
Ritchie scored his first career playoff goal at 6:05. He knocked Edmonton's Evander Kane off the puck at the Oilers' blue line, reached to collect the loose puck and got a shot away under Smith's arm.
From behind the net, Backlund dished to an undefended Mangiapane in the slot for the latter to beat Smith from close range 51 seconds after opening puck drop.
Lindholm converted Calgary's first shot of the game into a goal 26 seconds after opening faceoff. He settled a bouncing puck off a cross-ice dish from Rasmus Andersson and swept it far side over Smith's glove.
The Flames were minus top shutdown defenceman Chris Tanev a second straight playoff game. He was injured in Game 6 of Calgary's first-round series against Dallas.
Tanev skated in both Tuesday's practice and in Wednesday's morning skate, but did not dress for Game 1.
Notes: With his 94th career playoff win as a head coach, Darryl Sutter joined Pat Quinn ranked No. 6 all-time . . . With three assists in Game 1, Johnny Gaudreau joined Jarome Iginla and Martin Gelinas (2004) among Flames to carry a six-game point streak in the playoffs . . . McDavid was the first Oiler to score a goal in four straight post-season games since Michael Peca and Shawn Horcoff in 2006 . . . The red lot fan zone adjacent to the Saddledome was closed Wednesday because of high winds . . . Game 1 was the highest scoring playoff game involving Calgary and Edmonton surpassing the previous high of 12 goals scored in Game 3 of the 1983 Smythe Division final.
This report by The Canadian Press was first published May 18, 2022.
This is what Jason Kenney said as he stepped down as Premier of Alberta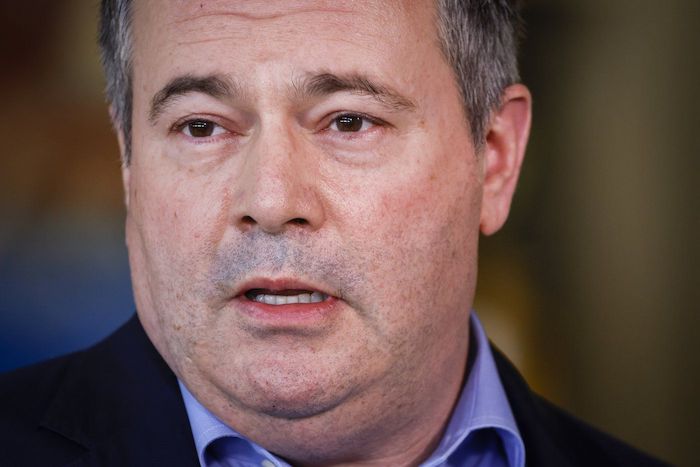 Premier Jason Kenney's address starts at the 10 minute mark and only lasts for 4 minutes.